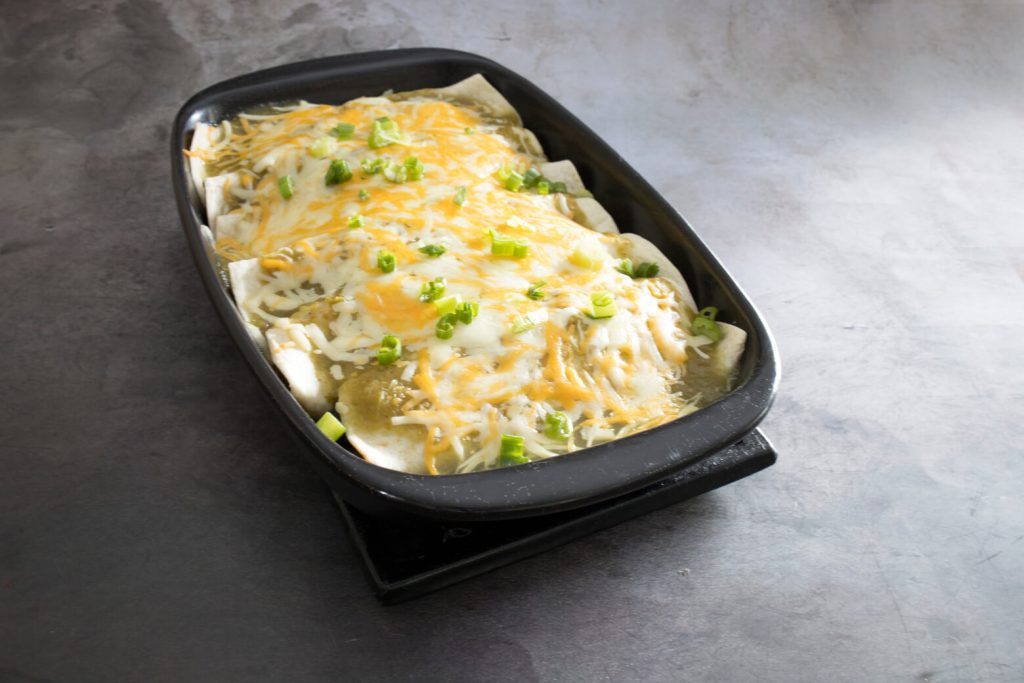 Salsa Verde Chicken Enchiladas Recipe
How To Make Salsa Verde Chicken Enchiladas
Delightful and fresh-tasting, these chicken enchiladas are sure to impress the folks, served and tossed in a flavorful tomatillo salsa verde sauce.
Ingredients
For Chicken:
1⅓

lbs

chicken thighs,

(1¾ lbs, if bone-in), skinless, boneless or bone-in

2

cloves

garlic,

halved

¼

medium onion

2

tsp

sea salt
For Tomatillo Salsa:
1½

lbs

tomatillos,

papery husks removed, rinsed

2

serrano chili peppers,

top cut off to expose interior, stems removed

2

cloves

garlic

½

cup

white onion,

or yellow onion, chopped

½

cup

cilantro,

chopped, stems included

1

tbsp

fresh lime juice

1

tsp

sea salt
For Enchiladas:
1

tbsp

extra-virgin olive oil,

or corn oil, or peanut oil

12

corn tortillas,

(sturdy yellow tortillas)

¼

cup

sour cream

½

cup

Mexican cotija cheese,

or queso fresco cheese, crumbled

⅓

cup

red onion,

chopped, to garnish

½

cup

fresh cilantro,

chopped, including stems, to garnish
Instructions
Put chicken thighs in a medium-sized saucepan and just cover with water.

Add the halved garlic, ¼ of an onion, and 2 teaspoons of salt to the water.

Bring to a simmer, reduce the heat to very low to maintain the heat at just below a simmer, and cook covered, for 10 to 15 minutes, or until the chicken is just barely cooked through.

Remove the chicken thighs to a separate bowl and let cool enough to touch.
Tomatillo Salsa:
While the chicken is cooking, put the tomatillos and serrano chili peppers in a separate saucepan and cover them with water.

Bring to a boil, reduce to a simmer.

Simmer for about 5 minutes until the tomatillos are cooked, and have changed color, but are not mushy.

Remove from the heat.

Use a slotted spoon to transfer tomatillos and serrano chilis to a blender.

Add ¼ cup of the tomatillo cooking liquid to the blender, as well as 2 cloves of garlic, a ½ cup of chopped onion, 1 tablespoon of lime juice, and about ½ cup of chopped cilantro.

Add 1 teaspoon of salt.

Purée for 15 to 30 seconds until blended.

Taste for heat. If not spicy enough, add another chile pepper (it doesn't have to be cooked).

Add more salt to taste if necessary. There should be about 3 cups of salsa.

Remove the cooked chicken meat from the bones (if using bone-in thighs).

Shred the meat with a fork or knife.

Put the chicken in a bowl, and add ½ cup of the tomatillo sauce to the chicken.

Taste the chicken. If it needs salt, add a little.

Heat 1 tablespoon of oil in a frying pan on medium-high heat.

Add 1 tortilla to the pan and let it sizzle for 10 seconds or so.

Use a metal spatula to flip it to the other side. Let it sizzle for a few seconds.

Place another tortilla on top of this one (to soak up the excess oil) and flip again.

Keep going, stacking corn tortillas on top of the tortillas that appear to have excess oil. This way the new tortillas absorb some of the excess fat from the other tortillas.

When the tortillas are heated through, move them to a plate lined with a paper towel.

Add more oil to the pan as needed, and continue to heat through and soften all of the tortillas.

Preheat the oven to 250 degrees F.

Scoop a spoonful of chicken into the center of the tortilla and roll up the tortilla.

Place the rolled tortilla seam side down in a casserole dish and repeat with all of the tortillas.

Cover the rolled tortillas with foil and keep warm at 250 degrees F for 10 minutes.

Place the remaining tomatillo salsa in a small saucepan and heat on medium-high heat until simmering.

Remove the warmed rolled tortillas from the oven and smother with the salsa.

Let some of the sauce go between the rolled-up tortillas so that it gets to the bottom of the pan.

Top with crumbled cotija cheese, chopped red onion, and chopped fresh cilantro.

Thin the sour cream with 1 tablespoon of water and drizzle all over the top of the enchiladas.

Serve immediately.
Recipe Notes
A shortcut for this recipe is to use already prepared bottled salsa verde which should be available at any market that carries Mexican foods. Use 3 cups.

Rotisserie chicken can be used for this recipe instead of poaching own chicken.

Packaged tortillas vary in their thickness and quality. Thicker corn tortillas will hold up better to frying than thin ones, which can tend to fall apart.

Don't skip the sour cream. It's essential to balance the sharp acidity of the salsa verde.
Nutrition
Calories: 

454.29kcal

Fat: 

26.47g

Saturated Fat: 

8.11g

Trans Fat: 

0.09g

Monounsaturated Fat: 

10.48g

Polyunsaturated Fat: 

5.10g

Carbohydrates: 

32.59g

Fiber: 

5.84g

Sugar: 

6.46g

Protein: 

23.20g

Cholesterol: 

113.77mg

Sodium: 

744.39mg

Calcium: 

156.90mg

Potassium: 

695.21mg

Iron: 

2.17mg

Vitamin A: 

79.75µg

Vitamin C: 

18.36mg