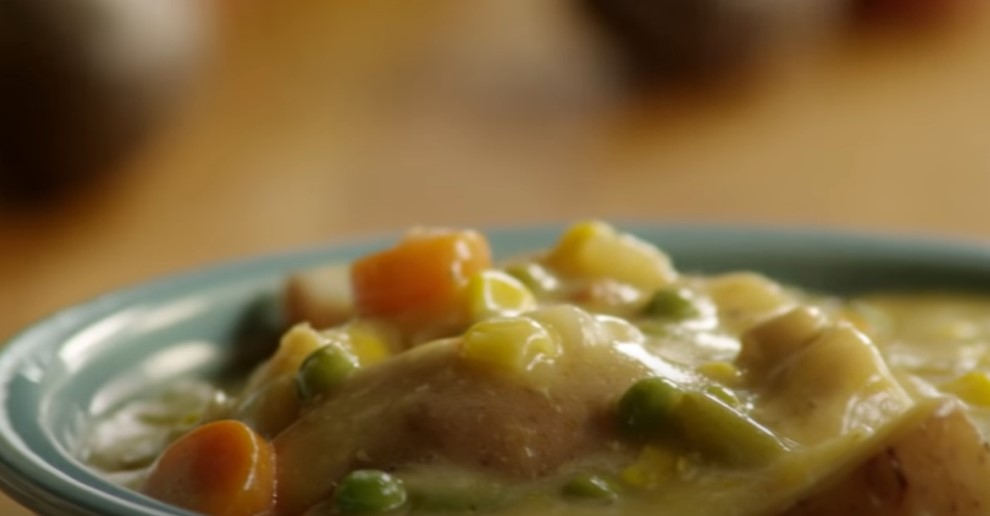 Slow Cooker Crispy Chicken Pot Pie Recipe
How To Make Slow Cooker Crispy Chicken Pot Pie
Grab a bite of this crispy chicken pot pie for dinner! It's made with slow-cooked chicken and a thick and creamy vegetable soup for a heartier meal.
Total:
4 hours 30 minutes
Instructions
In a cast aluminum slow cooker or a separate pan, brown the chicken on both sides for 3 to 5 minutes on High.
Remove the chicken, then add the potatoes, onion, carrot, celery, and corn to the slow cooker. Season with salt and pepper, to taste.
Pour the chicken stock onto the vegetables, then add the chicken thighs to cover the vegetables.
Cook on Low for 6 hours or on High for 4 hours.
About 15 minutes before the timer is done, remove the chicken.
Make a paste out of the flour and butter, using a fork to mash it together. Add the paste, heavy cream, and peas to the vegetable mixture, then stir.
Serve with biscuits and parsley, and enjoy!
Recipe Notes
If chicken is not crispy enough right out of the slow cooker, brown it in the oven on broil for a couple of minutes.
Alternatively, just add the chicken back on top of the cast aluminum slow cooker and pop the whole insert into the oven under the broiler for about 2 to 3 minutes so the chicken skin crisps up.
Nutrition
Monounsaturated Fat: 

18.71g
Polyunsaturated Fat: 

7.72g