It may sound weird at first, but pork knuckles are actually delicious! You'd probably think of bacon or spare ribs for dinner first before the ham hock. But rest assured, it can definitely become a delicious dinner meal. And thanks to our Slow Cooker Ham Hock Recipe, you'll be making just that! No need to rack your brains! Our recipe already gives complete information on how to cook these pork knuckles in the most delicious way possible.
Ham hocks are the joint part of the pig that attaches its leg to its foot. They're also commonly called pork knuckles. These parts of the pig don't have much meat in them, and instead have chewy, jell-like tissues like tendons and ligaments. But they bring a special, rich flavor to dishes that make it popular in the culinary world. The best way to cook them is long and slow, through stewing or braising. When done so, they release juices that add a distinct flavor to vegetable soups. That's because under the heat of long cooking, their fat and collagen dissolve, bringing out a salty, smoky flavor.
The best part about ham hocks is that they're relatively inexpensive. You will need to slow cook this dish so it will take a while, but you can always go off and do other things while waiting for it to be cooked. After that, you'll be surprised at how tender this pork dish gets. It'll melt in your mouth and its distinct flavors will surely excite your taste buds! If you liked this recipe, try our Pork Skin Braciole in Tomato Sauce Recipe, another unconventional pork recipe of ours.

How To Cook Slow Cooker Ham Hock
Slow-cooked to perfection, just a bite of tender ham hock will excite you and your taste buds! Seasoned with the flavorful ingredients, you just can't wait for it to finish cooking!
Advertisement
Continue Reading Below
Ingredients
2

lb

ham hocks

6

cups

chicken stock

8

oz

celery,

large dice

5½

oz

onions,

red or yellow, large dice

4

oz

carrots,

large dice

3

garlic cloves,

minced

5

tbsp

yellow mustard

5

tbsp

honey

salt and ground black pepper,

to taste

3

oz

sweet potatoes,

preferred doneness, to serve

3

oz

coleslaw,

to serve
Instructions
Combine all ingredients in your slow cooker.

Cover pot and cook on Low for 8 to 10 hours, until desired tenderness is achieved. To know if it's tender enough, check if the meat already starts falling off the bone.

Once cooked, drain the ham hock & allow to cool down briefly.

Drain the liquid & discard the rest. Season the liquid to taste with salt and ground black pepper.

Once the ham hock has briefly cooled down, debone & peel off its fatty skin. Portion the meat accordingly.

Serve with a side of coleslaw and sweet potatoes or along with the liquid and bread on the side. Enjoy!
Recipe Notes
When using the slow cooker, note that heat temperature affects the cooking time of the dish. If it's on Low heat, it would take longer than 5 hours to cook the ham hocks. Don't rush the slow cooking process if you want it to be tender, with meat falling off the bones. Cooking it on High heat might not cook the meat all the way through.
Advertisement
Continue Reading Below
Advertisement
Continue Reading Below
Commonly Asked Questions
What can I use if I don't have ham hock?
Pork shank is a good pig part you can substitute for ham hock. Both pig parts have more connective tissue than meat, and both are cooked through slow and long cooking to bring out its rich flavors. Pork shanks, however, should be cooked for about 4 ½ hours on High heat, followed by 30 minutes to 1 hour on Low heat.
Do you wash ham hocks?
Most ham hocks are already smoked and cured when sold at stores. This, in effect, gives the meat a salty taste. But if you want to make it less salty, or to clean it, wash the pork knuckles thoroughly, then rinse completely. Submerge them in a pot filled with water, and then boil them over medium high heat for one minute. Lastly, rinse the pig parts under cold running water for a full minute, and they're ready for use.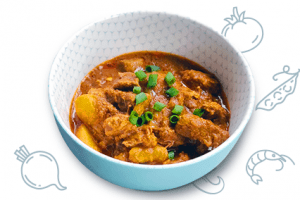 Conclusion
This slow cooker ham hock recipe only has a few simple steps, but waiting for it to finish cooking can be a challenge. Make sure not to rush cooking the meat, or else it won't come out as tender as you expected. But once you get a taste of our slow-cooked ham hock, this will no doubt become a staple dish in your dinner table in no time!
Advertisement
Continue Reading Below
Topics:
Advertisement
Continue Reading Below
Related Slow Cooked Recipes
Advertisement
Continue Reading Below
... [Trackback] [...] Informations on that Topic: recipes.net/main-dish/slow-cooker/slow-cooker-ham-hock-recipe/ [...]

Comment is awaiting moderation.