Briskets are usually smoked or grilled. But these methods can easily make the meat dry. The sous vide method helps get that moist, tender, and juicy beef every time. Although sous vide recipes take time to cook, the wait will be worth it. And what sounds better than having a good barbecue brisket complete with the smoke flavor without the need for actual smoke? Serve your sous vide brisket with homemade barbecue sauce, some Texas toast and dill pickles, or top it over mac and cheese and you're in for a mouthwatering treat!
Tips on Making Sous Vide Brisket
In this sous vide brisket recipe, we went for the Texas-style bbq brisket by seasoning it with the classic salt and black pepper. The smoked brisket rub also has pink salt. It contains sodium nitrite which gives the beef brisket sous vide a smoke ring. But you can certainly skip it if you don't have it. In addition, here are more must-know tips about making this sous vide smoked brisket:
Pick a piece of brisket with the fat cap still on

, be it flat cut or point cut. Since brisket has very little

connective tissue

and

intramuscular fat

, we will rely on the fat cap to keep it moist as it cooks. With the fat cap trimmed off, it'll be tough and dry.
Here are four ways you can finish cooking the brisket:

in the oven, in the grill or smoker, or on the stove top by searing. Be sure to check the recipe notes for instructions.
Don't skip cooling the brisket before transferring it into the oven.

This ensures that the meat gets to keep most of its delicious juice rather than much of it seeping out if the meat is touched too soon.
Pat dry the brisket using paper towels

before proceeding to baking, grilling, or searing. This will help achieve a crisp

black bark

.
Add other aromatics to the smoked brisket rub

like cayenne, cajun seasoning, paprika, and fresh herbs if you prefer a richer flavor. Alternatively, you can also add flavor by serving it with your favorite

bbq sauce

.
Since it takes much time to cook, we suggest you double or triple this recipe in one batch. You can keep the rest in the fridge for 1 week and in the freezer for 3 months.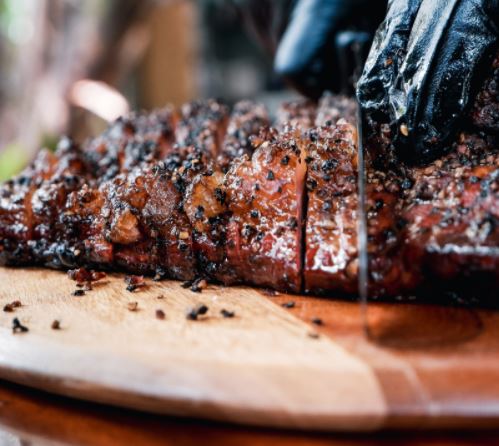 Sous Vide Brisket Recipe
How To Make Sous Vide Brisket
Slow cooked using the sous vide method, this recipe brings super tender, full of flavor brisket that's perfect for your next barbecue party.
Total:
1

days
16

hrs
30

mins
Ingredients
5

lbs

brisket,

(1 brisket, 4 to 6 lbs) flat-cut or point cut

¼

cup

kosher salt

⅓

cup

black peppercorns,

coarsely ground

¼

tsp

pink curing salt

¼

tsp

liquid smoke,

optional, if using oven
Instructions
Fill a large pot with enough water to cover the brisket. Place the sous vide immersion cooker into the water and set it up according to the manufacturer's instructions. Then, set the temperature at 155 degrees F.

In a small bowl, combine kosher salt, black peppercorns, and curing salt to make a rub.

Rub the brisket with ⅔ of the salt mixture to coat.

Place the brisket in a vacuum bag. If you will finish cooking your brisket in the oven, add the liquid smoke. No need to add liquid smoke if you're finishing it on the smoker or grill. Seal the bag.

Place the bag in the water bath and cook for 24 to 36 hours.

Once cooked, remove the bag from the water bath. Let the brisket cool down to room temperature for at least 2 hours or up to 5 days in the fridge.

Remove the cooled brisket from the bag and pat dry.

Sprinkle the remaining rub mixture and coat the brisket.

Finish off the brisket in the oven by placing it on a foil-lined rimmed baking sheet with a wire rack placed in it. Cook your brisket for about 2 hours or until the brisket has turned into a deep, dark bark.

Remove the brisket from the oven, loosely cover it with foil, and let it rest for 15 minutes.

Thinly slice your brisket against the grain and enjoy perfectly cooked meat with the family!
Recipe Notes
To finish off your sous vide brisket over live fire, light up a grill smoker and set it to 300 degrees F. Add a few chunks of hardwood. As soon as it begins smoldering, place the brisket in the smoker and take it away from any direct heat. Cover and cook it for about 3 hours while adding a few pieces of wood and coal as necessary and keep the temperature between 275 to 300 degrees F.

If you're using a kettle grill to cook your brisket, light up half of the burners, place wood chunks in a foil boat directly over the hot side of the grill, and place your brisket on the cooler side. Cover and cook it for about 3 hours while adding a few pieces of wood and coal as necessary and keep the temperature between 275 to 300 degrees F.

To finish cooking it by searing, heat up a large cast iron pan to high heat. Drizzle two tablespoons of cooking oil, preferably rice bran. Once the pan is very hot, drop the brisket and let it cook for 5 to 8 minutes for each side or until a crust develops.
Nutrition
Sugar:

1g

:

Calcium:

80mg

Calories:

619kcal

Carbohydrates:

8g

Cholesterol:

234mg

Fat:

28g

Fiber:

3g

Iron:

9mg

Monounsaturated Fat:

13g

Polyunsaturated Fat:

1g

Potassium:

1423mg

Protein:

80g

Saturated Fat:

10g

Sodium:

5114mg

Vitamin A:

72IU
Nutrition Disclaimer
Frequently Asked Questions
Can you overcook brisket in sous vide?
Yes, you can overcook brisket in sous vide cooking. While the temperature is controlled and consistent throughout, ruling out the chances of having burnt brisket, leaving the meat in the water bath for too long will affect its texture. The overcooked brisket becomes mushy and crumbly instead of the ideal neatly pulling-apart fibers. That's why we highly recommend sticking to the cooking time and temperature specified in the recipe.

How long does it take to sous vide a brisket?
The safe zone is between 24 to 36 hours at 155 degrees F for a traditional tender, fall-apart kind of brisket.

Why can't I get a smoke ring in my brisket?
The smoke ring is actually red pigments in the meat that kept their color because of the presence of nitric oxide and carbon monoxide. In sous vide cooking, these gases are not present. But we can get the same result by adding sodium nitrite-containing pink salt in the rub. Take note, however, that the smoke ring doesn't affect the flavor. It just makes the cooked meat look more appetizing.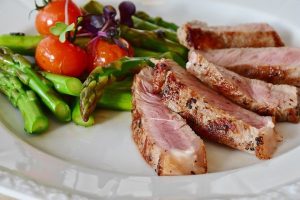 Conclusion
Now even beginners can make a scrumptious batch of smoked brisket through sous vide cooking. Simply follow this simple and straightforward sous vide brisket recipe and you will have perfectly cooked meat every time.