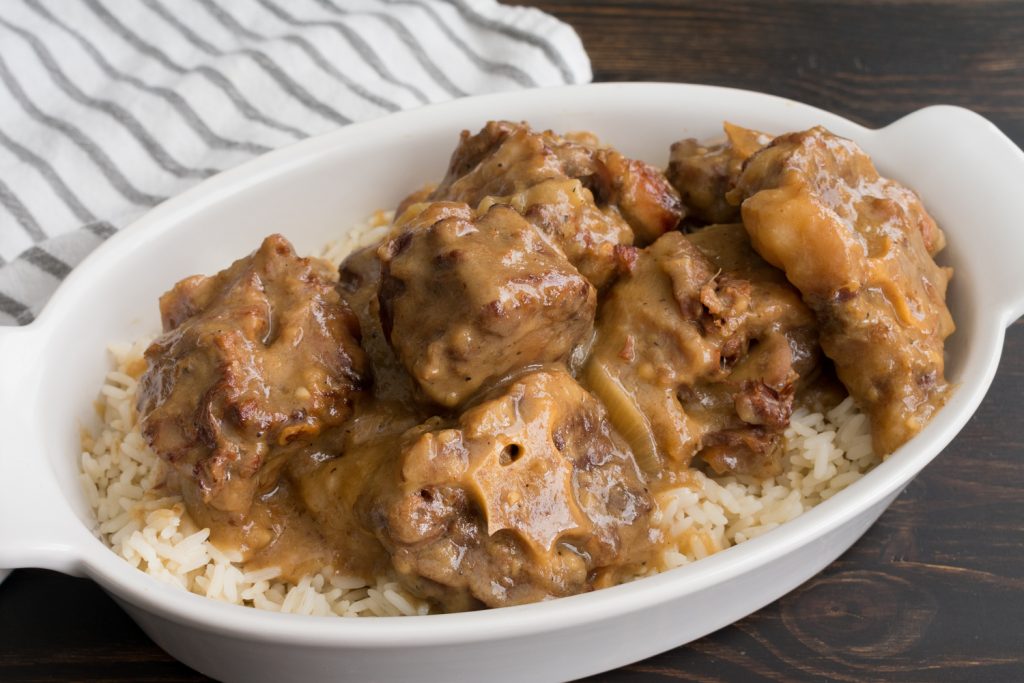 Southern-Style Smothered Oxtails Recipe
How To Make Southern-Style Smothered Oxtails
Enjoy fall of the bone bites of these smothered oxtails with this Southern-style recipe. They're slow-cooked with homemade gravy & onions.
Ingredients
2½

lbs

beef oxtails

1¼

cups

all purpose flour

2

tbsp

worcestershire sauce

2

tsp

kosher salt,

plus more to taste

1

tsp

black pepper,

freshly cracked or ground, plus more to taste

¾

cup

vegetable oil

3

cups

beef broth,

or water

1

large yellow onion,

sliced

3

fresh garlic cloves,

minced
Instructions
Season the oxtails with 2 teaspoons of kosher salt and 1 teaspoon of black pepper.

Drizzle the worcestershire sauce all over the oxtails, then toss the oxtails to make sure that they are coated.

Next, sprinkle ¼ cup of flour all over the oxtails and make sure that the oxtails are coated with the flour.

Next, pour the vegetable oil into a large pan and place the pan over medium heat.

Once the oil is nice and hot, add the oxtails in, and brown them.

Once the oxtails are nice and brown remove them from the pan and put them in the slow cooker.

Return back to the pan with the hot oil.

If they are burnt pieces in the pan, pour out the oil, strain, clean the pan, then pour the strained oil back into the pan.

Start adding the remaining flour into the pan, but only a little bit at a time.

Whisk continuously.

Once the flour is brown and resembles "chunky peanut butter," slowly pour in the beef broth or water.

Whisk while pouring!

Make sure everything is lump free then turn the heat from medium to high.

Once the gravy reaches a full boil, reduce the heat to medium, and add in the sliced onions, and garlic.

Stir the gravy, and do a taste test.

Add salt and pepper.

Turn the heat off, and pour the gravy into the slow cooker covering the oxtails.

Make sure that the oxtails are nicely covered with gravy, then set the slow cooker on High.

Let cook for 8 hours.

Once done serve with mashed potatoes or rice. Enjoy!