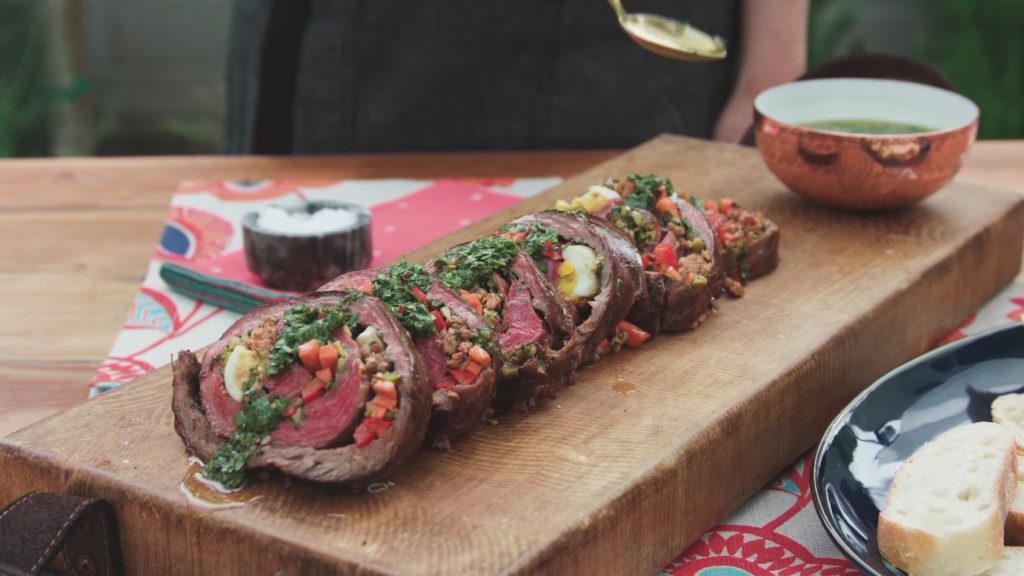 Matambre Recipe
Level up your usual dinner recipes and savor Argentine-style carrots, cheese, and eggs-stuffed flank steak or matambre in this juicy dish.
Ingredients
2½

lbs

flank steak,

trimmed

extra-virgin olive oil

kosher salt and freshly ground pepper,

to taste

¼

lb

fresh spinach,

washed and drained, stems trimmed

4

carrots,

small, thin

4

eggs,

large, hard-boiled, peeled and quartered lengthwise

1

cup

green Spanish olives,

large pitted, halved lengthwise

1

onion,

large, sliced into rings

¼

cup

Parmesan,

freshly grated

1

tsp

red pepper flakes

750

ml

dry red wine,

(1 bottle) such as Argentine Malbec

1

garlic head,

halved

1

onion,

large, halved

1

fresh thyme sprigs,

handful

1

fresh oregano sprigs,

handful

2

bay leaves
Instructions
Butterfly the steak by slicing lengthwise and opening it up like a book. Pound the meat gently with a mallet to flatten and even out the thickness; rub all sides with olive oil and generously season with salt and pepper.

With the steak lying lengthwise, scatter the spinach leaves evenly over the surface of the meat, leaving a 1-inch border all around. Arrange the carrots in long rows across the steak, about 2-inch apart.

Put the egg strips and olives between the carrot rows. Scatter the onion rings and cheese over the filling, sprinkle with salt and red pepper flakes.

Carefully roll the meat up over the filling, from bottom to top, into a long thick cylinder or jellyroll style. Tie with butcher's twine to hold it together.

Coat a large Dutch oven or pan with olive oil and put over moderate heat. Lay the stuffed steak in the hot oil and sear for 5 to 7 minutes until browned on all sides.

Pour in the wine and enough water to come up almost to the top of the meat. Toss in the head of garlic, onion, and herbs to flavor the broth.

Cover, and slowly simmer on medium-low heat for about 1½ hours until the meat is fork-tender, turning the meat over once halfway through cooking. Taste the broth before serving and adjust spices, if necessary.

Transfer the matambre to a cutting board and let rest for 15 minutes. Remove the kitchen strings and cut crosswise into 1-inch slices. The colors of the filling will look absolutely gorgeous spiraled in the steak.

Spoon some of the sauce over the meat and serve. Enjoy!