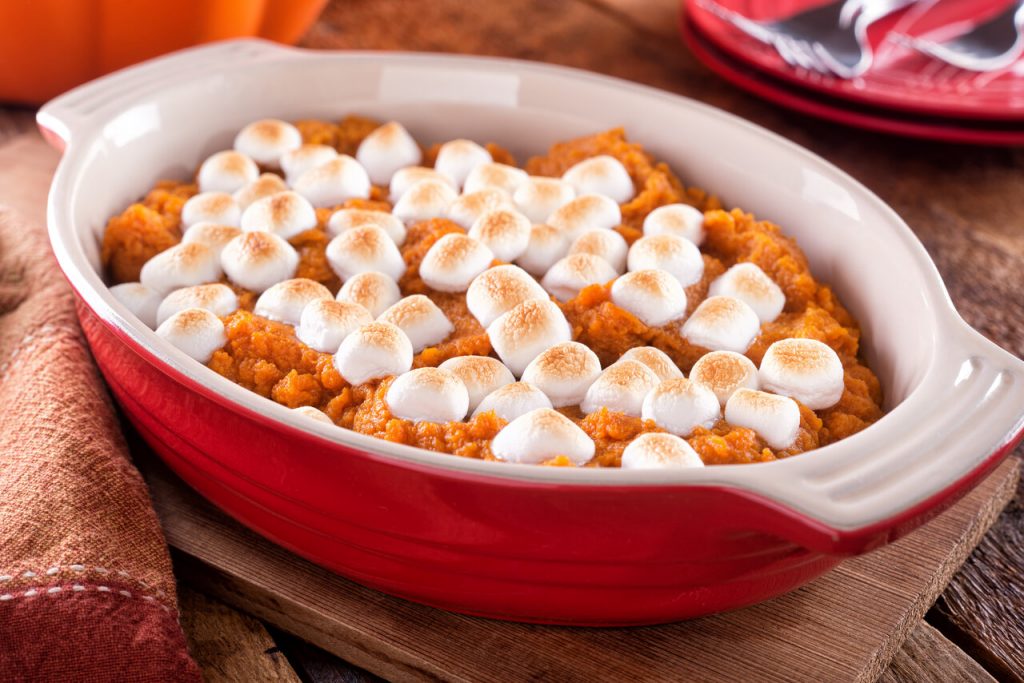 A delicious homemade sweet potato casserole with marshmallow topping.
This sweet potato casserole with marshmallows is one of the best sweet potato recipes and Thanksgiving side dishes ever. Topped with gooey marshmallows, this cinnamon-flavored sweet potato casserole doesn't disappoint. It's bound to be the star of your holiday tables! This decadent potato side dish is the perfect pair for roast turkey or stuffed turkey breast.
What's in This Sweet Potato Casserole With Marshmallows?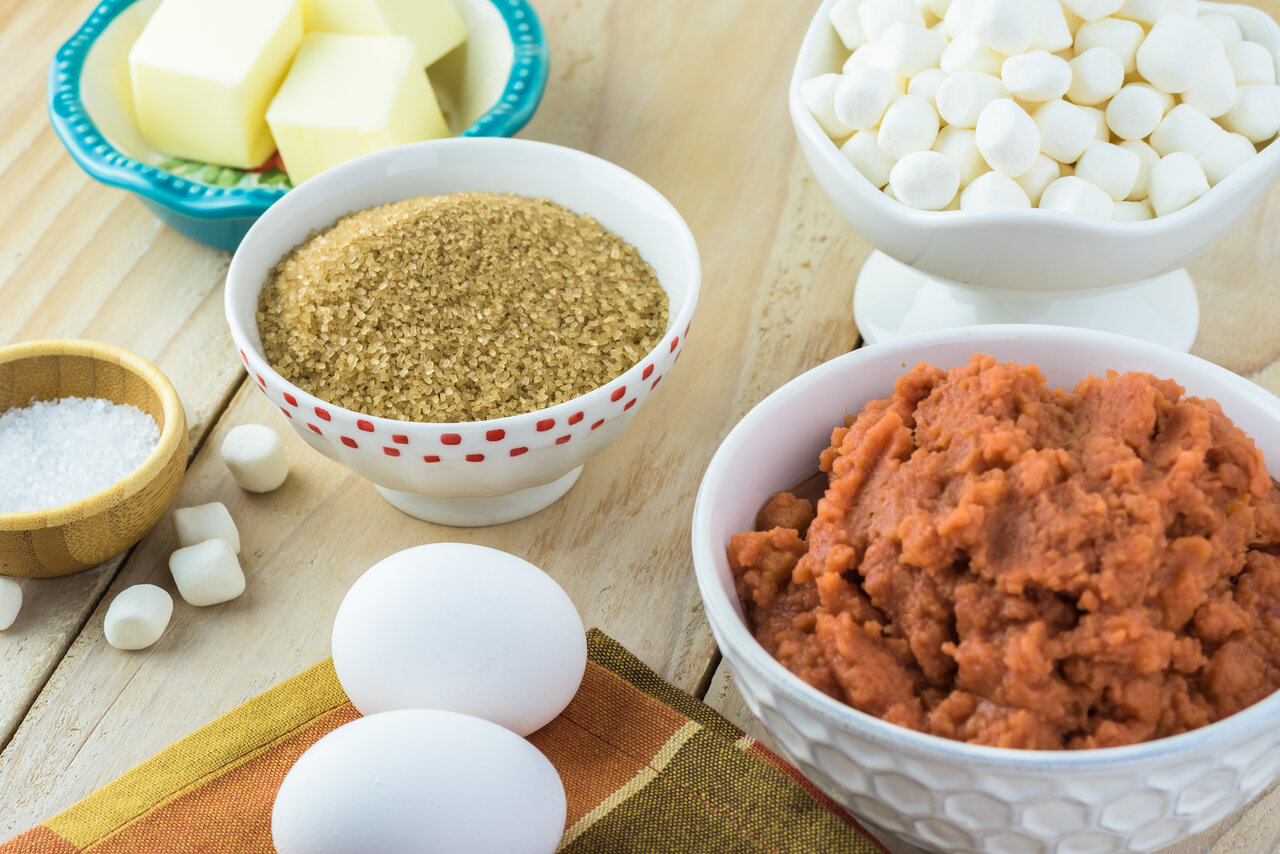 You can never go wrong with sweet potato casserole. If you want to take this classic side dish to the next level, top it with fluffy marshmallows. Sweet potatoes with marshmallows on top are just over-the-top delicious!
Here's what you need to make this sweet potato casserole recipe with marshmallows:
Sweet potatoes

– You can use purple or white sweet potatoes and canned yams.

Brown sugar

– Light brown sugar or dark brown sugar will work here.

Eggs

– To hold the ingredients together.

Salt

– Add just a pinch for extra flavor.

Butter

– Use softened butter for easier mixing!

Milk

– You can use whole milk or go for heavy cream.

Vanilla extract

– To sweeten up your potato casserole.

Marshmallows

– Use sweet, miniature marshmallows!
There are many ways to turn humble potatoes into a holiday-worthy casserole dish. And this sweet potato recipe with marshmallows is something you'll make again and again. Yes, whatever the celebration is. If you're looking for more crowd-pleasing potato casserole recipes, this steak and potato casserole is right up your alley. You'll also love the creaminess this mushroom and potato casserole recipe delivers!
Tips on Making Sweet Potato Casserole With Marshmallows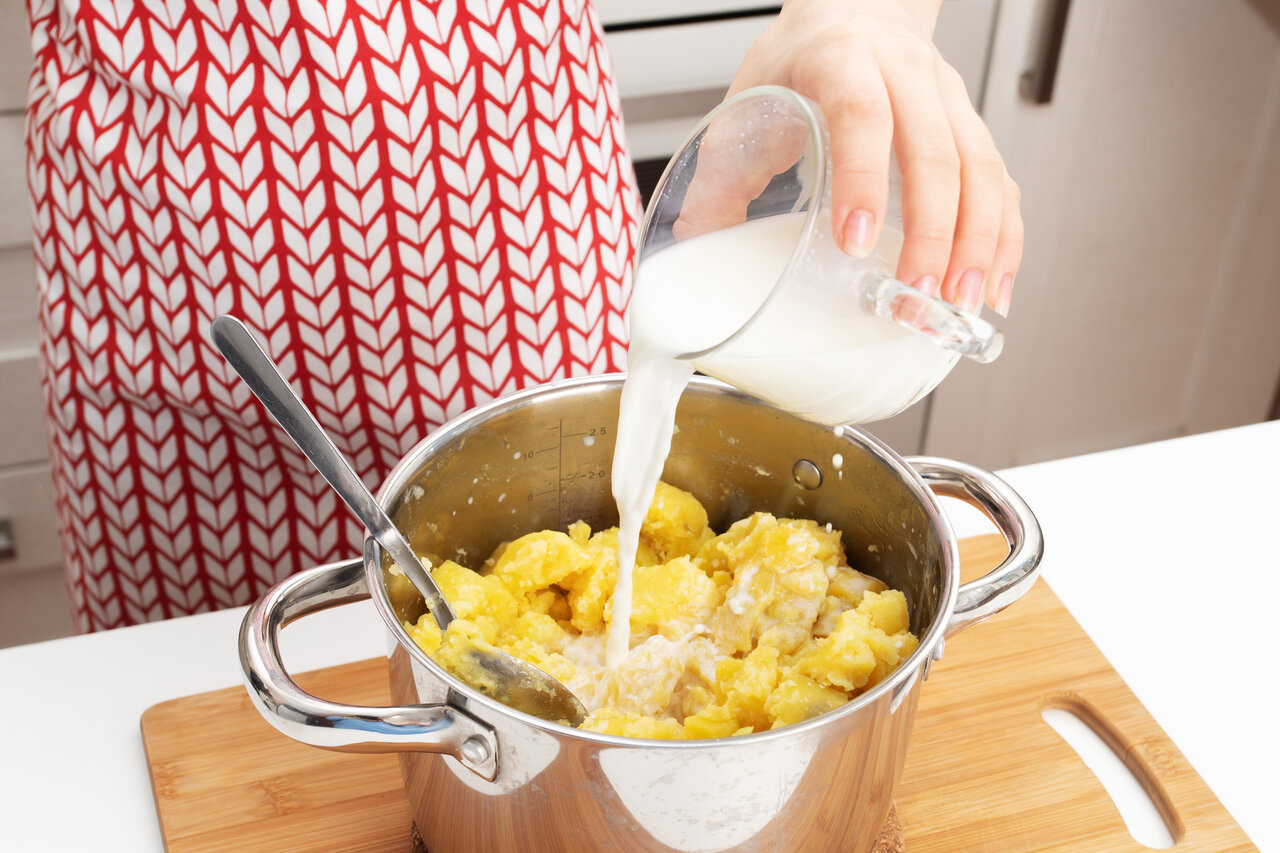 The sweet potato and marshmallow combo in this casserole dish is pure decadence. This version might be one of the most delightful sweet potato casserole recipes worth trying. On top of being a classic holiday food, it's also the best pair for your steak dinners!
Follow these simple tips and tricks if you want to end up with the best marshmallow sweet potato recipe:
For a tastier result, use dark brown sugar!

It'll deliver a rich and deeper molasses flavor. If you fancy a delicate caramel flavor, go for light brown sugar instead.

Instead of boiling, you can also roast or bake the potatoes.

This will make the potatoes taste a tad sweeter. Make sure to prick holes in the skin so they don't explode as they roast.

For a crunchy spin, make a pecan streusel topping.

Simply sprinkle the pecan topping over the sweet potatoes and bake until the top's deliciously browned. Then, add the marshmallows and bake again for a few minutes.

Sweet potato casserole with marshmallows and pecans

is just cut above the rest! Feel free to stick to the recipe, though, if you want a potato casserole with

no nuts.

For a healthier side dish, make a vegan version!

Just opt for oat milk or nut milk and replace the eggs with flax seeds. And make sure to use vegan butter or olive oil. Of course, use vegan marshmallows for the topping!

If you have any leftovers, store them in the fridge for up to 4 days.

When ready to eat, reheat in the microwave until warmed through.

To save on prep time, make your sweet potato casserole in advance!

Assemble the casserole the day before baking. Then, store it in the refrigerator until ready to top with marshmallows and bake.
Frequently Asked Questions
Should I put eggs in my sweet potato casserole?
Yes. Never skip the eggs as they add structure, all while holding the ingredients together. The potatoes should be cooled enough before mixing the eggs (and the other ingredients), so they won't scramble.
Is it better to boil or roast sweet potatoes for casserole?
Both methods yield deliciously cooked sweet potatoes for casseroles. However, it's believed that boiling sweet potatoes preserves most of their antioxidant properties. Roasting, on the other hand, will make them sweeter!
How do I know when my sweet potato casserole is done?
Once the top is lightly browned and the center of your casserole is firm, your casserole is ready to serve!
How To Make Marshmallow and Sweet Potato Casserole
This cinnamon-flavored sweet potato casserole is topped with gooey marshmallows. It's a great side dish to meat dishes like roast turkey, stuffed turkey breasts, and steak.
Ingredients
4 sweet potatoes, large, peeled and cubed

½ cup brown sugar

2 eggs, large

½ tsp salt

4 tbsp butter, softened

½ cup milk

½ tsp vanilla extract

10 oz miniature marshmallows
Instructions
Preheat the oven to 350 degrees F.

Lightly grease a 9×13-inch pan or a 3-quart casserole dish.

Bring a large pot of water to a boil. Add the cubed sweet potatoes. Return to a boil and reduce heat to low. Simmer the sweet potatoes for 15 to 20 minutes until tender. Drain and let cool.

Meanwhile, in a large bowl, mix the sugar, eggs, salt, butter, milk, and vanilla. Add in the cooked sweet potatoes and use a hand mixer to mix until smooth.

Transfer to a prepared baking dish and smooth it out into an even layer. Top with miniature marshmallows.

Bake in the preheated oven for 25 to 30 minutes until marshmallows are toasted and golden brown.

Serve and enjoy!
Nutrition
Calories: 

110.67kcal

Fat: 

0.42g

Saturated Fat: 

0.10g

Monounsaturated Fat: 

0.15g

Polyunsaturated Fat: 

0.11g

Carbohydrates: 

25.40g

Fiber: 

1.11g

Sugar: 

10.93g

Protein: 

2.02g

Cholesterol: 

0.68mg

Sodium: 

88.68mg

Calcium: 

20.46mg

Potassium: 

154.80mg

Iron: 

0.91mg

Vitamin A: 

269.94µg

Vitamin C: 

3.27mg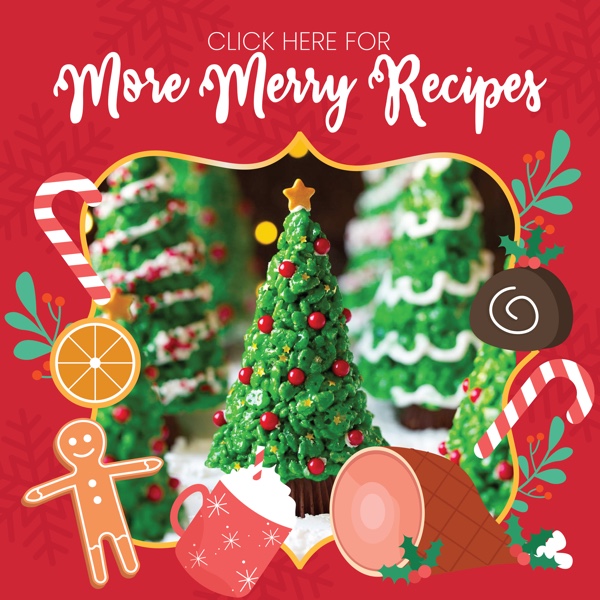 Conclusion
This easy sweet potato casserole with marshmallows is the perfect Thanksgiving side dish. It's sweet, savory, and deliciously fluffy. Pair with roast or stuffed turkey for the perfect holiday dinner!