You can certainly make this delicious and cheesy zucchini potato casserole for dinner tonight! This hearty casserole dish includes ham, sliced potatoes, and zucchini baked with gooey mozzarella cheese on top. This delicious food is easy and quick to make. It's also filling as it's already complete with carbs, protein, and veggies to keep you energized for the day. Enjoy a slice of this zucchini ham casserole with cinnamon coffee and caesar salad. 
Tips on Making Zucchini Potato Casserole
While casseroles are easy to make, there are still quite some pitfalls to avoid. Make perfect zucchini potato casserole every time with the help of these valuable tips.
First, use the right size of baking dish according to the recipe.

If you use a pan that's too big, the casserole will cook faster. On the other hand, with a smaller one, it might need more time to get fully cooked through. Keep an eye on it. Also, make sure that the pan heatproof and has been greased so that the ingredients won't stick.
Secondly, add other veggies to make it even healthier.

You can add some diced

bell pepper

, chopped

green onion

, minced

garlic cloves

, carrots, or corn kernels, for instance.
Do not use watery ingredients

like cucumbers, lettuce, or pickles and extra-moist ham. Otherwise, your casserole will turn out too watery. 
Season it with different dried or fresh herbs

like oregano, dill, rosemary, Italian seasoning, or use an Herbs de Provence blend. In the same way, you can add a dash of cayenne or chili flakes if you like it spicy.
Make it creamy

by adding a splash of fresh cream or milk. Additionally, you can also use other types of cheese like cheddar, blue, gouda, and parmesan cheese.
Feel free to check out our collection of easy casserole recipes and make them a part of your weekly meals!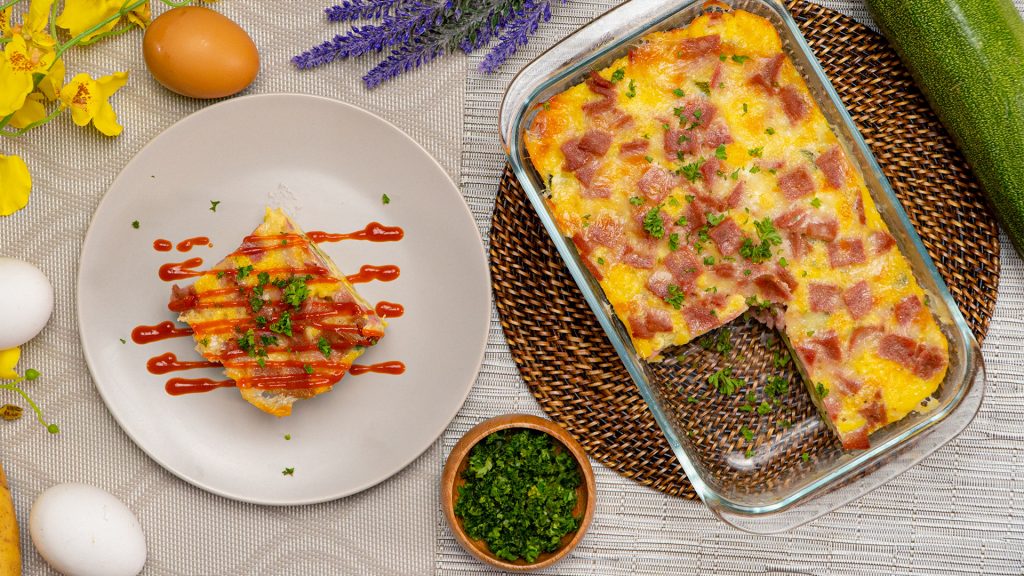 Ham, Potato, and Zucchini Casserole
How To Make Ham, Potato, and Zucchini Casserole
You will only need zucchini, potatoes, ham, eggs, and cheese to make this zucchini potato casserole. Toss them together, bake them, and you have a yummy and cheesy meal ready.
Ingredients
5

oz

sandwich ham,

cubed

5

oz

potatoes,

cut into small cubes

5

oz

zucchini,

cubed

4

pcs

eggs

5½

oz

mozzarella cheese,

grated

salt and ground black pepper,

to taste

cooking spray
To serve:
¼

cup

hot sauce,

or marinara sauce
For garnish:
Instructions
Preheat your oven to 360 degrees F and grease a 9 by 13-inch baking casserole with cooking spray.

Add the ham, potatoes, and zucchini into the casserole.

In a small mixing bowl, add the eggs, then season them with salt and pepper. Beat until evenly incorporated.

Pour around the casserole and sprinkle it with cheese.

Cover with foil and bake in the oven for roughly 40 minutes or until the vegetables are tender when inserted with a cake tester.

Once the vegetables are tender, remove the foil and discard. Continue baking for another 15 minutes or until the cheese turns golden brown.

Drizzle with your chosen sauce and serve immediately.
Nutrition
Sugar:

1g

:

Calcium:

139mg

Calories:

102kcal

Carbohydrates:

6g

Cholesterol:

23mg

Fat:

6g

Fiber:

1g

Iron:

1mg

Monounsaturated Fat:

2g

Polyunsaturated Fat:

1g

Potassium:

196mg

Protein:

7g

Saturated Fat:

3g

Sodium:

431mg

Vitamin A:

243IU

Vitamin C:

16mg
Nutrition Disclaimer
Frequently Asked Questions
How do you get the bitterness out of zucchini?
First and foremost, fresher and younger ones might not be bitter at all. Zucchinis just tend to become more bitter as they get older and develop bigger seeds. To draw the bitterness out, first, slice them. Then, you can either salt the sliced zucchini or soak them in salted water for at least 30 minutes. Use 2 teaspoons of salt for every liter of water. This will also help draw out moisture, making them less watery. Be sure to rinse out the salt before cooking.

How do you fix a mushy casserole?
Your zucchini potato casserole might turn out mushy if the ingredients used are too watery. It's easy to fix it. Just start by making a slurry by mixing ¼ cup of milk with 1 tablespoon of cornstarch. Combine this slurry into the mushy casserole. Then bake it again for 10 to 15 minutes or until the mixture boils. The cornstarch will thicken the mixture once it boils.

How to store zucchini potato casserole?
This ham, potato, and zucchini casserole is best consumed immediately. But if you plan to make it ahead, you can store it in an airtight container in the fridge and it'll stay good for up to 5 days.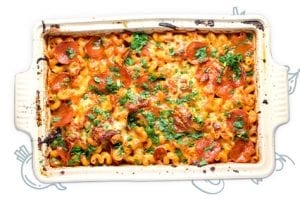 Conclusion
Enjoy a filling meal that will provide you energy for the day with this quick and healthy zucchini potato casserole. Made with just a few simple ingredients, you can easily customize it according to your preference.