Casserole dishes are the most convenient quick and easy dish to prepare for special occasions and big gatherings. It's the perfect dish for the upcoming Passover holiday tradition. Our spinach casserole is a one-pot meal with loads of simple yet delicious ingredients giving you a flavorful experience with every bite. A truly appetizing dish to make in less than an hour. 
Our spinach casserole is the perfect healthier and tastier alternative menu option during Passover or Lenten since it is a no-meat season. Finding the ingredients to make this recipe won't be a hassle too since we used familiar food items from your typical Jewish food recipes. 
Of course, you can still enjoy this tasty spinach casserole dish during any occasion. It's a healthy menu choice that everybody can enjoy. We also have other one-pot meal wonders like the Cheesy Steak And Potato Casserole or Chicken Breasts with Spinach and Leek Paprikash Sauce. 
A Meat-Free Friendly Casserole Dish
Casserole dishes, commonly known to be "baked dishes", offers an appetizing meal that's overloaded with delicious proteins. You can use chicken, beef, or cheese. Complete the dish by adding vegetables, starch, and other seasonings. For our spinach casserole recipe, we're experimenting with a meat-free friendly dish that's fun and easy to make.
This spinach casserole recipe contains simple healthy ingredients. Since it's a meat-free and non-cream based casserole, you bet the satisfying taste will come from the spinach blending perfectly well with the other ingredients. Spinach, in general, is rich in minerals, vitamins, and high in fiber. They're are added in a lot of dishes ranging from salads and soups, dipping sauces to creamy green smoothies. There's no way this healthy greens won't transform this casserole dish into an amazing recipe the way it does in other dishes.
Make the special gathering season extra wonderful by expanding your Passover meal menu with this spinach casserole recipe. Complete your Seder Plate along with other traditional dishes like the Matzo Ball Chicken Noodle Soup or a simple Crockpot Roast Chicken. 
What's in Our Spinach Casserole?
Despite not having meat for this recipe, you can still enjoy what a delicious spinach casserole can offer. It's different from your usual creamy spinach casseroles. We combined the flavors of spinach, potato starch, and other pantry staples to create a savory casserole dish worth every bite. In our spinach casserole, we used two very specific main ingredients:
Spinach is an accessible vegetable that you can eat cooked, raw, or even on its own. We used frozen spinach in this recipe since it's easy and convenient. While using fresh spinach can make it more flavorful, it requires a lot more preparation to achieve a rich and mildly bitter taste. Frozen chopped spinach only require a short amount of thawing and steaming for it to regain its robust taste. If you're planning to use fresh raw spinach, remember to remove the stem and chop it finely. Afterwards, sauté with some grated garlic clove, and season with salt and pepper. Feel free to choose from the two kinds of available spinach. Either way, our this dish will still remain a rich and flavorful one-pot baked meal for everyone to enjoy.
The matzo meal is another interesting ingredient that we included for this recipe. Matzo meal is made from crushed matzo or matzah which is the traditional unleavened bread. It is the main ingredient for cooking a delicious matzo balls. You can also bake bread, or even cookies with it that you can appropriately serve during Passover. Matzo meals are often used as a substitute for flour since it's an effective binding ingredient. 
With these two ingredients, we'll have ourselves a delicious and wonderful spinach casserole—a scrumptious dish worth every bite.
How To Make Passover Spinach Casserole
Our quick and easy spinach casserole dish allows you to enjoy a casserole that's meat-free friendly while still indulging in the taste of a savory casserole dish.
Ingredients
20

oz

frozen spinach,

chopped

½

cup

butter

2

cloves garlic,

crushed

1

tbsp

potato starch

2

tbsp

dried onion mix

2

eggs (can use egg beaters or egg whites too),

beaten

½

cup

matzo meal
Instructions
Thaw and drain the frozen spinach. Steam for about 4 minutes. Set aside.

Melt butter in skillet and saute garlic.

Blend in potato starch, then the onion soup mix.

Add a little water to prevent it from drying up and sticking to the pan.

Remove from heat.

Stir beaten egg and matzo meal into spinach.

Add butter mixture, then salt and pepper for taste.

Pour into a well-greased 1½ quart casserole dish.

Bake at 350 degrees F for 25 minutes.

Enjoy!
Nutrition
Calcium:

1mg

Calories:

35kcal

Carbohydrates:

7g

Fat:

1g

Fiber:

1g

Iron:

1mg

Potassium:

18mg

Protein:

1g

Saturated Fat:

1g

Sodium:

1mg

Sugar:

1g

Vitamin C:

1mg
Nutrition Disclaimer
Commonly Asked Questions
Can you freeze spinach casserole?
Yes, you can freeze the spinach casserole and make it last longer for up to 3 months in the freezer. Make sure that it's wrapped properly with foil. If you're freezing in small pieces, place the leftovers inside an airtight container. When about to consume, remember to thaw first before reheating in the oven.
How do you reheat casseroles?
Reheating casseroles can vary depending on the size of your container and how much you're reheating. For a 1 ½ quart spinach casserole dish, you can reheat it inside the oven for 30 minutes at a moderate temperature of 350 degrees F. Since casseroles can burn and dry out easily, it's better to be watchful of the heat.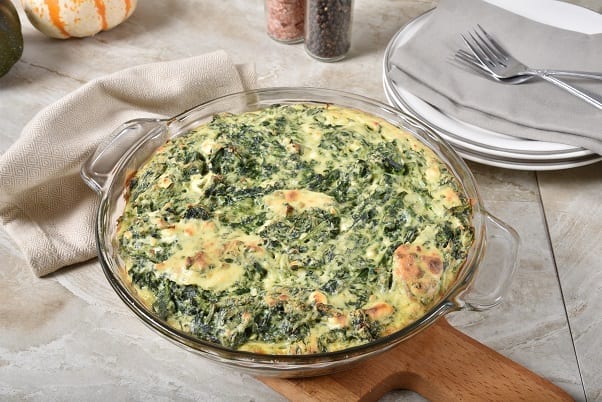 Conclusion
Complete your Seder plate with our spinach casserole that is a meat-free and healthy dish which require a quick, easy, and fun baking process. It's a casserole that you can enjoy during the Lenten season or on any other special occasions.
Related Casserole Recipes