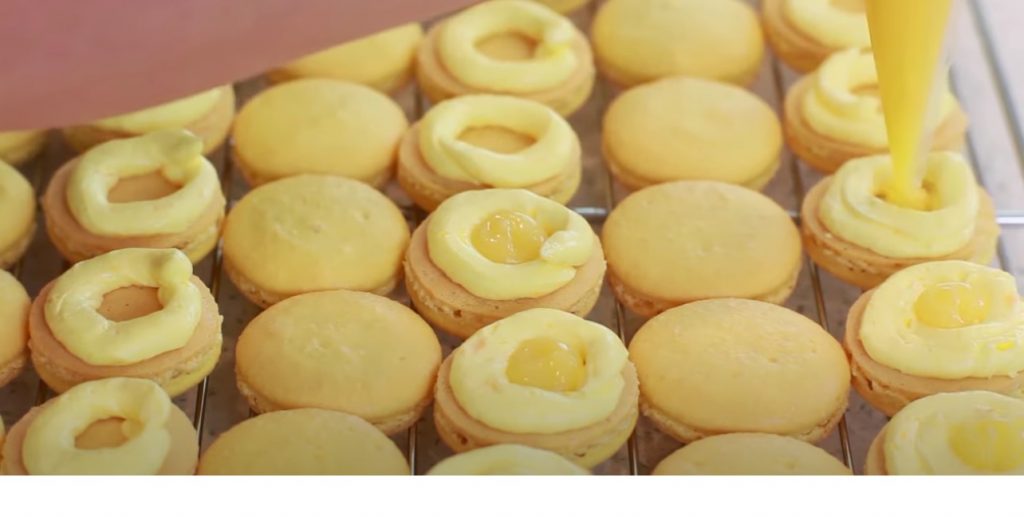 Lemon Macaron Recipe
How To Make Lemon Macaron
Learn how to make a tasty, elegant, and delicate dessert with this lemon macaron recipe. Your friends and family will definitely be impressed.
Ingredients
For Macaron Shells:
1¼

cup

almond flour

1

cup

powdered sugar

6

tbsp

granulated sugar

4

large egg whites

2

tsp

lemon juice

2

lemon zest

2

drops

yellow gel food coloring
For Filling:
⅓

cup

unsalted butter,,

softened

3

tbsp

cream cheese,

softened

3

tbsp

lemon curd,

homemade or store-bought

1

cup

confectioners sugar
Instructions
Prep mixing bowl and whip attachment by wiping them down with a paper towel dampened with lemon juice. Let stand to dry.

Place a printed template on two baking sheets, then cover with parchment paper. Set aside. Fit a #806 plain tip into a piping bag. Set aside.

Sift the almond flour and the confectioners sugar through a fine-mesh sieve into a mixing bowl. Transfer the mixture back into the sieve and sift again. Set aside.

In the bowl of a stand mixer, begin whipping the egg whites on medium speed until frothy.

Add the lemon juice, and continue whipping on medium-high speed until soft peaks form. Slowly add in the sugar. Once all of the sugar is added, whip on high speed until the meringue forms stiff peaks.

Add the lemon zest and two drops of yellow food coloring, and whip until the color is uniform.

Remove the mixing bowl from the stand mixer. Sift the almond flour mixture over the egg whites. Using a clean spatula, begin folding the mixture by scraping the spatula under the mixture, then turning it over.

Give the bowl a quarter-turn, and scrape the spatula under the mixture and then turn it over.

Repeat until the mixture resembles lava, where it flows from your spatula in a ribbon but it still thick and the ribbon takes about 30 seconds to sink back into the batter.

Fill the prepared piping bag halfway with macaron batter. Pipe shells onto the parchment paper. Slide the template out from underneath the parchment.

Let the baking sheets sit at room temperature for 30 minutes to an hour, until they start to dry out and form a skin on top.

Preheat oven to 300 degrees F. Arrange the racks in the top and bottom thirds of the oven.

Bake the macarons for 18 to 30 minutes, rotating the pan 180 degrees halfway through baking. The cookies are done when they peel cleanly off of the parchment.

Remove the baking sheet to a wire cooling rack and cool the meringue shells on the baking sheet.
Filling:
Cream together the butter and cream cheese. Beat in the powdered sugar, then beat in the lemon curd.

Fill a piping bag halfway, and pipe dollops of filling onto half of your macaron shells. Sandwich with the other half of the macaron shells.

Store in a a single layer in an airtight container in the refrigerator.
Nutrition
Calories: 

97.68kcal

Fat: 

5.13g

Saturated Fat: 

1.88g

Trans Fat: 

0.09g

Monounsaturated Fat: 

0.72g

Polyunsaturated Fat: 

0.11g

Carbohydrates: 

12.02g

Fiber: 

0.58g

Sugar: 

10.97g

Protein: 

1.68g

Cholesterol: 

8.56mg

Sodium: 

13.61mg

Calcium: 

7.12mg

Potassium: 

46.80mg

Iron: 

0.08mg

Vitamin A: 

24.82µg

Vitamin C: 

1.45mg