Advertisement
Continue Reading Below
Pastries are always beautiful and inviting to look at. At a glance, we will be drooling by just seeing them laid out on the table. Not only do they look pretty, but every sweet bite of it is as delightful as it looks. Colorful icing and frostings are some of the things that make pastries look and taste delicious, and a piping bag is what helps make it happen. It's a kitchen tool specifically made for decorating baked goods. In this article, we will guide you on how to use it. Plus, we will drop some useful tips along the way so read through the end. 
What Is a Piping Bag?
A piping bag is a cone-shaped plastic bag. We also know it as an icing bag or pastry bag. It's where you put the icing or frosting that you intend to use to decorate pastries. Piping bags are important if we want to create the swirl frosting on top of a moist chocolate cupcake.
How to Use a Piping Bag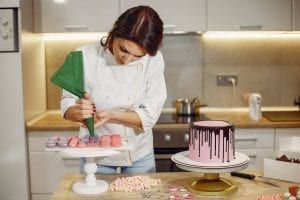 As we stated above, frosting bags are used for decorating cakes like a traditional strawberry cake, as well as other baked goods such as a chocolate cream pie. The use of a piping bag doesn't begin and end in pastries, though. It can also be used for pureed ingredients such as cream, mashed potatoes, and even doughs. Here's how to use a piping bag:
How to Fill A Piping Bag
Filling pastry bags might be a little bit of a mess, especially if you're going to enjoy it with the kids. And although it's all going to be worth it in the end, you can avoid all the unnecessary mess with the help of a tall drinking glass and a tip coupler. Here's how to do it:
Take your pastry bag and insert the tip coupler; let it fall to the bottom of the cone.

Place the tall glass down and fold the big end of the bag so that you get a nice and wide opening for your frosting,

homemade icing

, or purees. This also enables you to scrape your spatula easier later on.

Using a spatula, take some of the frostings you made and put them in the icing bag. Once you've filled it up to ½ or ⅔ of it, you can stop. Filling the pastry bag too much will make it harder to use, especially when you're using thick frostings.

Select a tip that you want to use and attach it to the tip coupler. If you're going to use a larger tip, then a tip couplet is not necessary. Simply insert the tip and cut enough space so that half of it is out of the pastry bag.

Tip:
During the first step, you can keep the coupler in place by twisting the bag just above it before you put the frosting. When you're ready to use it, simply untwist it to let the icing flow. This also avoids mess if you cut the tip of the bag before you placed the coupler.
How to Properly Hold a Piping Bag
The most important thing to remember when using a piping bag is to never do it with only one hand. This is not a stable way of using frosting bags and you'll also end up applying too much pressure. Instead, use your dominant hand to hold the larger end of the bag for more pressure and direction control. Then, use your non-dominant hand to guide where you want the contents of your bag to go. In cake piping, especially decorating on the sides, hold the bag and make a 45-degree angle for pleasant and eye-pleasing strokes. Step up your cake decorating and hold your piping bag like a pro.
Piping Bag Parts and Accessories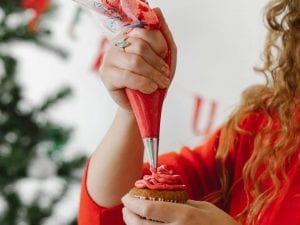 A pastry bag is simple-looking and is a very useful decorating tool. Although it gets the job done quite simply, knowing the variations of each part is also important.
Piping Bag
A piping bag is a cone-shaped soft plastic that holds and contains your frostings, icing, and purees. It enables you to attach a piping tip to it to create lots of different shapes and designs. There are two types of pastry bags: disposable and reusable. Each of these types has variations, and the use of them depends on the task you want to achieve.
Types of Disposable Piping Bags
The high grip bag is the most common type of disposable bag available at stores and even online. This is the easiest to hold and pipe and is also easy to store. The next is a soft bag. It is thicker than the other disposable icing bags and it can fit any size tips. The last one is the striping bag inserts. With the use of this pastry bag, you can pipe two or more colors at once! It has a single tube that connects through the others, giving you a colorful result. All of these bags are microwave-safe, so you can melt any ingredient you wish by using a microwave directly.
Types of Reusable Piping Bags
Polyester icing bags are great for heavy-duty use because it is strong and malleable. It is versatile and very easy to use. The second is thermoplastic, yet another all-purpose pastry bag. One thing about reusable stuff is that smell and stains sometimes cling to them. But this one is stain- and odor-proof.  Both types of piping bag are microwave-safe, making them perfect for applying hot ingredients.
The third type of piping bag is canvas. A perfect name for the bag, for after all, decorating food is also an art form. This reusable bag is perfect for non-oily fillings like mashed potatoes, very thick frosting, and doughs. Oily filling tends to leak out of this bag unless you use a plastic-coated canvas bag. Another plus point of plastic-coated canvas, it's easier to clean than the classic canvas one. is. However, both canvas pastry bags are not microwave-safe.
Then there's also a nylon piping bag that is very durable and flexible. Its quality makes it perfect to use for piping thick foods like mashed potatoes and doughs. However, oily food may also leak. This bag is a great microwave-safe alternative to the canvas bag.
Coupler
A coupler is like a small plastic device that allows you to change the size and design of your tips without having to get a new bag. Its size ranges from small to large ones and will depend on what you intend to achieve. Beautiful pastry decorations will be hard without this little guy around. You can get a 12 piece standard coupler online, or in grocery stores.
Piping Tips
Tips are responsible for those intricate details that you see as decorations. It has a wide range of sizes and different designs that produce varieties of beautiful shapes. Here are some of the most common ones which are also perfect to use when you're trying it for the first time.
Star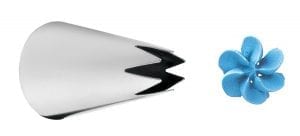 Star tip is probably the most infamous piping tip ever. You likely would have seen the result of this tip on most of those scrumptious cupcakes you've had. Perfect for beginners. It easily produces a star shape with just one squeeze, and you can also create iconic swirls and rosettes with it. It is also great to use for making borders around your cakes or small details that fit biscuits.
Drop Flower
The grooves look similar to that of a star tip, but they are much closer together. This will create finer, more delicate lines, which makes it ideal for making truly elegant rose swirls that will have every guest jaw-dropping in awe at the professionalism of your cake.
Writing Tip

You would have seen this used in dedication and celebration cakes. It is the one used to write "Congratulations!" or "Happy Birthday!" on cakes. This can also be used to create finer and tiny details in cookies and other things that only need a thin decoration.
Round Tip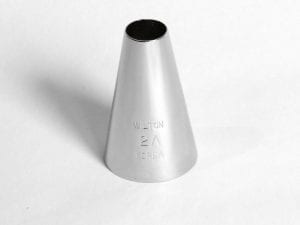 This one is usually used to tip macarons or piping buttercream on cupcakes. This leaves a thick, round, and smooth-looking swirl.
French Star
If you're planning to do a sea-themed cake or cupcakes, then this tip will be your best friend. It has a very fine groove pattern. Thus, creating shells and scallops will be a no-brainer with this type of tip. It's also perfect to create stars and intricate flower designs. It has a very fine groove pattern.
After trying it out, you might find pastry decorating fun. You can also try other tips and create more designs with this 33-piece piping tip set that comes with a free piping bag, bag ties, and a coupler.
Piping Bag Care Guide
Cleaning the tools we use after using them is essential. Not only should these tools be safe and clean to use when we need them again, but these tools will break and wear down if not properly cared for. Proper care of kitchen tools is also important in cooking, so make sure to clean your piping bags. 
To clean piping bags, take the insides out, then wash them with soap and hot water. After that, stuff it with paper towels and leave it to dry. If you're going to use it after you wash it, then you can dry it directly after washing.
Advertisement
Continue Reading Below