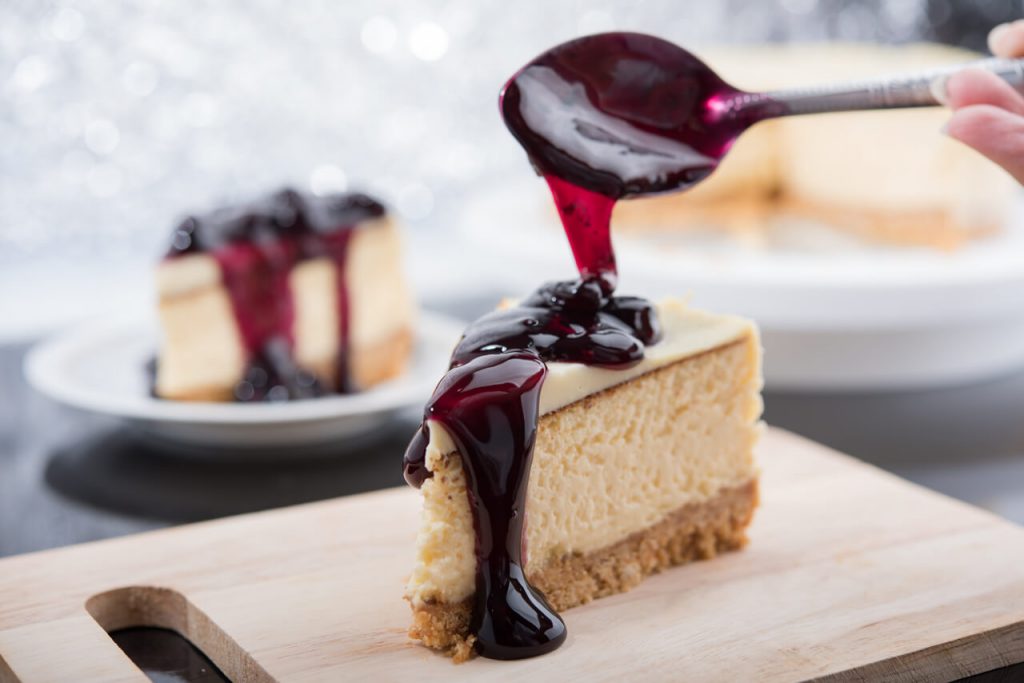 32 Best Cheesecake Toppings You Should Try
Cheesecakes, like this pure, unadulterated no-bake New York cheesecake, are undoubtedly one of the most beloved desserts in the world. Aside from being fancy, cheesecakes are versatile as you can top them with your favorite dessert toppings. This is thanks to their plain appearance and taste that complement any fillings! Think cheesecake toppings like Oreos, chocolate ganache, berries, and more!
Now, say you got the store-bought dessert in your hands, this list of toppings should elevate your dessert to a different level. Check what else you can use to keep things interesting and new!
---
Sweet Cheesecake Toppings

Melted Chocolate
Melted chocolate and hot fudge make everything taste so much better! They're thick, luscious, and extremely decadent with their rich chocolate flavor. Imagine the soft and velvety mouthfeel of classic cheesecake drizzled with chocolate as a delightful treat. The two go so well together that chocolate, or any of its forms, is known as one of the go-to toppings ever invented!
A drizzle on top will do the trick or go all out by covering the top layer completely. It's hard to mess with melted chocolate, so do what suits your fancy! 
Are things too chocolatey and sweet for you with just the melted chocolate? Well, one way to cut through and temper the sweetness is by adding a creamy component with a more neutral flavor: whipped cream!
It's creamy and velvety, and it blends nicely with any topping on this list. Besides, it makes your cheesecake visually appealing! Chocolate whipped cream is good too, so you definitely should try it.
Graham Crackers
It's true, graham crackers make a nice vessel for cheesecakes. However, it's also one of the most underrated cheesecake toppings. Its crunchy texture without too much sweetness is an inviting addition.
But here's a secret: instead of crushing plain graham crackers on top, why not make a graham crackers crunch? You'll need a few easy-to-find ingredients such as brown sugar, cinnamon, melted butter, vanilla, and salt. Mix it all together then pop it in the oven (preheated to 350 degrees F) for around 15 minutes. It's incredibly easy to make and tasty too! 
Oreo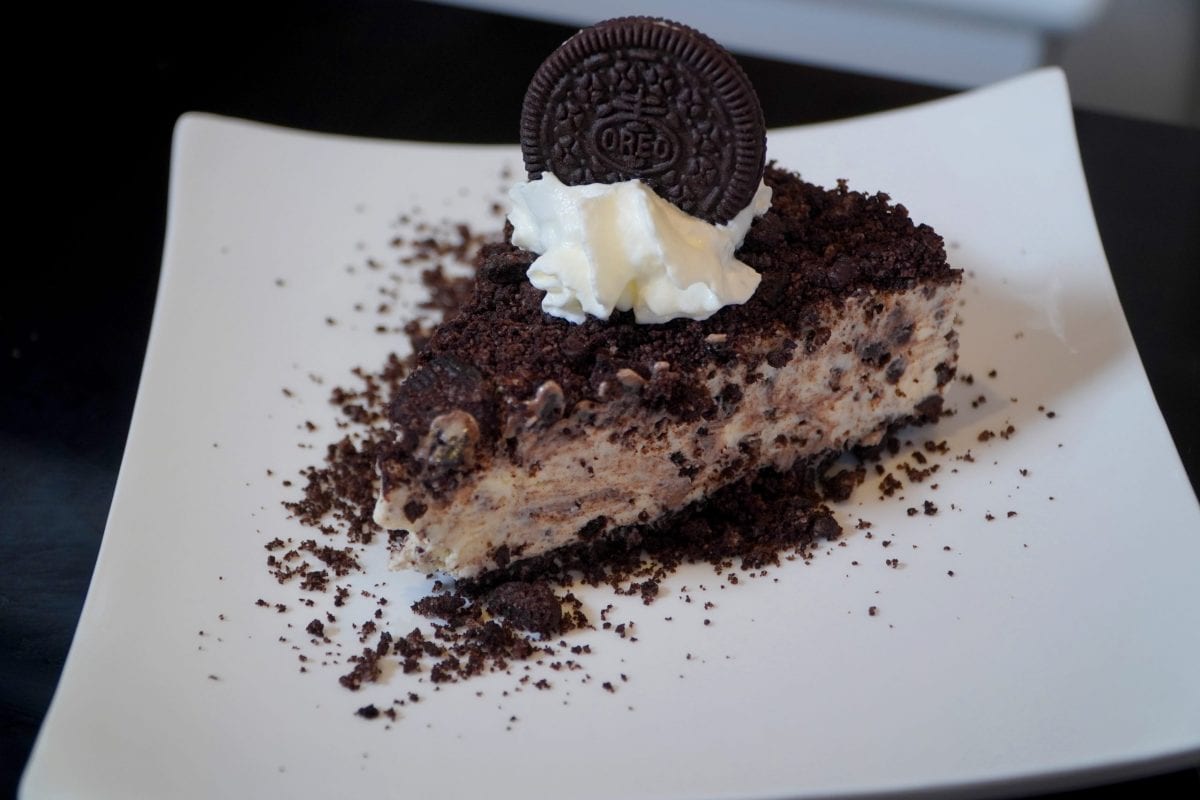 Oreo cookies, everyone's favorite pancake topping, are also some of the most well-loved no-bake cheesecake toppings. They are decadent and have a unique chocolatey flavor. Now, they do not only look inviting on any dessert but they also add a delicious crunch that contrasts with the velvety and smooth texture of cheesecake. All in all, they make a nice crust, filling, and topping — just what you'd expect from any no-bake Oreo cheesecake!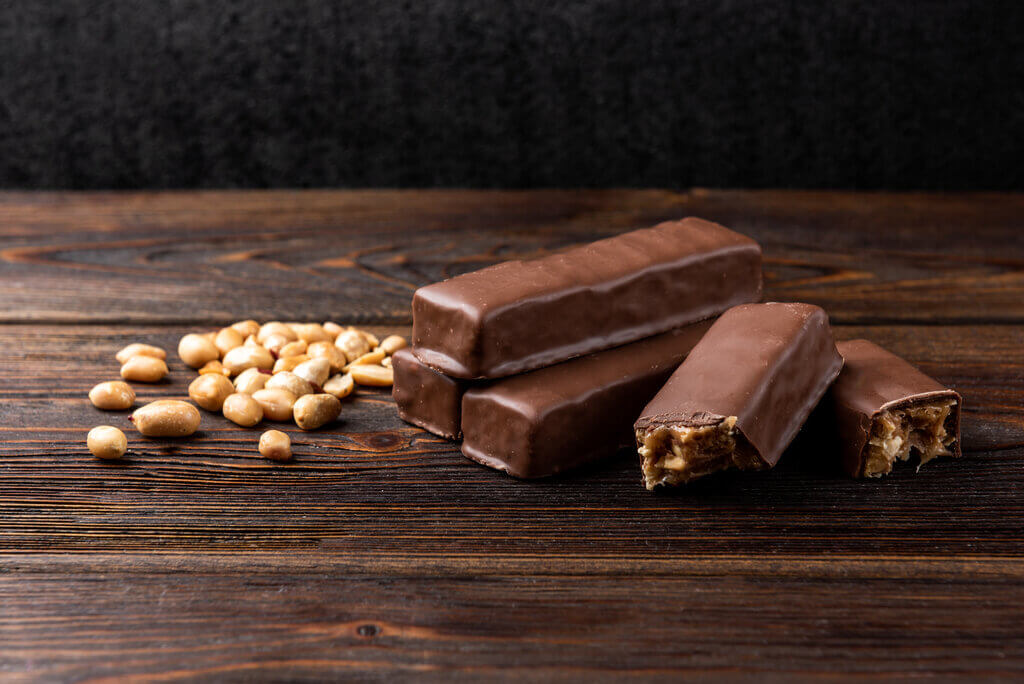 If you happen to be a chocoholic just like us, well, you already know what toppings you'd like. Besides melted chocolate though, try adding your favorite candy bars! We're thinking of chopped Hershey's, Snickers, Twix, and Heath bars.
Decorate the rim of your cheesecake with whipped cream frosting, top the frosting with mini candy bars of your choice, and decorate the center with chopped chocolate bars to create a chocolate-filled haven on a plate!
Reese's Peanut Butter Cups
Cheesecake pairs well with chocolate that's for sure. Now, let's add another flavor: salty! Or peanut butter, to be exact. The sweet and salty combination in Reese's peanut butter cups creates a wonderful flavor layering. It amps up the rich chocolate flavor without overdoing the sweetness. They're rich and indulgent. What's more, they give your cheesecake an inviting look that's hard to resist! 
Chocolate Shavings
Dress up your cheesecake in chocolate shavings! They're easy to make and are the perfect topping for store-bought New York cheesecake. Use your handy vegetable or potato peeler to make the chocolate curls.
Feel free to use any chocolate you prefer. You can use milk, white, or dark chocolate. Although there's nothing wrong with a combination too. Whatever sort, you'll end up with an indulgent dessert that's unbelievably easy to make.
Mix milk and white chocolate for a snowy look. Or better yet, use pink chocolate shavings for an extra romantic effect.
Chocolate Dipped Strawberries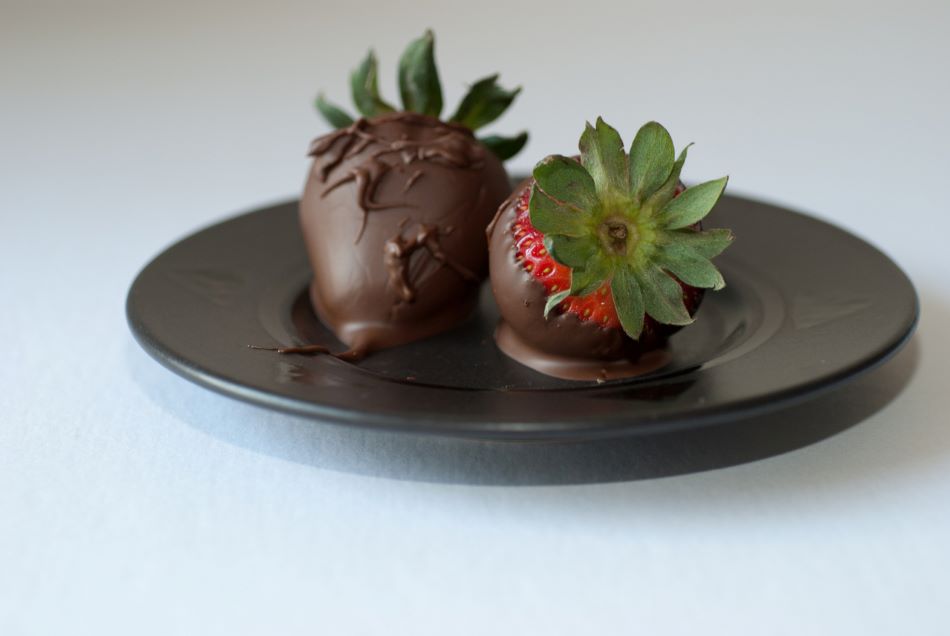 Now, enough with simple toppings for cheesecake. Go ahead and make an extra fancy dessert by topping it with fudge-dipped strawberries. This topping involves juicy, wonderfully sweet, and tangy strawberries dipped in silky and indulgent chocolate. Finish with white chocolate drizzle to complete the look. Or better yet, wow your guests by sprinkling the whole thing with edible gold or sprinkles.  
Chocolate Chips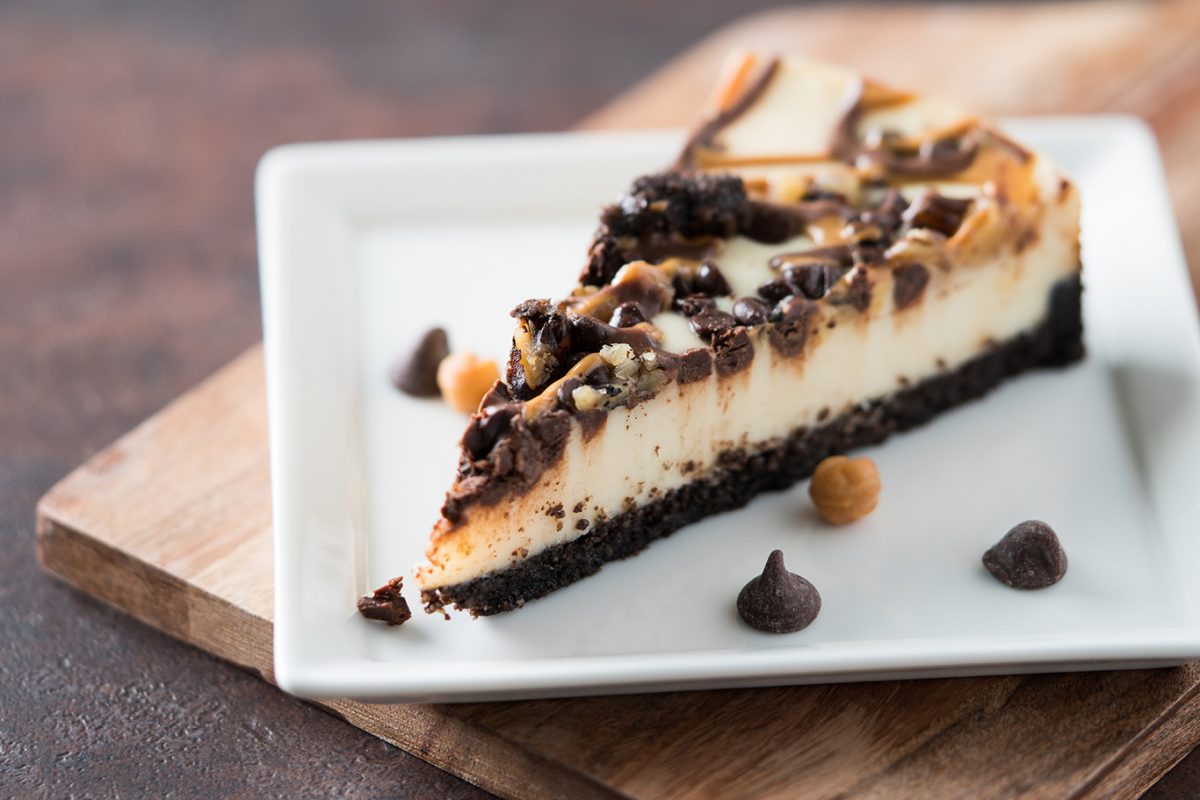 If you don't have much time and resources to make chocolate-dipped strawberries, store-bought toppings for cheesecake like chocolate chips are a good idea. What we like about them, apart from their obvious decadent flavor, is the crunch. Chocolate chips add texture as well as flavor to your dessert!
Add them on their own or along with other toppings like whipped cream or graham cracker crumbles. You can even combine it with caramel and pecans like in a delicious and easy turtle pie. 
Cinnamon Sugar
Cheesecake does not always have to be decorated with fancy toppings. You can make do with less expensive ingredients like cinnamon sugar. What you'll get is a combination of two of your favorite desserts: cinnamon bun and cheesecake. All in all, it's warm and velvety. Use it just like how you would use it in your favorite bressert, pancakes! 
READ ALSO: 40 Pancake Toppings to Spruce Up Your Breakfast
Lemon Meringue
Whipped cream is not the only fluffy topping you can add to your cheesecake. Give your favorite dessert the lemon pie treatment by topping it with lemon meringue! Obviously, it's a little harder to whip up than whipped cream. But the result is worth it. You'll finish a whole dessert plate even before the meringue completely melts in your mouth! 
---
Fruit Cheesecake Toppings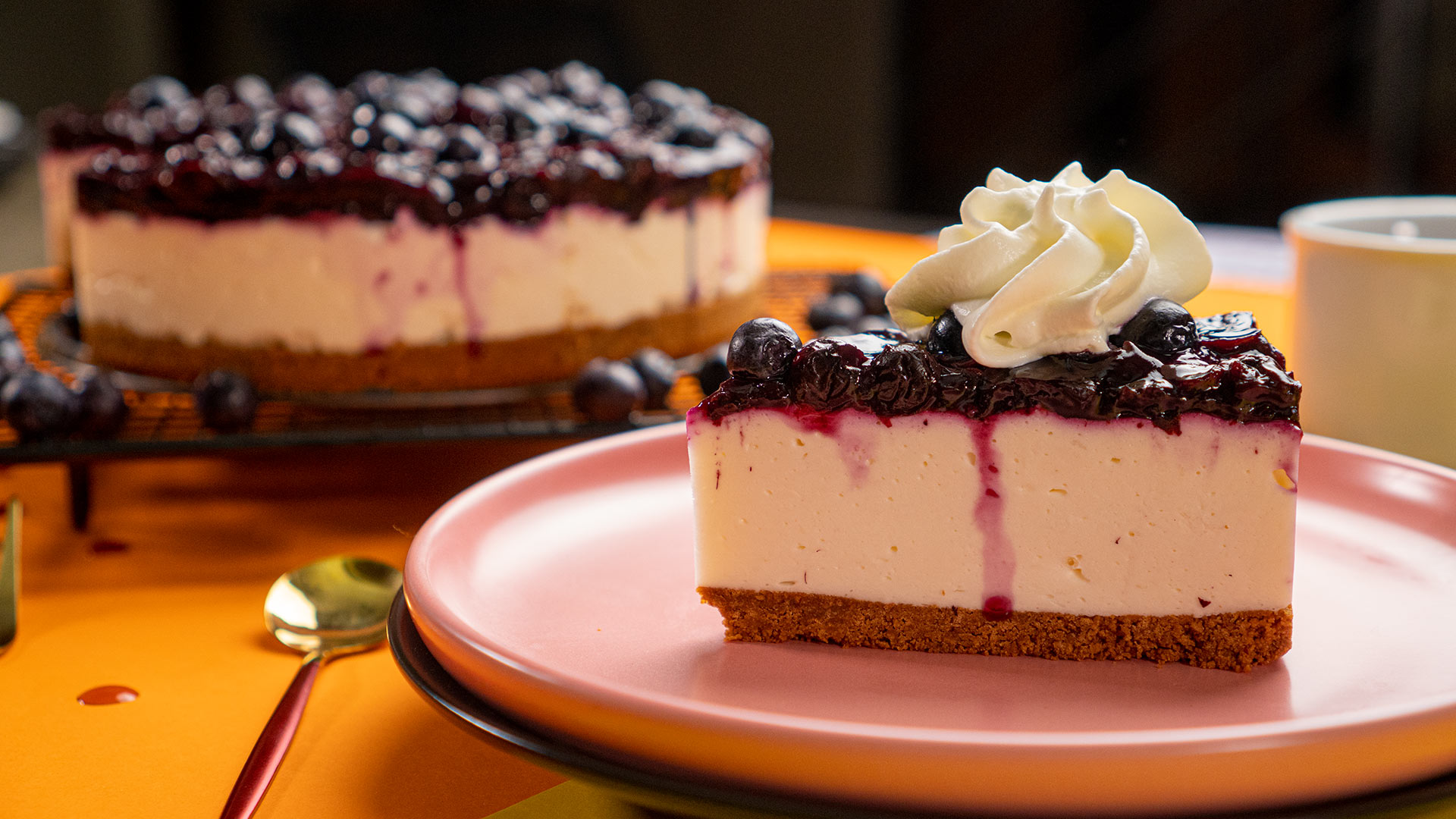 Blueberries
Blueberries are hailed as one of the ultimate cheesecake toppings for a reason. They transform plain and boring cheesecake by adding a pop of color. Blueberries also give the plain cheesecake a sweet and sour twist. It also tempers the overwhelming velvety mouthfeel by introducing a new flavor: tangy! 
Add the fresh sort, or add blueberry sauce. You can start with this blueberry swirl cheesecake that features beautiful swirls in the cheesecake filling! 
Mango
Besides the striking deep purple color, you'll find in blueberries, another way you can add a pop of color is by adding mangoes! They're equally stunning and have plenty of fresh tropical flavor. Just like blueberries, mango incorporates a tangy flavor that contrasts the overpowering taste of the velvety filling! 
Mix cubed mangoes with crushed graham crackers to combine two favorite desserts: cheesecake and mango graham cake. 
Strawberries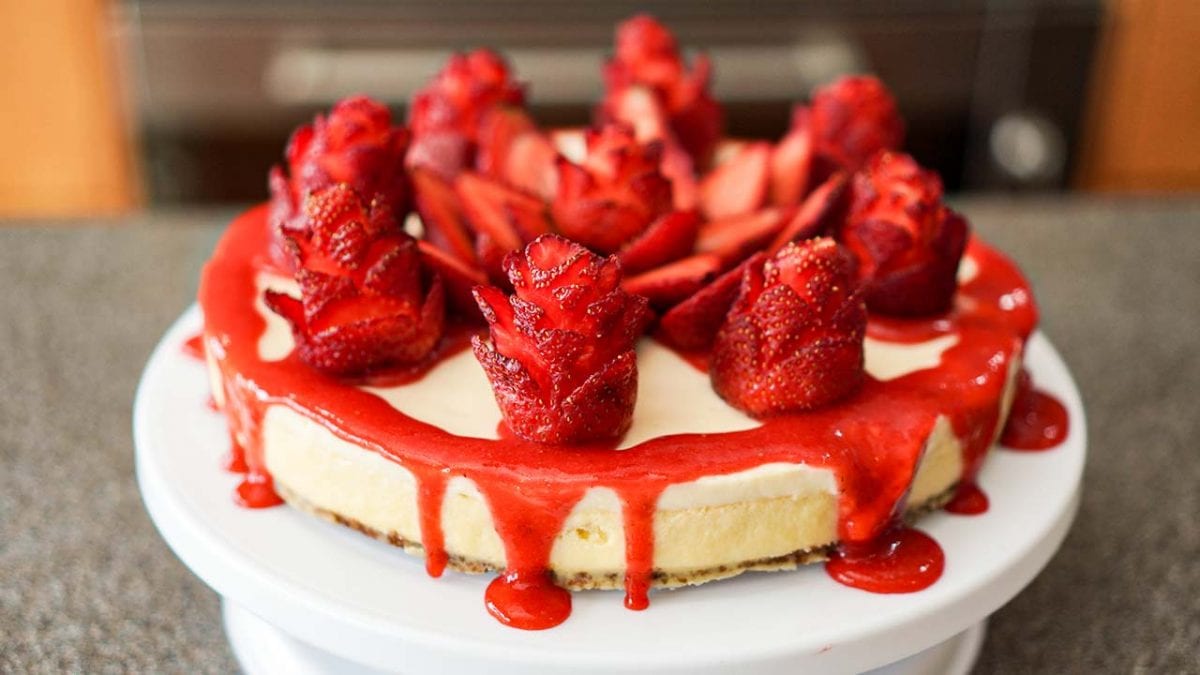 Strawberries make another aesthetically pleasing dessert with their vibrant red color. Inspired by the Cheesecake Factory's version, this fresh strawberry cheesecake features tart fresh strawberries and glaze sitting atop creamy cheesecake filling. Overall, this topping gives you a sweet, yet light and refreshing topping you can't help but fall in love with in taste and appearance. 
Peach
Ripe peaches are naturally sweet and a little tart, the perfect topping to decorate your cheesecake with. You can combine it with peach sauce, but the fresh sort can stand on its own too! Whichever way you go about using peaches, it goes together with whipped cream to make it even more alluring! 
Banana
Now, you can never go wrong with plain or even caramelized bananas — be it in cakes, pies, and of course, cheesecakes! But banoffee pie-topped cheesecake is on another level. Imagine crispy crust with banana-flavored cheesecake filling decorated with toffee sauce, whipped cream, and crispy banana slices. All in all, it has all the characteristics of the classic but with a modern, decadent twist! 
Raspberry
With their vibrant shade of pinkish-red, raspberry is a great way to bring about a series of wows from your guests. The iconic red follows with its naturally sweet and tangy flavor bursting with a sweetness that ultimately transforms your classic New York-style cheesecake into an unforgettable dessert. Dust the whole thing with powdered sugar for a snowy look. Or leave it as is to highlight the color of raspberry. 
Lemon Curd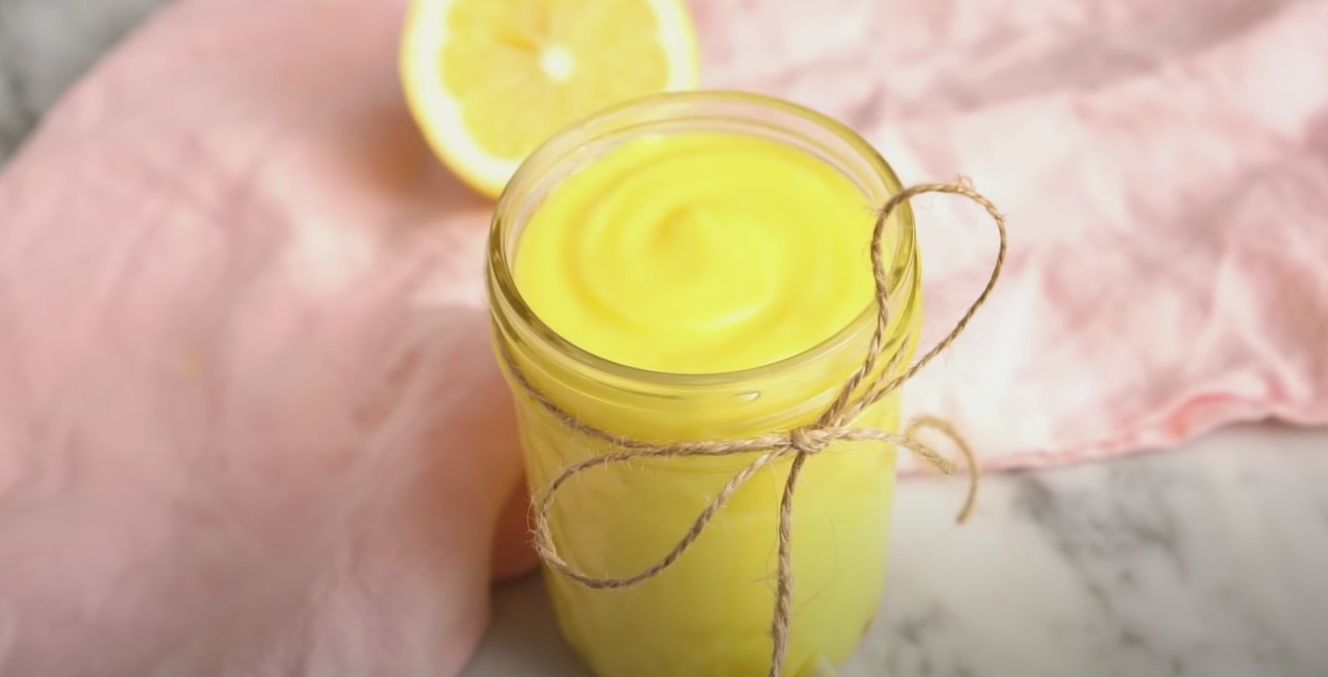 Bring your plain dessert back to life by using this Meyer lemon curd as a cheesecake topping! This lemon topping captures the intense tangy flavor of lemon that is balanced with sugar, eggs, and butter. Together, they produce a creamy and sweet filling for any dessert! Its jam-like consistency is good on its own but it goes well with any fruit topping on this list. You can start with blueberries, raspberries, and strawberries. It also goes well with whipped cream. We won't say no to lemon, mixed berries, and whipped cream though.
Canned Pie Filling
Nothing beats making your own pie filling, but do not hesitate to swap with store-bought especially when you're on a tight schedule. After all, they're a famous go-to topping for cheesecake. 
Before all else, you'll notice a couple of flavors in the grocery aisle. There's pumpkin, apple, strawberry, blueberry, and cherry. The most common sorts of filling for cheesecake are berries and cherries because of their vibrant color. And of course, they're classics and make the most mouthwatering, fuss-free topping! Open the can, scoop, and top. It's easy as pie!
Kiwi
Looking for fruit cheesecake toppings besides berries? Challenge your tastebuds with kiwi. It's unique and features a tangy and sweet taste that's quite similar to pineapple, only with a less intense sour taste. We like how the sour and fruity taste of the kiwi cuts through the overwhelming creaminess of the cheesecake filling. The kiwi comes with a green flesh too which is a huge plus if you're going for a summery feel.
---
Cheesecake Sauces and Syrups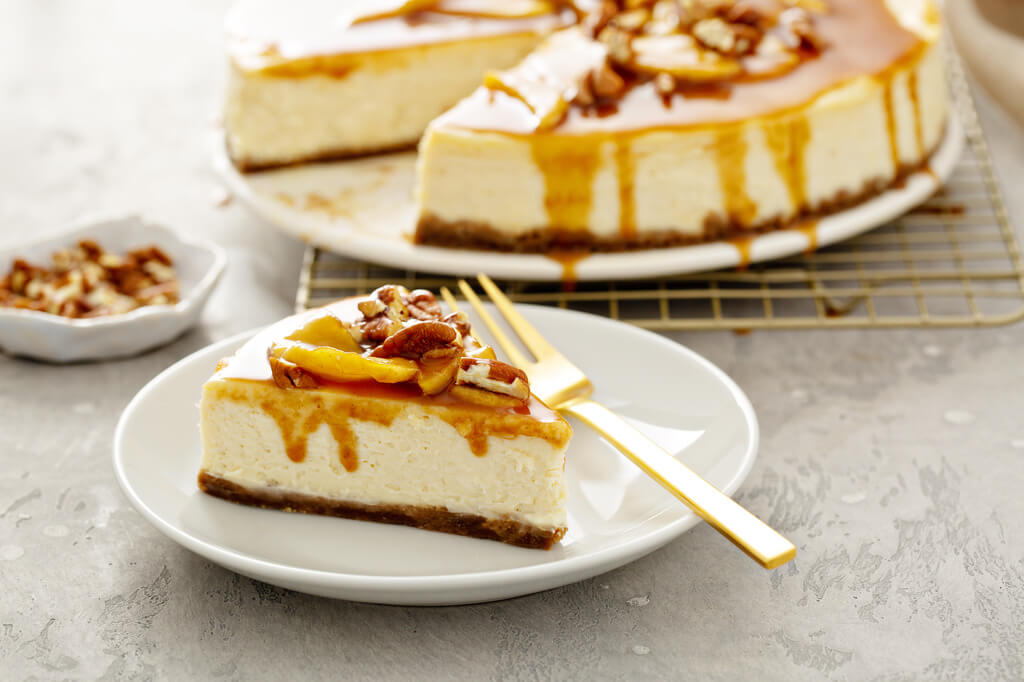 Chocolate Ganache
Chocolate ganache will surely elicit a series of oohs and aahs from guests, kids, and adults alike. This chocolate topping combines melted dark chocolate and heavy cream to make a decadent, silky dessert you can spread on your cheesecake.
Like many chocolate cheesecake toppings on this list, there are several ways you can incorporate chocolate ganache. Pair it with whipped cream, peanut butter sauce, and salt for a fuller chocolate flavor. Or on its own like this decadent chocolate cheesecake. Whichever way, you can never go wrong with this chocolatey ingredient!
Strawberry Sauce
Strawberry sauce is a traditional cheesecake topping. It usually goes together with fresh strawberries to create not only a delicious dessert but also a beautiful treat that's sure to wow your guests. You see, coating and drizzling your fresh berries with this topping will instantly make your cheesecake fancier by adding a silky and glossy finish to your fruits. Don't forget the fluffy whipped cream to truly capture that strawberries and cream flavor.
READ ALSO: 29 Fancy Desserts to Make For Special Occasions
Strawberry Compote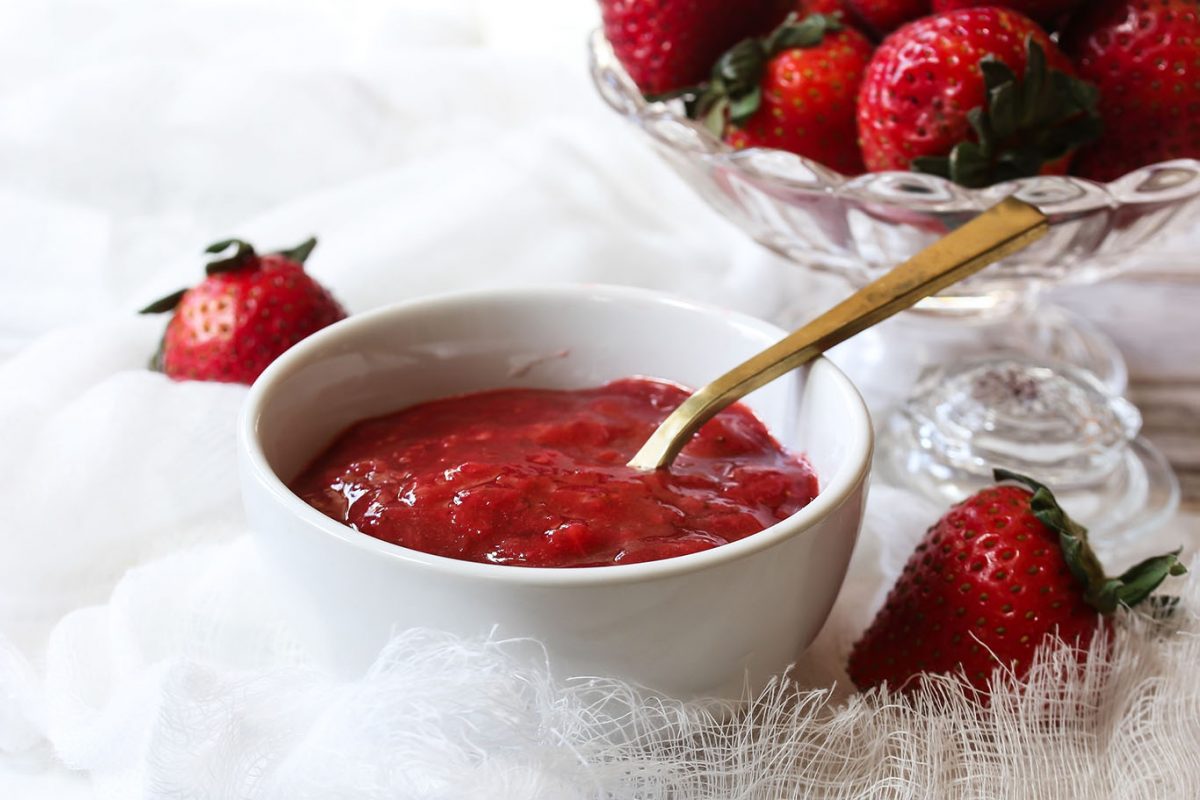 Can't get enough of strawberries but want more build and texture to your cheesecake than what sauces can offer? Then swap the sauce with compote. It's a dessert spread that consists of whole fruits or sometimes pieces of fruit sitting in sugar syrup. You may even throw in some spices there such as cinnamon and ground ginger for depth of flavor you won't find in a simple strawberry sauce. Chia seeds are another add-in you may like! 
Chocolate Syrup
There's no such thing as too much chocolate, or at least that's what we think. Now, there are melted chocolate, chocolate ganache, and candy bars. What else can you use? Chocolate syrup like Hershey's, of course! They're easy and fuss-free. Drizzle your cheesecake with it and it's set. Of course, you're also welcome to decorate it with other toppings. Obviously, whipped cream is the no-brainer combination. But it also complements strawberry syrup! 
Caramel Sauce
Who said you can't be adventurous with your cheesecakes? Sauces for this popular dessert are not limited to berries and chocolate. In fact, caramel sauce and salted caramel are other delicious flavor enhancers. Their sweet, yet salty taste enhances the flavor of this dessert by layering the flavors. Don't forget to pair it with crunchy toppings like nuts and another more neutral flavored topping like whipped cream to get the perfect balance of goodness!
Blueberry Sauce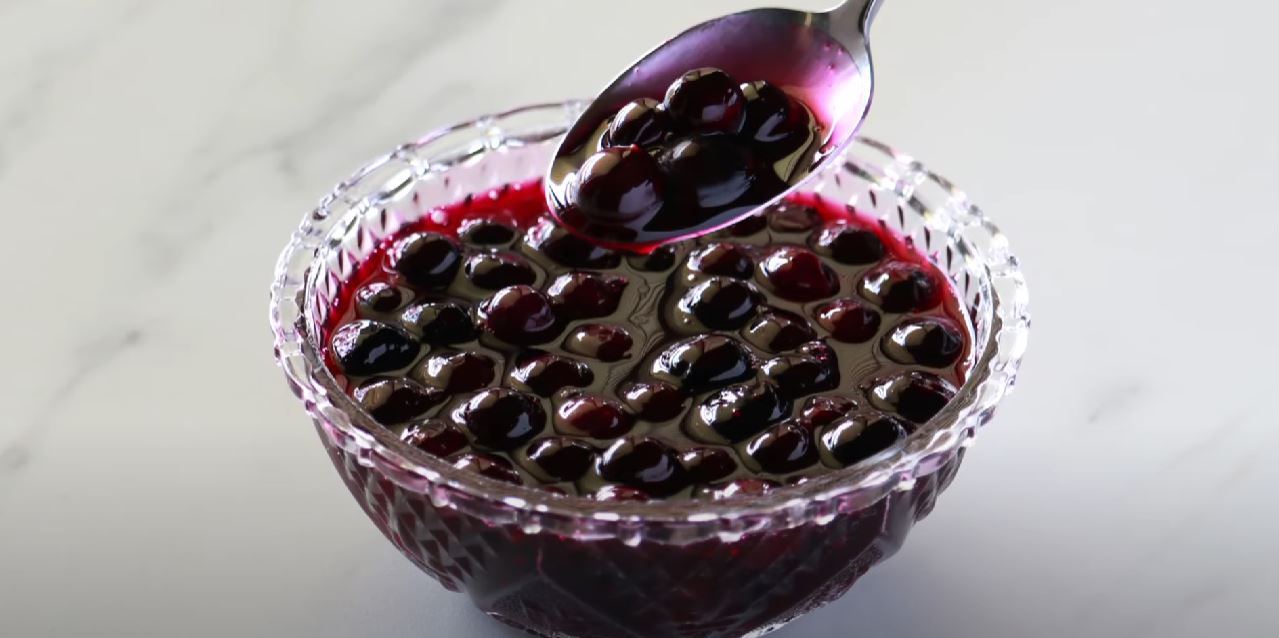 Of course, who dares miss blueberry sauce? Just like strawberry, this is also a classic cheesecake topping. It's thick, sweet, and a little tangy — the perfect sauce to go with fresh blueberries and whipped cream! 
Peanut Butter Sauce
Peanut butter lovers and sweet tooths will go bananas over this peanut butter sauce! It starts with natural peanut butter, heavy whipping cream, corn syrup, and finally brown sugar for a rich and creamy sauce to go with your cheesecake. It goes very well with candy bars and Reese's for a truly decadent dessert. Or pair it with banana slices for a healthy spin!
---
Healthy Cheesecake Toppings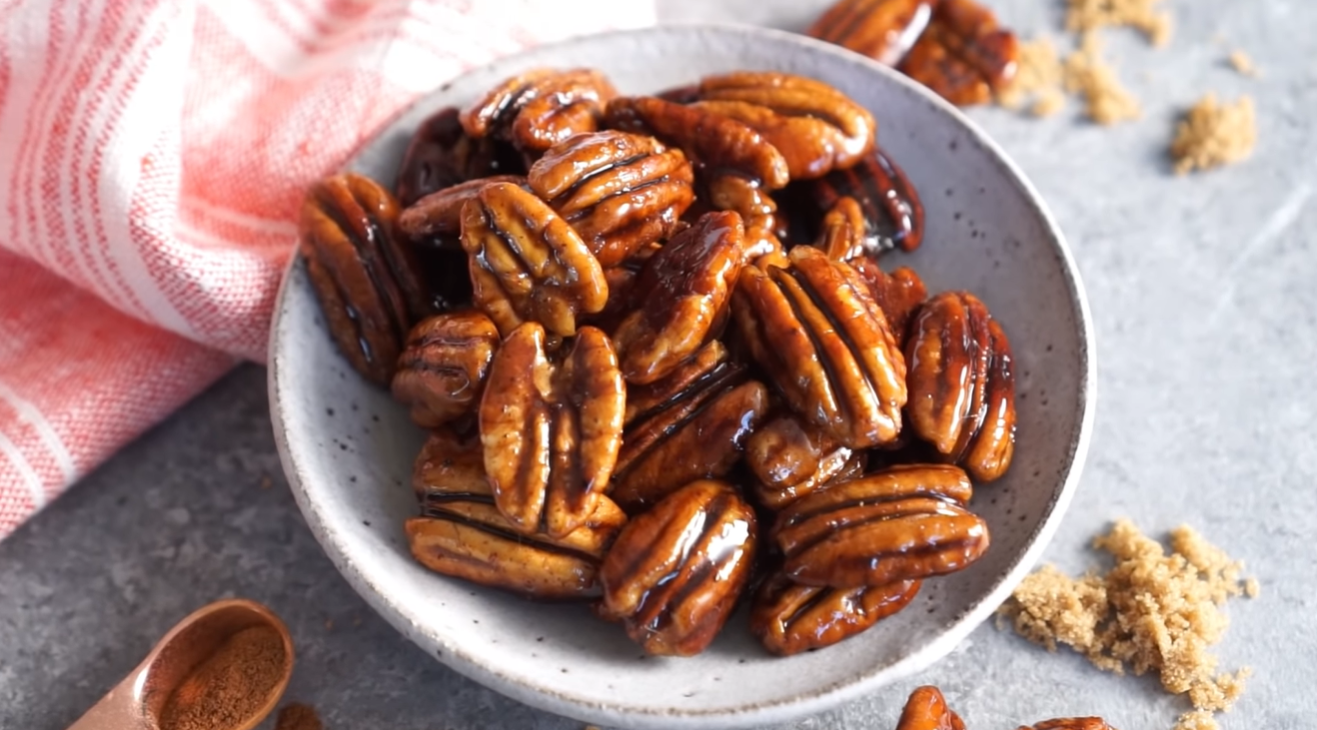 Matcha
Matcha and powdered green tea are in and they're almost on everything! Cheesecake is no exception. They have a unique and complex flavor profile that is fun to match on different vessels and bases from milk tea to cheesecake. Green tea and matcha both have a mild grassy flavor accompanied by a nutty, sweet taste that suits many desserts. To use as a topping, just dust either on top of plain cheesecake with marshmallow fluff or whipped cream and some nuts.
Be careful not to go overboard though as they can be a little bit bitter too. But the right amount would temper the sweetness of the filling and create a guilt-free dessert.
Chopped Nuts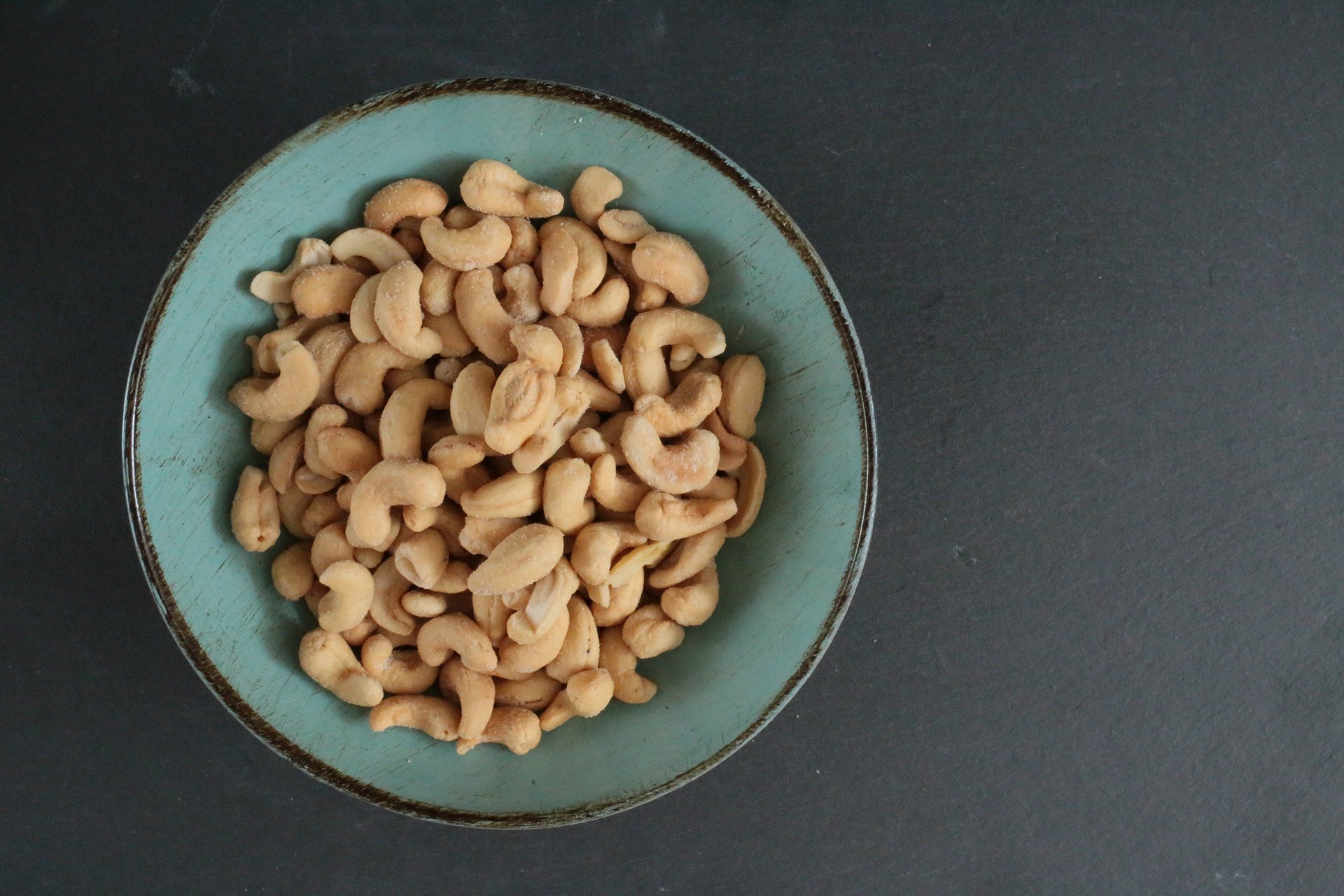 It's no secret that chopped nuts like pecans and walnuts are favorite dessert toppings. They add a nutty flavor that complements creamy or chocolatey desserts like cheesecake! They also add a crunchy bite that greatly contrasts the creamy cream cheese filling. Nuts and chocolate chips are a favorite combination. But you can also go nuts with fluffy and silky toppings like whipped cream, curd, caramel, and chocolate ganache. It's easy to customize with any nuts in your pantry.
Squash Seeds
Crunchy toppings do not end with nuts. Roasted squash seeds also have the crunchy bite that you're looking for. Overall, they have a sweet yet delightful nutty taste that resembles pumpkin seeds. You can season them with spices such as cinnamon and sugar. But they taste great on their own too! 
Granola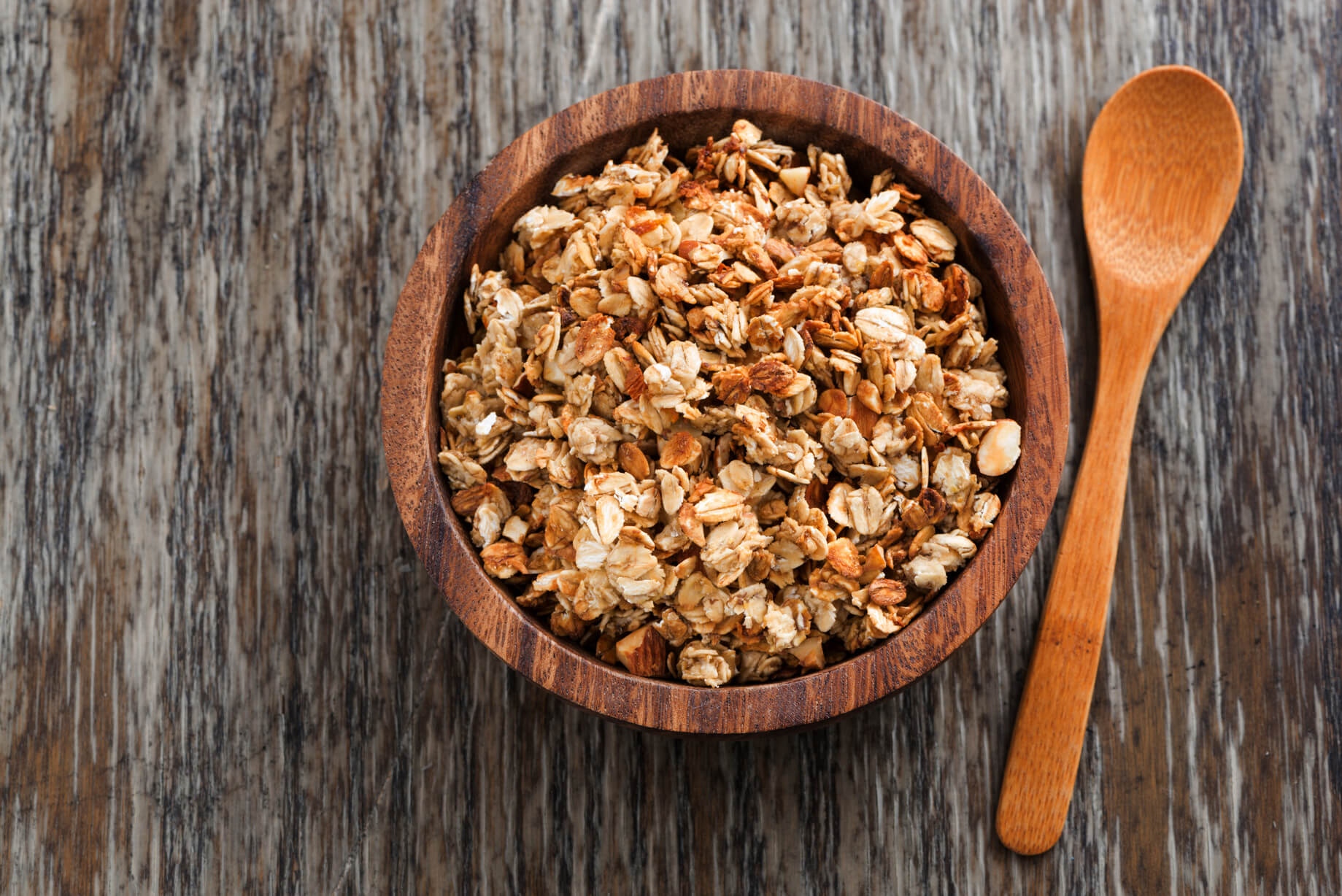 Can't decide whether to add nuts or squash seeds? Combine them and turn them into this homemade granola. This granola, in particular, features tart berries, crunchy coconut, nuts, and healthy rolled oats made flavorful with honey and cinnamon. 
Now, granola is more known as a cheesecake crust but you can also use it to decorate your cheesecake. Personalize your cheesecake by decorating it with whipped cream, fresh fruits, granola, and a drizzle of peanut butter sauce for a healthy, yet decadent dessert! 
Shredded Coconut
Shredded coconut has a chewy and meaty bite loaded with a milky and nutty flavor that complements nuts and chocolate-flavored toppings on this list. You can begin with chocolate ganache, candy bars, and nuts! All in all, it offers a unique twist to cheesecake that will keep things from getting boring!
Candied Carrot Sticks
Carrot cake cheesecake is no longer a new concept for many. More often than not, you see carrots hiding in the cake, the crust, or the filling. Now, cheesecake decorated with candied carrot sticks is another story! Use this to top plain cheesecake. It doesn't have to be sticks! You can try chips or candied carrot curls. Whatever suits your fancy!