When it comes to morning meals, the Americans go all out! When we say big, that means a beautiful ensemble of some of the best American breakfast you can think of. There is the crowd favorite bacon, eggs, toast, hash browns, and freshly squeezed orange juice. But of course, who will dare miss flapjacks with the most delicious pancake toppings?
Sure, you can have it plain and simple with just butter and maple syrup. Or you can go big like they do in IHOP. That's several stacks of flapjacks with syrups, berries, and chocolate all the works! Below are 40 toppings for pancakes you can try to personalize your favorite breakfast.
40 Pancake Toppings to Try
All ages love pancakes because they're easily customizable and flexible to whatever pancake toppings you add. You can start simple or go extreme.
A combination of sweet and salty would be delicious! Perhaps a side of bacon and a drizzle of maple syrup? There are even choices for the health-conscious and keto-dieters. The options and combinations are just as endless! 
---
Sweet Pancake Toppings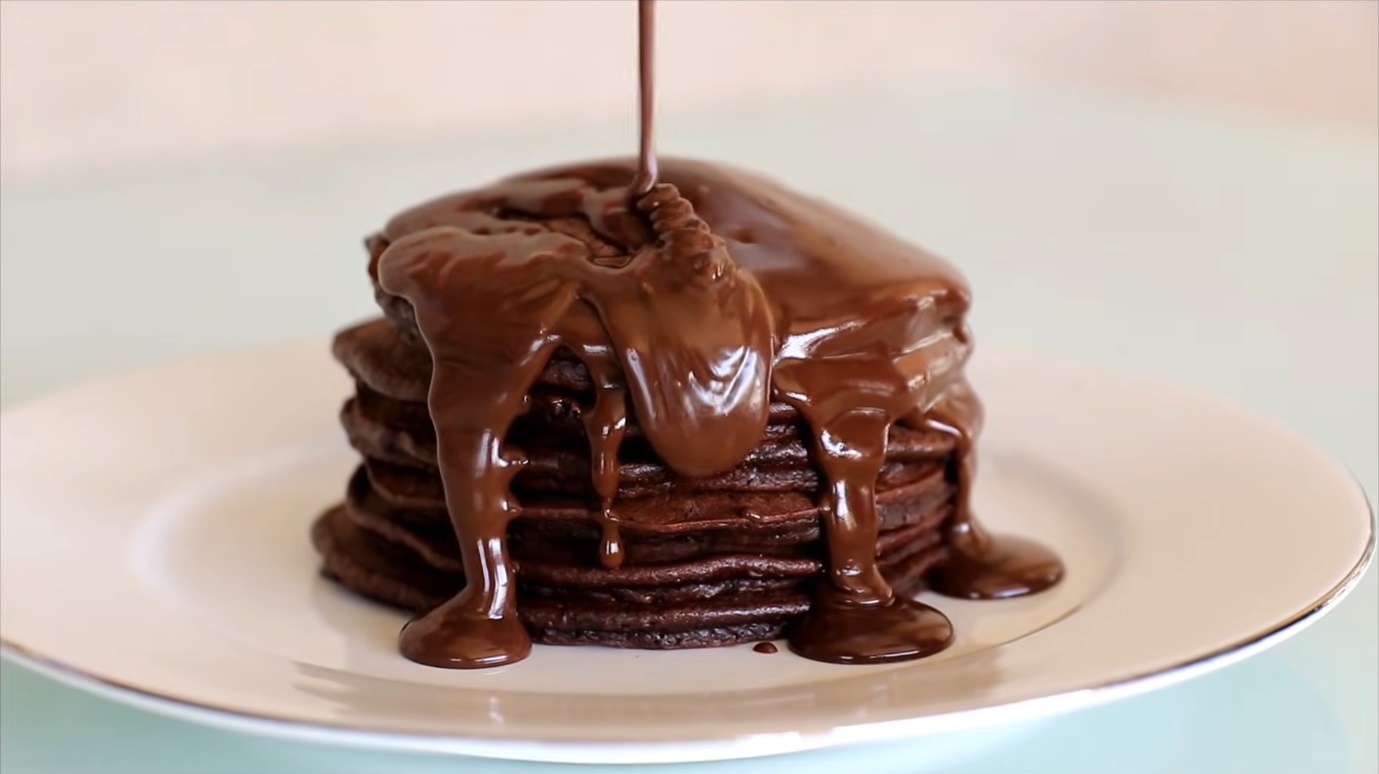 Being on the side of sweet breakfast, pancakes are naturally drawn to sweet toppings. We're sure you already have a few in mind, but below is a list to confirm the best toppings for your sweet pancakes. 
Butter
No matter the flavor (sweet or savory), we think pancakes should always be accompanied by butter!  Adding melted butter to your batter creates soft and moist pancakes. But topping a warm stack of pancakes with a big knob of butter and maple syrup gives it a rich and flavorful taste. This alone makes for a delightful breakfast but it's also a great foundation for almost any other toppings kids dream of!
Chocolate Sauce
Pancakes naturally gravitate toward sweets like chocolate in any of its forms: from candy bars and chocolate chips to spreads, sauce, and syrups.
Give your boring old pancakes a makeover by topping them with chocolate sauce! You can even add in some chocolate chips and marshmallows. If that's too chocolatey for you, pair it with vanilla ice cream instead to make it more creamy.
Chocolate Chips
For chocolate lovers, there is nothing like chocolate chips to give you the sugar rush you need in the morning. There are a couple of ways you can put it in your pancakes though: mix it with the batter or add it as a topping. Either way is delicious and will add texture and flavor to your stack of pancakes. 
Caramel Sauce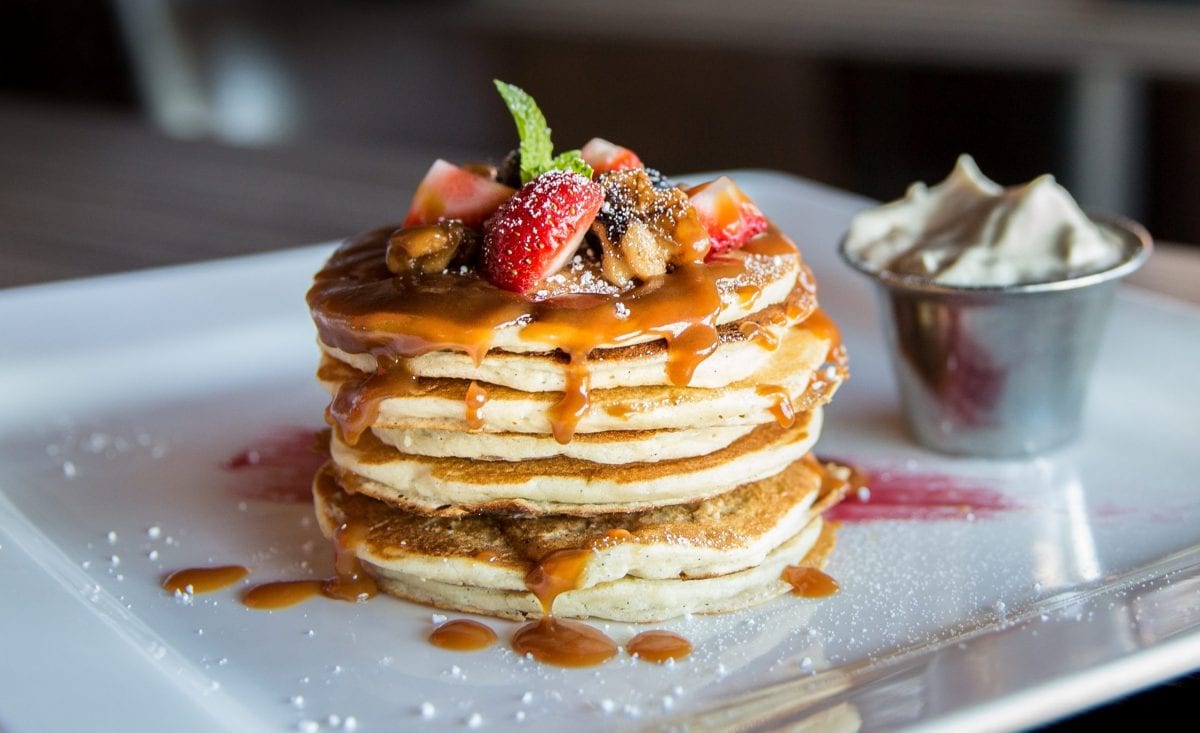 At some point, we will get tired of the usual pancake toppings like maple syrup. But there's no reason for you to go syrup-less in your breakfast. Caramel sauce and salted caramel are a great alternative to the good old maple syrup. Caramel sauce has a rich and very sweet taste while salted caramel combines flavors such as sweet with salty and a little umami. Still, both complement toppings such as nuts, apples, and vanilla ice cream. 
Whipped Cream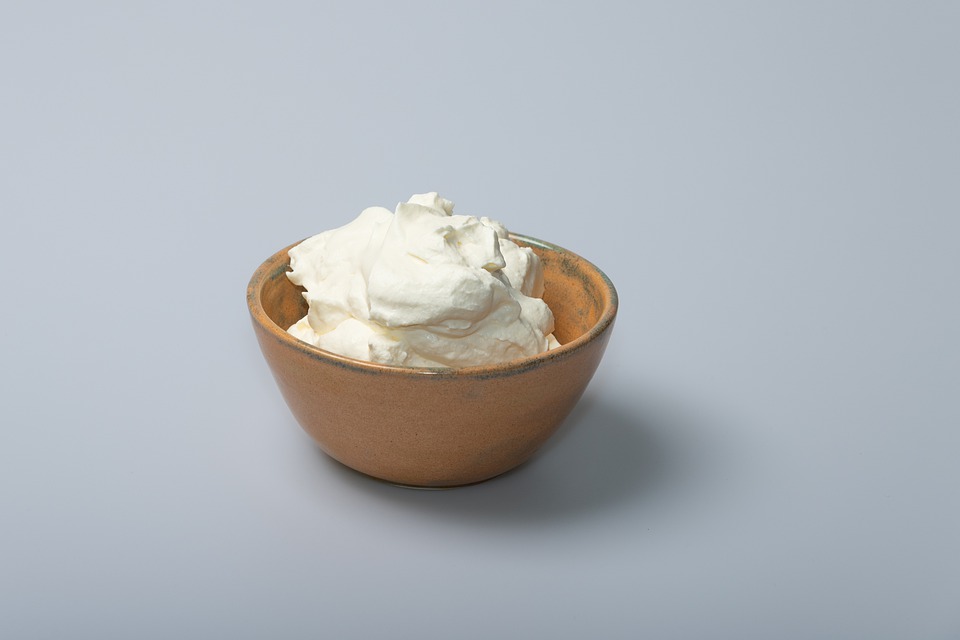 Besides adding butter, there's another way you can add a rich and creamy texture to your pancake. You can try mixing the batter with whipped cream! Either that or use it as a topping. However, the purpose is solely not for texture because whipped cream also makes your pancakes visually appealing to kids. Throw in some nuts, chocolates, and a drizzle of maple syrup for an extra inviting look. 
Nutella
Anything with Nutella is guaranteed to be delicious, and that includes pancakes. This popular chocolate spread features the irresistible flavor of cocoa and the sweet and nutty taste of hazelnuts. There are a lot of ways you can make yummy pancake combinations with Nutella but you can start with banana, chocolate chips, and ice cream!
Candy Bars
Candy bars like Reese's, Hershey's, and Snickers are dessert favorites. Now, they're not only famous cheesecake toppings but they also take your pancake to another level! They're indulgent and your pancakes take after the flavors of these chocolate bars. Just crush your candy bar and sprinkle it all over your pancake for a decadent day starter.
Oreos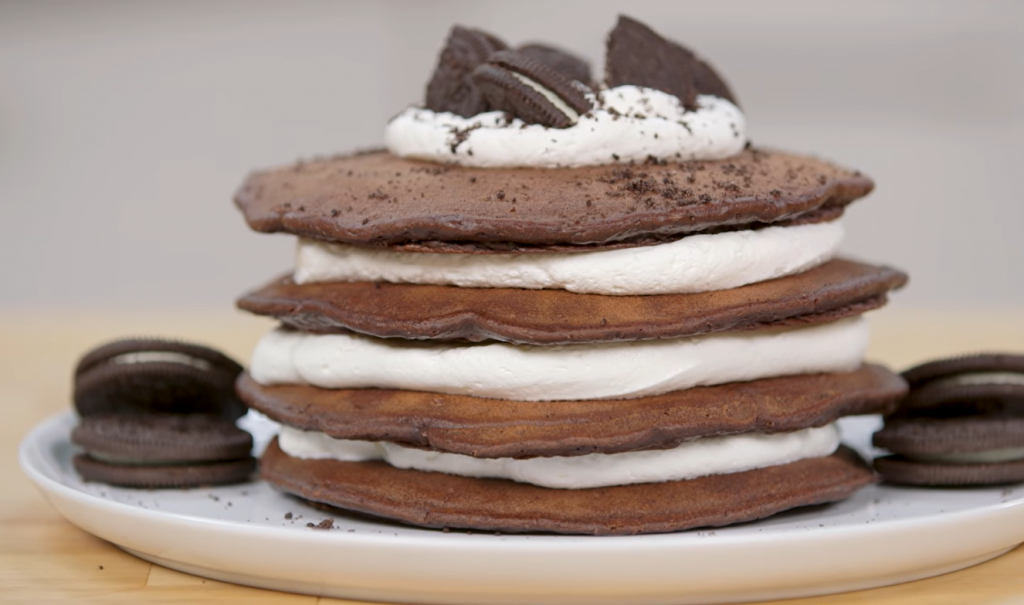 Add everyone's favorite topping to almost any dessert: Oreos! The usual routine for some is to stack pancakes and then sprinkle them with bits of Oreos.
But here's an idea: mix your pancake batter with crushed Oreos, like this in this easy Oreo pancake recipe. It's a breakfast and dessert in one! Or a "bressert" as they call it.  They are filling but decadent and make the most perfect stack of heaven on a plate.  
Ice Cream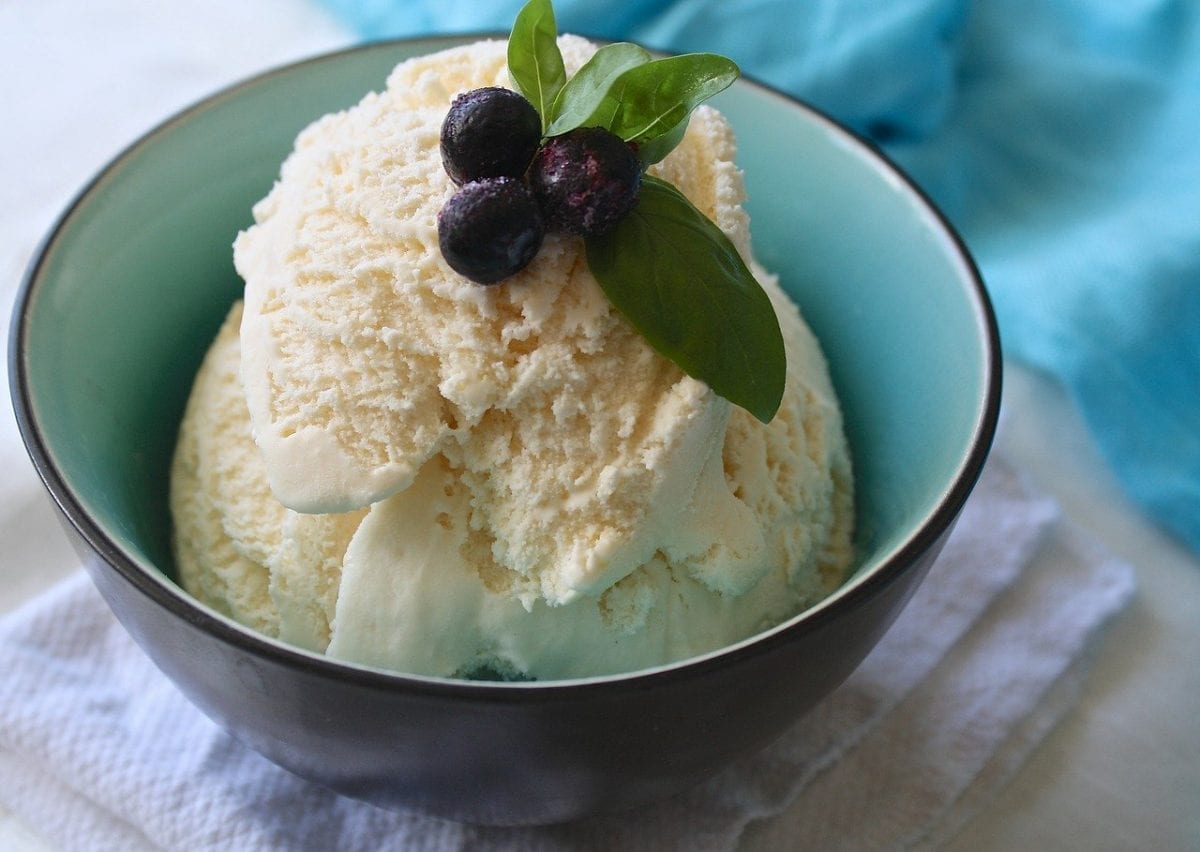 By now, you probably guessed that you can add ice cream to your boring stack of flapjacks. What we haven't told you yet is that there is no limit to what ice cream flavor you can use. The crowd favorites are chocolate, vanilla, and strawberry. But there's nothing wrong if you want to try out blueberry and coffee ice cream too! 
M&M's
Kids love adding these chocolate candies to almost any dessert. Like Nutella, M&M's can be paired with a lot of toppings on this list. You can never go wrong with whipped cream and chocolate sauce. Or you can go ahead and top your flapjacks with ice cream and these little treats. What's more, they make your stack of flapjacks more festive with all of those colors!
Powdered Sugar
Powdered sugar sprinkled on top of desserts and pastries is nothing new to sweet tooths. This pancake topping is usually seen alongside butter and maple syrup. But you can shake it up a bit by adding a few fresh fruits like blueberry for an indulgent plate of goodness. 
Sprinkles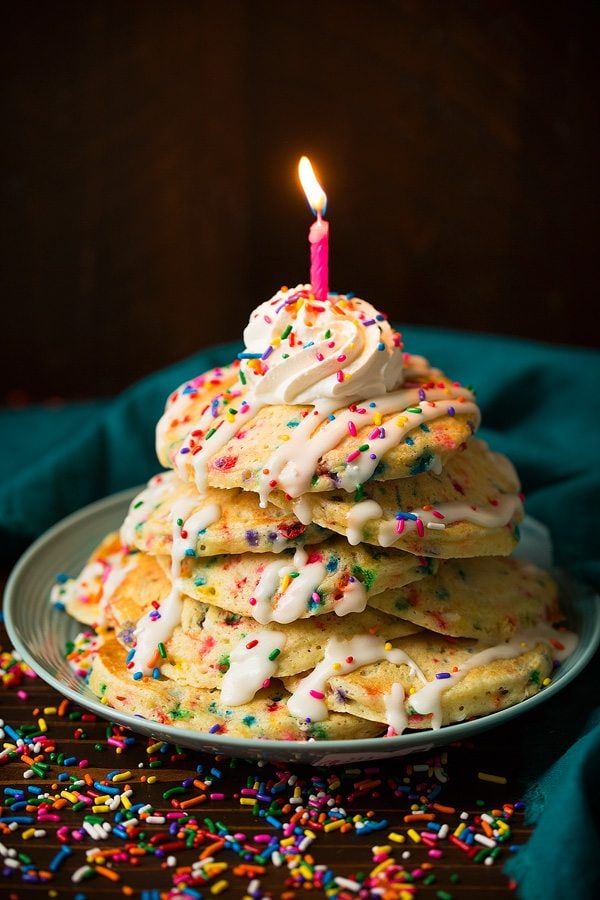 Tired of lifeless, colorless pancakes that only have butter and maple syrup but don't want it to be overly sweet like M&Ms-topped pancakes? You can substitute them with sprinkles instead! They add color, texture, and a little bit of sweet flavor that is not too overwhelming. 
Icing
Icing your pancake is no longer a new concept, what with colorful funfetti pancakes you make to wake up your kid on their birthday! Besides the confetti pancake though, there is another way you can incorporate icing that is more adult-approved: by giving it the cinnamon bun taste. Mix the batter with cinnamon and top the cooked flapjacks with icing like you would cinnamon buns! Don't forget to add nuts too.
Peanut Butter
Top your flapjack with another breakfast staple: peanut butter. Peanut butter is rich and creamy making it one of the perfect candidates on this list of pancake toppings. You can team it up with banana slices and some nuts for a sweet but salty and nutty pancake rendition. They're hard to spread on soft, fluffy pancakes though. So, we suggest heating it up first! 
Jams and Jelly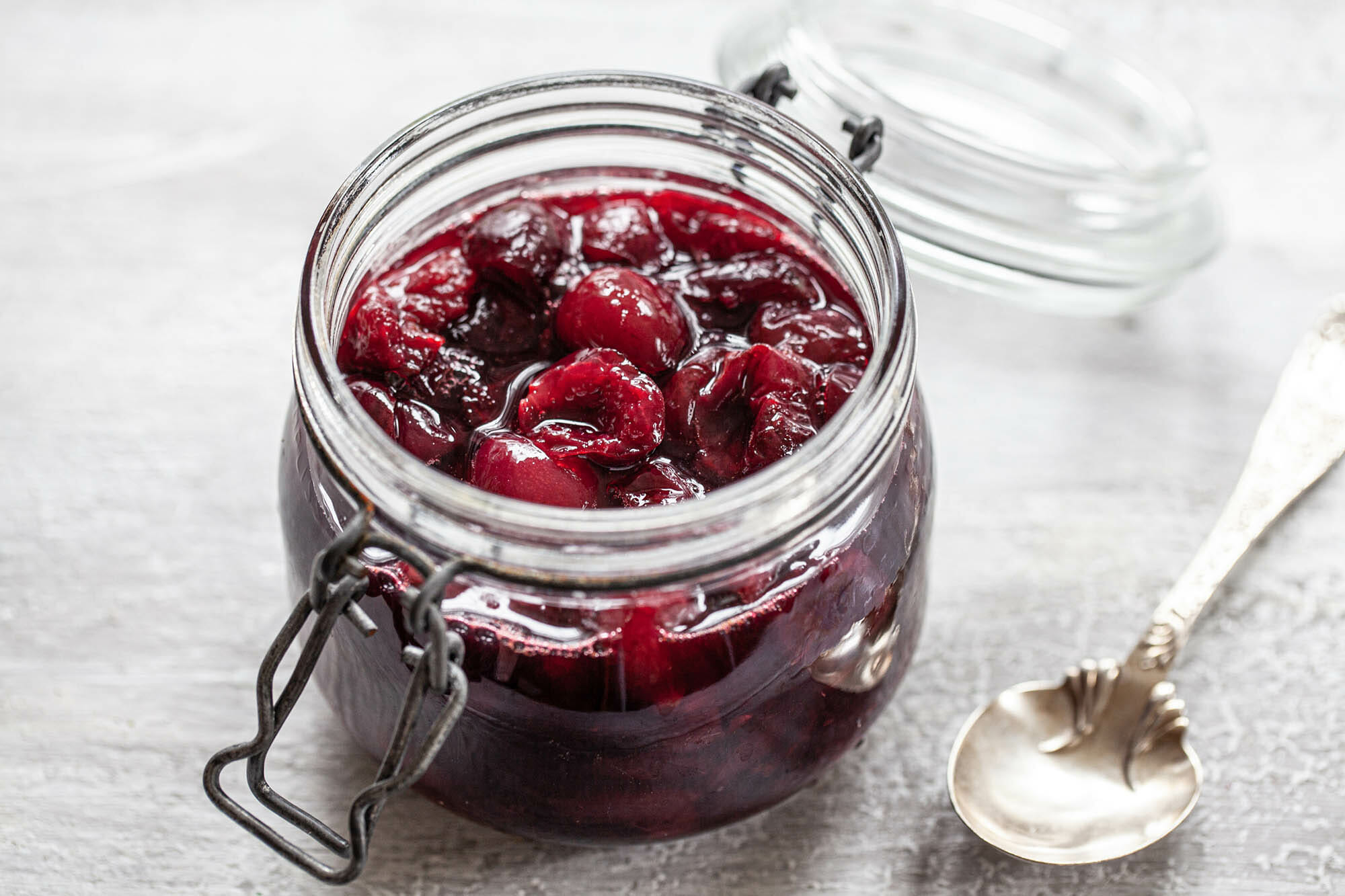 Forget peanut butter and jelly toasts! Turn your pancakes into your favorite breakfast treat by combining peanut butter and jelly on your stack of pancakes. Strawberry and raspberry are the classic choices. Or you can go beyond and try fruit compote if you want some chunky fruits on it. 
READ ALSO: Jam vs Jelly: What's the Difference?
Apple Butter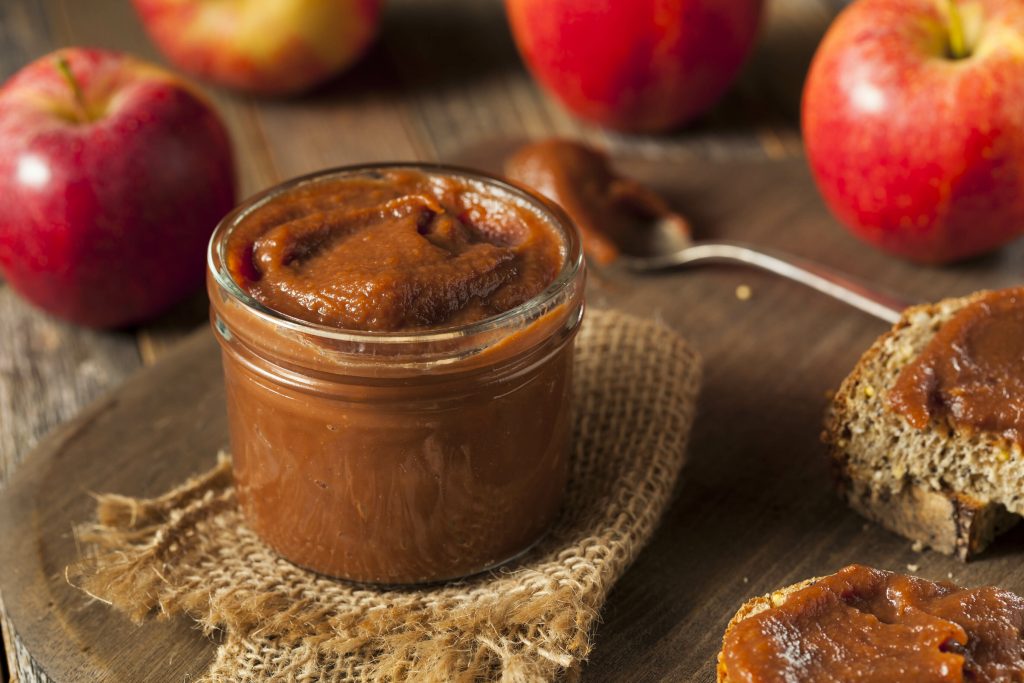 It may be the last on your mind when it comes to pancake fillings but did you know you can replace peanut butter and jelly with just apple butter? This topping adds a natural sweetness and a creamy texture that complements other breakfast items such as toast, bagels, and sandwiches. That said, it also works well with pancakes. In a hurry? Skip butter and jelly and just add this and you're good to go! 
---
Healthy Syrup Pancake Toppings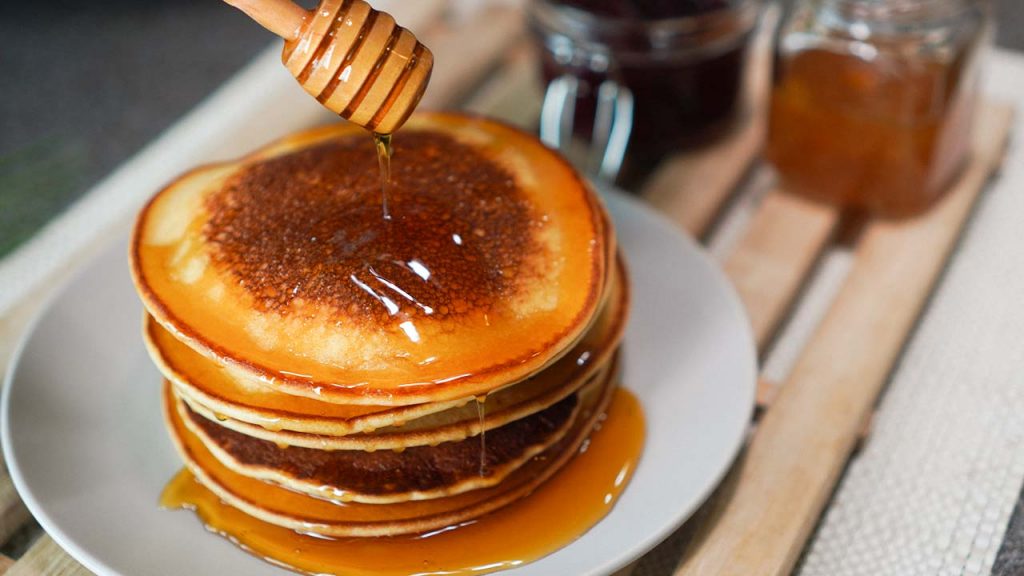 Contrary to popular opinion, healthy and keto pancake syrups exist. Below is a short list of healthy syrups for pancakes if you have diet and health restrictions. 
Pure Maple Syrup
Ditch pancake syrup and opt for pure maple syrup instead. Now, how exactly are they different? Pancake syrup is made with sugar, corn syrup, and added flavorings. Pure maple syrup, on the other hand, is made with 100 percent maple sap with no added flavorings which is why it's definitely the healthier choice! 
Honey
You could also skip the pancake syrup and use honey instead. After all, it's the best maple syrup substitute for many sugar-free desserts because they have a similar viscosity. Flavor-wise though, honey is more floral while maple has a more complex flavor profile with hints of caramel, vanilla, and prune. Still, both work as a substitute for each other in recipes.
Sugar-Free Maple Syrup
Is the flavor of pure maple syrup too complex for you? Try sugar-free maple syrup! It may taste like the real sort though but you have nothing to worry about. They're just sweetened with monk fruit instead of sugar. If you're looking for vegan and keto-friendly options, this will also do. 
Molasses Syrup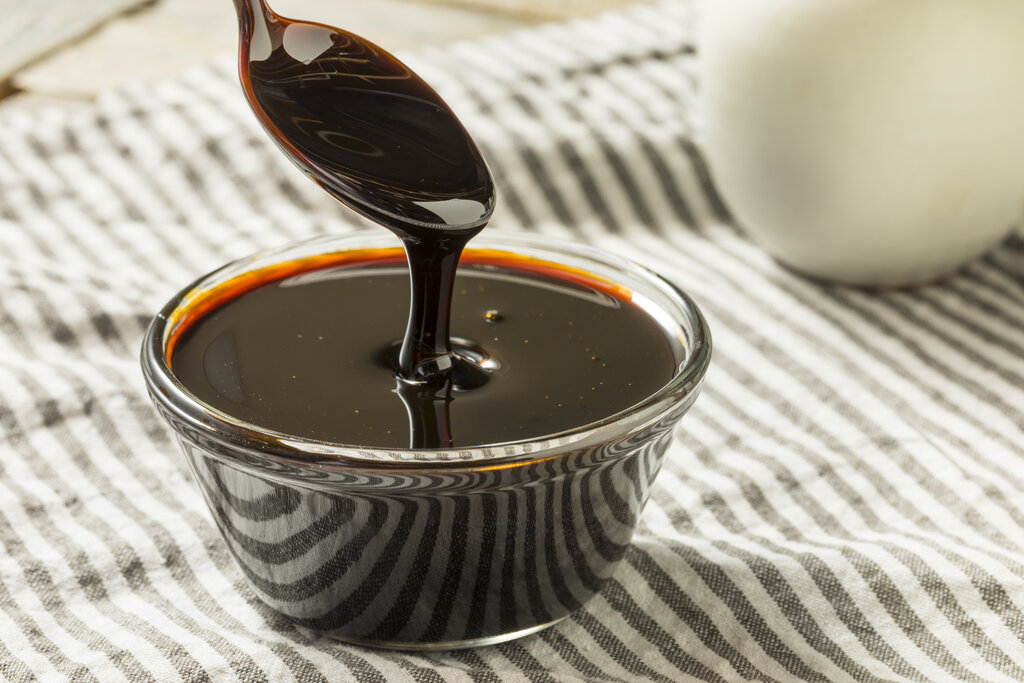 Molasses syrup has a warm yet sweet flavor very much like honey or caramel. But they also have a slightly robust flavor. To make a light and mild syrup that pairs well with pancakes, use light molasses. Overall, it makes a great sweetener for baking and makes a nice substitute for honey and maple syrup, even for pancakes. 
Melted Almond Butter
Keto dieters would be delighted because nut butter like almond butter is a great low-carb option. They take after peanut butter when it comes to taste but they have a nuttier and slightly richer flavor profile. When melted, they have a creamy and smooth consistency that you can use as a syrup for pancakes. 
Keto Simple Syrup
Maple syrups in all of its versions are great. However, there's another syrup that can elevate your pancake stack: simple keto syrup. It's made of granulated allulose monk fruit sweetener, xanthan gum, and vanilla extract. Its simple and straightforward flavor suits toppings that are bursting with flavors such as chicken, bacon, eggs, and sausages. It pairs well with sweet toppings too! 
Keto Blueberry Syrup
Homemade blueberry sauce is a classic pancake syrup you just can't ignore even on a keto diet. To make a keto-friendly version, simply swap sugar with keto sweetener and xanthan gum. Don't be shocked if this syrup tastes almost like the original. Pair with berries and whipped cream for a keto-approved meal!
Keto Chocolate Syrup
Just like the real deal, keto chocolate syrup is rich, smooth, and surprisingly decadent! You can buy a bottle in grocery stores or you can make it at home. You can start by mixing unsweetened cocoa powder, keto powdered sugar, salt, and vanilla extract in a saucepan. Let it simmer for a few minutes and let the syrup cool. That's it! Thick and decadent, you can almost trick your tastebuds that it's not low-carb.
---
Savory Pancake Toppings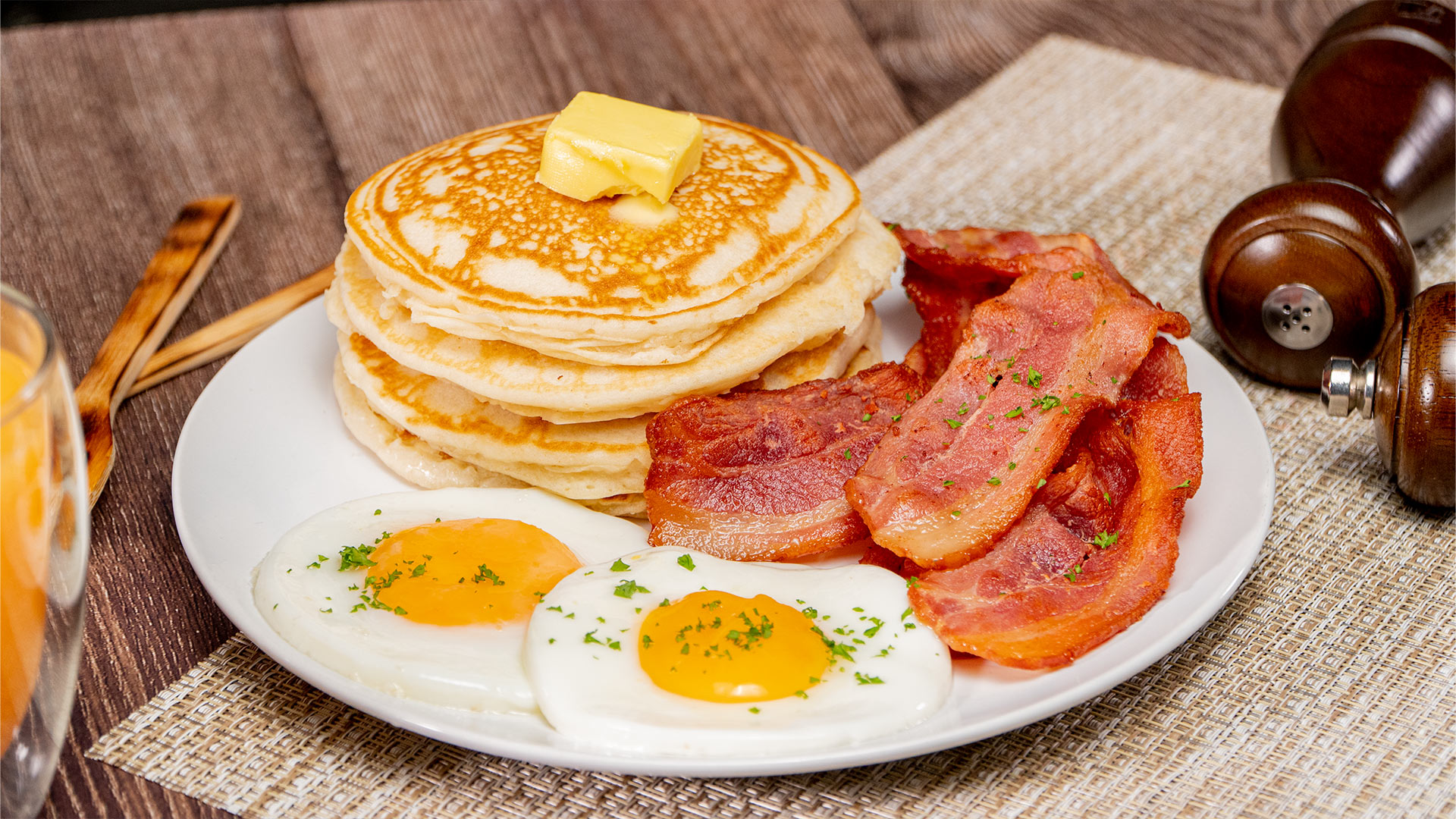 Savory pancakes are a thing especially when it comes to American breakfast. That includes chicken, ham, bacon, and more! Check the list below on what else you can add to your pancakes.
Bacon
Are you a fan of anything sweet and salty? Then you'll definitely like pancakes, eggs, and bacon drizzled with maple syrup. You don't even have to figure out how to make one. You just need a delicious breakfast pancake topped with crispy bacon and runny eggs. Top it with shredded cheeses like Parmesan or cheddar and you're golden! 
Fried Chicken
Is there a more filling combination than pancakes and chicken? This combination plays with flavor and texture. Pancake is sweet and soft, while fried chicken is savory and crispy. Together they make a delicious breakfast or a filling brunch. Drizzle the whole thing with sweet maple syrup to bind them!
Fried Eggs
Besides chicken and bacon, another iconic pancake toppings are eggs. To be exact, an egg in all of its forms: scrambled egg, eggs benedict, and sunny-side-up. But not just any egg, it has to have a perfectly runny yolk. Since it's often served with another savory pancake topping, pancakes with sunny side-ups are hearty and filling; they're best for brunch with a cup of coffee or orange juice. 
READ ALSO: 12 Simple Ways to Cook Eggs (Recipes Included!)
Sausage
Smoky, meaty, with plenty of savory flavors, sausage doesn't trail too far behind chicken and eggs when it comes to savory pancake fillings or toppings. They add a smoky kick as they are loaded with seasonings and spices, such as smoked paprika and garlic. They are a hearty addition to pancakes and are often served alongside eggs and bacon. 
Cheese
Savory toppings like chicken and bacon can sometimes come with some sort of grated cheese. Now, regardless of the type of cheese, what it does is double the savory flavor, creating a mouthwatering brunch that's delectable. For pancakes, the regulars are mascarpone, ricotta, and cottage cheese. You can also use cream cheese and then mix it with pesto for a low-carb savory stunner. But besides using it to elevate the pancake's flavor by using it as a topping, why not make cheese the star of the show by adding mascarpone to the pancake batter? It will make your pancake creamy and infinitely decadent!
---
Healthy Pancake Toppings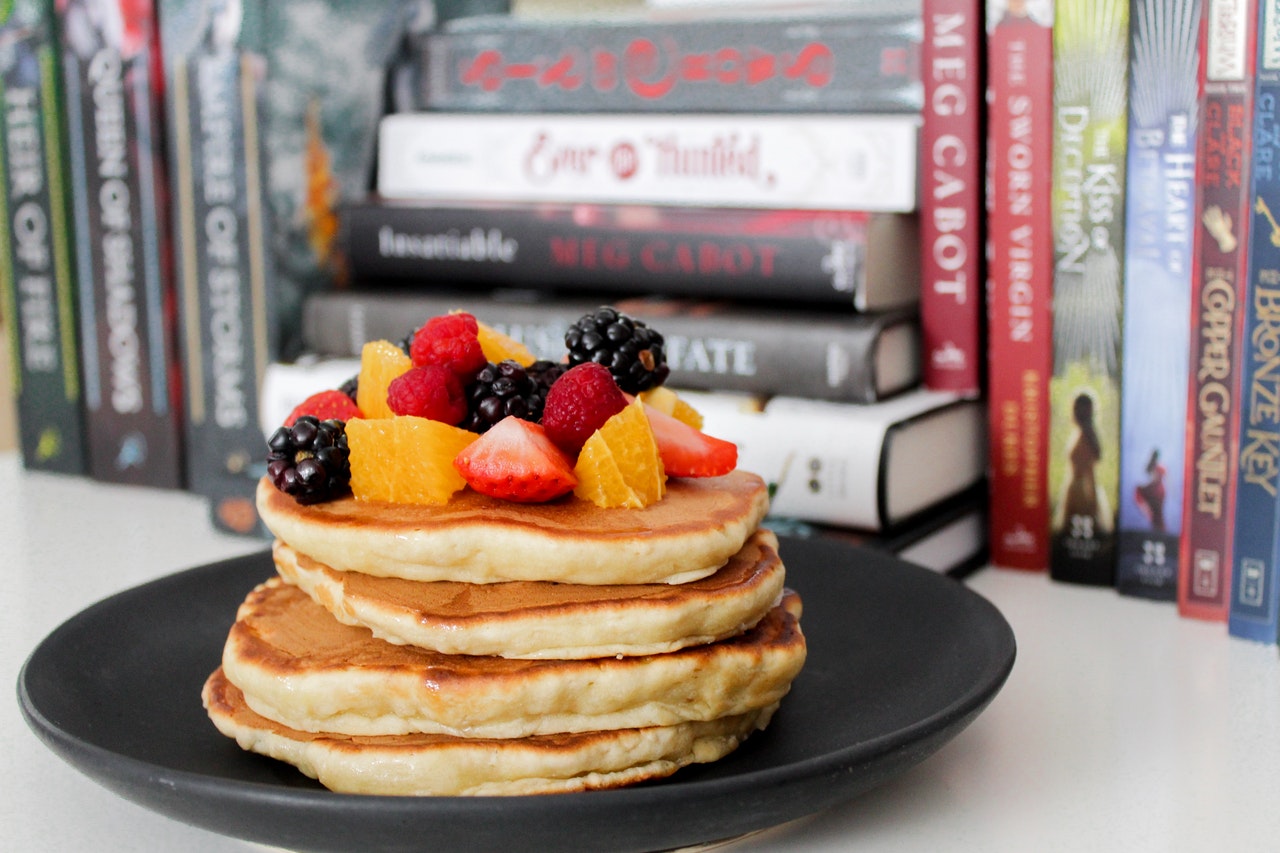 Pancakes aren't necessarily unhealthy. Only some of the toppings are which is still okay if you're eating it in moderation. Now, there are pancake fruit toppings you can add that are healthy and refreshing! Browse the list below for fruits you can try:
Bananas
Banana slices are a popular pancake topping. They're not only sweet but they're also healthy and full of potassium and protein. They're undeniably good, especially when paired with peanut butter on a hearty oatmeal pancake. The downside is that you can become sick of it if you always have them plain. But caramelized bananas? They're on a different level altogether. They have the sweetness of the caramel and the fresh bite of bananas all in one topping! 
Blueberries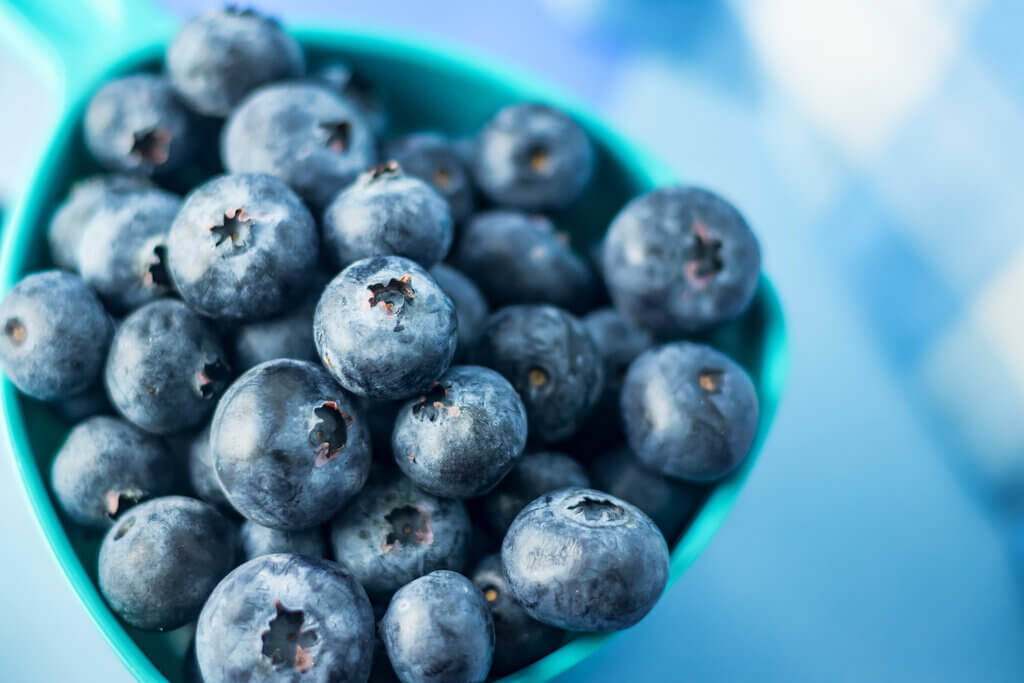 Aside from bananas, blueberries are also one of the popular toppings for pancakes. In fact, they're named one of the ultimate pancake toppings! They make any boring pancake delicious and visually appealing with their striking deep purple color. Like chocolate chips, you can mix them with batter or use them as a topping. Either way, blueberries offer a burst of fresh, but sweet and tangy flavor.
Strawberries
Apart from blueberries, strawberries also make a delicious and fabulous topping for pancakes because of their beautiful color. Overall, they have a sweet taste and a slightly sour flavor that's incredibly refreshing. As a pancake topping, it's often paired with whipped cream and chocolate chips for added sweetness. 
Apples
Apples are great! You can get away with pairing it with maple syrup and whipped cream. But what many don't realize is that you can make another flavorful (and healthy) topping for pancakes with it. Introducing fried apples! To achieve this, all you have to do is melt sugar and cinnamon on a pan with butter and add sliced apples. They're lip-smackingly delicious and full of healthy cinnamon flavor. Add a mound to your pancakes and finish with ice cream to make an indulgent pancake à la mode!
Cacao Nibs
It's a known fact that some chocolate chips are full of sugar so you can't help but ignore it in order to keep a healthy diet. But worry not! You can use cacao nibs instead. They're a common substitute for chocolate chips that are indeed guilt-free! What's more, they're full of deep chocolate flavor with a slightly bitter and nutty taste that takes after nuts and roasted coffee beans. In our opinion, a nice contrast to overly sweet toppings.
Nuts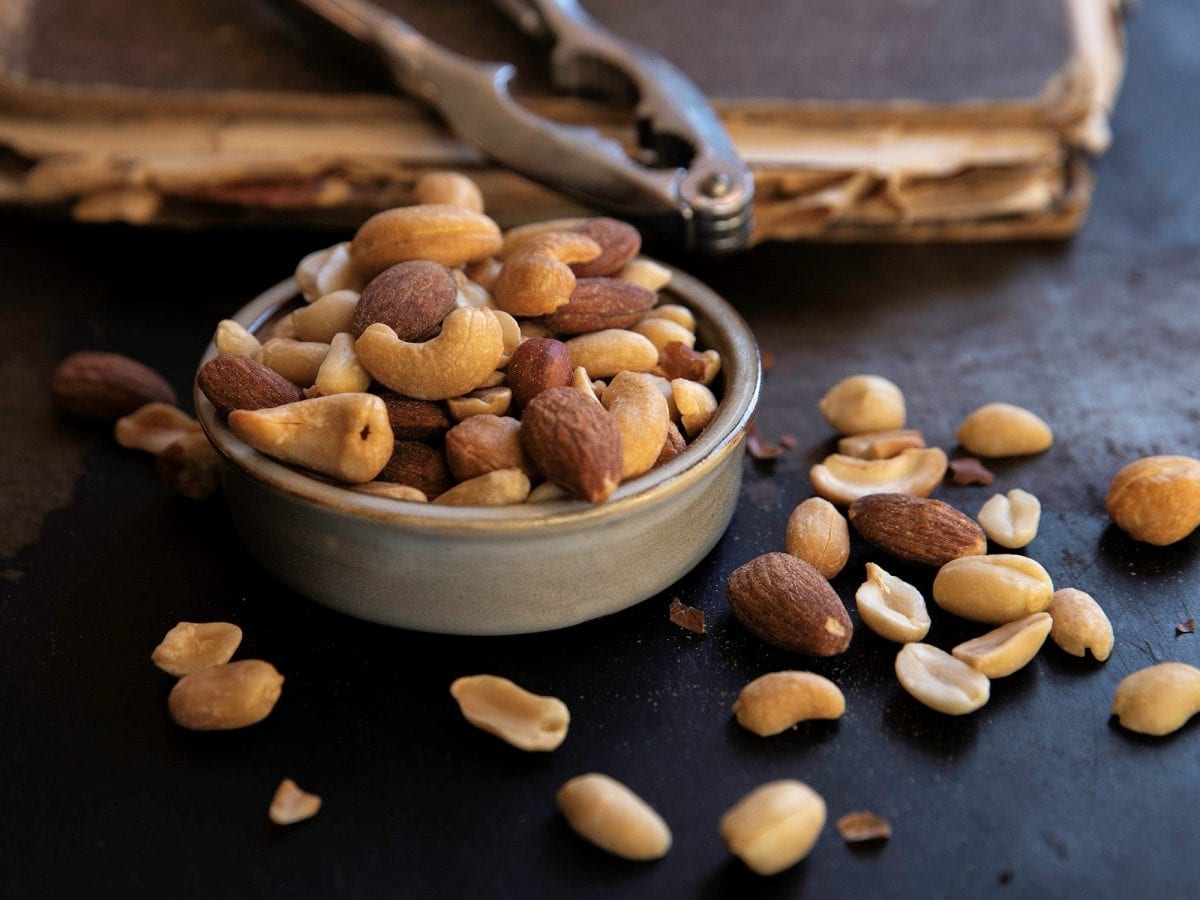 Nuts like walnuts and cashews add a nice crunchy texture so you don't get bored and sick of soft fluffy pancakes paired with pillowy whipped cream. But besides the crunchy bite it offers, nuts are also incredible flavor boosters. They're creamy with a nuttiness that varies depending on the variety. Cashews and pistachios are sweet with a rich nutty flavor. Meanwhile, walnuts can be tangy, mild, and bitter with the skin on. You can go nuts with whichever variety you choose but the usual are cashews and almonds. 
Fresh Salsa
Next up is salsa. Yes, you read that right. They're delicious and refreshing, and most especially, they're definitely healthy! It might seem weird because we're used to sweet pancakes. But before you turn your back on a delicious topping, salsa-topped flapjacks are made with sweet corn batter. You can think of it as a soft corn taco with shredded cheese on top!
Start with a simple fresh tomato salsa before moving to all the works with peppers and onions. All in all, pancakes with this topping are bursting with the tanginess of the tomatoes plus the crunch of the corn in a refreshing and cheesy rendition of your favorite breakfast. 
---
Keto Pancake Toppings
On the lookout for low-carb, high-fat toppings to decorate your stack of pancakes? Below is a list of toppings you can add.
Almonds
Add a little crunch and chew to your pancakes by sprinkling in some almonds. Overall, they boast a very nutty flavor with a subtle sweet and earthy flavor that complements other toppings on this list. You can start by pairing it with creamy yogurt or adding it beside raspberries for a wonderful play of texture. Whichever you pair it with, you'll never go wrong with it! 
Raspberries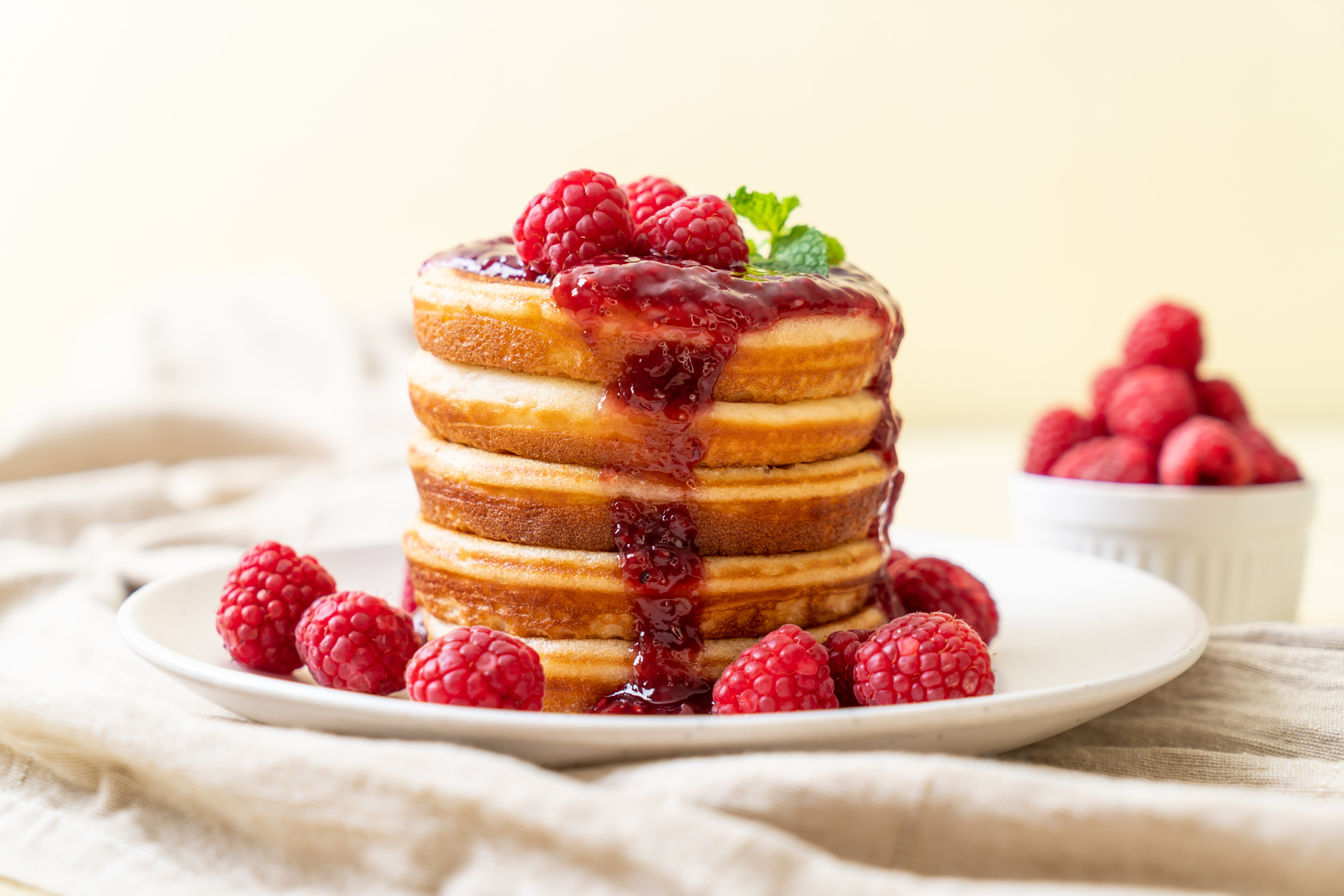 Named as one of the healthiest berries, raspberries are another low-carb addition to your pancake toppings bar. Strictly speaking, they only contain about seven grams of net carbs per one cup of raspberries. But how are they as a topping? They put together a lovely plate, but they also have a sweet and tart flavor that's incredibly refreshing. Pair it with another keto topping like whipped cream or yogurt!
Yogurt
Yogurt pairs well with any fruit on this list. But we can't deny that nothing beats berries with yogurt. In the best way possible, they bring out the best in each other. Sour, tangy, sweet, but unbelievably refreshing. You can pair it with any berry you can think of: strawberries, blueberries, raspberries, anything! 
Lemon Curd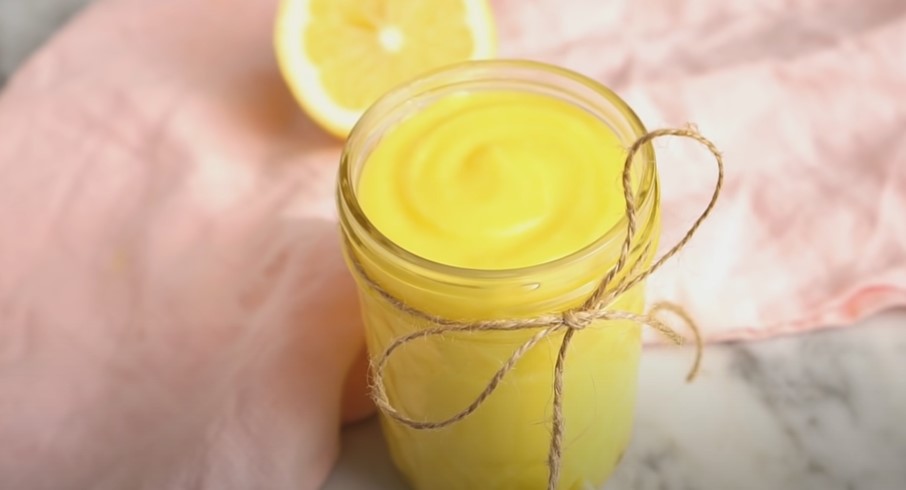 Lemon curd is heaven-sent. They're buttery and sweet with an intense tart lemon flavor. Their jam-like consistency makes them a perfect pancake topping alone. Now, this meyer lemon curd plus fresh berries and creamy cheeses like ricotta or mascarpone is a good combination too! For a nice contrast, you can also add almond and coconut. 
Yummy Pancake Recipes To Try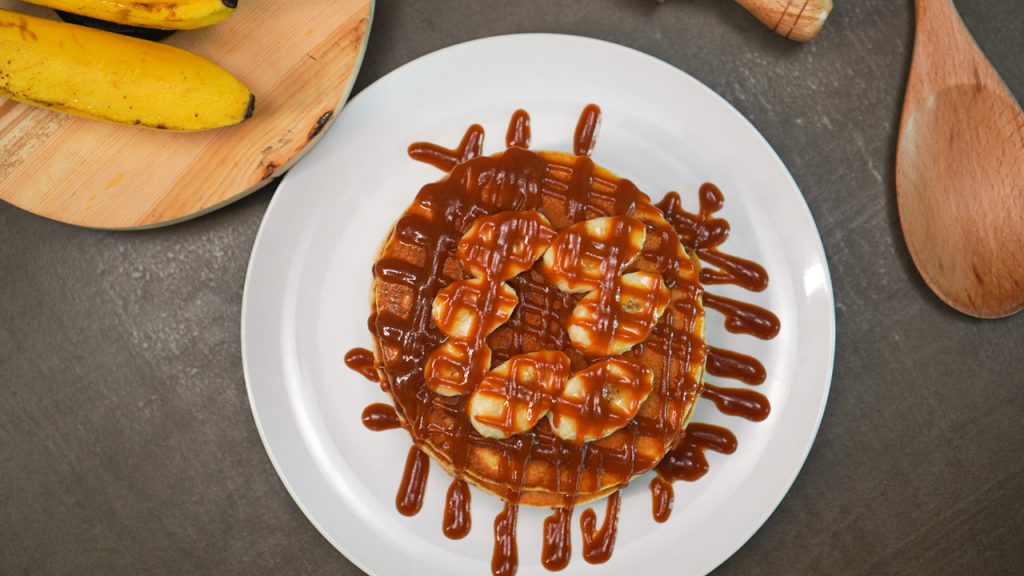 Pancakes are more than just a sweet breakfast meal or dessert in all of their forms. Even keto pancakes have a versatile flavor profile, so it's easy to try varieties of toppings, including keto and savory fillings. Below are some ideas on how to enjoy this crowd favorite.
Easy Keto Pancakes – These easy keto pancakes are one healthy way to load up on healthy carbs. The batter is made with coconut, almond flour, almond milk, and Stevia for a keto-friendly rendition of your favorite sweet breakfast!
Copycat Denny's Caramel Banana Pancakes

– This copycat recipe features caramel and banana on top of soft, fluffy pancakes made of buttermilk. They're richer and extra delicious compared to flapjacks made with milk. 

Cookie Dough Pancakes

– This pancake is made with flour, chocolate chips, milk, and more to highlight the flavor of cookie dough. Sitting on top is whipped cream and some more chocolate chips for a beautiful stack of flapjacks! Ice cream works just fine too.

Cornmeal Pancakes with Bacon

– Want something new? This pancake is not your typical pancake. It's made with cornmeal and buttermilk and topped with bacon and maple syrup — the perfect union of sweet and savory!