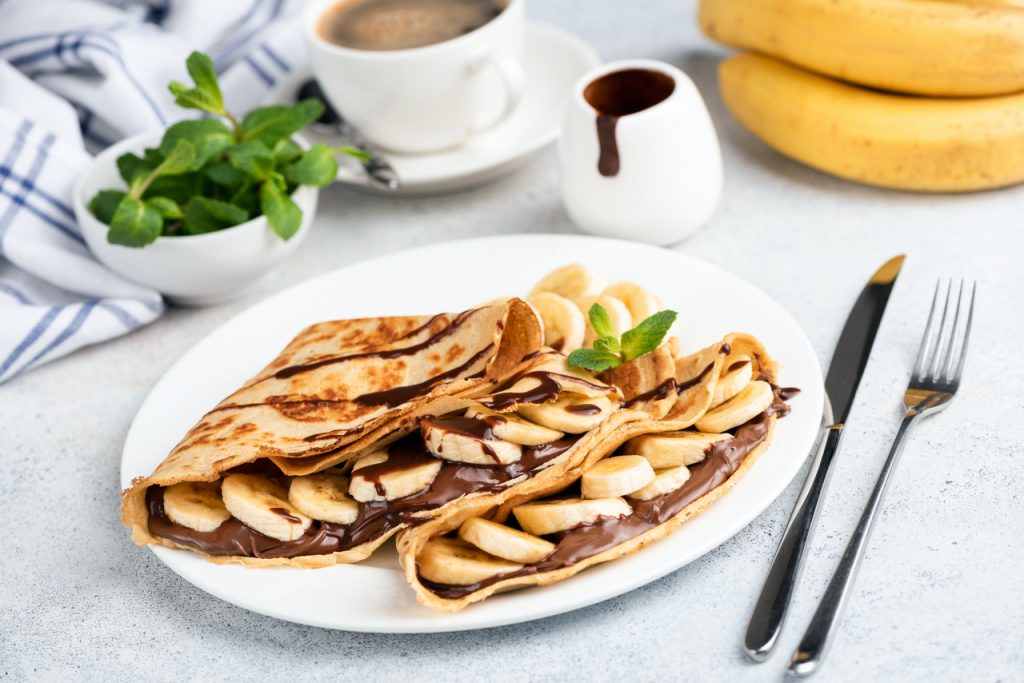 45 Best Crepe Fillings (From Sweet to Savory)
A brunch party won't be complete without a crepe station. After all, you can use crepes to make not only sweet fancy desserts but even savory and healthy crepes. This gives your guests various options, indeed! Now, if you are looking for great ideas for tasty crepe fillings, you're in the right place. Check our list of the best crepe fillings that will elevate your crepe game and wow your guests!
What Are Crepes?
Crepe, pronounced as krep, originated in Brittany, France. Its name means "wrinkly and thin" in English, which best describes its texture. Some people also describe crepes as "paper thin pancakes" because of how they look and how reminiscent their taste is of this other traditional breakfast delight.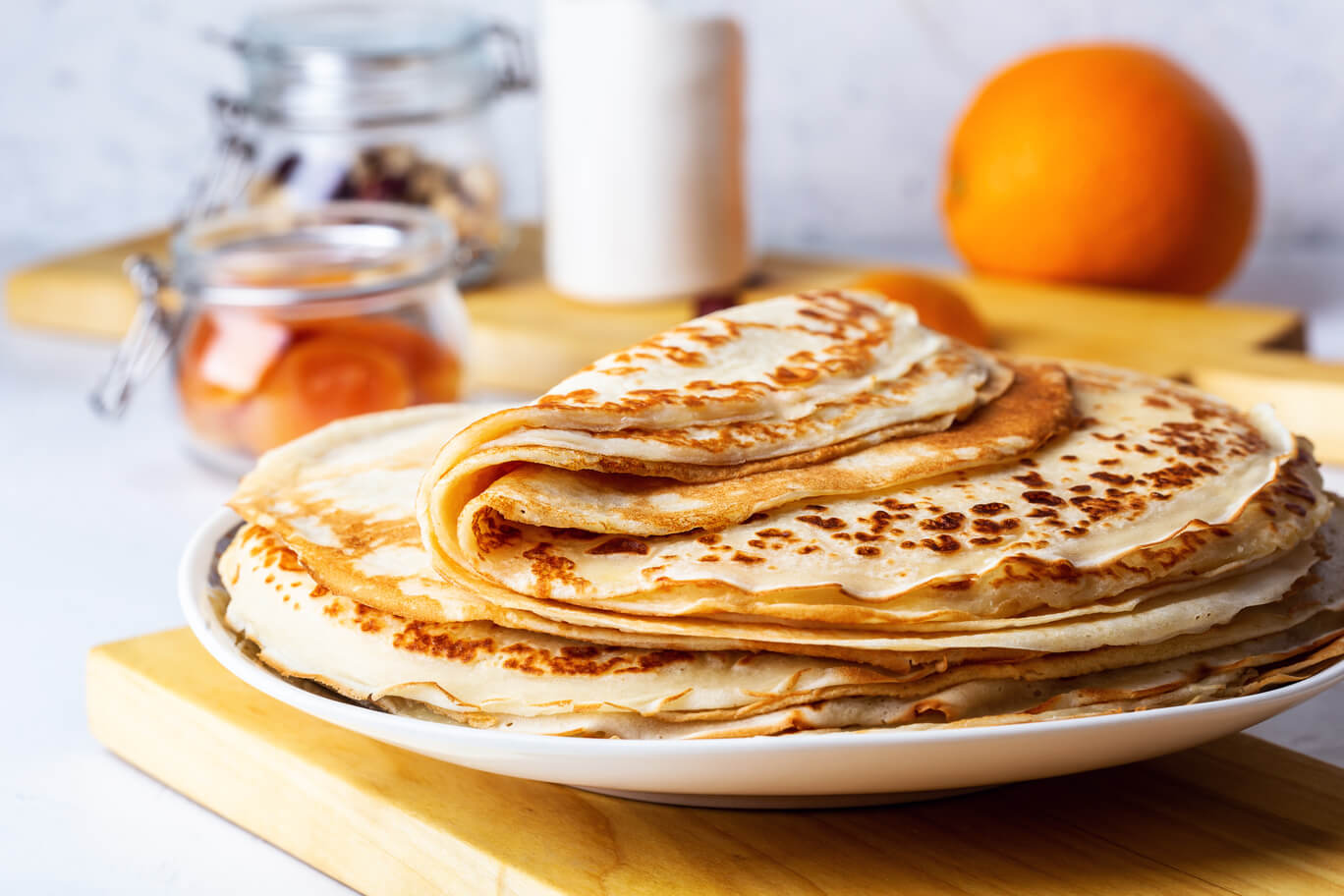 Do you know that you can quickly whip up some crepes with just five ingredients? With just milk, melted butter, salt, flour, and some eggs, you can build your crepe pile to enjoy. French crepes made of buckwheat (une galette) go with savory crepe toppings. On the other hand, dessert crepes (une crêpe sucré) are traditional French crepes made of wheat flour.
Now, whether you are looking for sweet or savory, easy crepe fillings, we got it for you. Read on and find out what crepe stuffings you can use to amp up your morning treat!
---
Sweet Crepe Fillings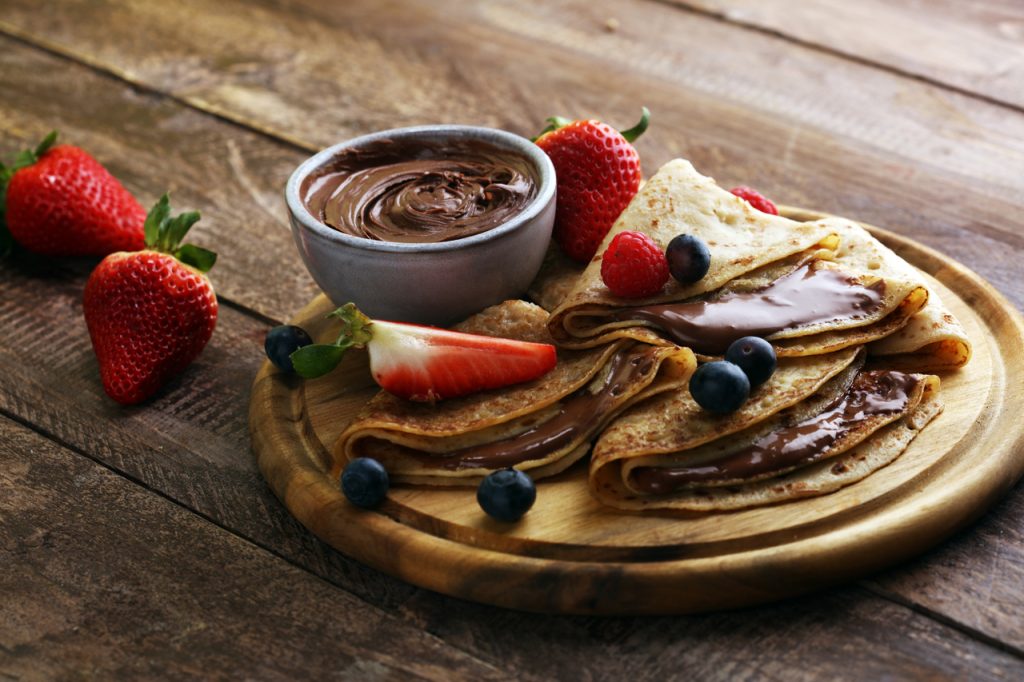 If you are looking for some sweet breakfast ideas, this list is your jam. We've created a list of different dessert crepe fillings that you can try and will surely love!
Ice Cream
Thick and creamy, ice cream is a great dessert on its own. However, pairing its cold yet delectable goodness with some soft and piping hot freshly made crepes will do wonders. We recommend trying no-churn cheese ice cream, as its slightly salty, cheesy flavor balances the overall sweetness of this hot and cold combo.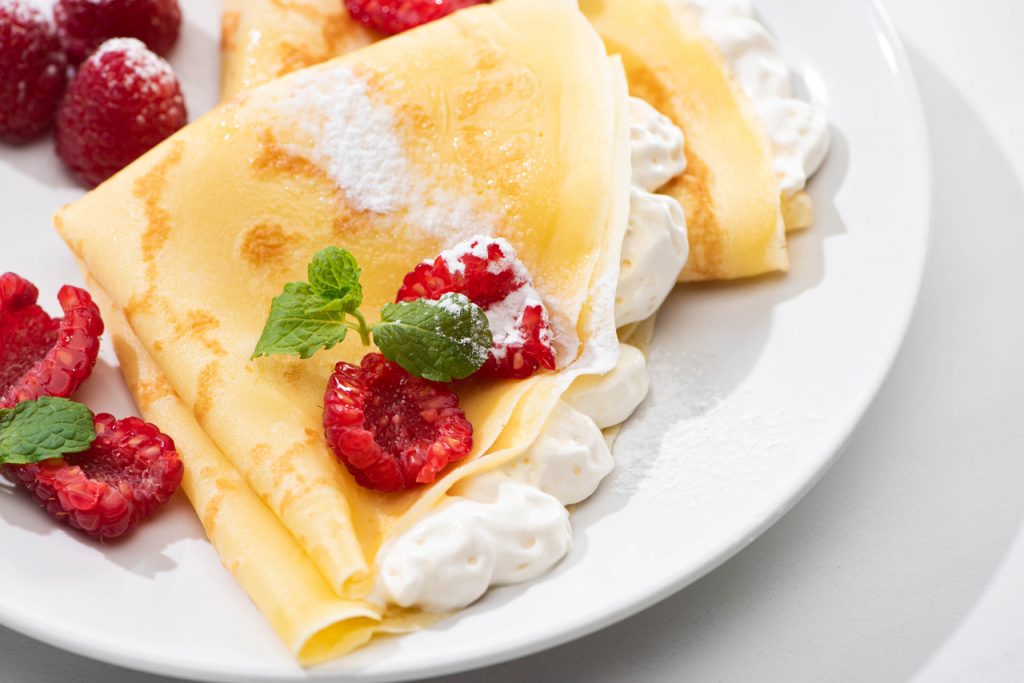 Adding some light and fluffy heavy whipping cream on top of crepe might be a usual topping for you, but we know ways how you can further elevate it! Make a cake-like treat by sandwiching whipped cream between your thin paper-like crepes. The fun part? You can also add some fruits and make your own fruit mille crepes.
Cinnamon and Sugar
Cinnamon sugar is another way to level up your crepes easily. So, how to make it? Well, following a 1:4 cinnamon to sugar ratio is the proper way to go. It will give you a fine blend of sweetness and aroma with a little kick of spice. You can even tie the whole thing together with some cream cheese or whipped cream.
Peaches and Cream
If you are looking for some variety in your meal's texture, we recommend vanilla bean crepes with peaches and cream. It is sweet and juicy with a bit of a bite because of the peaches, and then you have the light and milky cream. You can also taste the subtle vanilla goodness from the crepe — an additional aroma and flavor that might surprise you!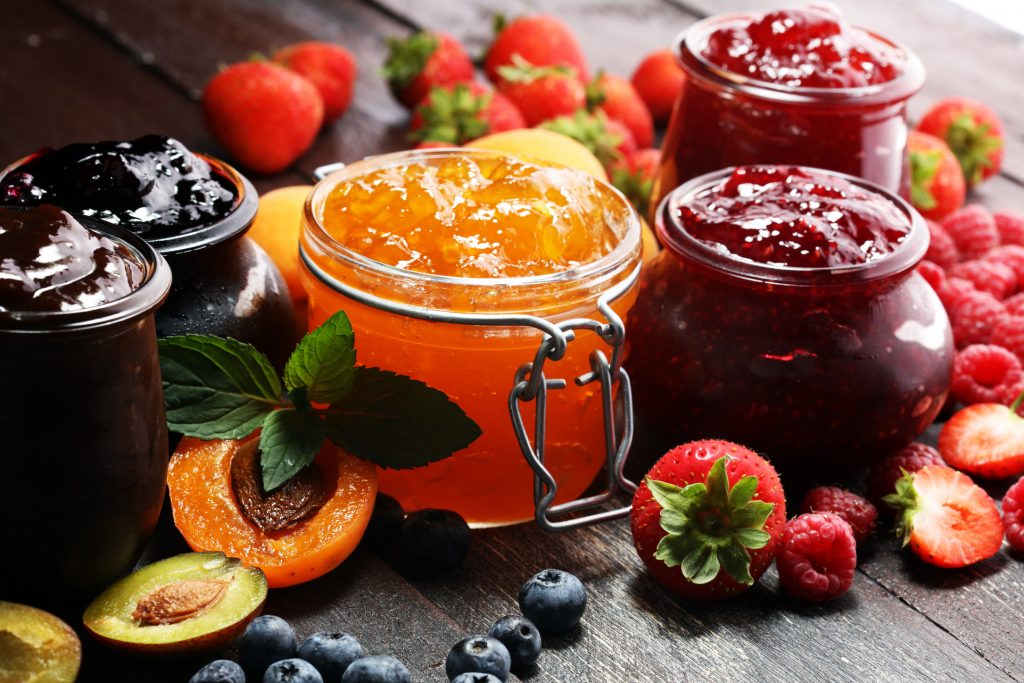 Fruity, tart, and definitely sugary fruit preserves offer another level of complexity when it comes to your crepes' flavor. And if you want to dine like the French, then crepes à la confiture (also known as crepes with jam) is an excellent way to go.
Smores
If you think smores are exclusively a camping treat, you haven't tried adding them to your dessert crepes. They are sweet, soft, and chocolatey! But if you don't have the time to light up some bonfire, this easy smores pops recipe is a great alternative that you can quickly whip up in the safety of your kitchen.
Boston Cream Pie
Are you feeling a little fancy? Make restaurant-quality breakfast with some Boston cream pie crepes! Just stuff your crepes with light and fluffy cream filling, then top it with some silky chocolate ganache. It looks good, tastes good, and is definitely easy and fun to make. 
Breakfast might be too early to have some booze, so we recommend that you enjoy limoncello crepes as a dessert treat. Limoncello is an Italian liquor made of lemon zest. There are limoncello crepe recipes where you add it to your cream filling or directly to your batter. Now, some alcohol residue might remain even after cooking it, so this one's definitely not for kids. This sweet and citrusy goodness will impress your friends though!
Confectioner's Sugar
Nothing's too sweet for a person with a sweet tooth! If you want an added sugary taste to your crepes, dusting them with some confectioner's sugar or powdered sugar is the easiest option. You can also mix it in your heavy cream when making whipped cream, or use it as a crepe stuffing. Sugar will not only elevate the overall sweetness of your crepes but will also help stabilize your whipped cream.
Chocolate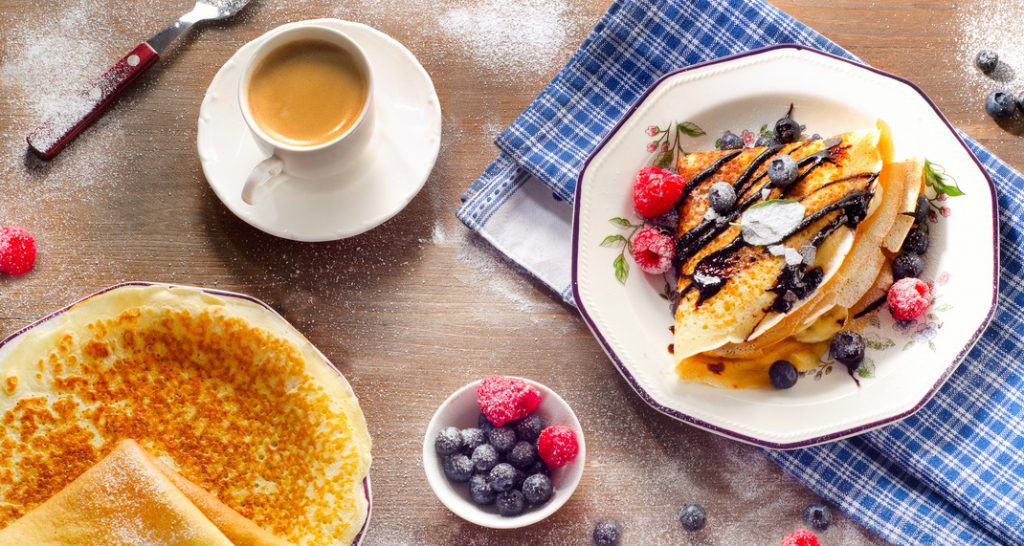 Who could say no to chocolate fillings, especially choco hazelnut spreads like Nutella? Unless you have an allergy, this nutty and chocolatey spread is one of the breakfast staples that is definitely find hard to resist. You can pair it with some fruits like bananas or balance its overall sweetness by filling your crepes with Nutella and berries. 
Maple Syrup
It is sweet like caramel but with the complexity of vanilla goodness and some tangy flavor. And you don't have to travel to Canada for some pure maple syrups, as it is available in your local groceries and supermarkets all year round. Maple syrup is certainly one of the best syrups to use as a sweet, crepe filling!
Salted Caramel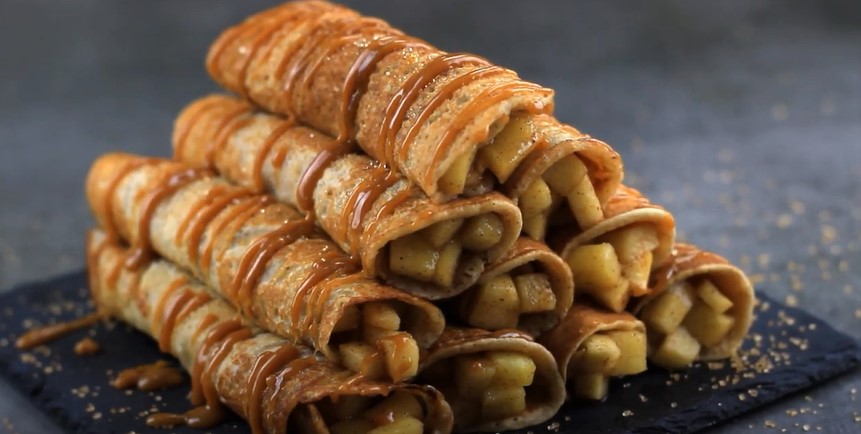 Add a sweet surprise to your dessert crepe by using caramel syrup as your filling! You can also opt for the sweet and salty salted caramel or the thicker and creamier dulce de leche. It definitely goes well with bananas or even apples for a sweet and appetizing crepe dish. 
Honey
Floral, fruity, and sometimes woody and nutty, honey is a natural sweetener that you can partner with your crepes. You can also add some fruits and nuts to provide different textures while digging in. If you are looking for a healthier alternative, choose raw organic honey when you visit the grocery or a farmers' market.
READ ALSO: Why You Should Shop At A Farmers Market
Peanut Butter
Peanut butter offers nutty, creamy, sweet, and salty goodness to your basic crepes. If you want to elevate it further, you can create your own peanut butter ice cream. We're sure that this is something your kids will love.
Cream Cheese Filling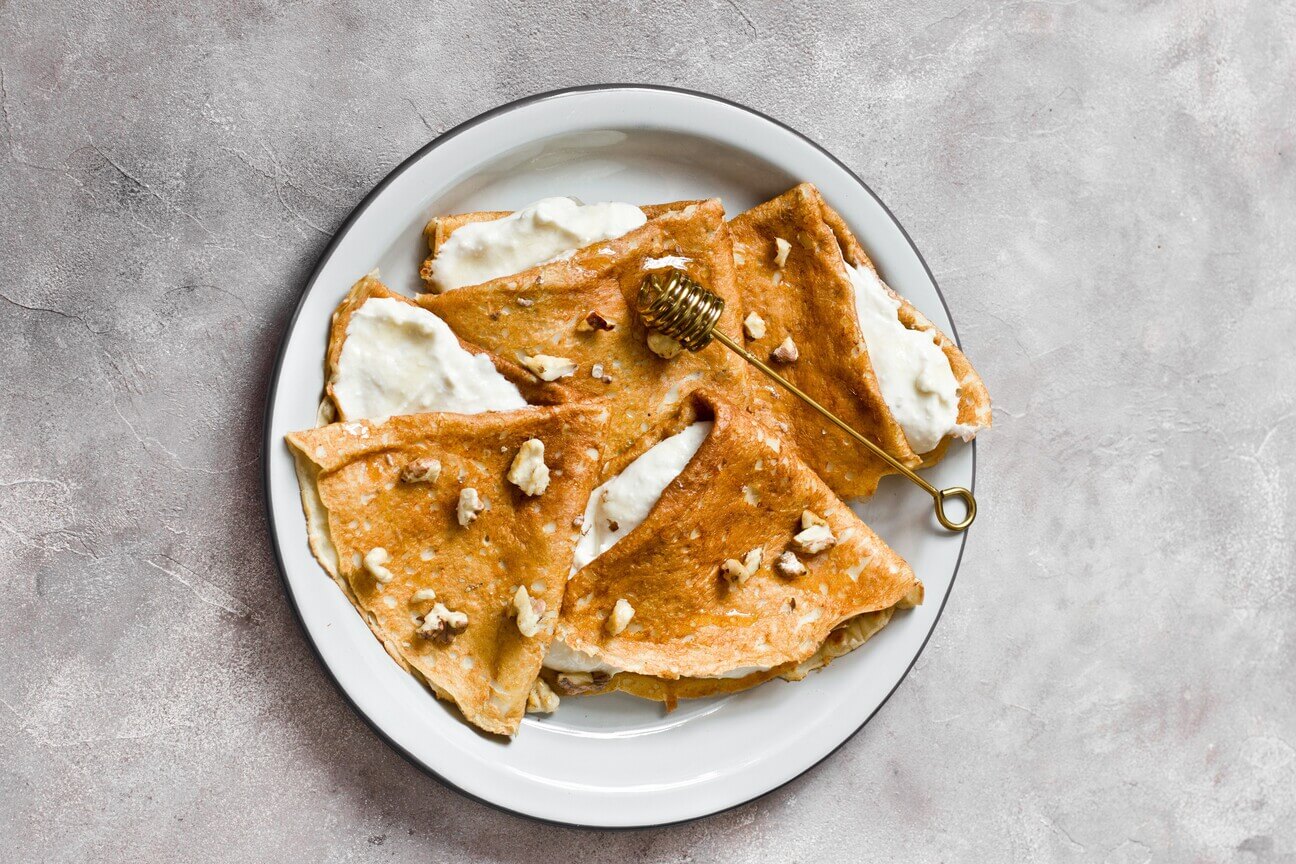 Start your day with some mildly sweet but with a little bit of tang that is cream cheese crepe filling. Add some pureed strawberries and make strawberry cream cheese for some tartness! 
Coffee Mascarpone
If you're a coffee lover, you'll definitely fall head over heels with coffee mascarpones as a crepe filling. If you want to share it with your friends, try making a tiramisu crepe cake! It's easy to make and will give you and your coffee-lover friends the caffeine kick that you all want.
Ricotta Cheese
The melt-in-your-mouth goodness of ricotta cheese is something you won't resist. It is soft and has a not-so-overpowering sweetness and an underlying saltiness. It's good on its own, but its versatility allows you to pair it with other sweet or savory fillings. 
Lemon Curd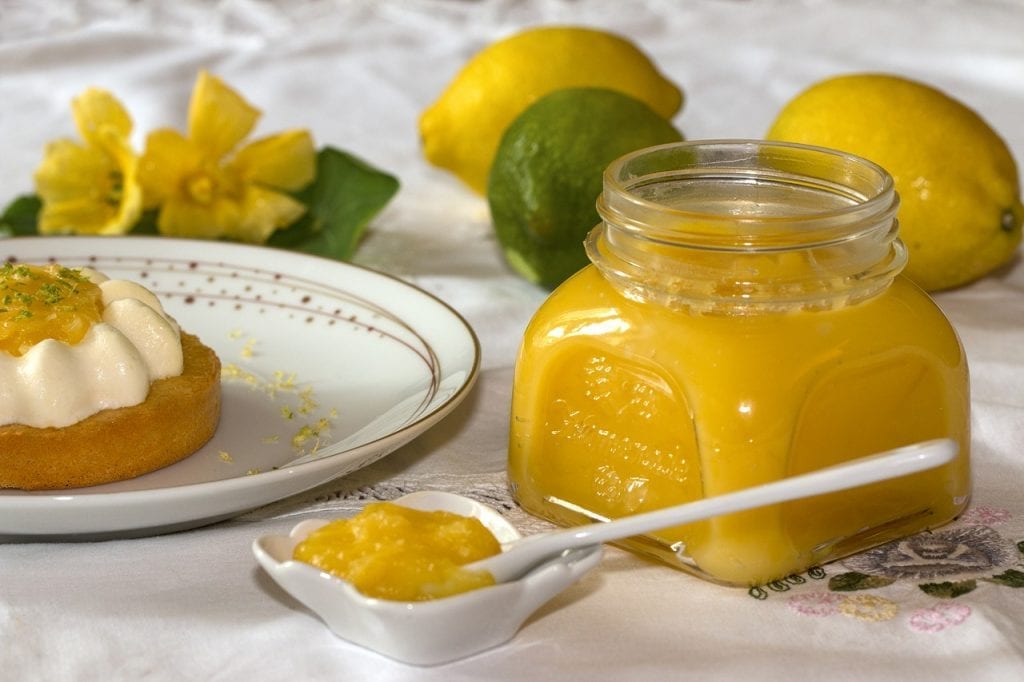 Make a delicious spread that's readily available in your home by making some homemade lemon curd. Its creamy, sweet, and tart taste is perfect for cakes, bread, and pastries and as well as a crepe filling.
Suzette Sauce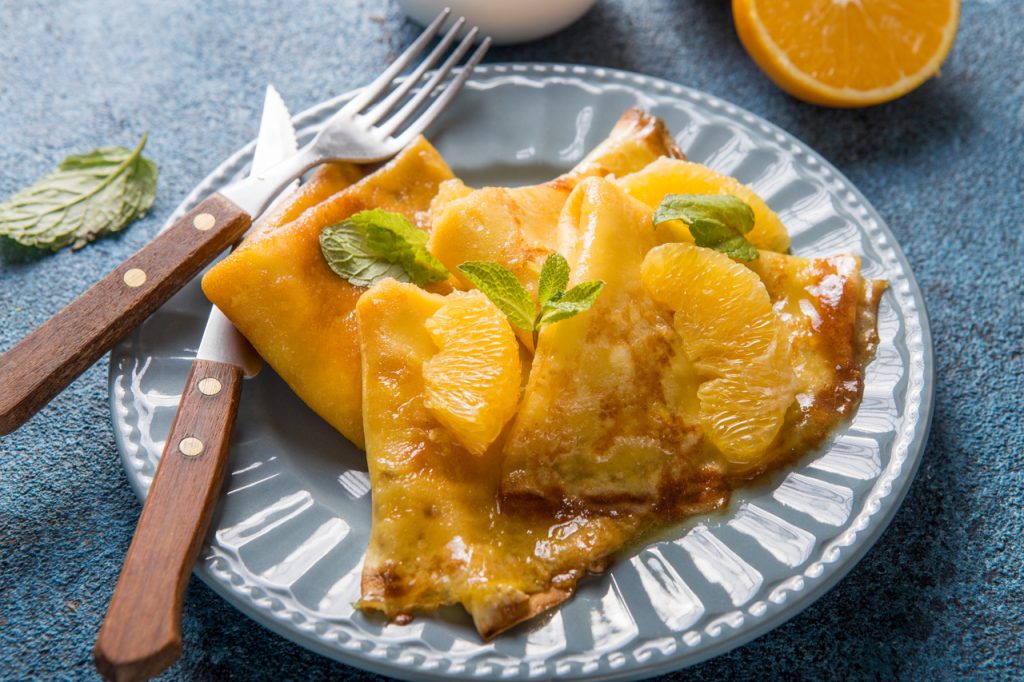 Have you ever tried French Crepes Suzette? These are crepes soaked in a flambéed sauce made of caramelized sugar and butter. It also has juice and zest of tangerines, with a little liqueur. Once you taste it, you'll definitely keep asking for more!
---
Savory Crepe Fillings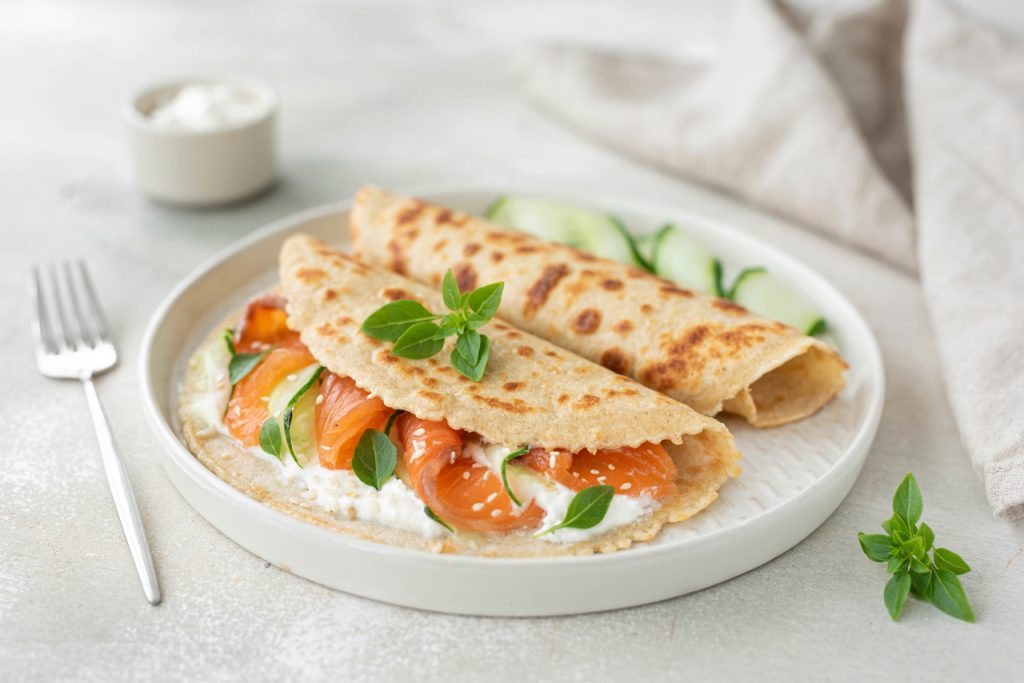 This list is for you if you are not a fan of sweet dessert crepes. These savory crepes are not only for breakfast because you can also have them any time of the day. That's right! You can also enjoy easy homemade crepes with savory fillings at a dinner party with your friends using the ideas that we have listed for you down below.
Salmon and Cream Cheese
First on our savory list is the salmon and cream cheese combo. If you want, you can bake the salmon and partner it with some tangy cream cheese. But you can always take it to the next level by making smoked salmon pinwheels rolled in crepes. Let your soft and slightly sweet crepe serve as the pinwheel's outer layer. This combo will give you that smoky salmon flavor with a creamy, herby taste from the cream cheese that pairs well with the texture and flavor of your crepe.
Ricotta Cheese and Smoked Salmon
If you want another variation of the salmon and cheese combo, then try this pairing instead. Ricotta cheese and smoked salmon work great as a light appetizer to serve to family and friends. The rich taste of the smokey salmon combined with the creamy ricotta cheese will make your crepes genuinely addictive.
Pan-fried Potatoes and Onions
Pan fry your potatoes to a crisp and then add some aromatic caramelized onions. This filling will give your crepes added flavors and varying textures!
Leftover Prime Ribs
Got some leftover prime ribs from the holidays? Why not pair it with your morning crepes? That's right! These juicy, meaty, tender ribs have the smokiness of roasted beef with the complex sweetness from the cherry and wine sauce. Who says breakfast can't be fancy? 
Ham and Cheese
If you are looking for an easy breakfast meal to prepare, ham and cheese crepe filling is the answer. Both are usually readily available in your pantry and are easy to assemble and cook. And the most important of all, these are super delicious!
Bacon, Egg, and Cheese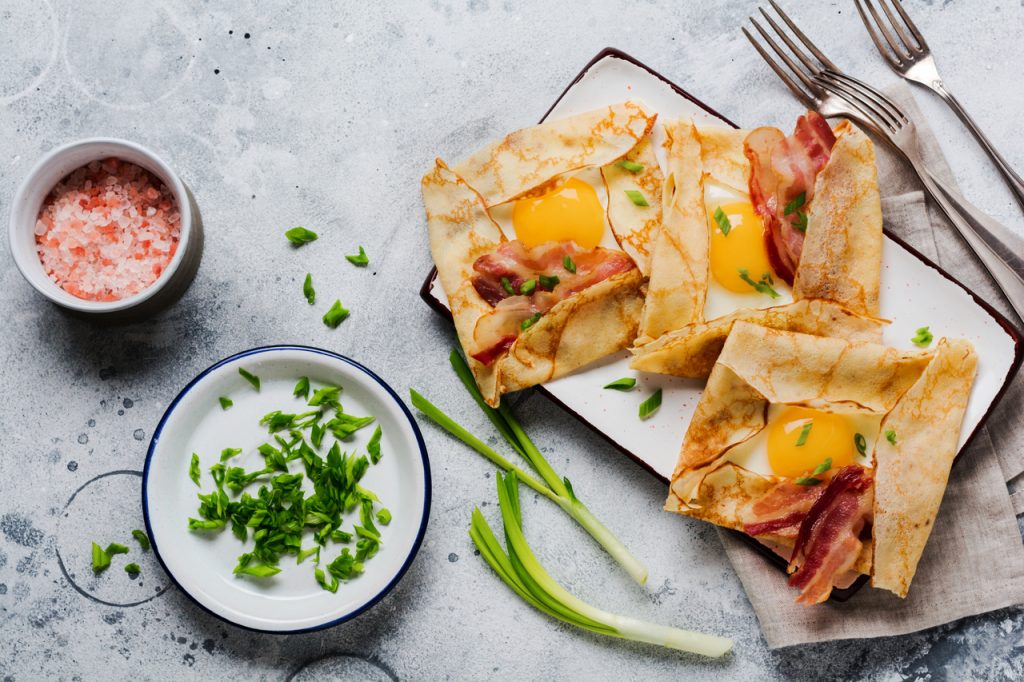 Bacon might be greasy, but it's tough to say no to this meaty morning staple. What more if you make this smokey, thin-sliced meat a bit cheesier combined with the richness of eggs? Try the bacon and cheese crepes combo and top it with some eggs cooked any way you want. We think you'll agree that there's no going back. 
Turkey and Pesto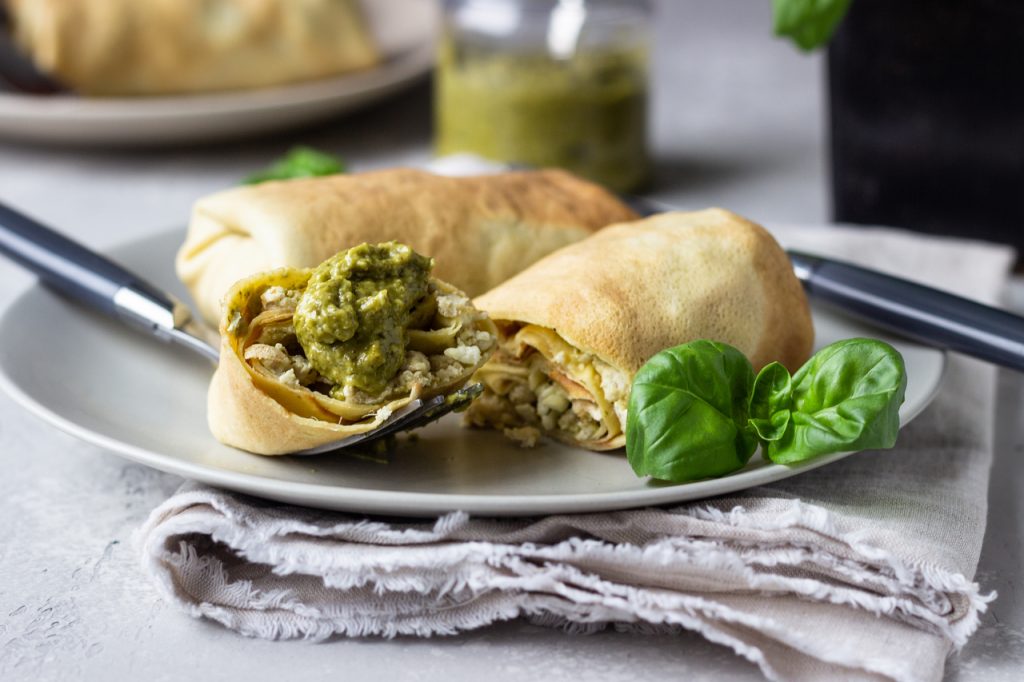 Who says turkey and pesto are only for pasta dishes? You can make an aromatic mixed herb pesto (add some heavy cream to make a creamy pesto sauce) and use it as your crepe filling. This creamy, herby, and garlicky sauce can also be paired with your toasted bread, boiled eggs, and veggie salad, making it a handy sauce to have within your reach.
Beef Mushroom
Give your typical beef mushroom burgers a twist by using it as a crepe filling. It is juicy and creamy, perfect for your soft and sweet crepes.
Sausage
From salty, smokey, and herby to something with a kick of spice, the delicious sausage has all flavors for every palate. That makes it a fun and exciting filling for your brunch (or dinner, whichever you prefer) crepes. Mix and match it with other fillings like eggs, veggies, or salsa.
Taco Meat
Who says taco meat is only for tortillas and buns? Try replacing the burger buns with soft, freshly made crepes on this beefy taco joes recipe. The sweet, salty, and cheesy combo will make your ordinary morning meal special.
---
Healthy Crepe Fillings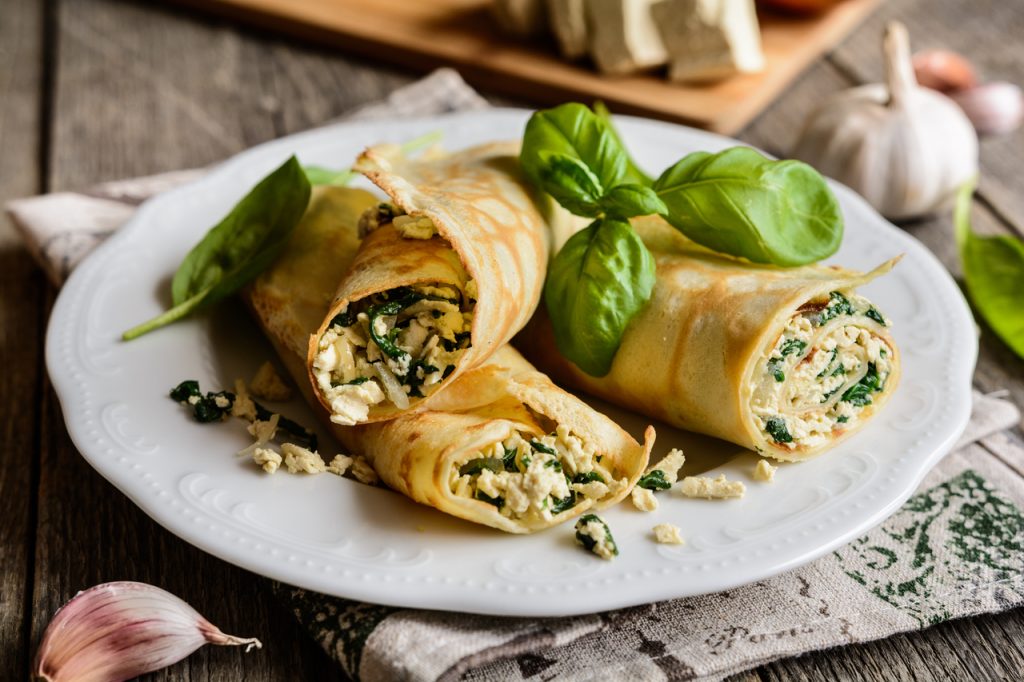 Want to start your day right? Get ready because we got you some healthy breakfast crepes that are not only filling but also delicious. Just note that if you're vegan, opt for gluten-free crepes and use milk alternatives like almond and soy milk when making your batter.
Now, this list entails a combination of sweet and savory crepe fillings for vegetarians, while some are for people just looking for healthy options. Read on and find out different healthy crepe filling options from which you can choose.
Banana
Banana crepe filling is one of the most common fruit fillings. You typically partner this with some whipped cream and chocolate syrup like in this choco banana crepes recipe. If you're a vegan or you just want to make it a little on the healthier side, we suggest you use pure maple syrup and drizzle it on top of your crepes with banana, as it is vegan and gluten-free.
Strawberry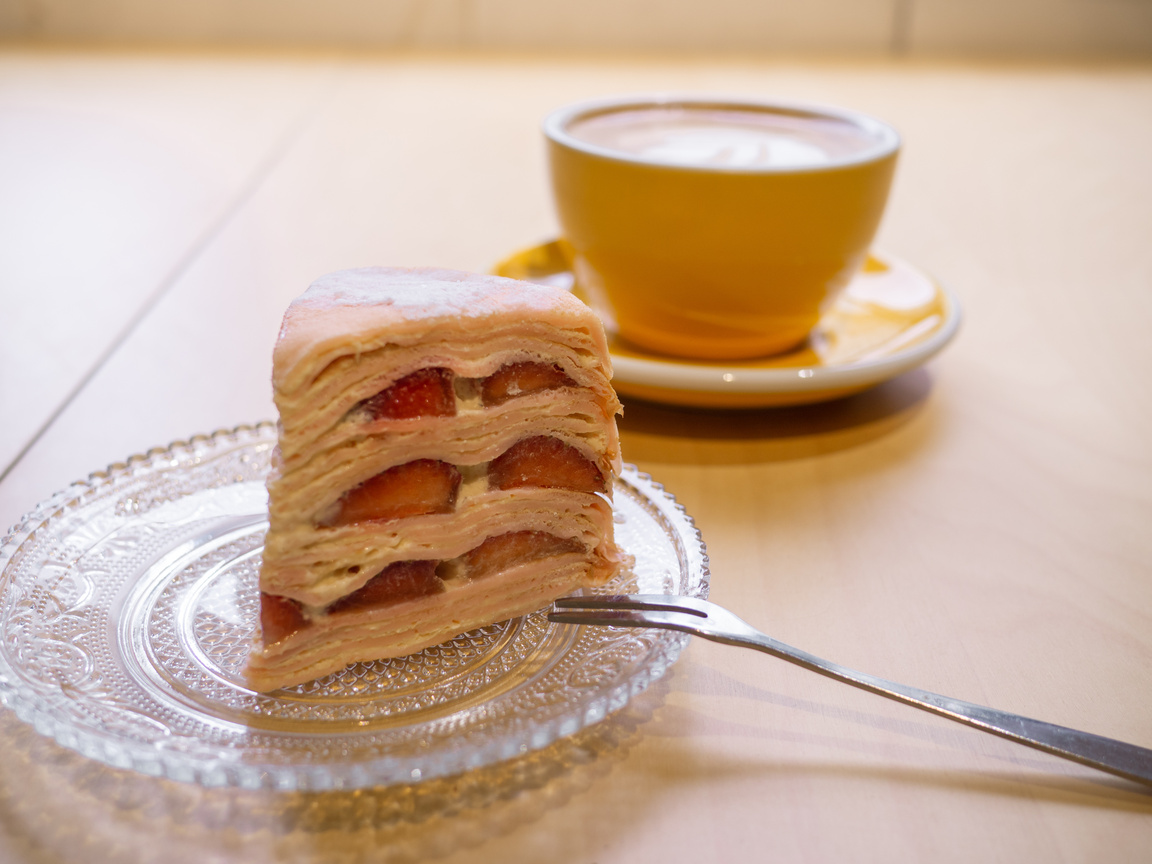 Let the bright red color of strawberry crepes grab your guests' attention! And if it's an even more special day, why not make a crepe cake like this no-bake strawberry and cream crepe cake? Just use a gluten-free crepe as an alternative if you have gluten sensitivity. You'll definitely find this easy and fun to make!
Blueberries
Add some pizazz to your regular crepes by adding some fresh blueberries! It adds a tart flavor to your sweet, paper-thin crepes. You can make crepes with berries and cream. Add other berries to make them more colorful and a dollop of yogurt for that creamy, smooth texture! 
Mango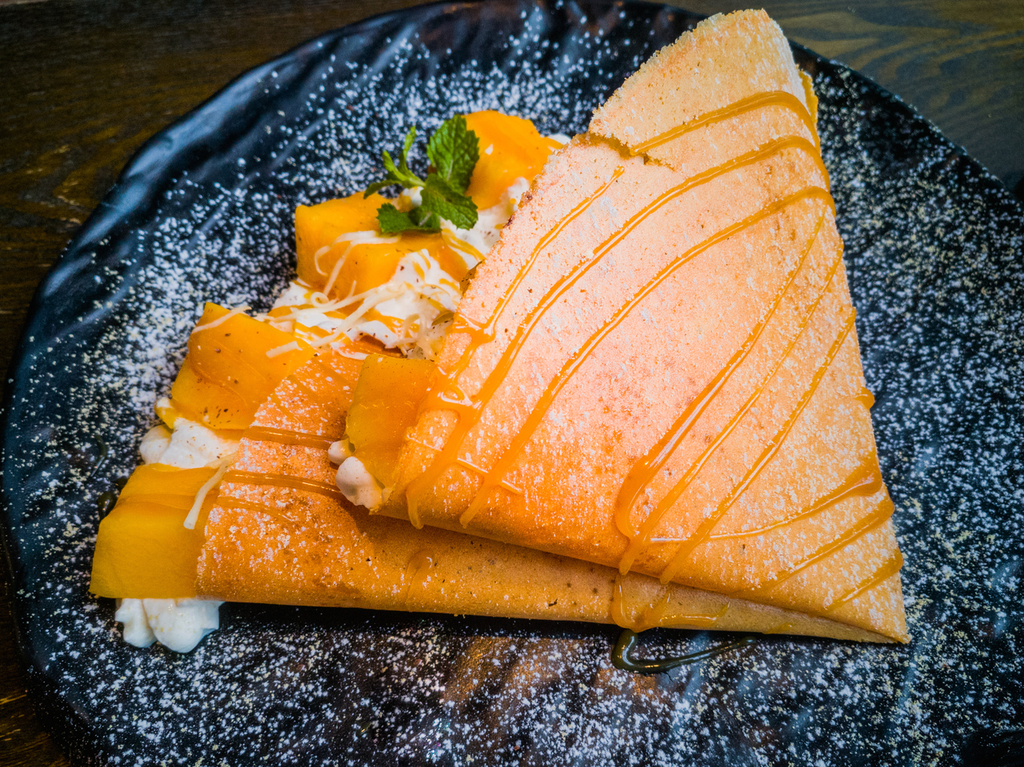 Now, you might need a few tricks to cut a mango, but using this tropical fruit as a crepe filling is definitely worth it. It is not only healthy because of its nutritious and fibrous quality, but it's also very yummy! Its bright flavor adds a different level of sweetness (with the perfect mix of tart and tang) that you'll surely love.
Apples
They are a little too sweet and tart but will give your soft crepes some crunch! And if you like apple pies, you can create vegan apple pie filling by cooking your apples in brown sugar, butter (you can ditch this or use any substitute), cinnamon, and cornstarch slurry. Just use vegan crepes as an alternative to your usual pie dough. 
Pumpkin
Pumpkin might be a little too bland for you, but adding some nutmeg, cinnamon, allspice, and some sugar will surely elevate it! The fun part? You can add it to your batter or use it as a filling! Create your version of pumpkin-spiced crepe fillings and start your day with a flavorful and aromatic meal.
Coconut and Cardamom
If you are on a Keto diet, we recommend trying keto crepes! It uses coconut flour instead of the usual wheat or buckwheat options. Along with this, you may use grated coconut and cardamom as your filling. It is sweet, nutty, and, indeed, aromatic!
Greek Yogurt
Keto-friendly and gluten-free, greek yogurt is a healthy crepe filling you can mix and match with fruits and other crepe fillings (whether sweet or savory). It has the right sweet and tart flavor balance with a smooth, velvety texture.
Fruit Salsa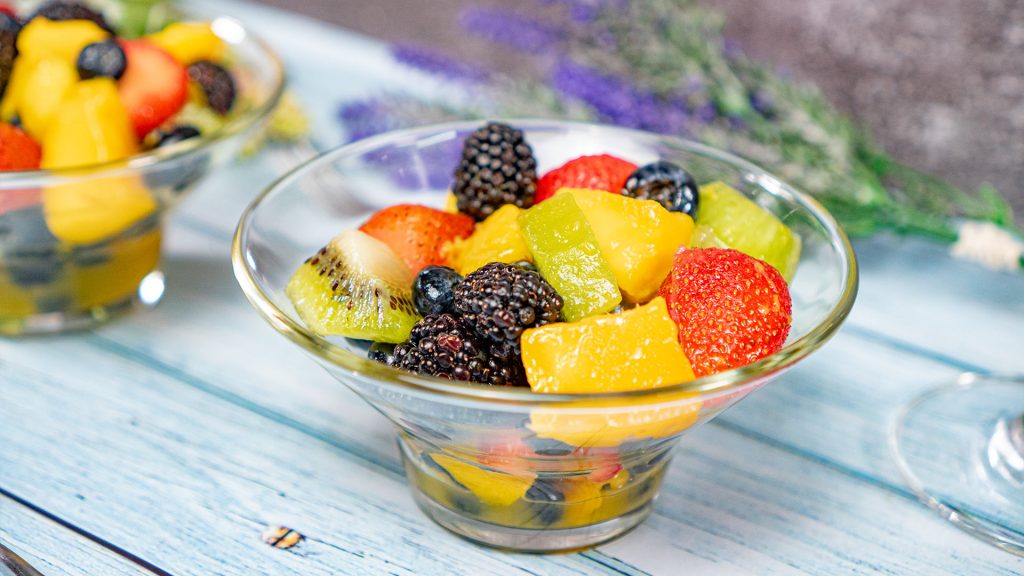 Can't choose what fruit to add to your crepes? Then try a fruit salsa that you can make with all kinds of various options. It is healthy, colorful, and absolutely fresh.
Nuts
Adding chopped nuts to your crepe fillings provides an added layer of texture to your morning treat. Want some added twist to your velvety greek yogurt? Chopped nuts are an easy and quick fix!
Spinach and Mushroom Steak
If you are a vegan, you can use veggies as an alternative to meat — like making a mushroom steak, for instance! It is portobello mushroom marinated to perfection that stands as the alternative to your usual beef steak. Aside from being vegan-friendly, it is also gluten-free!
Want to elevate it? You can make a spinach-stuffed portobello mushroom (just use vegan sour cream and cheese) and use it as a crepe filling. Creamy, savory, and healthy — what else could you ask for?
Asparagus and Cherry Tomatoes
Let's use your frozen asparagus as crepe filling! Roast and combine them with some sauteed cherry tomatoes. The earthy taste of the asparagus and the bright and juicy cherry tomatoes enveloped in a vegan crepe will definitely satisfy the vegan in you. 
Spinach, Artichoke, and Cheese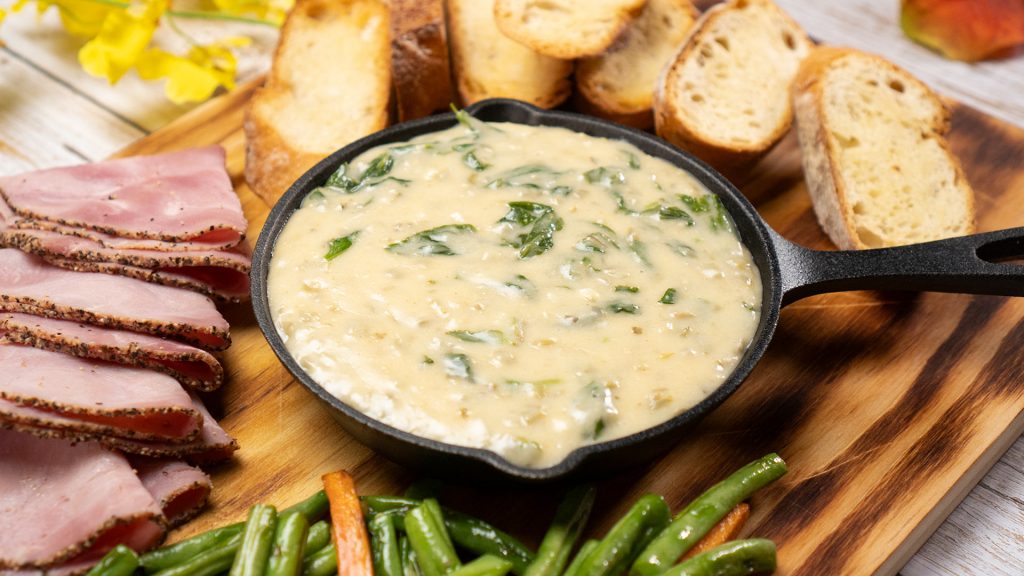 Make some fondue with spinach, artichoke, and cheese, and use it as a crepe filling! You can also add some asparagus, shredded chicken, or broccoli when you serve it, but it should be fine on its own. Stuff it inside your delicious crepes. Who knows? It might be a sneaky way to trick your kids into eating veggies.
Chicken and Chives
Now, it is not a vegan-friendly crepe filling combo but is still definitely healthy. We recommend adding some chives to your baked chicken breasts. Not only will it improve the aroma, but it will elevate the flavor as well. 
Chicken Broccoli
Do you know that you can use broccoli as crepe fillings? Cook it with some chicken breast to make keto-friendly chicken, broccoli, and corn casserole that you can use as a crepe filling. You can also add your favorite cheese selection to make it more creamy and cheesy! Who says dieting can't be fun, right?
Chicken, Basil, and Spinach
Can't get enough of chicken in crepes ideas? Aside from broccoli and chives, you can mix chicken with some basil and spinach. You can make a basil chicken with lemon and spinach. It is fresh-tasting, flavorful, and aromatic. Serve it for brunch, dinner, or whenever you like.