The perfect brownie is the one that has a rich chocolate flavor, has the perfect texture between chewy and crispy, and is neither too sweet nor too bland. Soft on the inside like a cake while crisp on the outside like a cookie, brownies are one of the best-baked treats! While others like to keep it classic like these Powdered Sugar Dense Brownies, others like to take it to another level to their brownies recipe – like adding a can of soda to the mix! 
The twist of adding a can of Dr. Pepper to the brownie batter gives it an irresistible flavor and interesting moisture that most brownies don't have. The result is a decadent dessert that made for every Dr. Pepper lover. Get your Dr. Pepper fix completely satiated by pairing the brownies with a glass of Dr. Pepper drink! Surely, this homemade brownies recipe can satisfy your sweet tooth and Dr. Pepper cravings all at once!
The fun part about brownies is that you can top it with almost everything. If you like your dessert with some tangy and fruity kick, then toss some berries in your servings. If you want to prepare a super indulgent snack, just put Dr. Pepper infused brownie batter into a mug, cook it in the microwave, and top it with some ice cream!

Tip:
If you prefer a more guilt-free version of this recipe, you can use a can of Diet Dr. Pepper, paired with a low-sugar/low-fat ready-to-make brownie mix, and you're set!
Decadent Dr. Pepper Brownies Recipe
Ingredients
1 ¼

cups

all-purpose flour

1

cup

sugar

⅔

cup

cocoa powder

½

tsp

salt

½

tsp

baking powder

1

can

Dr Pepper

½

cup

bittersweet chocolate chips

dash of cinnamon
Instructions
First, preheat the oven to 350 degrees. While the oven is preheating, grease an 9×9 baking pan, then set it aside.

Then, combine all of the dry ingredients, except for the chocolate chips, in a large bowl and stir together until everything is well combined.

Pour the Dr. Pepper into the bowl, and stir until it is well blended into the brownie batter.

Then, evenly fold the chocolate chips into the batter.

Transfer the batter into the greased baking pan and bake the brownies for 30 to 40 minutes.

Remove the brownies from the oven and let them cool for 5 minutes.

Cut them into equal proportions, and you can serve them with whipped cream or some fresh cherries if desired!
Commonly Asked Questions
How long can you store brownies at room temperature?
Storing brownies in a container at room temperature gives the brownies a shelf life of 1 to 2 days. If you store an uncut, whole pan of brownies in a well-wrapped plastic at room temperature, the shelf life is up to 4 days. If you place it in the freezer, it can still be consumed if it doesn't exceed 3 months.

Do you bake brownies covered or uncovered?
You should do both! First, bake the brownies uncovered for about 15 to 20 minutes, then rotate the pan halfway. Next, place a piece of aluminium foil loosely over the brownies and bake for another 15 to 20 minutes. This will help the brownies bake more evenly.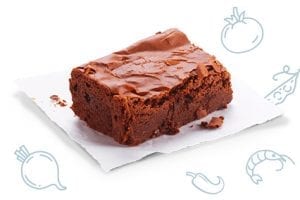 Conclusion
Brownies should not always be generic and classic. Sometimes, adding a small sizzle, like a can of Dr. Peppers can take things to a different level. Surely, this brownie recipe will become one of your must-haves for a unique and fun dessert experience!