Inspired by Edward's turtle pie and the famous DeMet's Chocolate Turtles, this easy no-bake turtle pie recipe lets you experience the same nutty chocolate caramel goodness without the need for an oven! Caramels, chocolate chips, and pecan nuts are all loaded into chocolate graham pie crusts, then chilled to set. That's only a handful of common ingredients and little effort to put together this awesome dessert! You definitely have ample time to also prepare some drinks like this fruit iced tea while chilling the chocolate and caramel creamy pie.
Tips on Making Turtle Pie
No-bake cakes are absolutely fuss-free treats since there is no baking involved. Just put the cake together and let the fridge do the work for you. However, no-bake cakes can sometimes come out runny so we suggest closely sticking to the recipe. Here are more tips on making this easy no-bake caramel pecan pie so that you can perfect them at home every time:
Use a store-bought or homemade pie crust.

We have a good recipe for chocolate graham pie crust down below but you can also use Oreo cookies or Oreo crumbs to make it.
Do not overbeat the filling.

Use a low-speed setting and beat the ingredients just until fluffy. Otherwise, too much air will, later on, cause cracks on the cake.
Add other delicious fillings.

You can load up the pie with salted peanuts, mini marshmallows, and even pumpkin puree to make a pumpkin turtle pie.
Make this no-bake cream pie up to 4 days ahead.

That's less work to do on the day of your special dinner date or gathering.
Make little pies in cupcake tins.

Just make sure to use cupcake liners so you can easily take them out of the tins. You can also make turtle pecan pies in little jars, perfect for gifts or giveaways!
How To Make Easy Turtle Pie
Enjoy luscious caramel cream cheese filling studded with crunchy pecans in a chocolate graham crust in this easy no-bake turtle pie recipe.
Advertisement
Continue Reading Below
Ingredients
For Chocolate Graham Crust:
1

cup

chocolate graham cracker crumbs

½

cup

unsalted butter,

(1 stick) melted

¼

cup

granulated sugar

2

tbsp

vanilla extract
For Caramel Pecan Filling:
¾

cup

pecans,

coarsely chopped

8

caramels

½

cup

heavy cream,

or whipping cream

10

oz

cream cheese,

softened

½

cup

powdered sugar
Optional Toppings
whipped cream

caramel sauce

chocolate chips

chopped pecans
Instructions
Chocolate Graham Crust:
Combine all ingredients in a bowl. Mix well.

Press the graham mixture into a 9-inch springform pan or pie pan to form a crust.

Refrigerate until ready to use.
Caramel Pecan Filling:
Heat up a pan on medium-low heat. Toast the pecans for 3 to 4 minutes or until aromatic and slightly brown. Set aside.

Using the same pan, turn the heat to low. Melt the caramels. Set aside to cool.

In a bowl using an electric mixer on a low-speed setting, whip the cream cheese until fluffy, about 4 minutes.

Add the whipping cream and powdered sugar and continue to beat for 2 minutes.

Using a spatula, fold in the melted caramel and pecans.

Pour the filling into the graham crust.

Smoothen the top using an offset spatula. Drizzle caramel and sprinkle chocolate chips and pecans, if using.

Chill for a minimum of 5 hours, up to overnight.

Serve and enjoy!
Advertisement
Continue Reading Below
Advertisement
Continue Reading Below
Commonly Asked Questions
What is turtle pie made of?
A turtle pie always has chocolates, caramel, and pecans. It comes in the form of tarts with a whipping cream base in a pie shell, and also in the form of a cheesecake with a cream cheese base in graham cracker or Oreo cookie crust.

How long is turtle pie good for?
This no-bake turtle pie will last for 5 days in the fridge and up to a month in the freezer.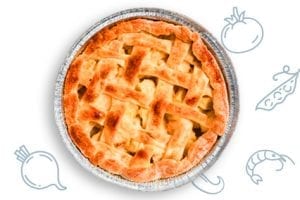 Conclusion
Making this no-bake turtle pie is easy, and eating it is a whole lot of fun. It's definitely worth the wait as the smooth creamy caramel filling with pecans and chocolate pie crust is guaranteed to bring delight to everyone!
Advertisement
Continue Reading Below
Topics:
Advertisement
Continue Reading Below
Advertisement
Continue Reading Below