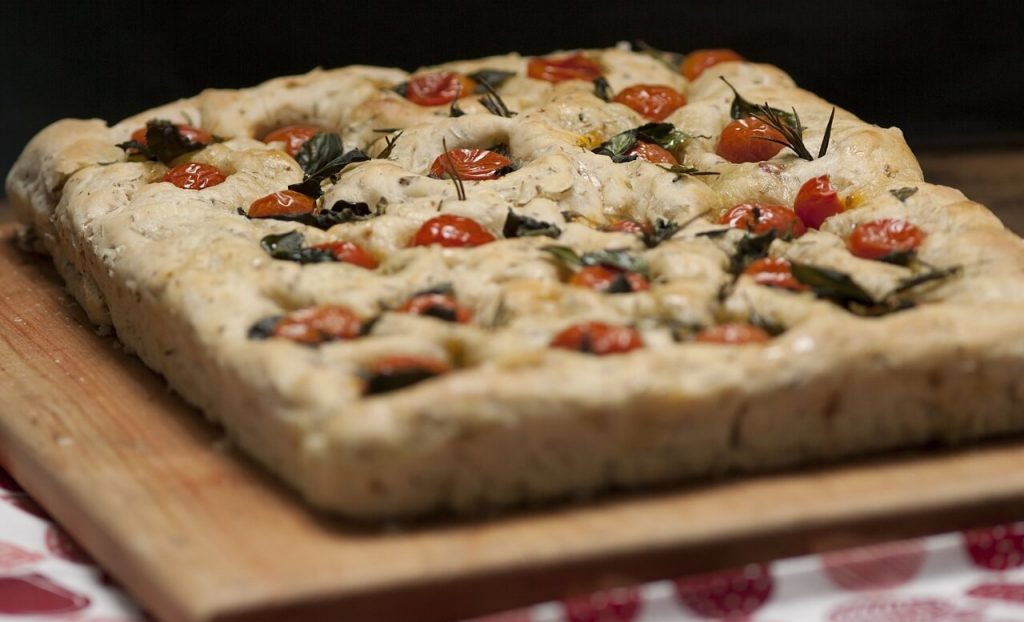 37 Focaccia Toppings You Should Try
Focaccia is a flat-leavened Italian bread made with yeast and olive oil similar to that of pizza dough. Just like the world-famous pizza, there are many delicious focaccia toppings such as cured meats, cheeses, fruits, and herbs.
One of the true authentic Italian recipes, this bread is also an ultimate Italian comfort food as its soft and fluffy texture can be combined with any ingredient you can imagine. Continue reading to discover what else you can use aside from the traditional, usual toppings!
37 Focaccia Toppings to Try
There are countless ways you can personalize this Italian bread. A simple recipe like this easy brunch focaccia can take you a long way! Because the flavor is simple, it can be topped with herbs like thyme and basil, aromatics like onion and garlic, and fat like olive oil. You can also play with flavors and texture to add depth to the flavor. 
---
Traditional Focaccia Toppings
If you're not very familiar with focaccia, it's only right to start with the basics. Below are classic focaccia topping ideas you can try:
Olive Oil and Herbs
One of the most basic focaccia toppings is a combination of olive oil and some type of herbs like rosemary, thyme, and basil. This simple combination can even be spotted in bakeries. They're classics because they taste amazing!
Extra virgin olive oil, in particular, tastes spectacular, which is why chefs love drizzling it on almost everything. Olive oil adds a bright peppery flavor. It can also taste like herbs and fruits. Combine that with a handful of herbs and this topping will definitely win you over! Plus they're easy to replicate at home.
Garlic Rosemary Herb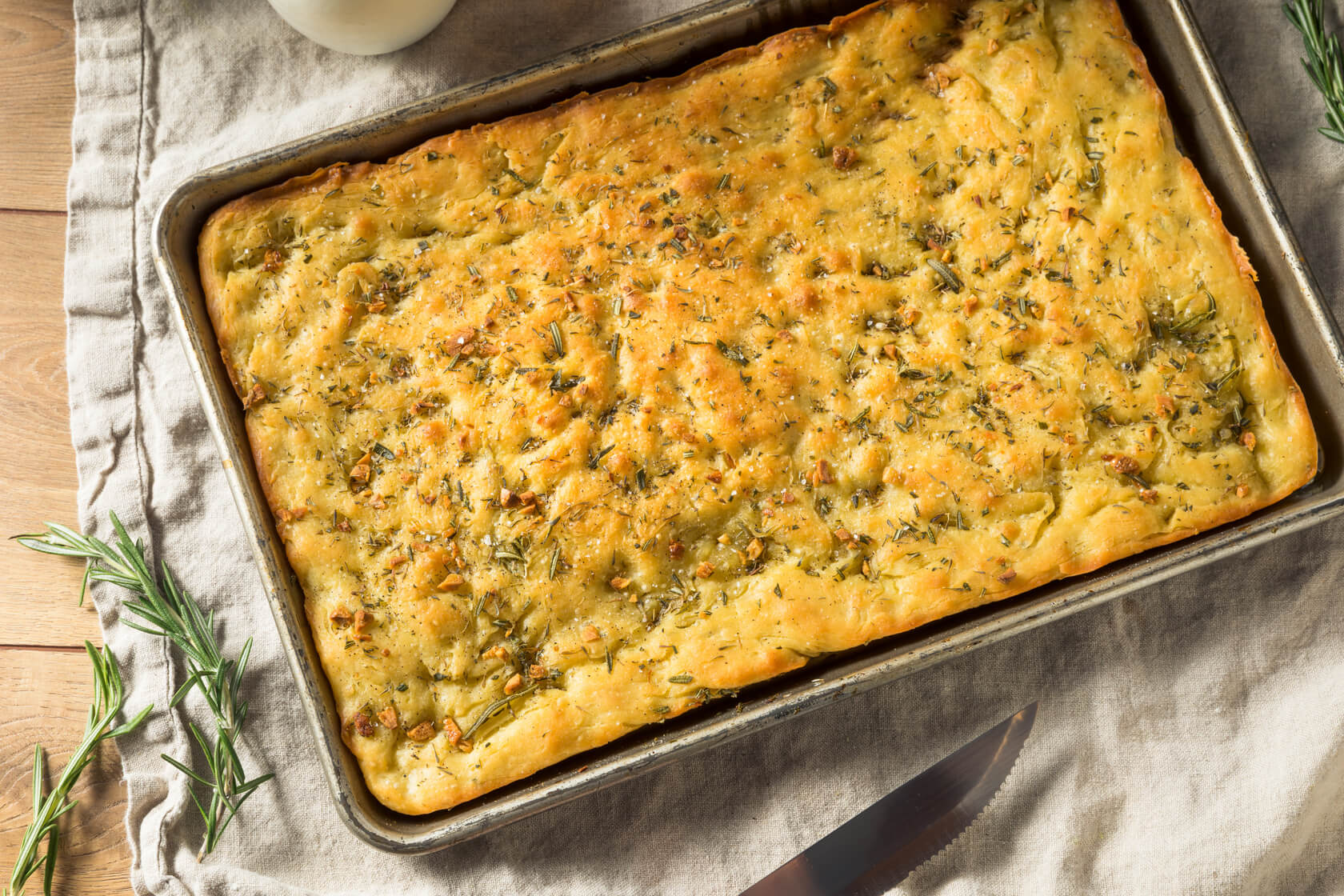 Now, olive oil and herbs sound delicious but why don't we add some sort of aromatics for a slightly nuanced flavor? Imagine herb-infused olive oil seeping into the crispy exterior of the focaccia bread. Adding garlic to that brings an extra level of nuttiness and sweetness you can't resist. 
All in all, what the garlic does is bind rosemary and olive oil for a flavorful focaccia bread with lots of roasted garlic flavor. Think of garlic rosemary herb focaccia as garlic bread, only fluffier and softer! 
Sun-Dried Tomatoes, Goat Cheese, Onions
Name a better combination than sun-dried tomatoes and goat cheese sprinkled with caramelized onions. In this pizza-like rendition, the sun-dried tomatoes give the bread a bright but intense sweet-tart flavor. Meanwhile, the goat cheese has a mild, tart, and buttery taste which complements the tomatoes nicely. Lastly, the caramelized onions turn up the flavor even more with their sweet yet deep complex flavor.
Overall, this topping offers a chunkier bite thanks to sun-dried tomatoes and soft onions. 
Anchovies, Tuma Cheese, and Escarole
In Italy, this particular combination is also called focaccia Messinese. It's a Sicilian-style recipe that mixes anchovies, tuma or toma cheese, escarole, and cherry tomatoes for a hearty and savory version of focaccia.
Notice that this recipe traditionally uses tuma cheese. It's a sort of white cheese that resembles fresh mozzarella both in texture and in taste. You can use mozzarella cheese instead if you find it hard to spot tuma in grocery stores.
READ ALSO: 23 Different Types of Cheese, Explained
Mortadella, Mozzarella, and Pistachios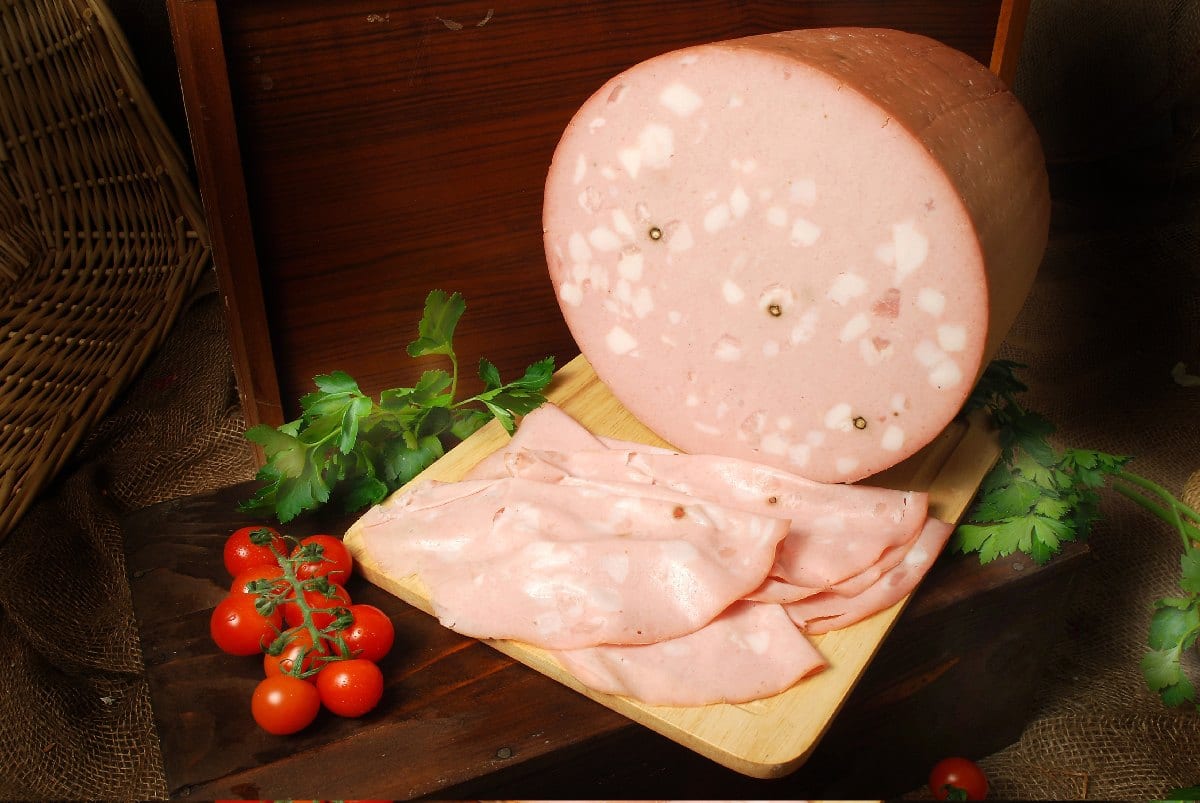 This topping combination screams Italian in every square inch. Why? Well, Italy is home to mortadella, mozzarella, and pistachios. Generally, the primary flavors you'll find in this topping are savory and rich that also has an array of texture. The mortadella has a silky texture which is a nice contrast to the crunchy pistachios. The whole thing is then mellowed out with mozzarella or burrata cheese — an Italian cheese made from mozzarella and cream.
Besides mortadella, another meat product you can add to your focaccia is sausages. When used as a topping for focaccia, it's usually accompanied by peppers and onions. Think of it like the flat version of a hoagie sandwich. This version just sits on top of thick, airy, and fluffy bread. You can crumble it or cut it into huge chunks. You do you! 
Spreadable and Crumbly Cheese with Herbs
Spreadable and crumbly cheeses are some of the regular toppings for focaccia. Now when it comes to the best cheeses, the options available are just as endless. Some of the popular choices are cream cheese, ricotta, goat cheese, and feta cheese sitting in herbs and olive oil. You can opt for store-bought herbed feta or you can make your own by combining olive oil and a few herbs like basil, thyme, or rosemary. We recommend making your own so you can personalize it however you want!
Cherry Tomatoes, Oregano, and Extra Virgin Olive Oil
There are several ways you can switch up your focaccia with olive oil and herbs. We already mentioned a few on this list, but cherry tomatoes are another great topping for this dish. Not only do they add a pop of color, but they're also bursting with sweet, tangy flavor and a chunky bite you can enjoy. You can also swap basil or thyme with the aromatic oregano. It's simple but it's unbeatable and tasty! 
Anchovies, Tomato Sauce, Pecorino, and Caciocavallo Cheese
Dress up your focaccia with some anchovies, tomato sauce, Pecorino Romano, and cheese. In Italy, focaccia with this topping is referred to as sfincione palermitano (a popular street food in Palermo, Italy). This topping tastes like how you would expect it: salty from the anchovies, tart because of tomatoes, and cheesy from the melted caciocavallo. It also highlights the mild and salty flavor of caciocavallo cheese — one of Italy's rarest, most expensive cheeses. 
If you don't have any caciocavallo on hand, then you can use provolone or mozzarella cheese instead!
Olives and Cherry Tomatoes
If we're being honest, focaccia doesn't necessarily need a topping. But you'll also often find focaccia in bakeries decorated with pitted olives and cherry tomatoes deflated in the dough. You see, olives are commonly featured in Italian cuisine as pressed oil or whole as a briny focaccia topping. They can be bitter and salty though. That's when cherry tomatoes come into play. They have a tangy and sweet taste that helps balance the bitter taste. Don't forget to garnish it with herbs to brighten it even more! 
---
Sweet Focaccia Toppings
Focaccia is not limited to savory toppings in general. You can also top your focaccia with sweets and fruit toppings like grapes, figs, blueberries, bananas, and apples. Check the short list below for some ideas and combinations to try!
Grapes, Sugar, and Fennel Seeds
Schiacciata all'uva or grape focaccia is a famous fall focaccia recipe. It's usually made when the grapes are abundant or harvested in Italy. Basically, this topping is sweet and a little bit savory with the dough and the sweet toppings. If you like sweet and salty, this definitely fits the bill! 
Sugar
Yes, just sugar sprinkled on top. You'd think we made this up but it's actually a type of sweet focaccia from Val di Susa in Piedmont, Italy called focaccia di Susa. Basically, you sprinkle the top with sugar before baking and that's it. The result is a crunchy caramelized bread top full of sugary heaven. 
Traditionally, different shapes such as stars, crosses, doves, or horseshoes are carved into the bread depending on the occasion like New Year's or Christmas. Though, you can skip that if you're just preparing it as a regular day snack.
Figs
Another great way to add a sweet flavor to your focaccia is by topping it with figs. They're naturally sweet with a distinct honey taste. They also have a squishy, juicy texture and seeds that are a nice contrast to fluffy bread. If you want to lend your focaccia a sweeter fruity taste with a caramel-like depth, you can also try dried figs. 
Plums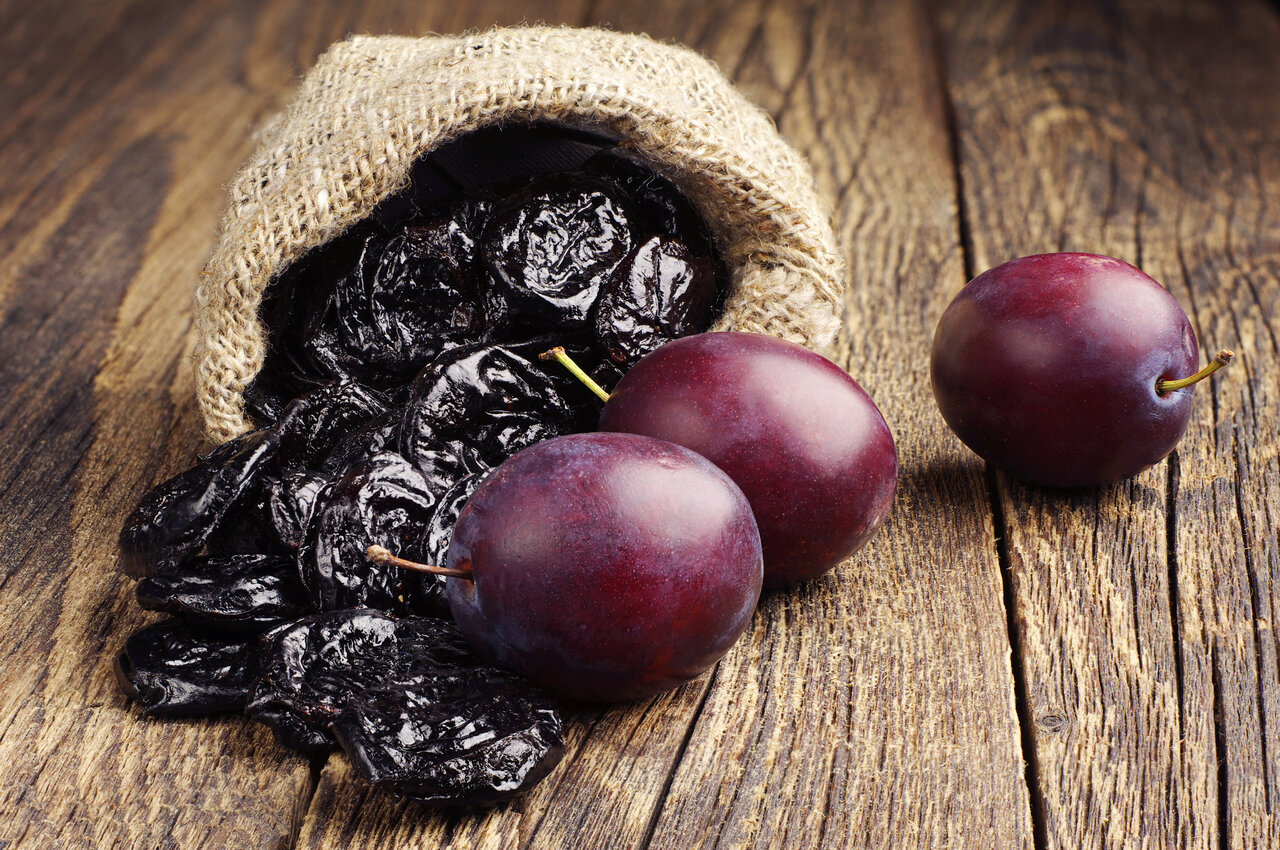 Turns out, you can also decorate your focaccia with beautiful plums instead of the usual cherry tomatoes. Fresh plums have a pleasantly sweet taste with a subtle tart flavor. Now, the riper they are, the sweeter they get. So, if you want a sweet focaccia topping that's naturally sweet, try riper plums instead. Besides its sweet taste, many like plums for their vibrant color which can be either red, blue, or purple. Whichever sort, we're sure it will make your bread visually appealing.
Cinnamon Sugar
Give your focaccia the cinnamon bun treatment by simply combining ground cinnamon and sugar. All in all, the flavor that will reign in this topping is warm and fall-friendly with a distinct, mildly sweet spiced taste. Technically, your focaccia can stand on its own with this topping but it also pairs well with caramel sauce or icing for a true cinnamon bun taste. 
Banana, Walnut, and Chocolate Chips
Even on focaccia, nothing beats one of the best sweet combinations of all time: banana, nuts, and chocolate chips. Bananas are naturally very sweet, pairing them with dark chocolate will help temper their sweet taste. Meanwhile, walnuts will add a nutty taste that complements both quite well.
Additionally, these morsels pair well because of their contrasting texture: bananas with their soft texture, chocolate chips with their decadent, melt-in-your-mouth texture, and nuts with their crunchy bite. Together, this combination will prevent you from ever getting bored! 
Pears and Apples
Focaccia takes well to numerous toppings such as pears and apples. Apples are naturally sweet and tart. As for pears, they can be sweet, tangy, and sometimes buttery. Paired with cinnamon sugar, this topping will greatly remind you of apple pies. Besides mixing it with cinnamon sugar, another way you can use apple is by pairing it with rosemary and gruyere cheese for a fall-friendly focaccia recipe. 
Honey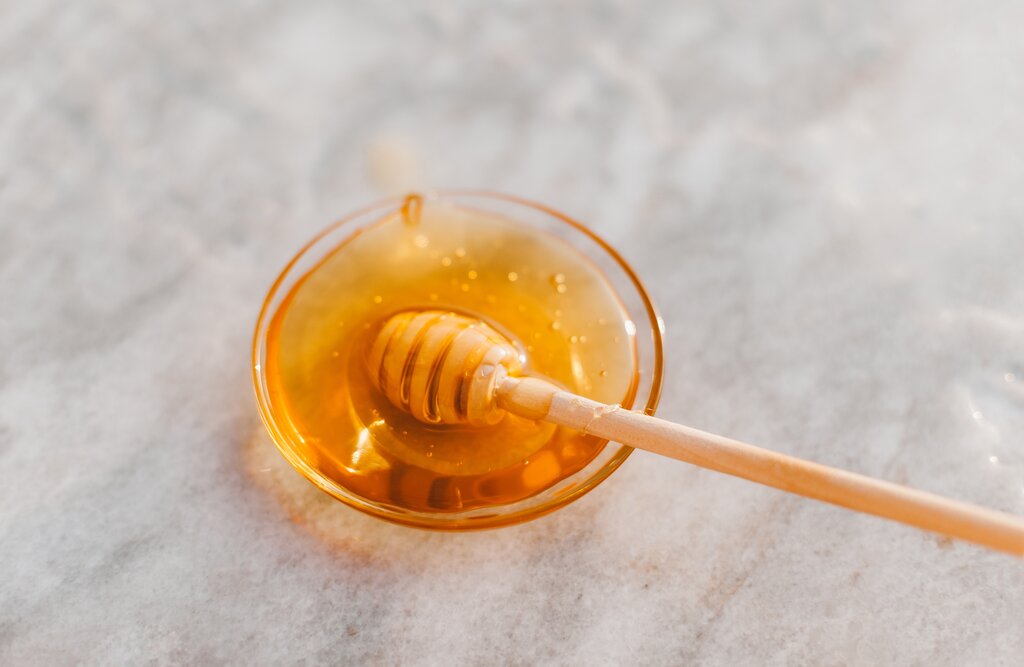 Just because it's sweet, doesn't mean it's unhealthy! In fact, there are sweet and healthy syrups that you can add to keep your Italian bread interesting and delicious like honey or pure maple syrup. They complement most sweet toppings on this list but they also go quite well with savory elements like seeds and nuts. Meanwhile, olive oil mixed with honey and rosemary is another sweet and salty favorite.
---
Pizza Focaccia Toppings
If you didn't already know, pizza toppings can also be used as focaccia toppings. That's because both their doughs serve as a great base for a variety of tasty toppings. Try making pizza-style focaccia with the topping ideas below.
Tomato, Mozzarella, and Basil
Let's start with one of the most basic pizza flavors, yet one of the most flavorful: pizza Margherita. It starts with crushed San Marzano tomatoes, fresh yet gooey mozzarella cheese, and aromatic basil. The original pizza recipe sits on top of a bubbly crust. This version, however, sits on pillowy, buttery bread. But they're both just as amazing and just as comforting!
READ ALSO: 9 Best Tomato Puree Substitute Options to Save Your Dishes
Feta Cheese, Pesto, Cherry Tomatoes
Are you looking for a topping that screams wow on every square inch of its plate but you still want to keep it inexpensive? Then feta cheese, pesto, and cherry tomatoes are your next best bet. The green sauce has a bright and herby flavor from the basil. They're a little cheesy and nutty too thanks to the cheese and pine nuts. Meanwhile, the olive oil gives it that buttery and savory flavor. With some more feta cheese and cherry tomatoes? They're unbelievably delicious but almost sinful!
Parmesan, Eggplants, Tomato Sauce, and Herbs
Nothing can possibly go wrong with Parmesan, tomato sauce, and herbs, right? Tomato sauce has everything you're looking for when you're thinking about making pizza-style dishes: acidity, umami, and a little sweetness. Parmesan and herbs round up the flavor in tomato sauce so they end up in equal parts tangy and savory. Meanwhile, eggplants add a hearty bite and a subtle sweetness fit for pizza-style focaccia. Don't be shy to use your handy pizza cutter for a clean, table-worthy slice!
Prosciutto, Mozzarella, Mushroom, and Olives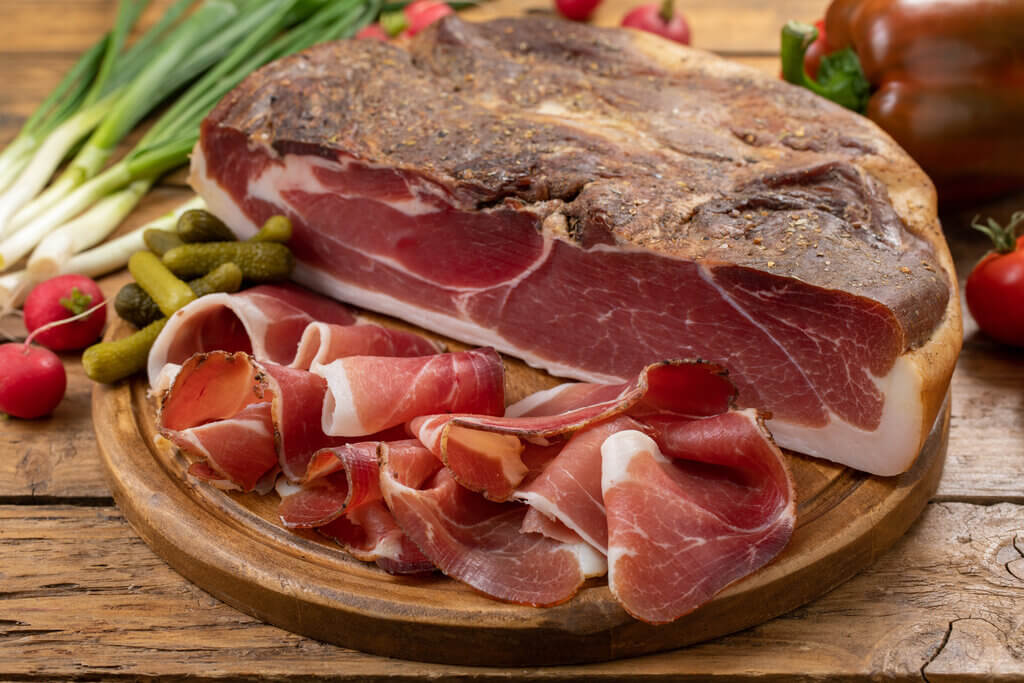 Honestly, who can possibly say no to adding high-quality ham to your focaccia? Not us. Prosciutto has a saltiness and a delicately sweet taste that pairs well with the mild and milky flavor of mozzarella. Used as a focaccia topping, these two are usually served with mushrooms and olives to enhance their savory flavor. This particular focaccia recipe is known as capricciosa in Italy.
Tuna and Onions
Tuna is a classic pizza topping in Italy. In fact, you'll find it on any pizzeria menu in the country. It usually nestles together with San Marzano tomato sauce, onions, and herbs like basil or oregano. That said, it's also good on top of focaccia bread. They're simple and straightforward, but they're delicious. Don't knock it 'til you try it! 
Black Olives and Peppers
Black olives are also a pizza topping staple. Their mild but salty flavor greatly complements any pizza topping you can think of. When added to focaccia bread, they're usually accompanied by peppers—especially the sweeter and fruity sorts like red and yellow bell peppers—to balance the strong, bitter taste. This topping is not for everybody though, because it can have a strong flavor. But that's nothing a little cheese and a drizzle of olive oil can't fix.
Sausage and Artichokes
Crumbled sausages and artichokes are another pizza staple you can add to your focaccia bread. This combination also usually goes together not just in pizza but also in pasta dishes. The sausages have a salty, umami flavor while artichokes (when cooked) take on a softer texture and a nuttiness similar to that of potatoes. Together, they also make an excellent focaccia topping! 
Bacon
Finally, bacon! Who would dare forget this crispy, savory invention? Bacon makes everything taste better. That's probably the reason why it's everyone's comfort food. Now, there are several ways you can use it as a topping for focaccia bread. Pair it with herbs or you can pair it with cheese and extra virgin olive oil for depth of flavor. Whichever food you pair it with, bacon never disappoints! 
Salmon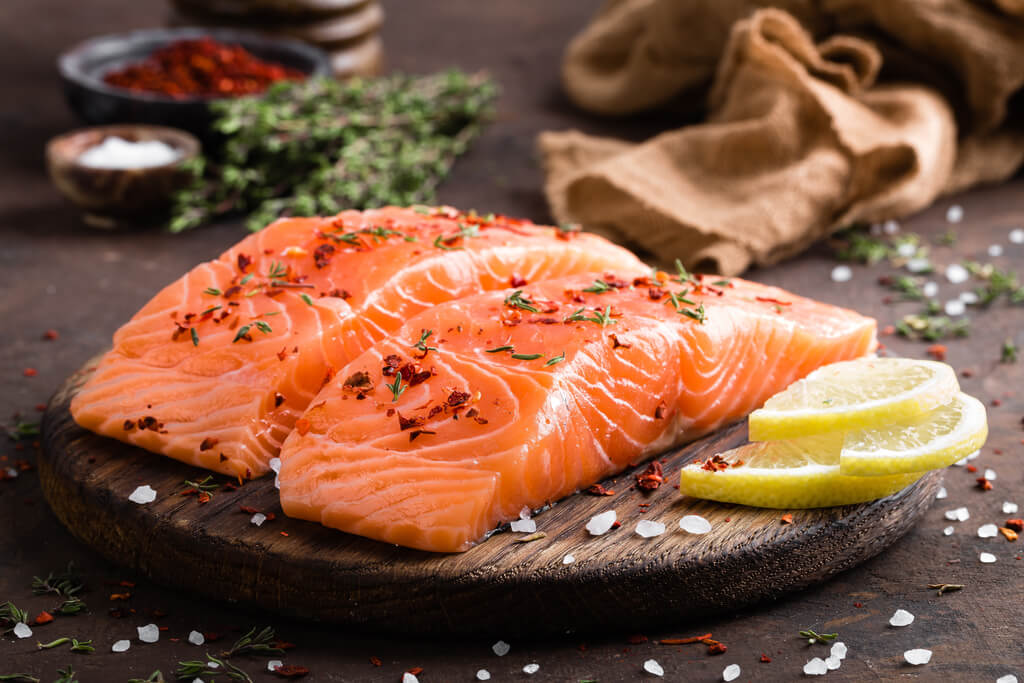 Salmon is one of the few fishes that have a mild and buttery flavor. In fact, its mellow taste allows for more room to experiment with different condiments and food pairings. That said, it also makes a flavorful and hearty focaccia topping. It's especially delicious when it's grilled or baked in butter with garlic and herbs first before adding it to your Parmesan focaccia bread. You may also garnish the whole thing with fresh herbs like cilantro! 
Blue Cheese
Blue cheese is another way to add layers of flavors to your focaccia bread. But what does blue cheese taste like, exactly? It has a distinct salty, sharp, and strong taste. Because it has a pungent taste and aroma, it can get quite overwhelming if you eat it on its own. So it's often paired with sweet and dried fruits such as apricots, raisins, figs, and pears. You can pair it with these fruits too if you're using it as a focaccia topping. Mozzarella might also help elevate its taste by adding another layer of cheesy goodness! 
Capers
Capers taste somewhat similar to green olives' lemony tang and salty, briny flavor. It also has a subtle floral flavor that best complements salmon dishes. Aside from salmon, it also mixes well with citrus, tomato, and eggplant. That said, pairing capers with salmon and some dried fruits will turn your normal snack into an appetizing side dish or a filling main dish!
---
Other Focaccia Toppings
Besides sweet and savory food combinations, there are other focaccia toppings that you can add to your favorite Italian bread to help build texture and flavor. Below are a few more tasty additions that you can enjoy on your focaccia!
Asparagus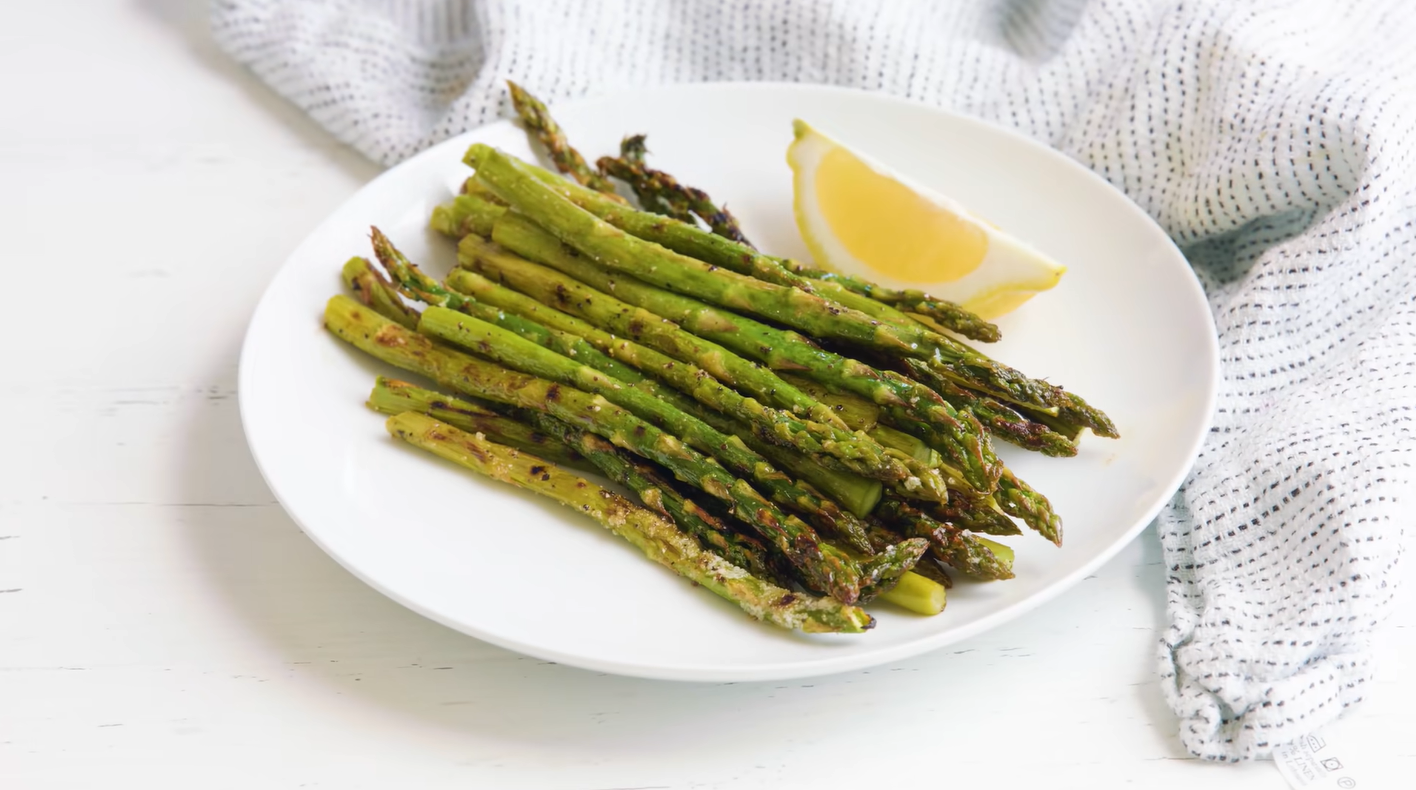 Asparagus is one of the most popular salad toppings. Because of its versatile flavor profile and firm texture, asparagus is also a great focaccia bread topping and pairs well with almost any topping idea on this list. You can start with a dairy product like Parmesan. It also pairs well with salmon. Whatever food you want to pair it with, it's best if you bake it first with a bit of lemon juice or olive oil. 
Lemon Zest
Lemon zest bonds well with sweet and savory dishes alike. Basically what it does is add a bright and refreshing zing to dishes. Now, it goes the same for focaccia and many toppings on this list. You can start adding it to sweet recipes such as this blueberry focaccia bread. If you're planning to make savory focaccia, you can garnish it on top of salmon or asparagus. Or maybe add all three! That's not a bad idea either. 
Sesame Seeds
Sesame seeds are more than just a garnish for teriyaki and noodle recipes. They're also great flavor enhancers for numerous dishes (sweet or savory). Overall, they have a prominent nuttiness accompanied by a satisfying texture that makes them an excellent topping. We also love that it pairs well with a lot of toppings. You can begin with black sesame, flaky sea salt, and olive oil. You may even throw in some nuts and herbs! 
Sunflower Seeds
Now, how about sunflower seeds? They're bigger and much more noticeable than sesame seeds. Can you use it as a topping for focaccia bread? Of course, you can! They have a mild, nutty flavor that gets even tastier when roasted. Pair it with dried fruits and nuts! 
Pumpkin Seeds
Pumpkin seeds taste like how you would expect them: similar to squash. But they also taste like sweet potatoes only with a nuttier taste. Don't forget to roast them first before sprinkling them on top of focaccia for a deeper flavor and a crunchier texture! 
Poppy Seeds
Sesame seeds, sunflower, and pumpkin seeds, what else can you use if you want to add texture to a blank, clean slate that is your focaccia bread? Poppy seeds! They also have a nutty taste with a fruity flavor that sets them apart from the slightly larger sesame seeds. You can use it on its own as a focaccia topping. Or you can add brown sugar for a sugary spin! 
Pine Nuts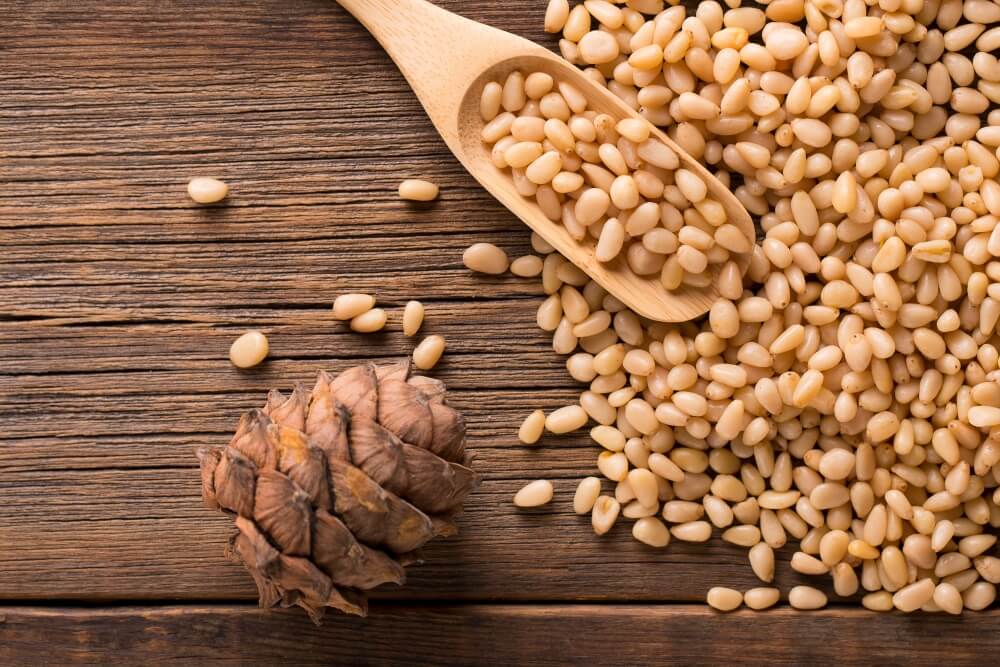 Are you looking for something even nuttier than sesame, sunflower, and poppy seeds? Try pine nuts! They have a strong nutty flavor and a subtly sweet taste that resembles cashews. Like all nuts, they also go well with dried fruits. If you're tired of dried fruits with your nuts, try to switch it up with olive oil, garlic, and mozzarella for a cheesy and savory combination that's hard to resist! 
Za'atar
Last but definitely not least on our list of focaccia toppings is za'atar. Essentially, it's a blend of savory spices and is made of earthy and savory oregano, thyme, the tangy taste of cumin, sumac, and coriander, and the delicious nutty flavor of sesame seeds. Sprinkle this spice blend on top of focaccia bread and that's it. It's also great to use as a flavor enhancer to meat-topped focaccia like sausages, cured meats, and salmon.