34 Best Waffle Toppings From Sweet To Savory
Aside from pancakes, waffles are one of the best American breakfasts that both kids and kids at heart genuinely enjoy. Aside from its soft inside but crispy outside texture, waffle toppings make them irresistible. They can be sweet, savory, and even healthy!
And if you have brunch parties with friends and family, a waffle station is a fun idea! Serve it to your guests and let them mix and match different toppings according to their mood. With that, here's a list of 34 waffle topping ideas to make each morning great!
Sweet Waffle Toppings
Do you have a sweet tooth? Then you'll love these sweet waffle toppings! Put these sugary treats on your freshly made waffles, and you'll definitely add them to your list of sweet breakfast ideas.
Whipped Cream
At the top of our list is none other than whipped cream! Soft, light, and super fluffy, its cloud-like foam complements the texture of the crispy outer shell of your waffle. Whipped cream cans are available in the supermarket. But if you want to control the sweetness level and vanilla goodness, you can easily create one by whipping an unflavored heavy cream or half-and-half at home.  
Chocolate Syrup or Nutella 
Elevate your waffle by drizzling some chocolate syrup or a spoonful of Nutella. You will get sweet and chocolatey goodness! And if you want to make your own waffle batter, you can ditch sugar and use some chocolate syrup as a sweetener instead. You can also add chunks of refrigerated Nutella to your batter for some gooey surprise as you slice your waffle. 
Place a scoop of your favorite ice cream on a piping hot, freshly made stack of waffles for a creamy and milky treat. You can partner it with other toppings like fruits and nuts. Ice cream may differ from gelato, sorbet, and sherbert, but you can also use them as alternatives. If you are staying away from food with animal products in them, you may also avail and use vegan ice cream instead of a regular one.
Smores
Add some fluffiness to your waffles by using smores as your topping. They are soft, gooey, and sweet but with an underlying burnt caramelized taste from the roasted mallows. You can easily buy smores kits at your local supermarket or online shops. Now, if you don't feel like using roasted mallows as your toppings, you can follow this easy smores pops recipe instead. 
Nutty and salty with a slightly oily and gritty texture, peanut butter is truly a delight when added to your regular waffle. If you want added crunchy texture, go for the chunky ones, but you can also grab the jar of smooth ones to enjoy its creamy goodness. You can also use peanut butter powder and sprinkle it on your waffle stack. Want to make it more fun? Create a peanut butter and jelly sandwich using your waffles instead of regular white bread! 
Using sweet and tart fruit preserves is a delectable way to level up not only your morning toast but also your waffles. Aside from the usual jam and jelly, you can also use other types of fruit preserves like a compote. It has fruit chunks that provide added texture and a bit of acidic contrast to your waffles' sugary sweetness. 
Lemon Curd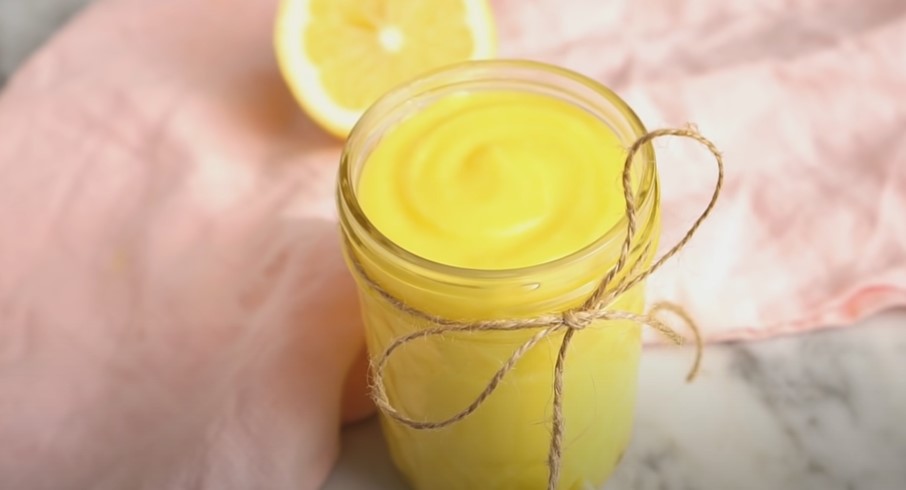 Lemon curd is not only an excellent bread spread; you can also put it on top of your waffle. Aside from its silky, smooth texture that complements the crunchy, soft texture of the waffles, lemon curd's flavor is also incomparable. It has a slightly buttery taste with a sweet-tart flavor that will keep you asking for more. Want to give it a try? Here's an easy lemon curd recipe to give you a head start!
Buttermilk Syrup
Let your waffle soak in this buttery, almost caramel-like treat! You can effortlessly create a buttermilk syrup at home. Keep it inside the fridge; it will come in handy whenever you need something to pour on your breakfast waffles. 
Make your waffles appetizing by adding some strawberry syrup. Aside from its enticing bright red color, this syrup's sweet and slightly tangy taste greatly complements waffles' subtle sweetness. Pair it with other waffle toppings like vanilla ice cream and whipped cream.
Cinnamon Sugar
Using cinnamon sugar as your waffle topping will provide an added layer of sweetness and aroma. You can use it to dust your breakfast waffle and pair it with other topping combos. You can make cinnamon sugar using a combination of powdered cinnamon and granulated sugar. 
Maple Syrup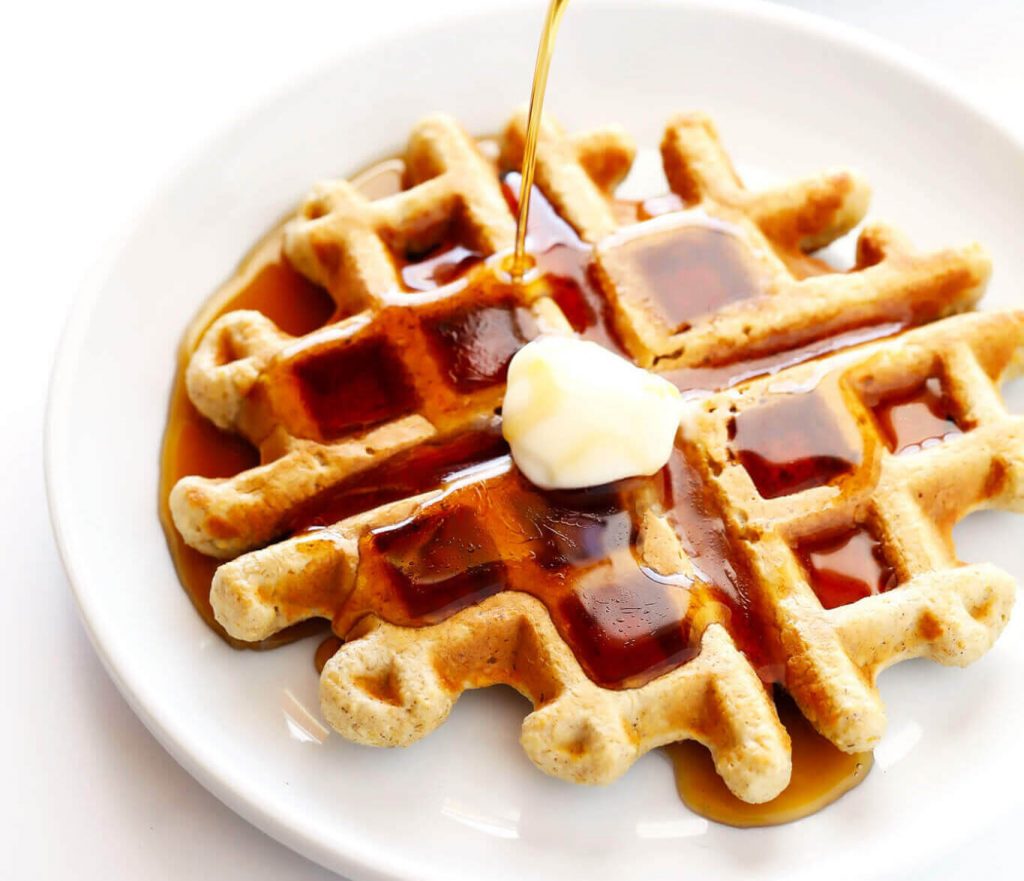 Looking for a gluten-free topping? Pure maple syrup is what you need! You definitely can't miss including this classic topping to your waffle bar ideas. It has a sweet, slightly caramelized taste with a viscous consistency that we all know and love. It is good on its own, but you can add this with fruit waffle toppings like bananas, berries, and peaches. 
Caramel
Thick and sweet, caramel syrup is a Belgian waffle topping that you can easily make with just two ingredients: water and sugar. But if you want a milkier and creamier caramelized taste, you can opt for a dulce de leche. You can make one by slowly boiling a can of condensed milk submerged in water for about three hours. Sprinkle some coarse salt on it to end up with a yummy salted caramel!
---
Savory Waffle Toppings
If you are not a fan of dessert waffles, you will never go wrong with these savory waffle toppings. Salty, meaty, and filling, these are some savory waffle toppings that we curated for you if you still don't know what to put on your waffles.
Butter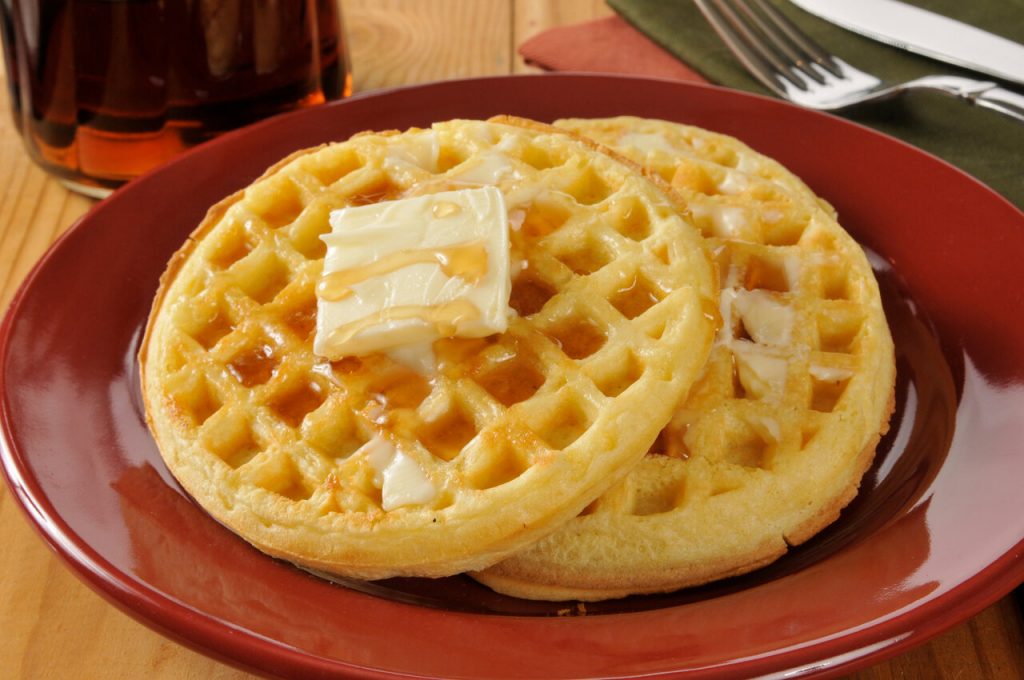 It's incredible how a small slice of butter can amplify the taste of your waffle. Butter has a slightly sweet and a little salty taste. We suggest you place it on top of your warm waffle to let the buttery goodness melt and slowly drip.
It is a breakfast must-have as it is something that you can easily store inside your fridge. Keep it fresh by using the best butter dish that you can find.
Feeling a little fancy? Make your breakfast waffle more special by using truffle butter! Its woody, nutty taste will add a different layer of flavor to your morning treat.
Fried chicken on waffles? Now that's a perfect brunch combo! The slightly sweet and fluffy Belgian waffle balances the chicken's crispy and savory flavor. You can also fry your chicken strips using an air fryer to make them less greasy. Serve them with some maple syrup to achieve that honey butter fried chicken flavor. This combo is so filling; you can even serve these waffles for dinner.
Bacon
Who can say no to crispy bacon? It's salty, sweet, and has the perfect umami taste. You can place a bacon slice on top of your waffle or crumble it before using it as a topping. You can also pair it with other waffle toppings like jam, maple syrup, or fresh fruits.
Eggs
Eggs might be the most common breakfast protein as you can cook them in different ways. Fried eggs or sunny side-ups, however, are the easiest egg waffle toppings you can whip up. If you want to take it to the next level, try making eggs Benedict! It has a rich, creamy taste that blends well with other toppings and the waffle itself.  
Ham and Cheese 
Add some creamy melted cheese with the savory and slightly sweet ham to your homemade waffles. You can also use a pair of waffles to sandwich your ham and cheese combo! This waffle pairing is a perfect brunch idea that you can serve to your friends and loved ones.
Chili Con Carne or Chili
Let's crank up the heat with some chili con carne! This waffle topping is for you if you are a fan of savory and spicy dishes. It is spicy and meaty with a little earthy flavor because of the added beans. If you don't have time to cook one at home, don't worry. There are some best-canned chili options you can buy online or at the supermarket near you!
Steak
Planning a special brunch? Then choose the best steak cut for you and create wonderful steak recipes for you and your guests to enjoy. And if you want something different, ditch your usual mashed potato and partner your juicy steak with some fluffy (yet crispy-edged) Belgian waffles! The sweetness of the waffles is a perfect match for the savory and aromatic steak slices.
Chorizo 
Yes! Chorizo can also be a great waffle topping that you can pair with eggs and cheese. You can also make poached chorizo in red wine which also works as a perfect appetizer. It is meaty, rich, and flavorful with a little kick of heat. If you want to use this as a topping, you can easily find chorizo sausage in your local meat shop or deli.
Deli Meat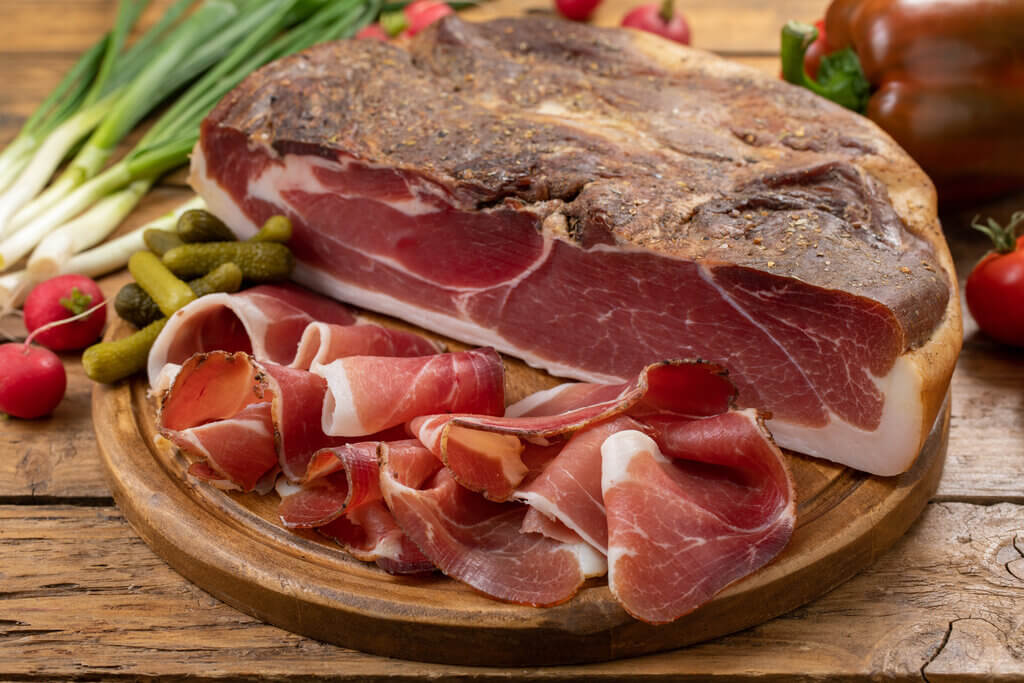 Aside from chorizo, there are other deli meats that you can use as waffle toppings. You have prosciutto, mortadella, pancetta, and Italian soppressata, along with other salami and cured meat options. They're salty, sometimes smoky, and savory. You can partner your chosen deli meat with cheese that you can melt to achieve that flavorful umami taste.
Cajun Shrimp
If you are looking for a new snack to enjoy, then you need to try this Cajun shrimp and waffle combination! It's like a taco, but you are using a cornmeal waffle instead of a typical corn shell. Want a go-to recipe for Cajun shrimp? In that case, we recommend a Cajun shrimp and sausage vegetable recipe. It has a bold, spicy taste with some earthy and aromatic flavors from the herbs and spices. Definitely, a must-try!
Cheese
Milky and rich in flavors, melting cheese on top of your waffles is a delectable treat you can't turn down. You can mix and match different types of cheese or partner them with other savory or sweet waffle toppings. Can't decide which cheese to use? Here's a ranking of the best cheese types to help you choose.
Salmon
You can stir fry a salmon fillet, but you can also use a lox and homemade cream cheese combo if you want something more exquisite. Lox is a fillet of brined salmon usually served on top of a bagel. It is salty but has a smooth, buttery texture, so pairing it with some sweet crispy waffles and creamy cream cheese will help cut and balance all the flavors and textures.
Pepperoni
Time for some pizza waffles! Spread tomato or marinara sauce on your newly cooked waffle then top it with some beef pepperoni and cheese. It also has the perfect blend of savory toppings and the sweet taste of the waffles. Making waffle pizza can also be a fun activity that you can do with your friends and family. 
Barbeque Pulled Pork 
Do you have some leftover meat after barbeque night? Well, save it and use it to create BBQ pulled pork that you can use as a waffle topping. Here's an easy spicy pulled pork recipe that you can follow. Just use some waffles instead of tortillas. Let the pulled pork's smoky, herby, and spicy goodness blend with your sweet and crispy waffles.
Sausage
Add some smoky flavor to your waffles by using smoked sausage as your topping. The savory taste of the sausage matches the sweet flavor of the waffle. And if you want to elevate it further, you can also use bacon-wrapped sausages as your waffle topping for added meaty goodness. It has a rich, smoky flavor with an underlying caramelized taste from brown sugar.
---
Healthy Waffle Toppings
Want to start your morning right? Healthy waffles are an excellent way to go! Here are some healthy waffle toppings that you can use if you are on a strict diet or just looking for something to eat that tastes good and will also make you feel good after eating.
Honey
Add some floral sweetness to your breakfast waffle using honey. If you want something more healthy, try raw organic honey. It contains more antioxidants that are good for the body.
Chopped Nuts 
Chopped nuts provide flavor and another layer of texture to your waffles. You can also roast them, like roasted pecans or cashews, for an added taste and aroma that you'll surely love. It is also versatile as you can partner it with other waffle toppings like honey and fresh fruits. Want to give it a try? You can start with this banana waffles with pecans recipe. 
Yogurt
You can use yogurt if you want a creamy alternative to whipped cream. Adding some yogurt on top of your waffle gives it a tart taste with a bit of sweetness, and you can pair it with a syrup like raw honey. There are dairy-free yogurt options available for those with milk or dairy allergy. You can even incorporate it into your batter to create your own yogurt waffles.
Fresh Fruits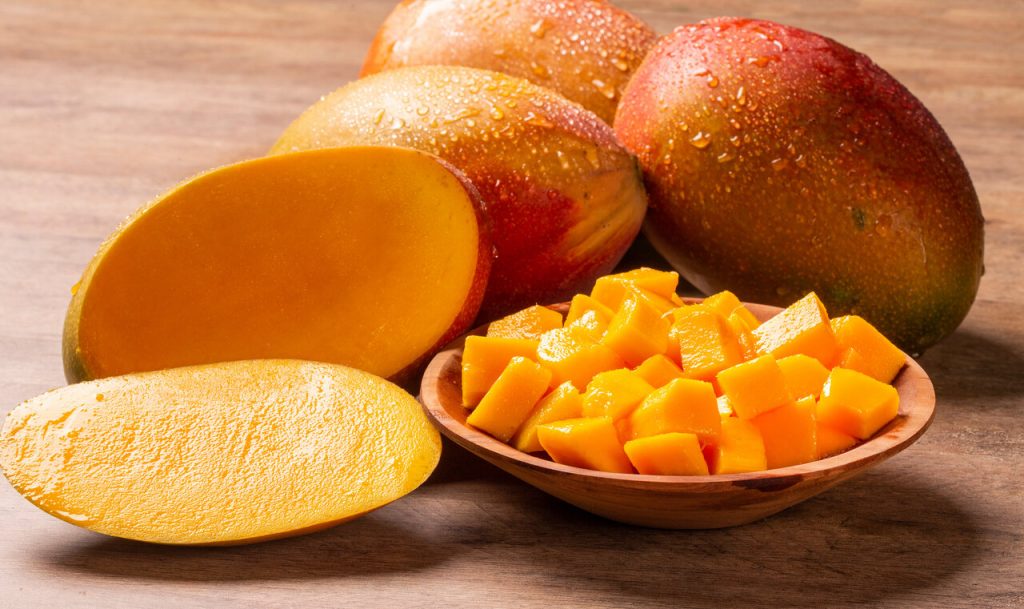 Bananas, peaches, apples, berries, and a whole lot more, there are so many options to choose from if you want some waffles with fruit. But aside from those, we recommend trying tropical fruits like mangoes and pineapples as waffle toppings! The bright flavor of these fruits with the perfect blend of sweetness and subtle acidity will truly surprise you.
Sundried Tomatoes
Sundried tomatoes will give your breakfast waffle some added chewy texture. It is sweet and a little tart when it comes to flavor. This sundried treat has a very potent taste, so use it sparingly as a topping. 
Sour Cream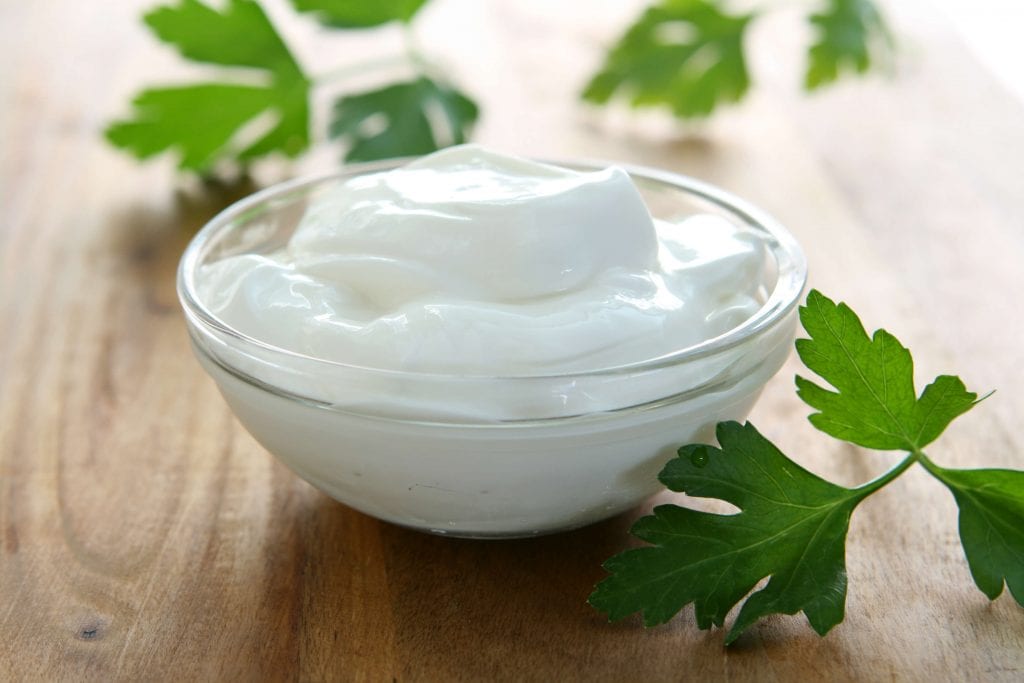 If you are on a keto diet, using full-fat sour cream or vegan sour cream is perfect for you! It is tangy, thick, and creamy — a flavor and texture that will match your waffles.
It is a perfectly healthy option if you are looking for some veggie-protein combo. It has the freshness of lettuce and protein from tuna and mayo. You can even elevate it by adding some cheese or doing some varieties like tuna salad with egg or a gourmet tuna salad recipe with almonds and capers.
---
Waffle Batter Ideas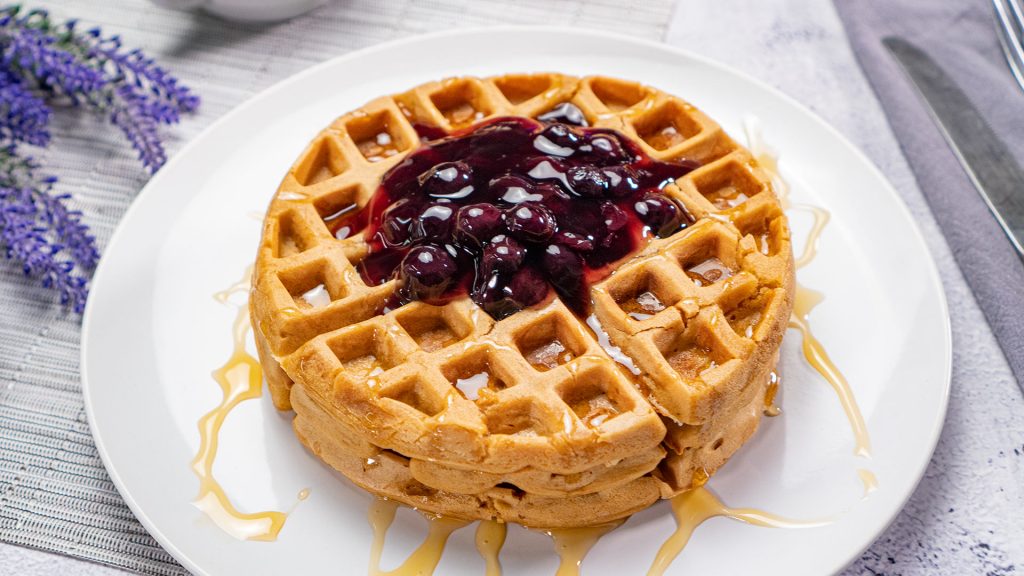 Add some flair to your waffle batter instead of sticking to the usual one. Here are some waffle batter ideas that you can try:
Pancake Mix – You can buy a pre-made mix at the supermarket, but you can also make one at home. There are also vegan-friendly waffles available to match your diet, and if you prefer a flavored one, you can also create your own chocolate pancake mix by using some cocoa powder.
Cake Batter – You can buy a boxed cake batter and cook it using your waffle iron for instant waffles that taste like your favorite cake.
Oatmeal Batter – Gluten-free oat waffles are perfect for those with gluten allergies or if you want some nutty and dense waffles that you can pair with different toppings.
Biscuit Dough – No pancake or waffle mix at home? You can grab some biscuit dough and cook it using your waffle iron.
Cornmeal Waffle Batter – Cornmeal waffle is not only a delicious waffle option but a healthy one as well. It is best to pair with some savory waffle toppings.
Protein Waffle Batter – Whole grain and dairy free, try this protein waffle recipe for a healthier breakfast.