Whether there's an occasion or none, we always turn to a good slice of velvety and creamy chocolate cheesecake for a sweet treat. This luscious dessert with a beautiful presentation does not even do enough justice to how great it tastes. 
Make this cheesecake in your own kitchen and share this with friends and loved ones on casual nights or special occasions. Pair your chocolate cheesecake with a warm cup of Irish Coffee to complete your dessert.
What's In Our No-Bake Chocolate Cheesecake?
No eggs and no water bath means no hassle! Maybe the hardest part in making this rich dark chocolate cheesecake is waiting for it to firm up because you wouldn't be able to resist this cheesecake.
This decadent chocolate cheesecake recipe calls for very few ingredients, too. Chocolate cookies of your choice, unsalted butter, dark chocolate, cream cheese, heavy cream with a drop of rum for added flavor. The best part is, you won't need an oven to recreate this in your kitchen.
Oreo Crust –

We're using Oreo cookies less the filling in making the crust of our chocolate cheesecake. The sweet and rich chocolate flavor of classic Oreo cookies blends perfectly with a dark chocolate filling, making it more addicting.

Chocolate Cream Cheese Filling –

We used melted dark chocolate bars mixed with

cream cheese and powdered sugar. You can also add a teaspoon of liquor to add a boozy flavor to the filling, this recipe uses rum, but you can opt to use any alcohol of your choices such as

brandy, whiskey, or bourbon. This filling will give you a mildly bitter flavor from having more cocoa in our dark chocolate while remaining sweet and thick.

Chocolate Ganache –

We're mixing heavy cream with melted dark chocolate to make a  smooth and creamy chocolate glaze. Then we'll top it into your cheesecake filling and make it more mouthwatering by tripling the chocolate flavor in our cheesecake.

Tip: Make sure to soften your cream cheese so that it'll be easier to mix with other ingredients when making your cheesecake filling.
Tips In Making No Bake Chocolate Cheesecake
Who would have thought that making a chocolate cheesecake would be this simple and easy? To help you make the best no-bake cheesecake, here are some tips in making this recipe: 
Use a springform pan
The pan will shape your cheesecake, and unlike other pans, it would be easier for you to remove the cake flawlessly when serving. It will hold your crust, sides, and topping and keep it intact.
Use cookies of your choice for the crust
This recipe calls for Oreo cookies, but feel free to use any kind and flavor of cookies that you prefer more. You can opt for graham crackers or vanilla wafers, too. But note that using other kinds of cookies might require a different chilling time for the crust to firm up. For example, a graham cracker crust requires at least 2 hours of chilling time before you can add the filling,  while a vanilla wafer crust only requires 10 minutes.
Cool your melted chocolate before adding it to the cheesecake mixture.
Make sure it's no longer hot when you add it so that it won't curdle with the cream cheese. Let it cool at room temperature to achieve a smooth and silky consistency for the filling.
Add your favorite toppings
This is most certainly optional since our cake is already rich and velvety. But a fruit on top, a drizzle of chocolate or strawberry syrup, or a sprinkle of cocoa powder can make it extra luscious. It makes a mouthwatering presentation for your cheesecake and it adds flavor, too.
The end result will make you want another slice of this thick and bittersweet cheesecake. The mild taste of the cream cheese and heavy cream blends perfectly with the bittersweet flavor of melted dark chocolate. Not to mention the oreo-made cookie crust is perfect for making a firm base for the cake. So, if you're ready for this easy-to-make cheesecake, let's get started.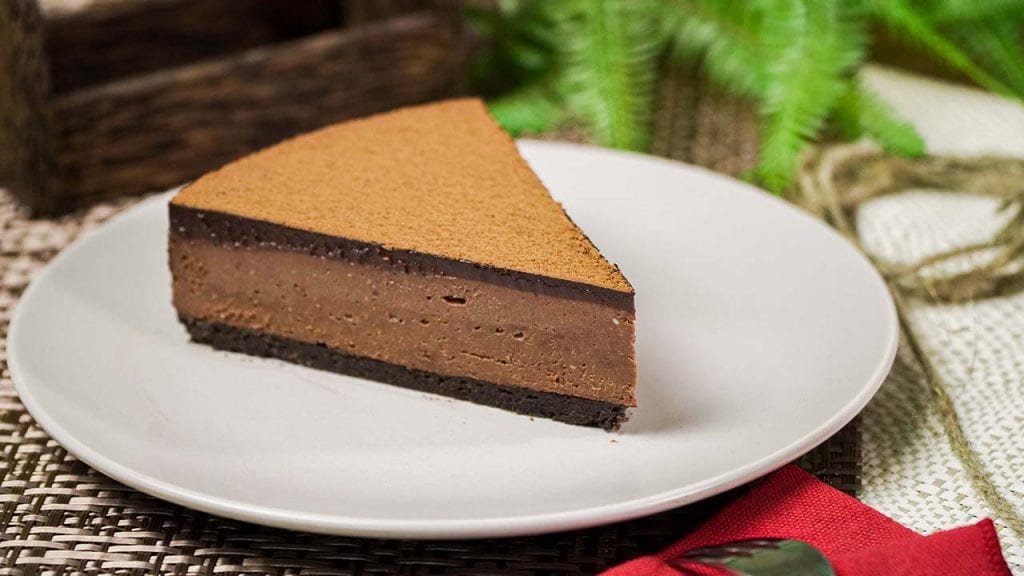 Decadent Chocolate Cheesecake Recipe
How To Make Decadent Chocolate Cheesecake
Satisfy your sweet cravings with a slice of this easy-to-whip Decadent Chocolate Cheesecake with layers of dark chocolate ganache, chocolate cream cheese filling, and chocolate cookie crust.
Total:
1

days
3

hrs
35

mins
Ingredients
For Crust:
7

oz

chocolate cookies,

no fillings, preferably Oreo, crumbled finely

¼

cup

unsalted butter,

at room temperature
For Filling:
2

cups

cream cheese,

at room temperature

9

oz

dark chocolate bars,

shaved

1

cup

heavy cream,

chilled

⅔

cup

powdered sugar

1

tsp

rum, brandy, whiskey, or bourbon
For Ganache:
5

oz

dark chocolate bars,

shaved

½

cup

heavy cream
To Serve:
¼

cup

cocoa powder

sour cream or yoghurt
Instructions
Crust:
Combine the cookie crumbs and butter in a bowl. Mix until evenly incorporated.

Press this mixture into the bottom of an 8-inch springform cake tin. Transfer to a chilled area to firm up while making the filling for 1 hour.
Filling:
Prepare a pot with boiling water.

Place the chocolates in a heatproof mixing bowl and place the bowl on top of the boiling water. Whisk until the chocolates have completely melted. You can also melt the chocolates in 30-second pulses using a microwave on medium heat. Set aside in a warm area.

In a large chilled mixing bowl, add the heavy cream and whip until medium peaks. Cover with cling wrap and set aside in a chilled area.

In another large mixing bowl, mix together the cream cheese and powdered sugar until fluffy and pale.

Add melted chocolate and liqueur of your choice. Continue creaming until combined and smooth.

Gradually fold in the whipped cream into the cream cheese mixture until evenly incorporated.

Pour the filling into the pan. Transfer to the chiller and allow to firm up, roughly 2 to 3 hours.
Ganache:
In a saucepot, bring the heavy cream to a simmer.

Remove from the heat and add the chocolate. Whisk until smooth and chocolates have melted.

Pour the ganache on top of the firm filling of the cheesecake. Transfer the cheesecake to a chilled area and allow it to firm up for roughly 6 hours and preferably overnight.

When ready to portion, lightly heat up the springform lid using a kitchen torch and slowly release.
Garnish:
Dust the entire cheesecake with cocoa powder, and portion accordingly. Work quickly, as the cheesecake has to be maintained cold. You may need to chill the cheesecake at intervals while portioning.

Serve with sour cream or yoghurt on the side.
Nutrition
Sugar:

31g

:

Calcium:

130mg

Calories:

843kcal

Carbohydrates:

54g

Cholesterol:

141mg

Fat:

66g

Fiber:

6g

Iron:

7mg

Potassium:

521mg

Protein:

10g

Saturated Fat:

38g

Sodium:

381mg

Trans Fat:

1g

Vitamin A:

1618IU

Vitamin C:

1mg
Nutrition Disclaimer
Frequently Asked Questions
How do I make my no bake cheesecake firmer?
Since we're not using any binding ingredient like egg, it's important for the cheesecake to be kept in the fridge to make sure it sets. Also make sure to chill the cheesecake following the suggested chill time in our recipe instructions. Lastly, remember not to freeze your no bake cheesecake, hoping that it would set. You won't be able to slice the filling of a frozen cheesecake and you'll lose its velvety texture.

How to store no bake chocolate cheesecake?
Keep your cake in an airtight container covered with a plastic wrap and keep it in the fridge for 2 days.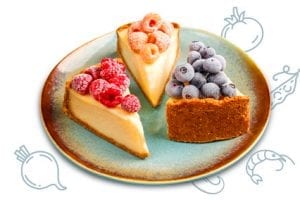 Conclusion
This chocolate cheesecake can make anyone's heart flutter. It has a smooth, creamy, and thick filling and a solid crust at the same time. It has a bittersweet and addicting taste too which is perfect for a dessert. Make this decadent chocolate cheesecake with very simple ingredients in under 2 hours and meet your new favorite chocolate cake.