Thinking of food ideas for your next Mexican-themed party? Well, let's talk about tacos! You can make either a taco or a burrito as they're both hand-sized foods. But a taco is much smaller, making it the perfect party snack. Now, if you're looking for taco bar ideas or are new to Mexican food and don't know what goes well with tacos, we got you! From the tortillas and shells down to the fillings and yummy taco toppings, read on and discover the taco must-haves everyone will enjoy.
Basic Taco Ingredients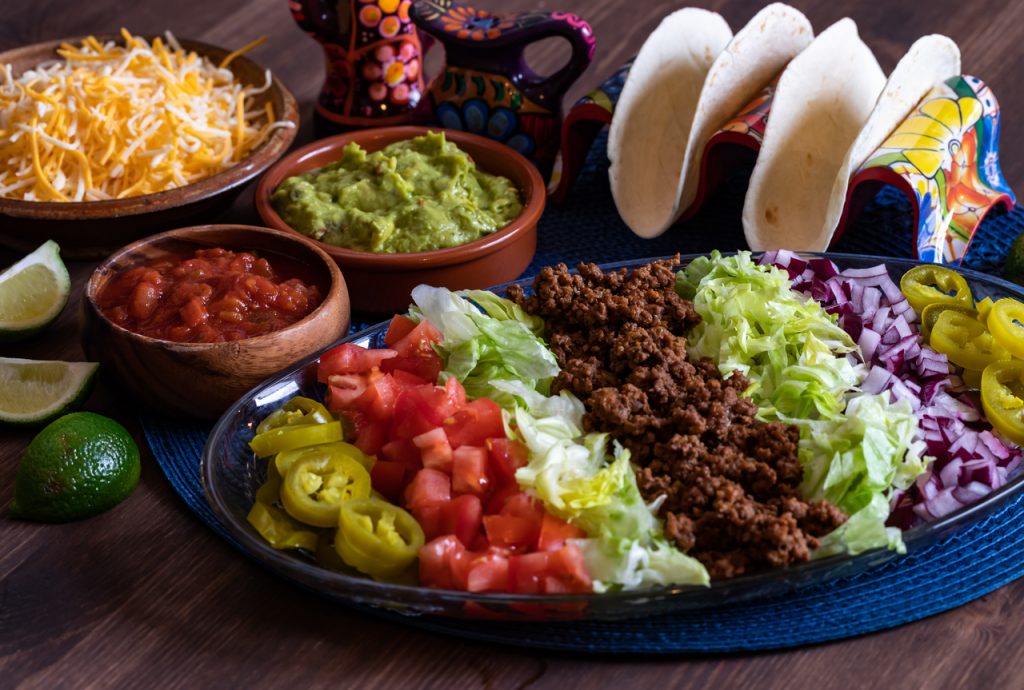 We all know that for a perfect party, aside from the decorations, there should be good food. Before you start thinking of taco night ideas with your friends, you must first know the taco bar essentials you should have.
Here's a handy checklist to help you plan your taco party:
Tortillas or Taco Shells – You can choose between hard corn shells or soft flour tortillas that you can buy or make at home. They're the most essential component as they hold the ingredients together and provide added flavor and texture to the snack.
Meats or Protein – From red meat to white meat and even a variety of seafood fillings, you can provide two to three (if not all) meat options to help your guests create their favorite taco piece.
Vegetables – Pick a selection of crunchy veggies to provide varying textures and flavors to your tacos. You can play around with them to make your tacos more colorful and appealing.
Salsa or Guacamole – Want more flavors? Some salsa and guacamole are what you need! From salty, tangy, to spicy, and some fresh and some cooked, these sauces have it all for you.
Beans – Add some colors and textures to your taco by using different types of beans. They will add a mild sweetness and a little earthy taste to your taco spread.
Cheese – Of course, a taco won't be complete without the creamy, salty cheese! Add a selection of different cheeses to your taco bar that you can mix and match.
---
Meat Taco Fillings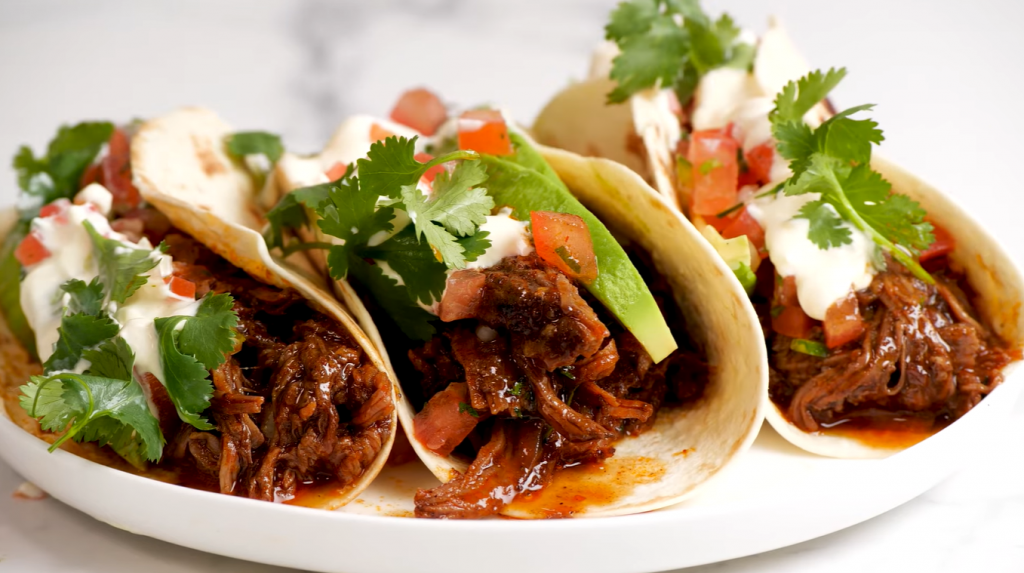 Wondering what to put on your tacos? Well, let's begin with some meaty goodness. Here are some yummy proteins that you can include in your taco bar.
Ground Beef
Ground beef is the go-to filling for a usual taco serving. Rendering it to bring out its juices and seasoning it with different herbs and spices is the best way to go. We recommend this ground beef taco recipe. It has the acidity from the tomato paste and a balance of salty and herby flavor with a little kick. 
Fajitas
Bring out your skirt steaks and season them with some fajita blend — a flavorful Tex-Mex seasoning made of different ground spices. You can recreate this steak fajita. It has warm, earthy, and spicy flavors, taking your tacos to the next level. Looking for vegan options? You may also whip up some fajita veggies. 
Are you a pescatarian or maybe just a fan of fish meat? Then using fish as the protein for your taco is what you need! Rub your fish fillets with different seasonings and spices. It is lighter and way healthier compared to other taco meat options. These fish tacos are perfect with lime wedges or salsas to balance the flavor of the flaky, marinated fish.
Shredded Chicken
Make chicken tacos using leftover chicken in your fridge. You can create shredded chicken using different methods (roasting, boiling, grilling) but do note that chicken meat tends to be bland in flavor, so don't forget to season your meat when cooking!
Pulled Pork
Slow-cooked pulled pork is definitely a flavorful and filling addition to your taco. Flavor your meat with some herbs and spices to achieve that sweet and herby taste with a little bit of spice. It is so tender that it will give your taco melt-in-your-mouth goodness.
Shrimps or Prawns
Preparing shrimps and prawns may be a bit taxing with all the deveining and peeling, but cooking them is fast and easy. You may try this easy shrimp tacos recipe, where you can use these crustaceans interchangeably. The flavorful blend of herbs and spices enhances the seafood's mild and sweet flavor. 
We know we've been talking about taco dinner ideas, but tacos are also one of the best Mexican breakfast options out there. You can easily create a breakfast taco with fried eggs. However, you can also scramble it and combine it with veggies, herbs, and spices like this egg taco recipe. It is easy to make and definitely filling and delicious!
---
Veggie and Fruit Taco Toppings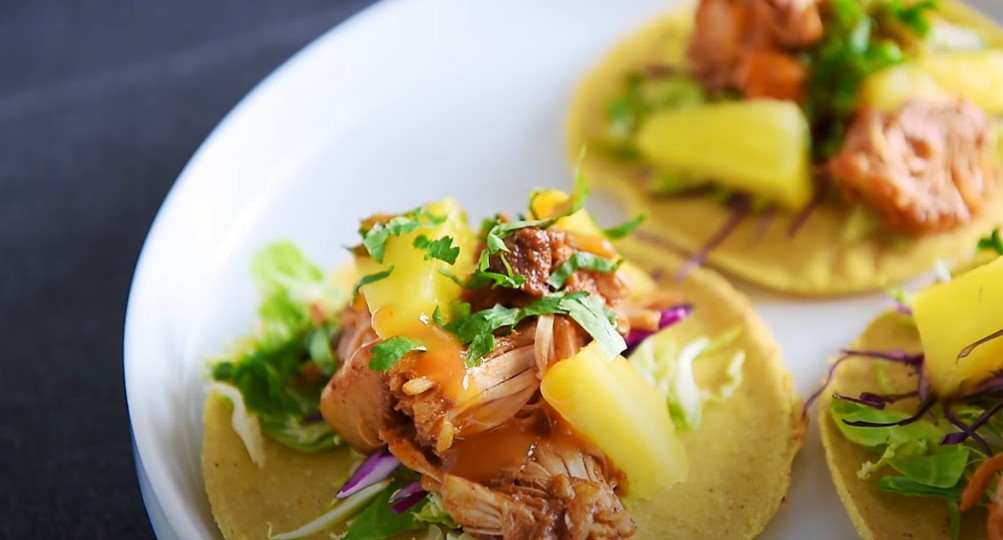 Taco bar toppings won't be complete without some veggie options. Here are some vegetable taco toppings that you can add to your list.
Are you a vegan? Jackfruit is the perfect meat alternative if you are looking for some meatless tacos. This wonder fruit has a texture that perfectly mimics meat. With the perfect seasoning, eating jackfruit can feel like eating real pulled pork. Want to give it a try? We recommend you this pulled jackfruit tacos recipe. 
Chopped Tomatoes
Sweet, tart, and a bit tangy, adding chopped tomatoes will provide a layer of flavor and freshness. You may find them in some salsas, but you may also chop and add them directly to your taco, too. 
Roasted sweet potatoes are another vegan-friendly option that you can add to your taco bar.  These sweet, salty, and tender roasted sweet potatoes are absolutely delicious and filling. You may opt to bake these sweet goodies unpeeled to give them a more crusty caramelized edge. 
Cauliflower
This vegetable is slowly becoming a prominent healthy and low-carb alternative for meat and rice. Cauliflower in tacos is another way to go if you want to try meatless tacos. This vegetable's nutty and subtle sweetness balances all the seasonings and spices from the other taco fillings and toppings.
Sweet onions are large, thinly skinned, and are different from other onion types as they are less pungent and juicier. They're so sweet, you can eat them just like an apple! If you wish, you may roast sweet onions along with your other veggie taco toppings for a caramelized taste. However, you can also use sliced or chopped onions instead.
Bell Peppers
Spruce up your taco by adding colorful bell peppers.
If you want the slightly bitter with a grassy aftertaste, go with the green and purple ones.
But for a sweeter and mildly fruitier flavor, grab those yellow and red bell peppers.
Black Olives
Add some cured black olives to your taco to give it a mild, salty, and slightly sweet taste. Do note, though, that raw olives have that strong bitter aftertaste that some people don't like. So if you want to avoid that, we suggest using the salted or brined ones that you'll usually find at the supermarket.
Grilled Corn
Smoky, sweet, with a deep corn flavor, grilled corns are a favorite, not only in tacos but with any other Mexican dish. You can slather these with some salted butter for an added buttery taste.
---
Salsa, Guacamole, and Sauces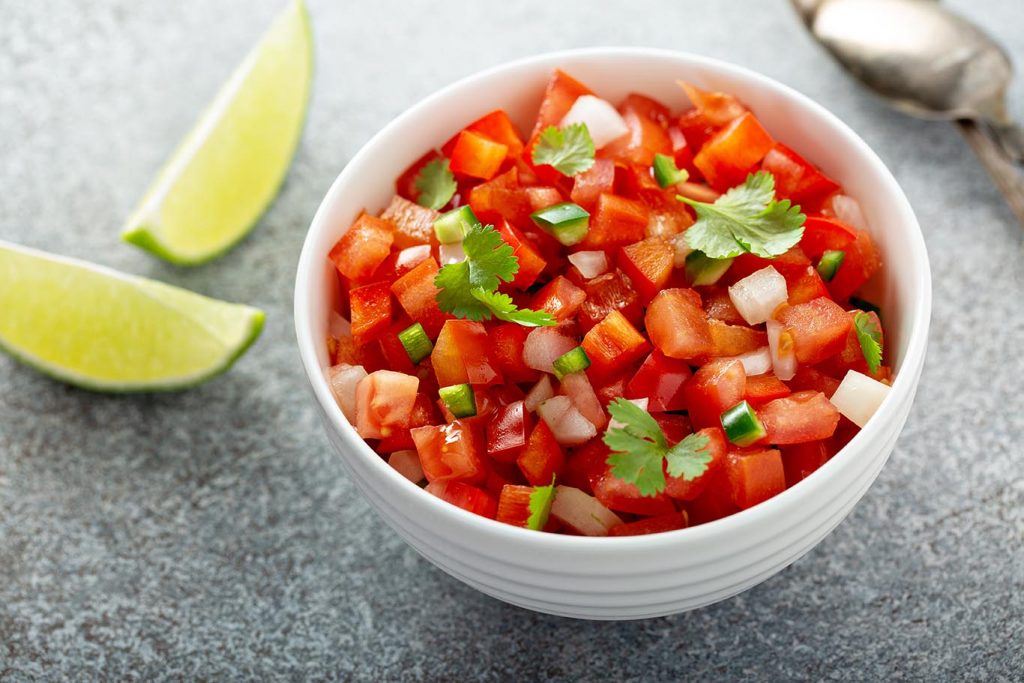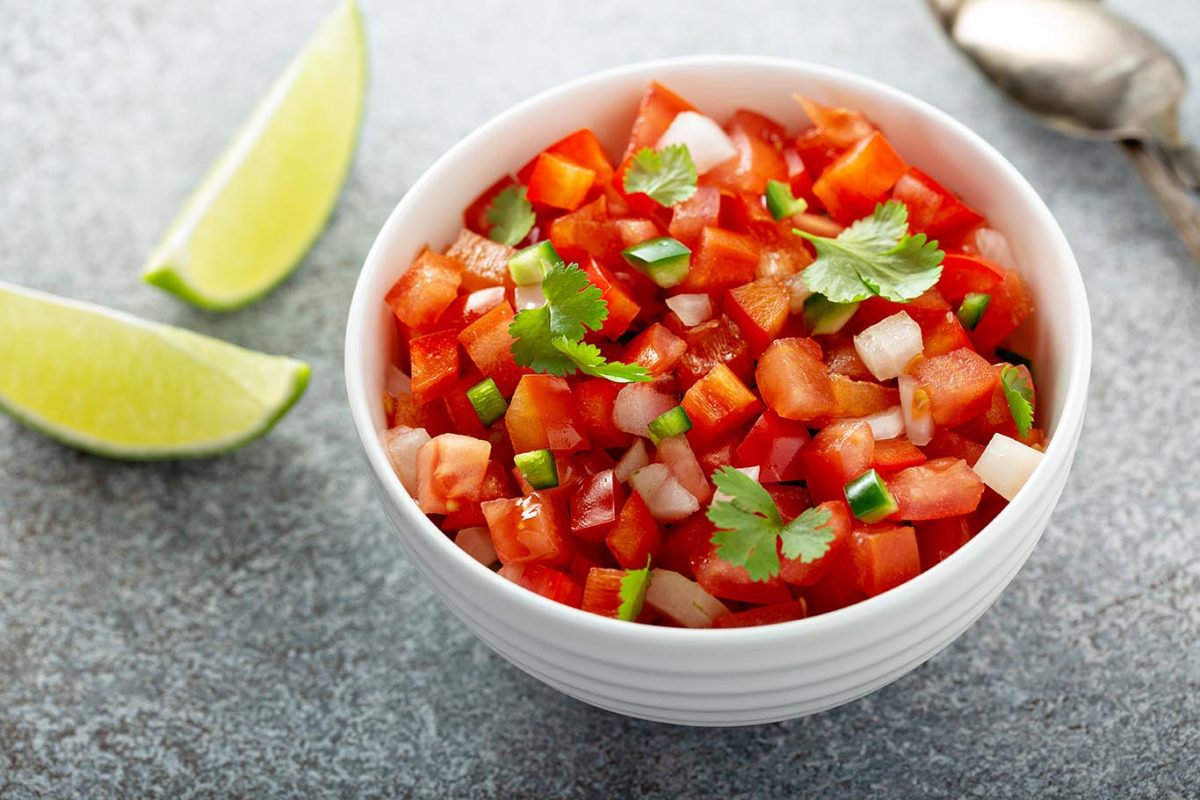 What is a taco without the oozing goodness of the delicious salsas, guacamoles, and sauces? With that, here's a quick breakdown of delicious dip and sauce options that you can add to your taco bar.
Pico de Gallo
Pico de gallo, also known as salsa fresca (literally translates to "raw or fresh salsa"), is different from your typical storebought salsas. That's because pico de gallo uses fresh, raw herbs, and vegetables chopped and combined, creating the perfect harmony of sweet, zesty, citrusy flavors with a little kick of spice.
Salsa Verde
Salsa verde (or green salsa) can be avocado or tomatillo-based. If you want a nutty buttery taste, go for avocado. However, if you want your salsa to have a bright, citrusy flavor with a hint of sweetness, we recommend you use tomatillo (or Mexican husk tomato). Want to give it a try? Follow this easy tomatillo salsa verde recipe.
Mango Salsa
Mango salsa is the perfect tropical flair for your tacos. It brings a harmonious blend of the bright and sweet flavor of mangoes combined with the tanginess of lime and spices!
Another companion to add zest to your taco bar salsa selection is a refreshing pineapple salsa. This vibrant mixture is sweet, tart, and a little bit spicy.
Corn Salsa
Corn salsa is a perfect summer appetizer and definitely a yummy taco shell partner. A perfect example? We recommend you this chicken tacos with corn salsa recipe! This corn salsa is a combination of sweet corn kernels mixed with some fresh lime and herby cilantro, added with a little heat of spice from chopped onions, jalapeños, and a dash of chili powder.  
Cowboy Caviar
Cowboy caviar is known to have originated from the cowboy capital of the world: Texas. It is a mix of sweet corn, creamy avocados, fresh peas, and slightly acidic tomatoes doused with a sweet and tangy dressing.   
Guacamole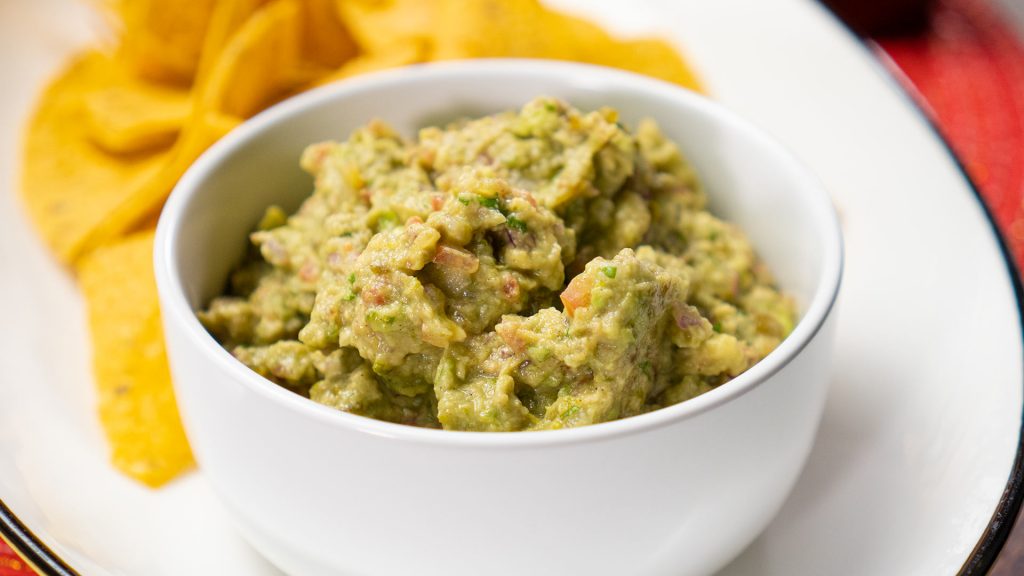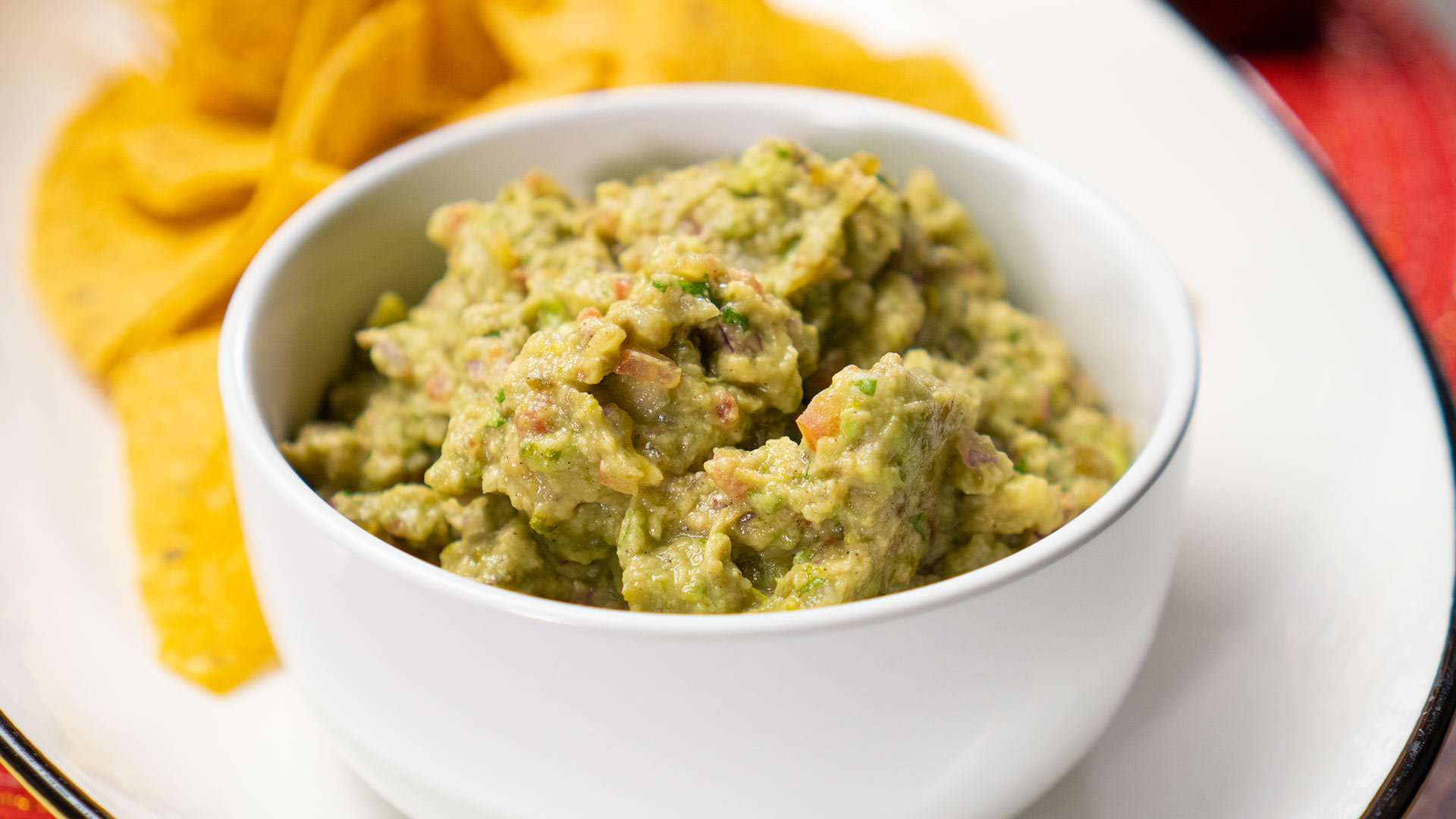 If you are a Mexican food lover, then you're definitely familiar with guacamole. Its soft and creamy texture complements crunchy and crispy corn taco shells well. Whip up this tasty homemade guacamole to add bright and nutty flavors to your tacos!
Avocado Sauce
An authentic Mexican recipe for avocado sauce requires blending avocado with tomatillos, giving you a creamy and tangy salsa flavor. But if you can't find tomatillos, you can use sour cream as an alternative. Create an avocado cream sauce that is a buttery and creamy dip with a tart flavor.
Sour Cream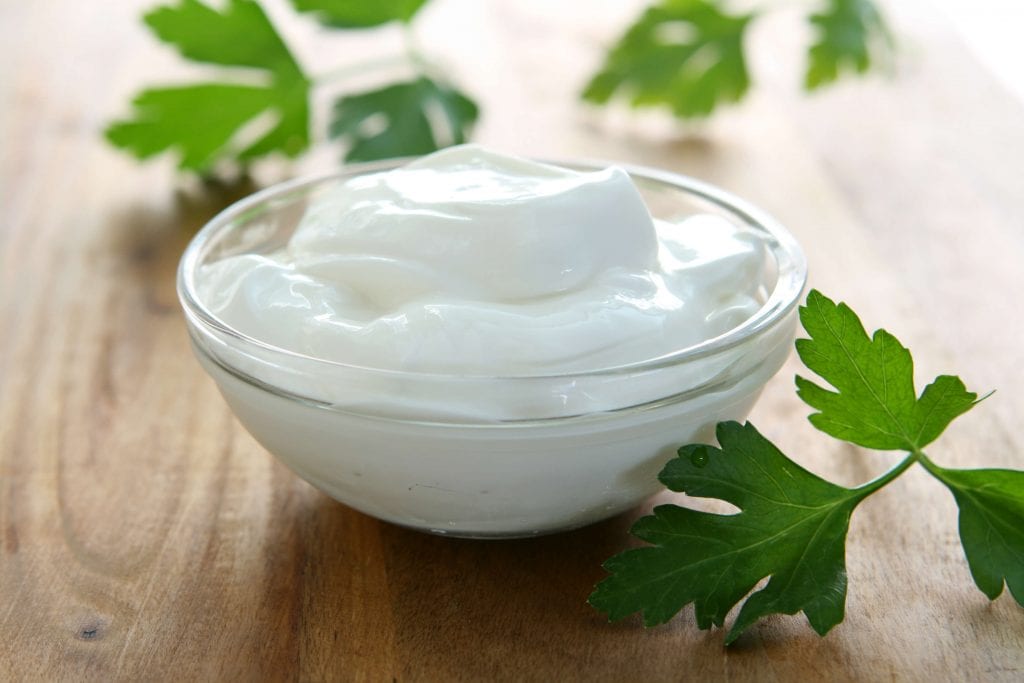 You might be familiar with sour cream as a dip for your favorite chips. Well, this thick, creamy, and tangy sauce is also a perfect match for your tacos.
Chipotle Sauce
Chipotle, a smoked hot chili pepper from Mexico, is the key to achieving the smoky, fiery taste of the chipotle sauce. A drizzle of this sauce will definitely take your taco game to a whole new level.
Hot Sauce
We always have friends who love spicy food, so why not give them enough options to spice up their tacos? Many popular brands are available in the market, like Valentina and Cholula. But if you want to explore, why not try making your own Mexican hot sauce at home? This hot and smoky sauce will definitely amp your favorite taco with just a dash.
Vegan Ranch Dressing
If you love ranch but have decided to switch and become vegan, then a vegan ranch dressing is the perfect alternative for you. It is creamy like the original, but has a more earthy and nutty aftertaste. 
Cilantro Lime Dressing
Cilantro lime dressing is a fresh and herby sauce made of different herbs and spices that balances all the flavors in your taco spread.
Lime Juice
What's a taco without lime wedges? Most Mexican dishes add a squeeze or two of lime juice for that fresh, citrus flavor that balances the overall taste of any food, whether it's sweet or savory. So lime juice is definitely a must-have in your taco bar.
---
Grains and Beans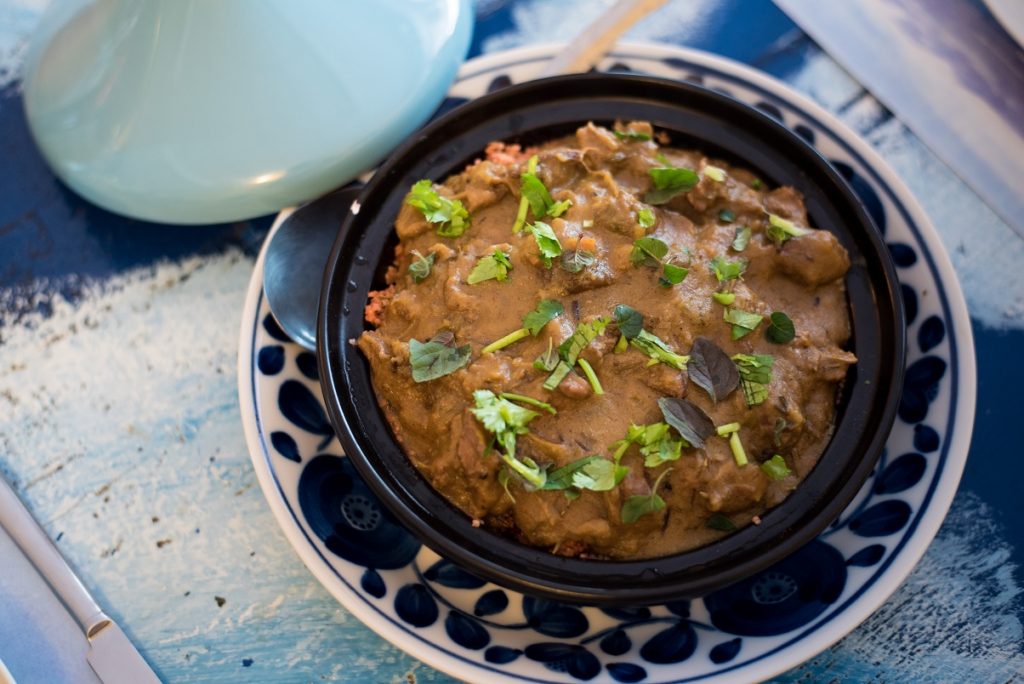 Grains and beans, two of the most essential ingredients in any Mexican dish, are of course also included in our list. Here are some of the taco toppings options that you can add to your spread for a hearty and filling meal. 
Cilantro Lime Rice
Reinvent your ordinary rice by making this cilantro lime rice recipe. It is flavorful, aromatic, and perfect for making your taco more filling.
Black Beans
Make a more loaded snack using black beans. It is mildly sweet with an earthy taste, providing an added layer of flavor and texture to your taco spread. If you want something easier to whip up in your kitchen, you can always opt for some refried beans. These plump and tender beans have almost the same flavor profile as black beans.
Want to give black beans a try? Here's an easy black bean taco recipe to give you a head start.
---
Shredded Cheese
Want a cheesy taco? Well, there are many cheese types to choose from, but we tried to narrow it down for you.
Here are some of the best cheese you can add to your taco spread. Most of them have a mild taste to not overpower your favorite taco flavors.
Monterey Jack
It is a semi-hard cheese with a slightly creamy texture. Its mild flavor is not too overpowering when added to your loaded taco. It is also a good melting cheese that provides oozing creaminess with every bite and also serves as a binder for your other fillings and toppings once it cools down.
Cheddar
This cheese has different flavors to choose from (mild to sharp). It is flexible as you can add it to your sauce or as an additional topping. Cheddar has an earthy and nutty aftertaste that gets stronger as it ages, providing added complexity to your taco flavors.
Colby Jack
This cheese is not only good for charcuterie board making. It is also best to partner with other dishes like tacos as it is also a good melting cheese like Monterey Jack. Its taste is a little sweet, a bit sharp, and tangy. Its flavor profile is closest to cheddar.  
Cotija Cheese
Cotija is a Mexican cheese known for its white color with a salty and milky flavor that significantly complements the complex flavors of tacos, from shell to filling. It also gives your taco different textures as it can be dry and crumbly when cold but is also smooth and silky when melted.
READ ALSO: Queso Fresco vs Cotija Cheese: What Are the Differences?
Asadero
Asadero is another Mexican soft cheese. It has a mild and slightly tangy taste. Its texture when melted is soft and stringy, like mozzarella, helping you create a cheese pull that makes your taco more fun to eat.
---
Fresh Herbs as Taco Toppings
Of course, delectable food does not only look good and taste good; it should also smell good too. Let's give your tacos added flavor and an enticing aroma using these fresh herbs!
Fresh Cilantro
If you have any stored cilantro stashed somewhere, now's the time to use them. This herb has a fresh, citrusy taste with just a hint of spice. It's perfect as a taco garnish and improves your dish's aroma too.
Scallions
Sharp and a little bit peppery, scallions help elevate the flavor of your dips and salsas. However, you can also chop these up and add them directly to your tacos as a garnish or for added freshness.
---
Pickled Taco Toppings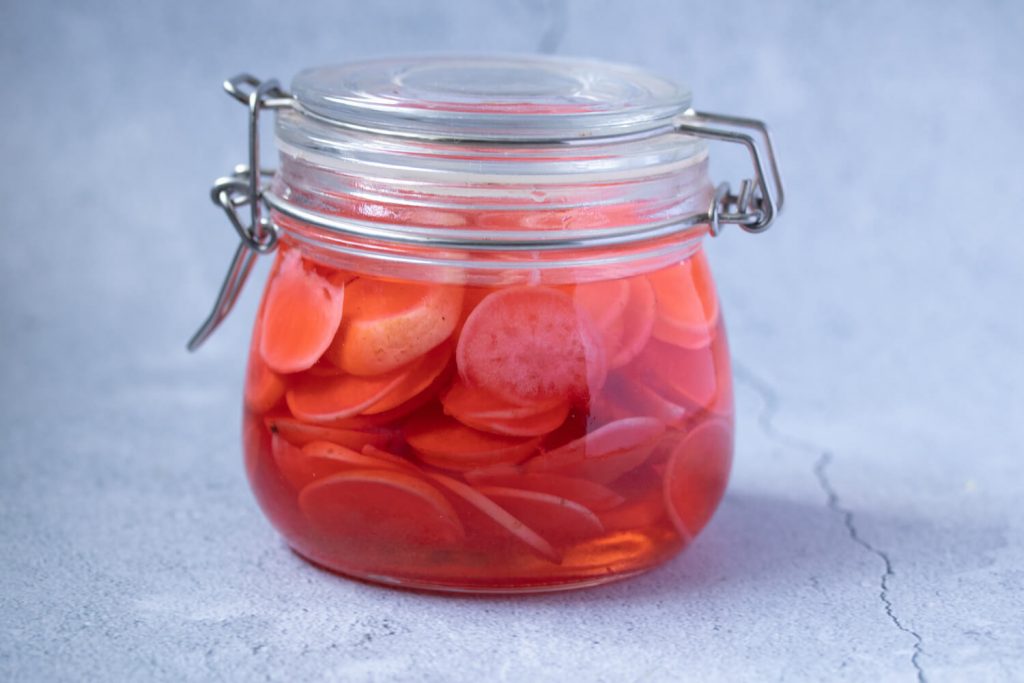 Pickled Red Onions
These red onions pickled in a sweet and tangy brine are excellent for garnishing any savory dish. Pickled red onions as taco toppings add brightness and a slight crunch that will make you want seconds. 
Pickled Jalapeños
These pickled jalapeños are soft, but they definitely have a strong, sharp pang of acidity and spice. They will surely provide that much-needed kick of heat to your taco snack!
Pickled Radishes
Add some tangy crunch to your taco using these pickled red radishes. It has the perfect blend of sweet and sour and is also very easy to make. This is a pickled treat that will definitely elevate your taco's flavors and textures.