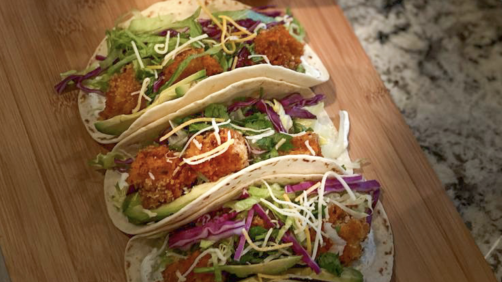 Cauliflower Taco Recipe
How To Make Cauliflower Tacos
Go meatless with this taco recipe with filling that is made entirely of cauliflower. This healthy alternative will change your mind about vegan cuisine.
Ingredients
vegetable oil

10

small

flour tortillas

1

head

cauliflower

cut into 1″ to 2″ florets

3

cups

red cabbage

cut, julienned

4

cups

lettuce

cut, julienned

¼

cup

fresh cilantro leaves

chopped

1

cup

shredded cheese

to garnish, optional

1

avocado

sliced

3

cup

panko bread crumbs

2

cup

all purpose flour

mixed with 1 cup (240 ml) water to form pancake-like batter

1

tsp

cornstarch

4

tsp

cayenne pepper

4

tsp

paprika

2

tsp

chipotle chili powder

2

tsp

black pepper

⅓

cup

hot sauce

1

cup

hot sauce

1

tsp

salt

to taste
Instructions
In a deep, heavy-bottomed skillet, heat the oil on medium for frying.

Preheat the oven to 300 degrees F.

Add Panko breadcrumbs into a bowl and to this, add cayenne, paprika, chipotle chili powder, black pepper, and mix together. Add salt to taste.

In another bowl, combine all-purpose flour, water, cayenne, paprika, chipotle chili powder, black pepper, and Texas Pete Hot Sauce to create a batter.

Dip the 1″ to 2″ cauliflower florets into the all-purpose-flour mixture first, and then dip them into the bread crumb mixture, ensuring all florets are covered completely.

Fry cauliflower florets slices until golden-brown. Place them on a plate lined with a paper towel to soak up the oil, then place them on a baking sheet with parchment paper.

Drizzle the 1 cup of Texas Pete Hot Sauce onto the cauliflower wings. Bake for 7 minutes while heating tortillas.

Assemble by spreading homemade ranch in the middle of the tortilla and then placing 3 to 4 cauliflower wings onto the tortilla. Add lettuce, red cabbage, avocado slices, cilantro, lime, cheese, and more hot sauce. Serve.

Enjoy!
Nutrition
Calories: 

1062.10kcal

Fat: 

30.58g

Saturated Fat: 

6.44g

Trans Fat: 

0.31g

Monounsaturated Fat: 

14.81g

Polyunsaturated Fat: 

5.61g

Carbohydrates: 

169.28g

Fiber: 

15.39g

Sugar: 

11.05g

Protein: 

31.61g

Cholesterol: 

19.21mg

Sodium: 

7708.11mg

Calcium: 

421.11mg

Potassium: 

1497.66mg

Iron: 

12.49mg

Vitamin A: 

347.57µg

Vitamin C: 

275.88mg