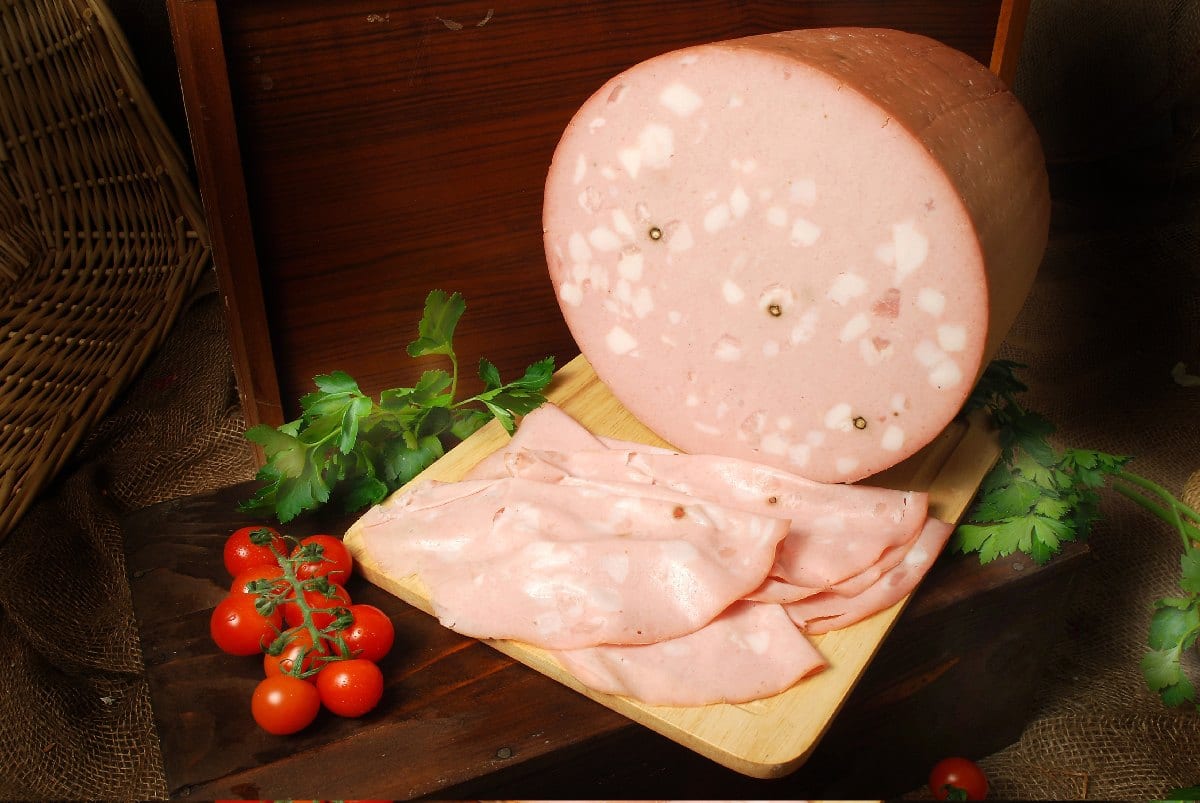 What Is Mortadella and 3 Recipes to Try
It's no secret that Italy is one of the most well-known culinary bastions in the world. After all, it's home to a lot of popular dishes, including pizza and pasta! Among the many kinds of food that this culture has to offer, the cold cuts and deli meats are some of what we're most thankful for — and mortadella is one of them.
Continue reading to find out everything about mortadella, a special Italian sausage. Discover its main components and how it compares to other cold cuts. If you like, you can even try to recreate a few deli-style sandwich recipes for your next meal.
What Is Mortadella and What Is It Made Of?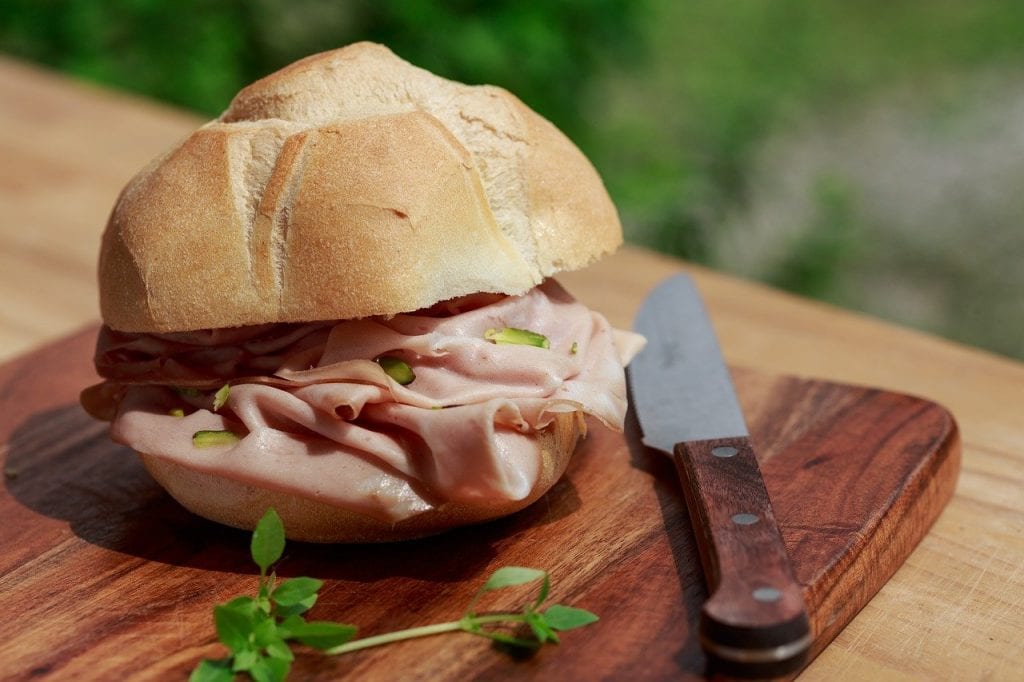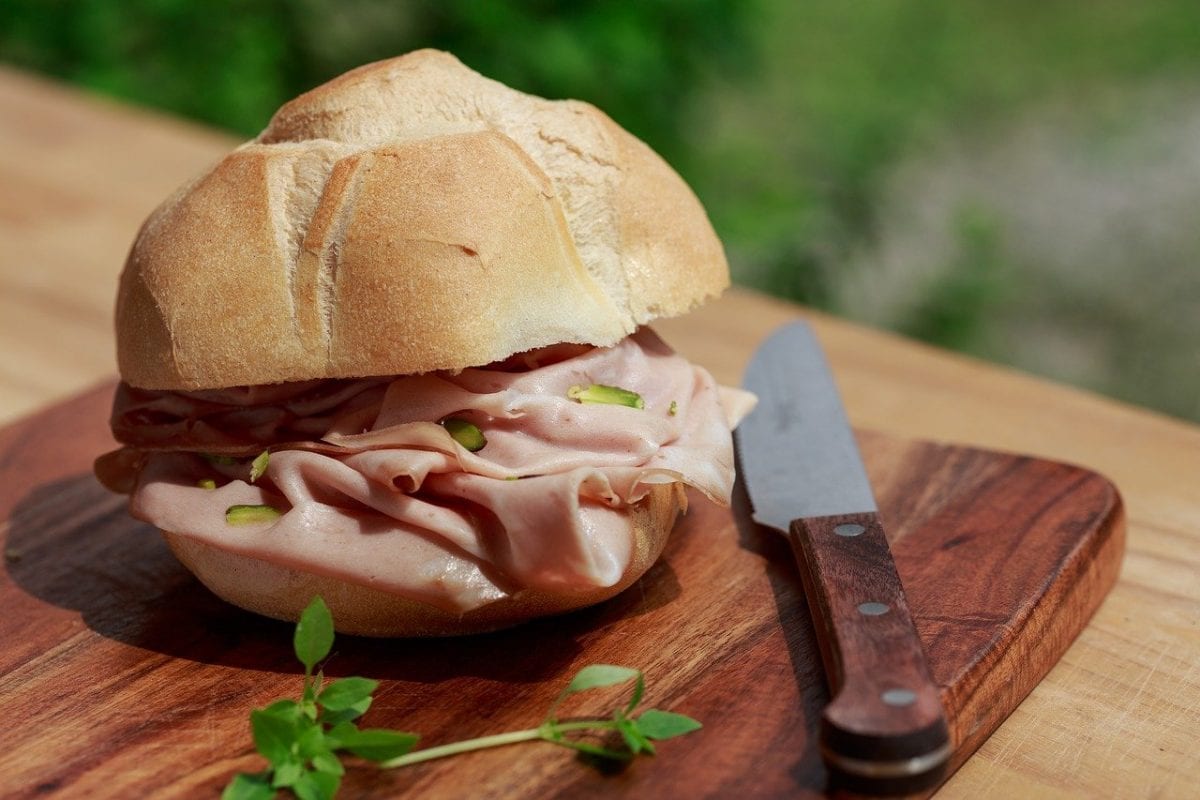 Mortadella (sometimes misspelled as mortadela) is a type of pork sausage that's largely available in delis around the United States. It is one of the more popular Italian lunch meats that takes its roots from the city of Bologna. The meaning and origin of its name are disputed, although some believe that it's derived from the Roman word mortarium which means "mortar" (reflecting the old tool used to grind processed meat).
READ ALSO: 25 Authentic Italian Recipes That'll Take You to Italy
A standard piece of mortadella meat is made with ground pork shoulder, 15 percent fat cubes, unseasoned pistachio nuts, and flavoring ingredients like black pepper and myrtle berries. The traditional way of cooking this sausage is through a water bath. Then, it's customary to plunge it into cold water to stop it from cooking further once it reaches the ideal internal temperature of 158 degrees F. Mortadella tastes mildly porky with a bit of nuttiness and heat from the spices. It contains protein and B-vitamins, although it's best to have this sausage in moderation.
READ ALSO: 10 Pork Dinner Recipes with 5 Ingredients or Less
Ever since it gained traction worldwide, several versions of this cold cut have been invented. For instance, some producers make beef or chicken mortadella that can be halal certified or permissible under Islam law. Because of these reinventions, some form of mortadella sausage can now be enjoyed even by Muslims who are traditionally prohibited from consuming pork products.
Mortadella vs Bologna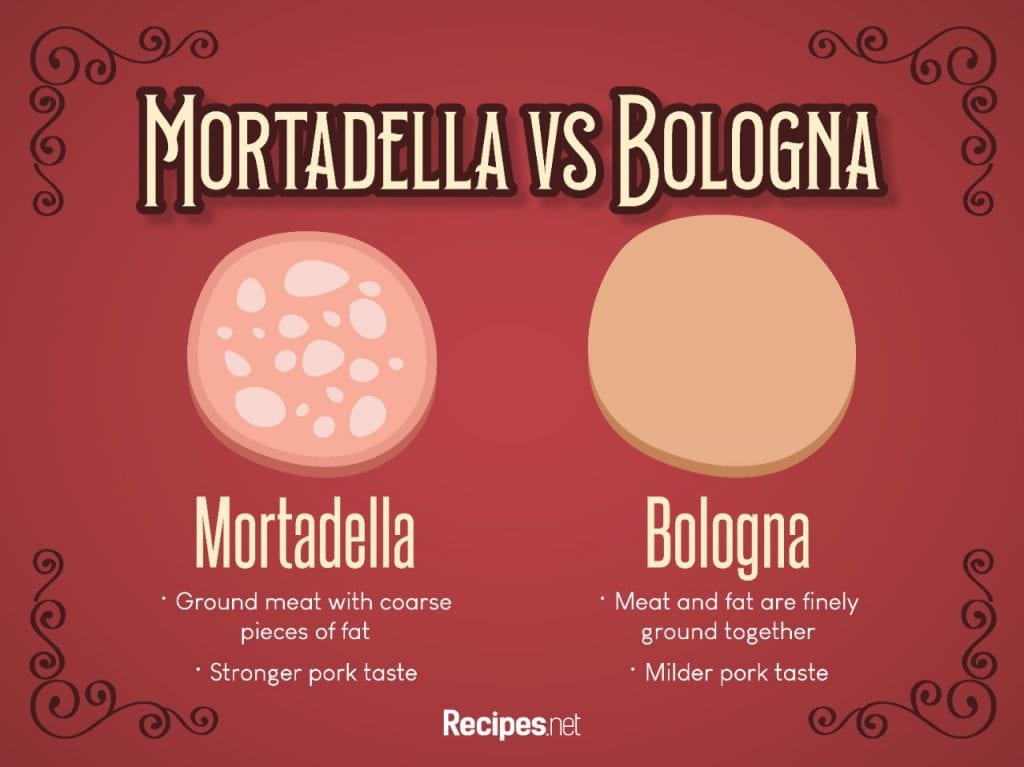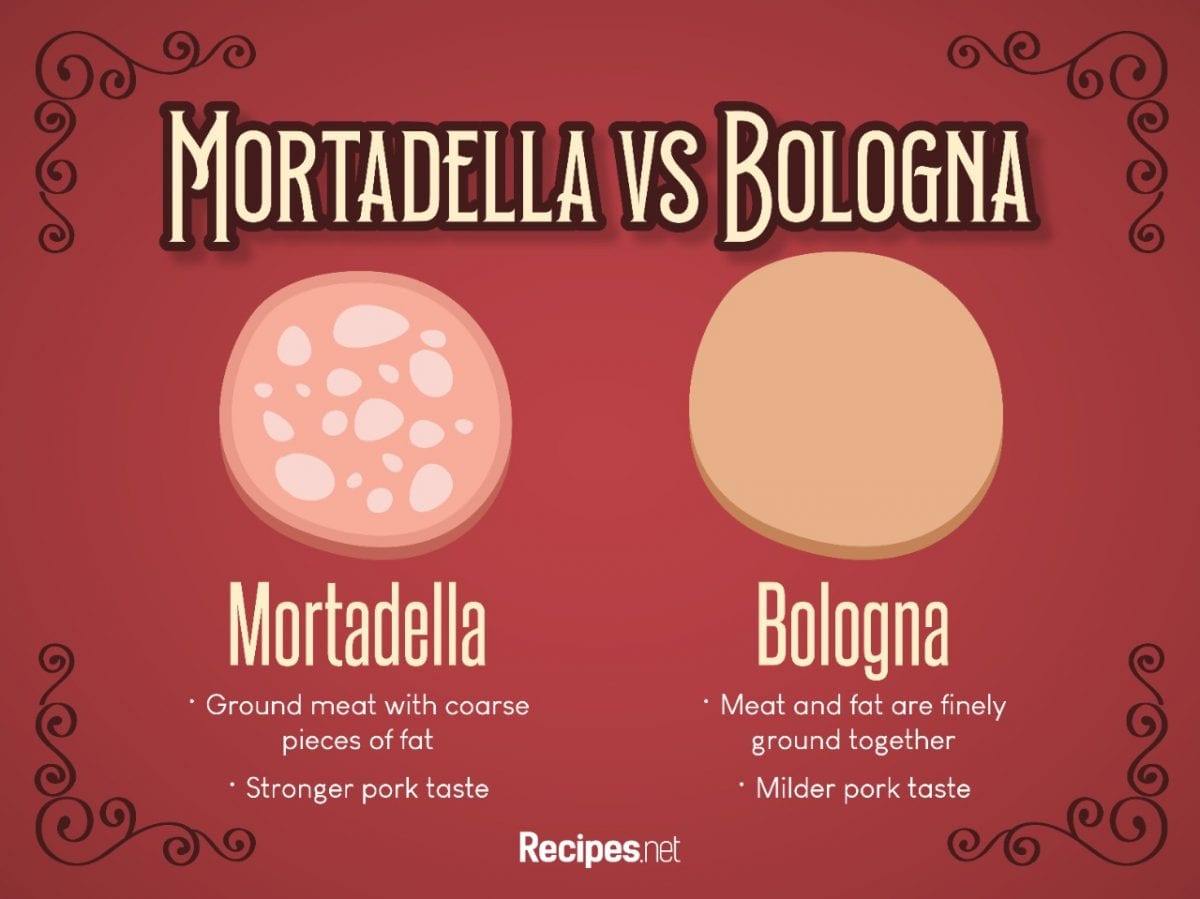 Mortadella and bologna sausage are both cured meats that hail from the Italian city of Bologna, so, understandably, they can be quite confusing. It's important to note that these two differ in terms of composition, appearance, and overall taste. First of all, ground pork is the traditional main ingredient in mortadella. The main ingredient in the bologna, on the other hand, can be pork, beef, or a combination of the two.
Its large size and silky texture also sets mortadella apart from the rest of the lunch meats. You'll instantly notice that mortadella contains chunks of fat, pistachio, and black pepper. In comparison, bologna meat contains finely ground fat, resulting in a more homogeneous or uniform look. 
All in all, mortadella tends to taste meatier than the bologna even though they both share a distinctly porky taste. If you're wary of the fat content of these two types of meat, a good substitute for mortadella or bologna is doctor's sausage (doktorskaya kolbasa) which is a type of certified low-fat bologna from Russia.
READ ALSO: 50 Types of Pasta and Their Best Pairing Sauce
How to Prepare Mortadella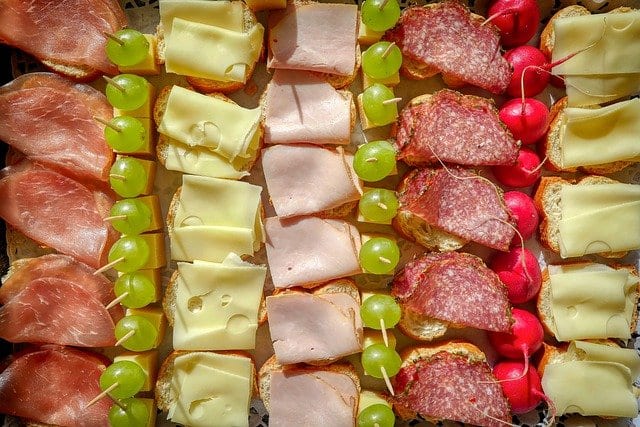 Explore a multitude of recipes with this lunch meat. Probably one of the most popular ways of having mortadella ham is on a charcuterie board. Serve it thinly sliced alongside other types of cold cuts and it would be the perfect pairing for your dry and sweet wines.
You can also serve it raw as part of an antipasto (Italian appetizer that consists of olives, anchovies, cheeses, and meats). Have your antipasti con mortadella with a piece or two of classic tomato bruschetta that has been slathered with extra virgin olive oil and garlic for a tasteful Italian starter.
Mortadella, although among the most well-known cold cuts, can also be served fried. Incorporate it into your day-to-day recipes, such as in pizza, pasta, or sandwich recipes. If you like, you can also make a scrumptious mortadella mousse by pureeing this lunch meat in a food processor with mascarpone, Parmigiano Reggiano cheese, and nutmeg. Use it as a toast spread for breakfast or as a wine pairing like foie gras. 
3 Mortadella Sandwich Recipes To Try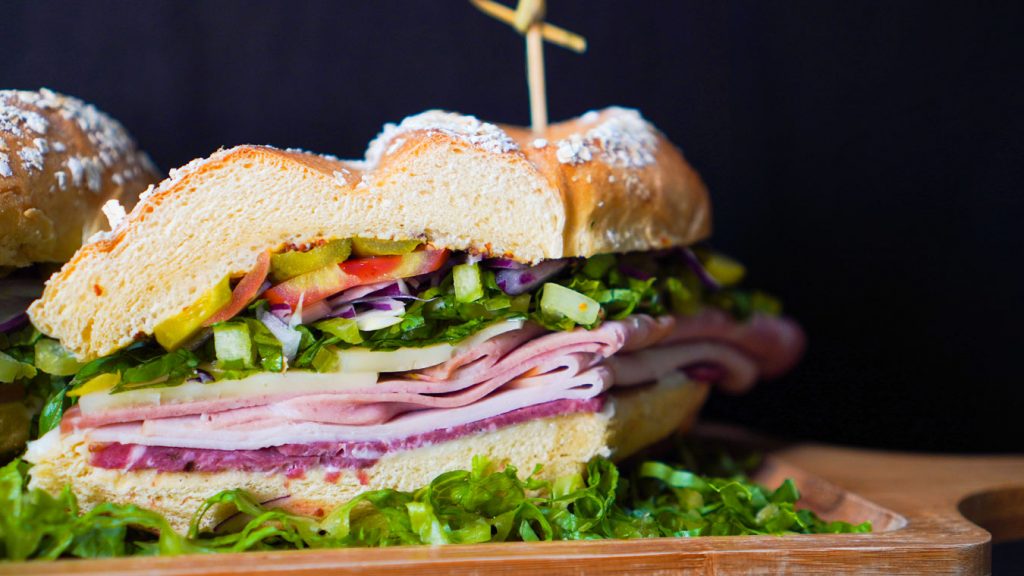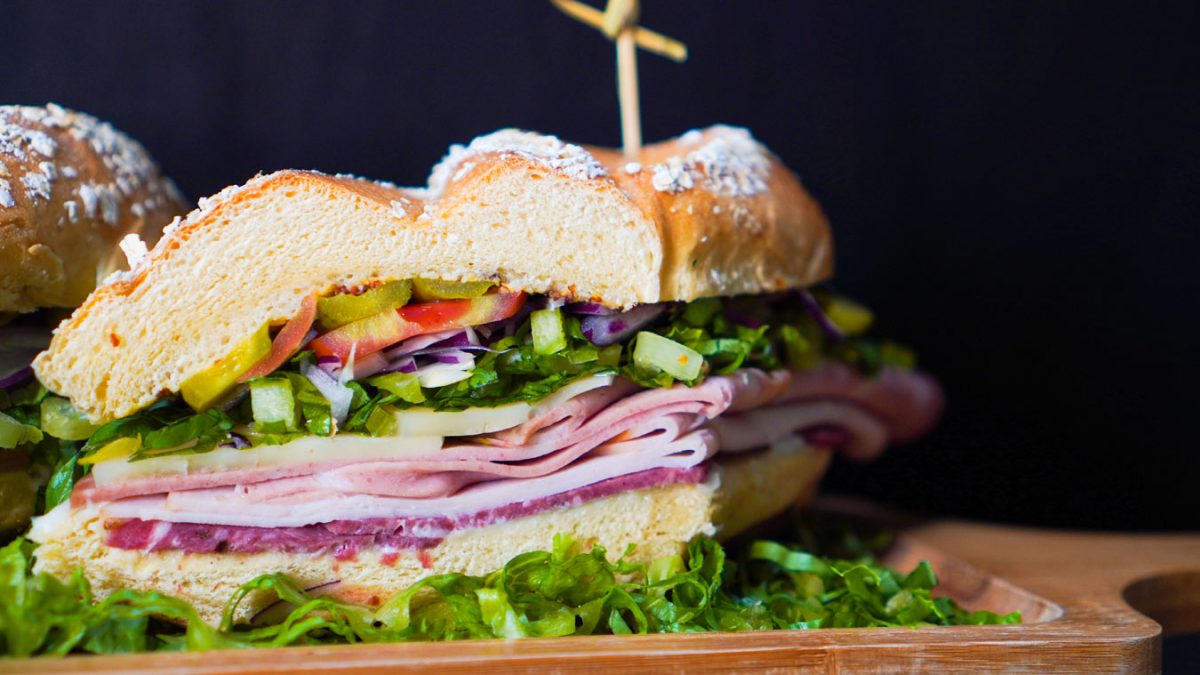 This cold cut makes for a delicious sandwich filling, even more so when accompanied by other meat slices. You don't have to go to your nearest deli to experience the most from your cold cuts. Here are some easy mortadella recipes you can recreate at home:
Copycat Subway Cold Cut Combo –

Have a taste of pistachio mortadella slices stacked together with smoky turkey ham and salami, sharp provolone cheese, vegetables, and dressings sandwiched in between soft Italian rolls. 

Muffaletta Sandwich –

This mortadella recipe takes inspiration from the classic muffuletta bread of the Italian immigrants in New Orleans. Enjoy fluffy French rolls stuffed with tart vegetable and olive bruschetta, cold meats, and provolone cheese.

Italian Sub Sandwich –

Assemble a traditional Italian sub sandwich recipe with a classic mortadella and cheese combo, with salami, vegetables, and Italian dressing.
READ ALSO: 10 Best Sandwich Makers To Buy in 2021
How to Store Mortadella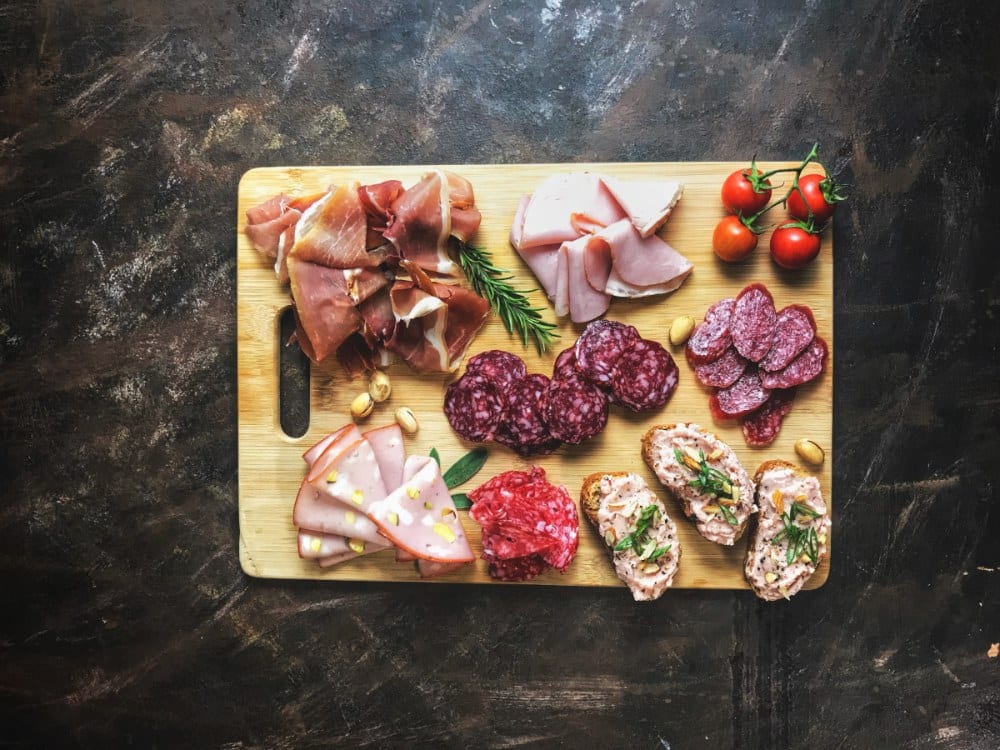 Low temperatures (around 35 to 39 degrees F) are ideal for properly storing Italian mortadella meats. Securely wrap the meat first in aluminum foil or plastic, and you can keep it in the fridge. This method can keep your lunch meats good for up to seven days. If you want to keep it for a longer period, you may also store it in the freezer. Seal it first in an airtight container and it should be good for two to three months.