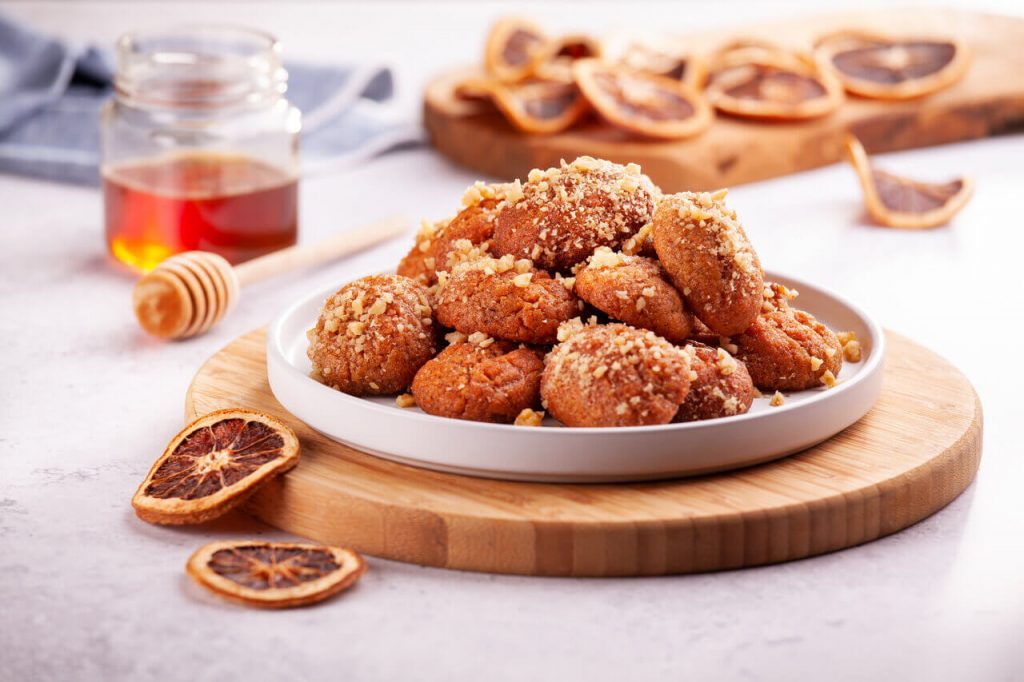 15 Traditional Greek Desserts You Should Try
Visiting Greece is like a feast for the eyes because of its remarkable architectural designs and landscapes that are truly breathtaking. But what if we tell you that this place is also a feast for your stomach? That's right. Greece also offers various delightful culinary dishes, from the delicious moussaka to sweet traditional Greek desserts.
Do you have a sweet tooth and want to learn easy dessert recipes? Then learning how to make traditional Greek desserts is a good start! They're not only delicious, but they are also quick to whip up in the kitchen. Check out our handy-dandy list of easy Greek dessert recipes you can try at home.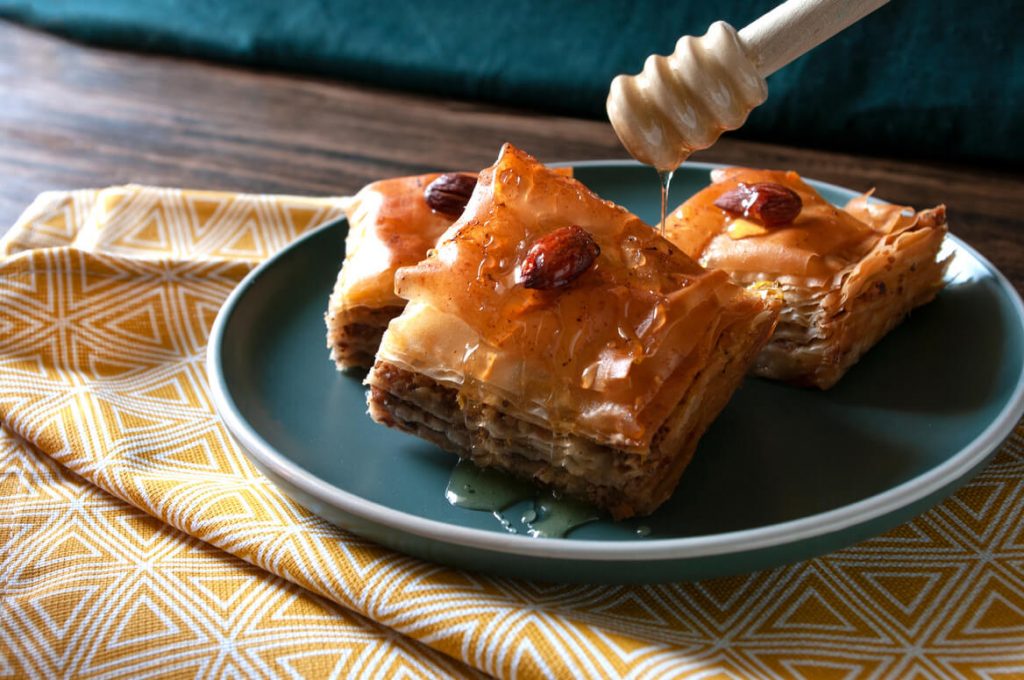 01 of 15
Baklava (Phyllo Pastry)
At the top of our list is the delicious baklava! It is one of the well-known desserts in Greece and other parts of the globe (especially in the Middle East). It may look like a typical almond butter pastry but what makes it different is that it is made of phyllo dough (a very thin, fragile, unleavened type of dough).

Baklava is buttery, creamy, and sweet in flavor. For texture, coarsely ground nuts are typically added in between its layers. After baking this Greek pastry, a cold sugar syrup is poured over it, soaking the baklava with sugary goodness. So, if you're a fan of sweet, nutty desserts, baklava is definitely for you!

Try Recipe
02 of 15
Loukoumades (Fried Honey Doughnuts)
Sticky and syrupy on the outside but soft and fluffy inside, loukoumades is one of the traditional Greek desserts that is irresistible to both kids and adults still young at heart. These bite-sized delights are also called honey balls or Greek donuts as they are basically fried dough soaked in honey syrup.

For this recipe, we are using greek yogurt to go with the dough, but the traditional recipe of honey donuts usually uses a combination of warm water and warm milk. You can serve this tasty dessert with a dash of cinnamon as a garnish or roughly chopped nuts for texture!

Try Recipe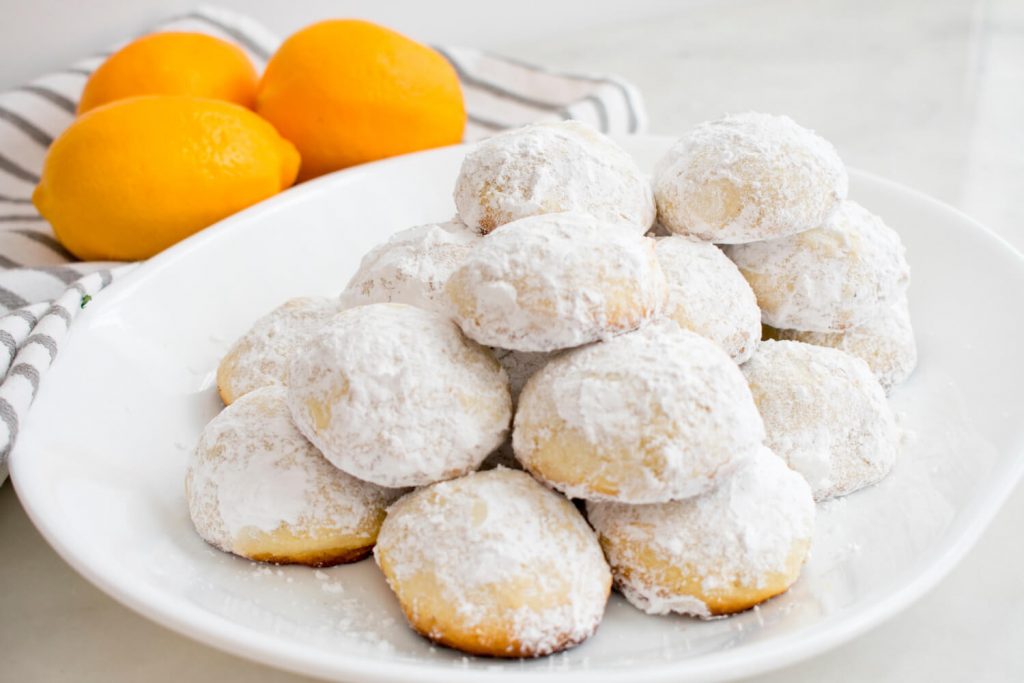 03 of 15
Kourabiedes (Greek Christmas Butter Cookies)
These Greek cookies are definitely perfect for Christmas! It has a white powdery outer appearance and a ball-like shape that are reminiscent of both snowballs and snowmen. 

Aside from looking different from your typical homemade butter cookies, kourabiedes, or Greek butter cookies, also taste different. They are very crunchy to bite but have melt-in-your-mouth goodness of the nutty almond and buttery flavor. Aside from the fantastic taste, it is also very aromatic due to rosewater. 

Making this kourabiedes recipe will bring the holiday spirit to your home and fill it with a sweet and incredible aroma.

Try Recipe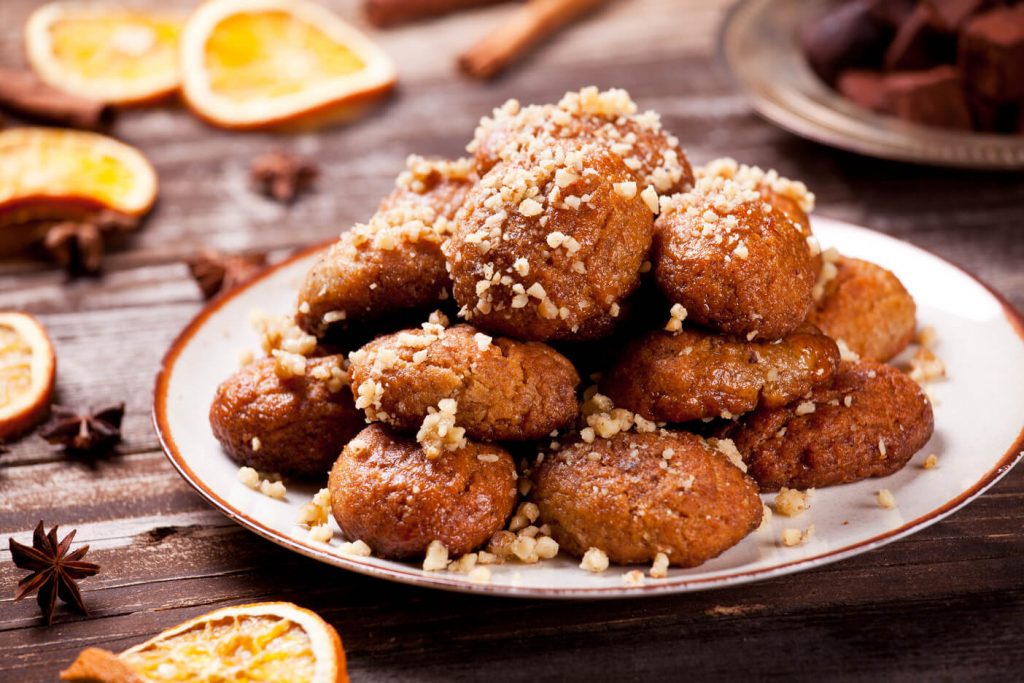 04 of 15
Melomakarona (Greek Christmas Honey Cookies)
If kourabiedes is a Christmas butter cookie, melomakarona is a Greek Christmas honey cookie. From the words meli meaning "honey" and makarona meaning "blessed", these cookies are truly gifted with honey goodness as they are soaked in a honey syrup, making them moist and sweet. 

Melomakarona does not contain milk or eggs, so if you are looking for a vegan dessert, you may simply tweak this recipe by using sugar or other honey alternatives. Aside from the delectable flavor, these cookies are also aromatic because of the added cloves, nutmeg, cinnamon, and underlying hint of Greek olive oil.

Try Recipe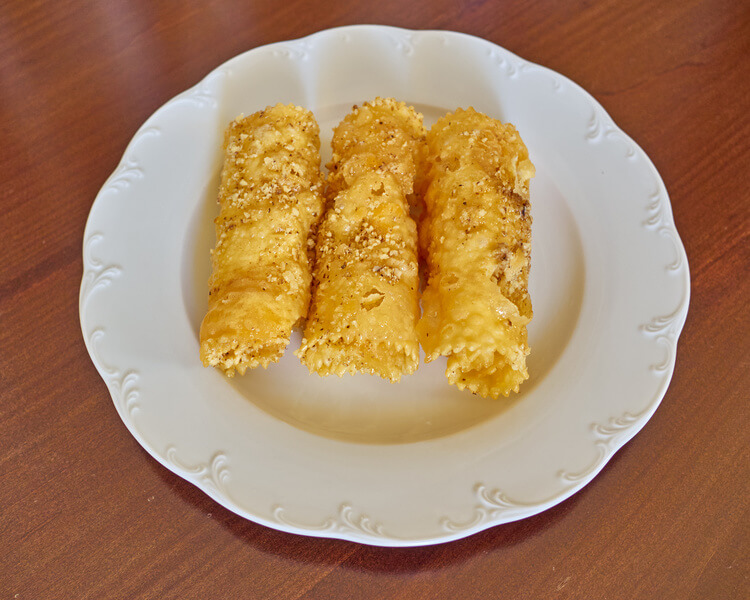 05 of 15
Greek Diples (Greek Christmas Pastry)
Diples are another holiday treat from the Greeks. It is crunchy, nutty, and definitely sweet. Greeks make authentic diples by hand kneading a simple pasta dough that they then fry until crispy. Before serving, these diples are drizzled or dunked in a citrusy syrup made of honey, cinnamon, and orange.  

So, how to make diples? From the Greek word diplono meaning "folding", diples are made by folding the dough while frying it. This traditional Greek dessert with honey is not only a Christmas favorite but is also present during weddings. Fun fact! Greeks believe that the more folds a couple can make out of their dipla (singular of diples), the more blessed their married life will be.

Try Recipe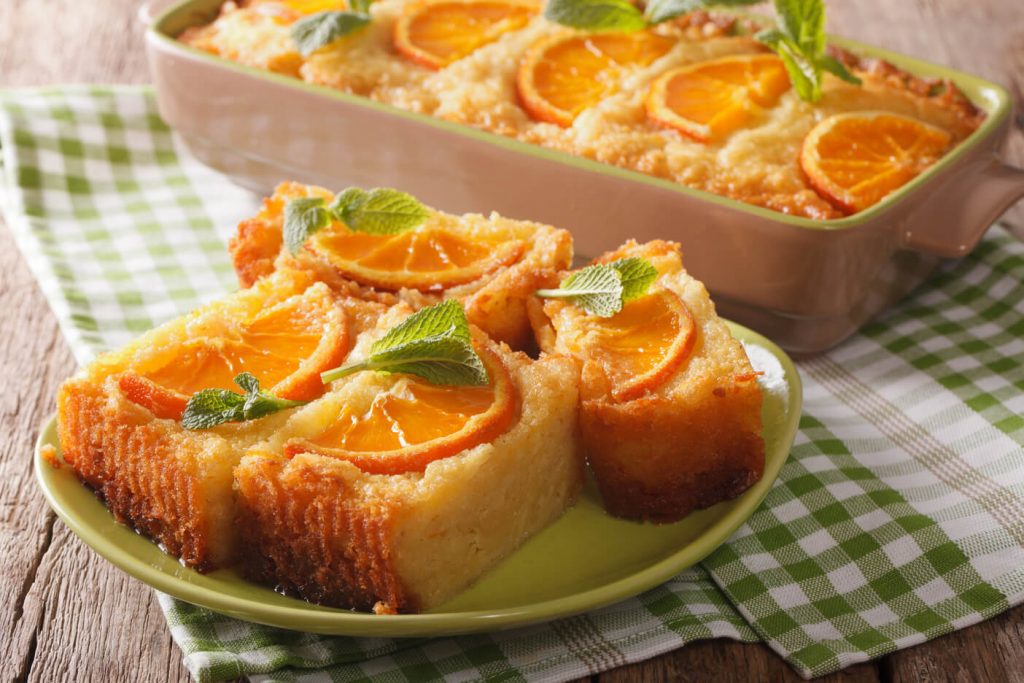 06 of 15
Portokalopita (Traditional Greek Orange Phyllo Cake)
From the Greek words portokali meaning "orange" and pita meaning "pastry", portokalopita is a Greek orange cake that is soft, fluffy, and adorned with a fruity, citrusy aroma. This portokalopita is slightly different from the usual orange Greek yogurt cake since it uses phyllo sheets instead of flour.

Portokalopita is perfect for those who prefer treats with no overpowering sweetness, as the tangy flavor of the oranges balances the overall sweetness of this dessert. Want to know how to make this Greek orange cake? Check out our easy-to-follow recipe!

Try Recipe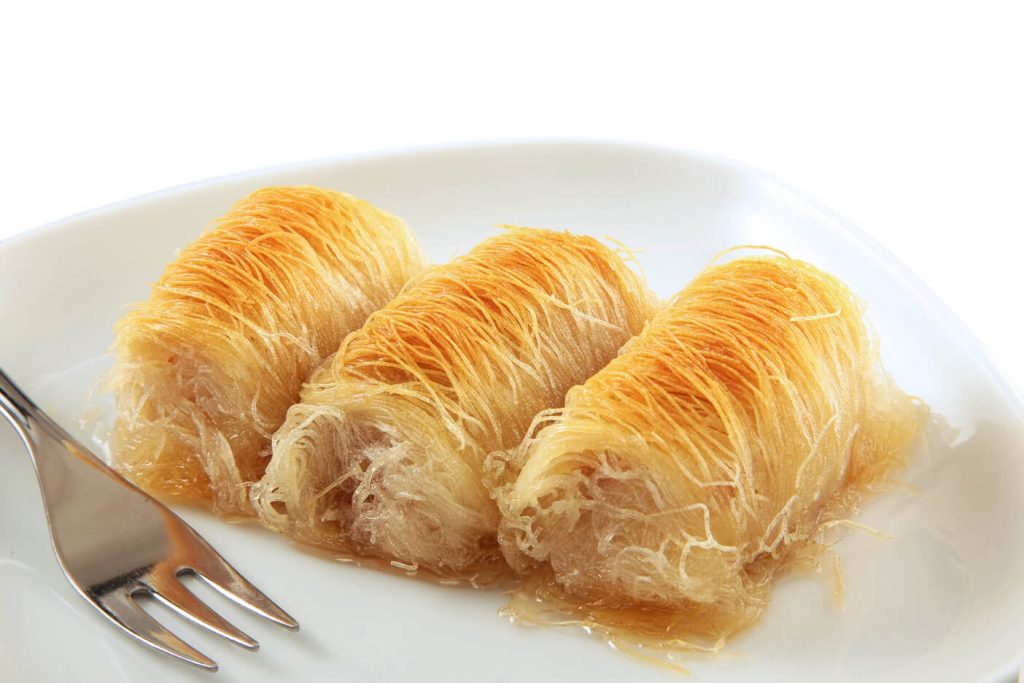 07 of 15
Kataifi (Shredded Phyllo With Nuts and Syrup)
What is kataifi? Kataifi is another traditional Greek dessert that offers varying textures, such as the crunchy outer kataifi pastry and its soft and moist bottom. You can achieve these textures by adding cold syrup to a hot, newly baked kataifi similar to baklava. Doing this keeps the top part crispy while allowing its base to soak in the lemony syrup.

Aside from that, it also has ground cloves and cinnamon and is even better when made with fresh butter. And like other desserts with nuts, the nutty filling of this traditional Greek dessert provides an added texture and another layer of flavor!

Try Recipe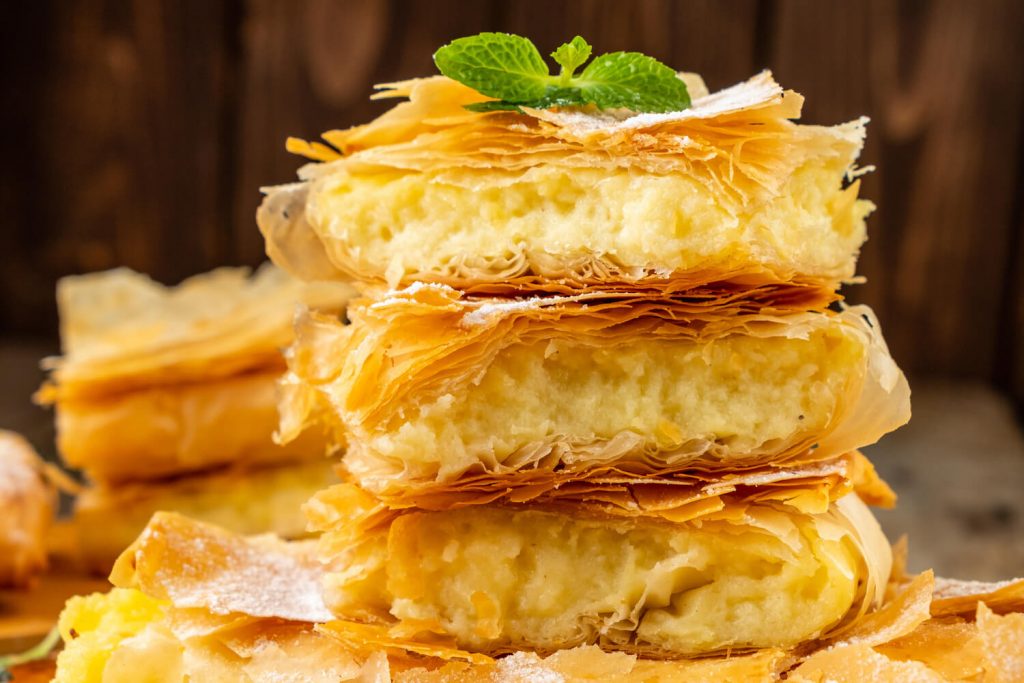 08 of 15
Bougatsa (Greek Custard Phyllo Pie)
What is bougatsa? This Greek dessert is a pastry with custard filling that is sweet, golden, and flaky. But unlike other traditional custard pie with a dough crust that holds the filling, bougatsa uses phyllo sheets, a typical ingredient in most traditional Greek desserts. 

For a traditional bougatsa recipe, we encourage that you use galaktos butter, a Greek butter made with sheep or cow's milk (or a mixture of both). But if it's unavailable, you can always use the typical fresh butter from the supermarket. Dust it up with cinnamon powder or place sugar icing on top before serving.

Try Recipe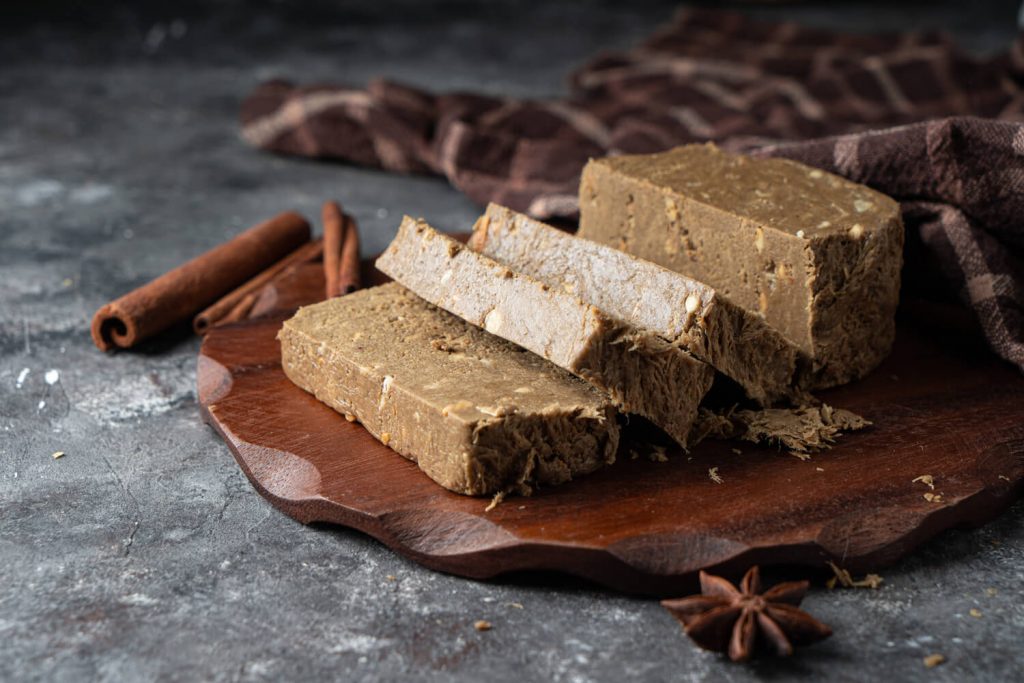 09 of 15
Greek Halva (Semolina Pudding With Nuts and Raisins)
Greek halva is a very easy-to-make Greek dessert mainly made of four ingredients: semolina flour, oil, water, and sugar. If you want your halva more flavorful and aromatic, add a dash of spices like cinnamon, cloves, and citrus zest! For this recipe, we also mix in some nuts and dried fruits for added filling and texture. 

Greeks usually serve this during the Lenten season, as it doesn't have eggs, dairy, and butter. But if you want a snack that you can quickly make in your kitchen, you will never go wrong with this semolina pudding.

Try Recipe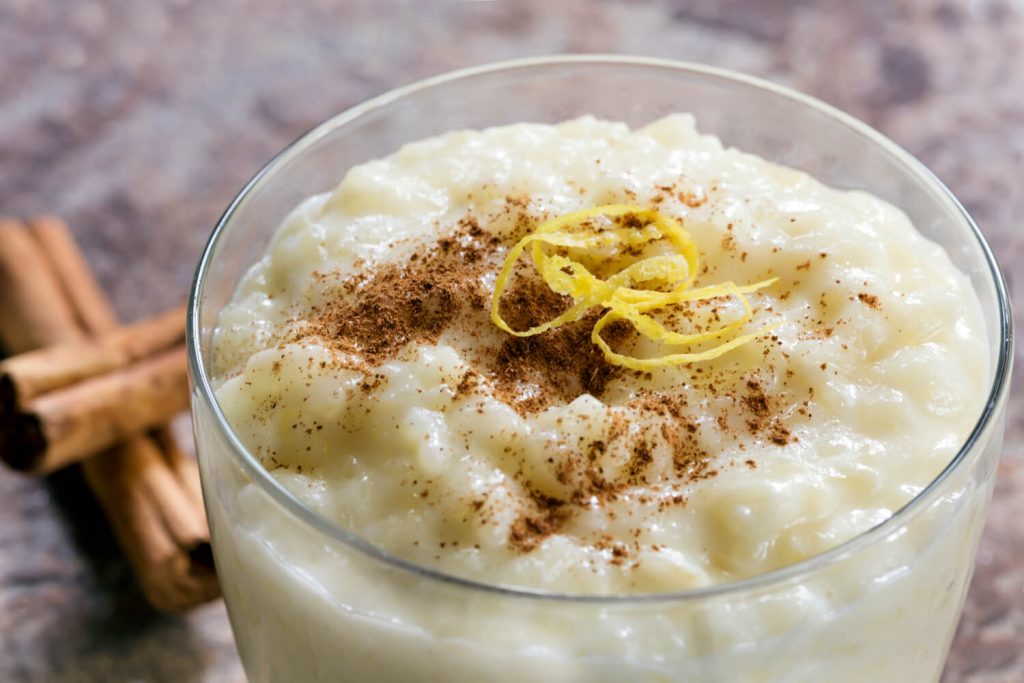 10 of 15
Rizogalo (Greek Rice Pudding)
Almost all countries have their version of rice pudding, and though they may look the same, they usually differ when it comes to the rice grain used. For rizogalo, also known as Greek rice pudding, arborio rice is used to give the pudding a thick, creamy (almost custard-like) consistency.  

A traditional rizogalo recipe is sweet and milky with a hint of vanilla extract and citrusy zest from orange or lemon. You can serve it warm or cold, depending on your preference.  

If you have Greek friends and want to surprise them with a homecooked meal, make them rizogalo. This creamy food will definitely remind them of home's warmth and comfort! 

Try Recipe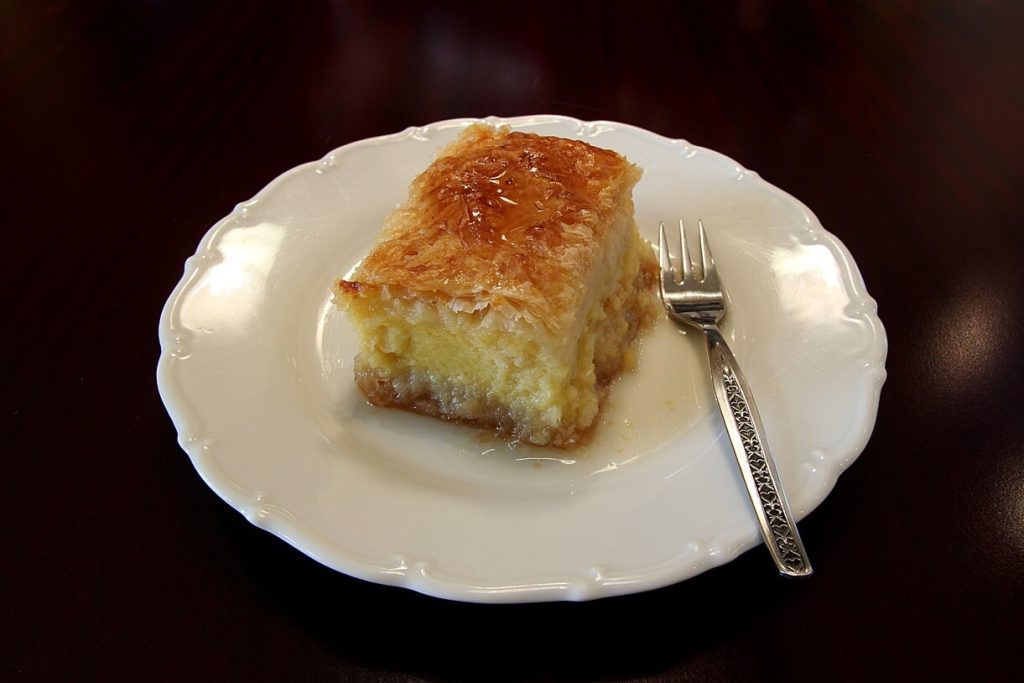 11 of 15
Galaktoboureko (Greek Custard Pie)
Another example of Greek desserts with custard, we have the sweet and delectable galaktoboureko. Its main difference from other Greek custard dishes, like bougatsa, is that this custard pie is served in a pool of sweet syrup made of the zest and juice of orange or lemon with honey. 

Since it is made of phyllo dough, using suitable butter is crucial in achieving the best flavors for your dish. And like bougatsa, if you want a more traditional taste of galaktoboureko, we recommend using galaktos butter.

Try Recipe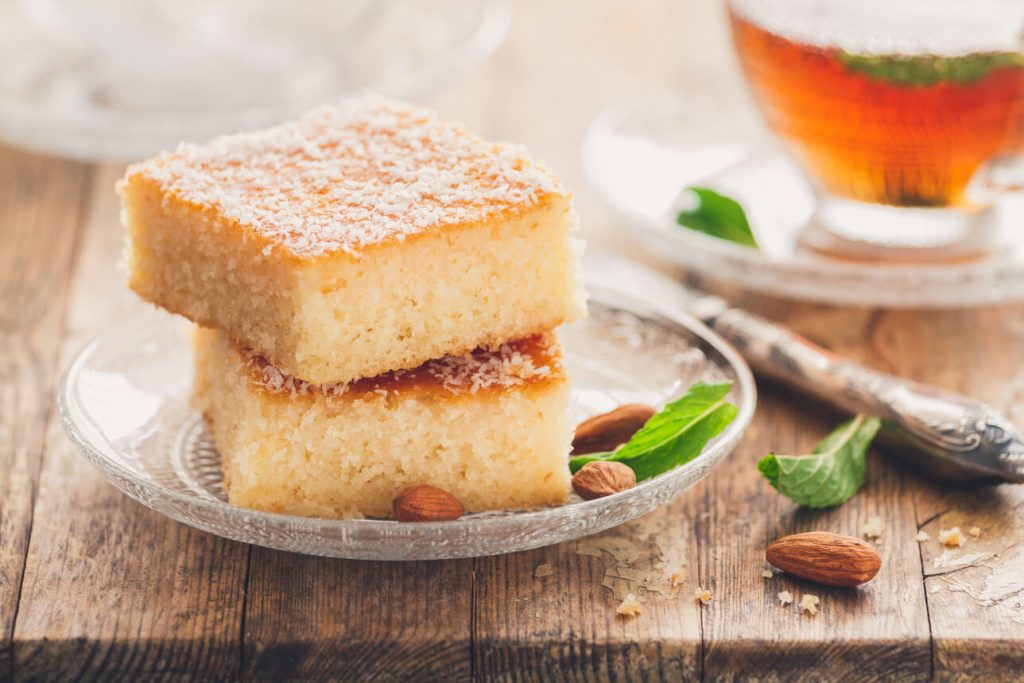 12 of 15
Revani (Greek Coconut Cake With Syrup)
Revani, or semolina cake, is similar to other traditional Greek desserts soaked in sugar syrup. Mainly made of cake flour mixed with semolina (or sometimes desiccated coconut), this Greek cake is very soft and fluffy. 

Traditional Greek recipes soak this cake in a syrup made of sugar and water with lemon or orange extract. We suggest you let the cake sit in the syrup for hours or overnight before serving. It will allow the syrup to seep into the spongy cake, letting it absorb all of its flavors.

Serve this with desiccated coconut and roughly chopped nuts for added flavor and texture!

Try Recipe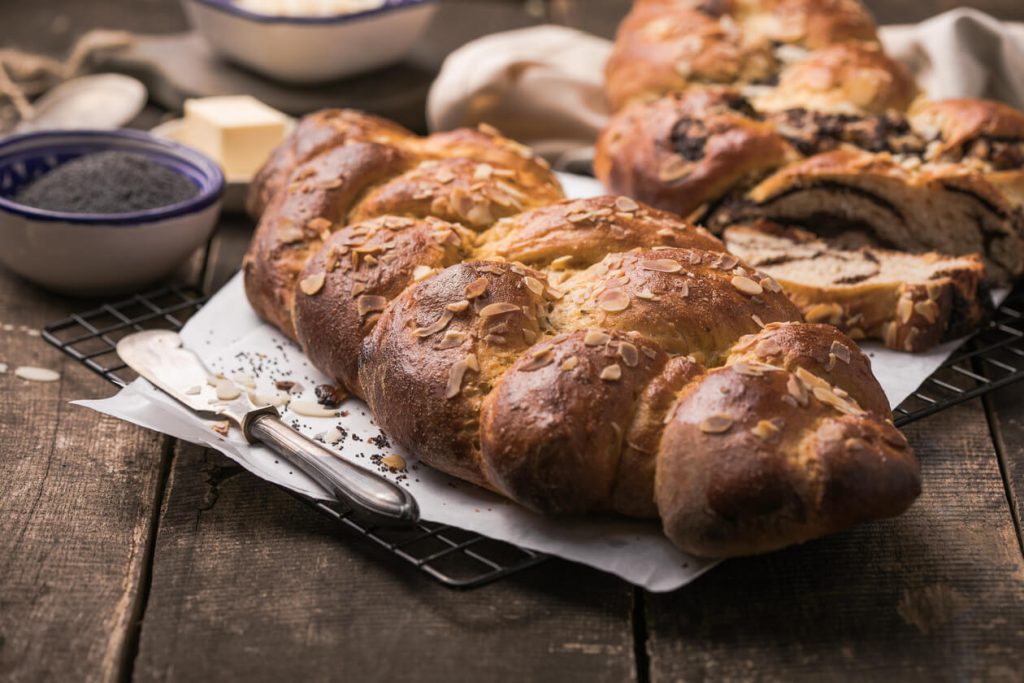 13 of 15
Tsoureki (Greek Easter Bread)
Greek Easter will never be complete without tsoureki, or Greek Easter bread. This bread has a braided design that represents the Holy Trinity. It is a soft and fluffy dessert and a very filling snack that you can partner with your favorite tea or coffee.  

Try Recipe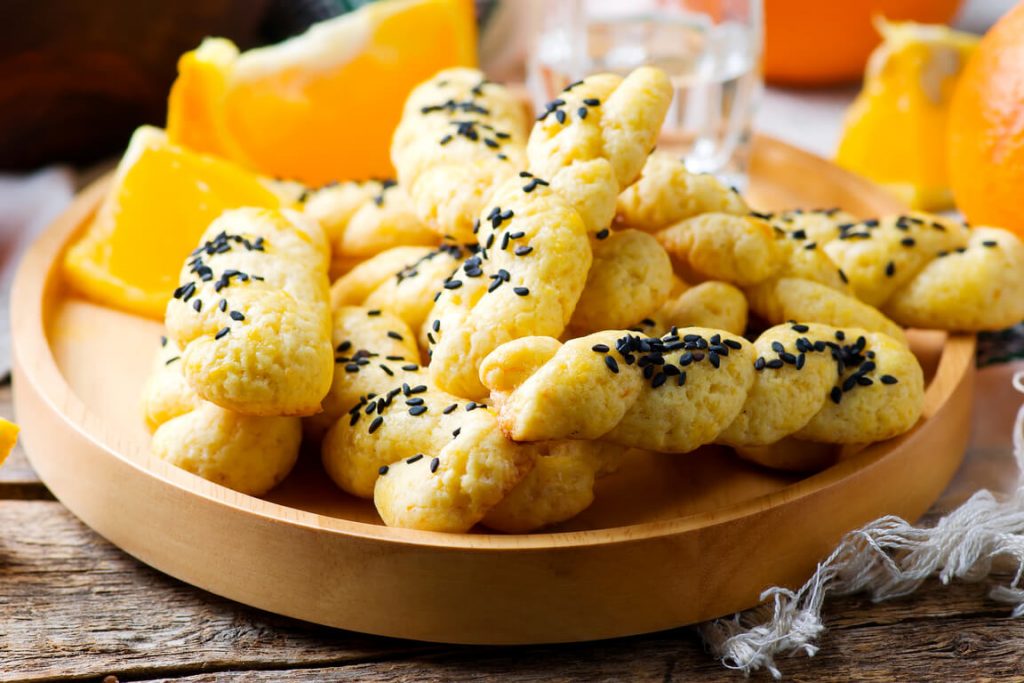 14 of 15
Koulourakia (Greek Easter Cookies)
If we have Easter bread, we also have an Easter cookie. Koulourakia originated in Greece and is now known in different parts of the globe. It has a crunchy outside texture but is soft and chewy on the inside. 

This traditional koulourakia recipe offers different flavors. You can taste the buttery goodness in its cookie as well as the citrusy flavor due to the lemon or orange zest and juice added to it. The sesame seeds sprinkled on top of it before serving also provide added aroma and texture to these well-loved cookies.

Try Recipe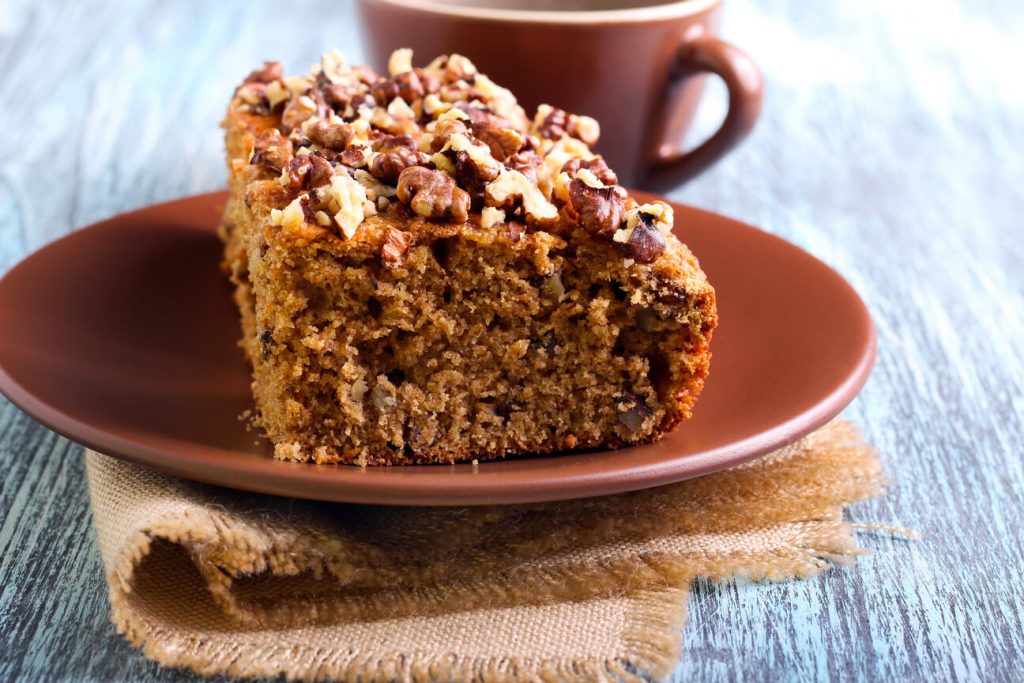 15 of 15
Karithopita (Greek Walnut Cake)
Can't get enough of these nutty traditional Greek desserts? Well, we have another one to offer! Karithopita, or Greek walnut cake, is soft, airy, and syrupy. Its cake is made of galeta (powdered breadcrumbs) soaked in aromatic and sweet cinnamon syrup. 

This walnut cake is a must in every Greek gathering, as it represents prosperity and abundance in every festivity. Aside from walnuts, you can also serve this with vanilla ice cream or drizzle it with chocolate syrup.

Try Recipe