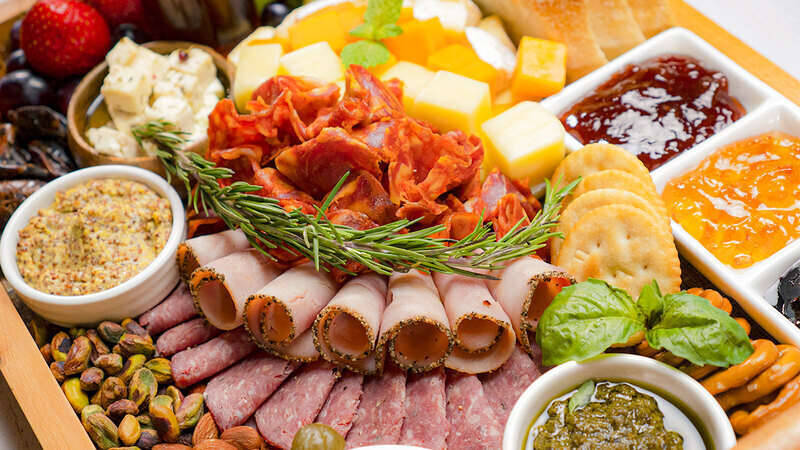 How To Make a Charcuterie Board For Beginners
It is without surprise that charcuterie boards are causing some serious buzz in the food scene. More than just a mere platter of various morsels, charcuterie boards can be considered as "food art" where artistry meets culinary skills. Some even consider these boards as a culinary adventure as different morsel pairings create various unique flavors that you'd never imagine tasting. 
But, making charcuterie boards is no easy feat. What kinds of meats should I use? How much cheese goes on the board? How do I plate? Learn how to make a charcuterie board for beginners and get inspired with some of these charcuterie board ideas for your next dinner party. Maybe by the end of this article, you can try this charcuterie board recipe and create your own charcuterie board. 
What Is a Charcuterie Board?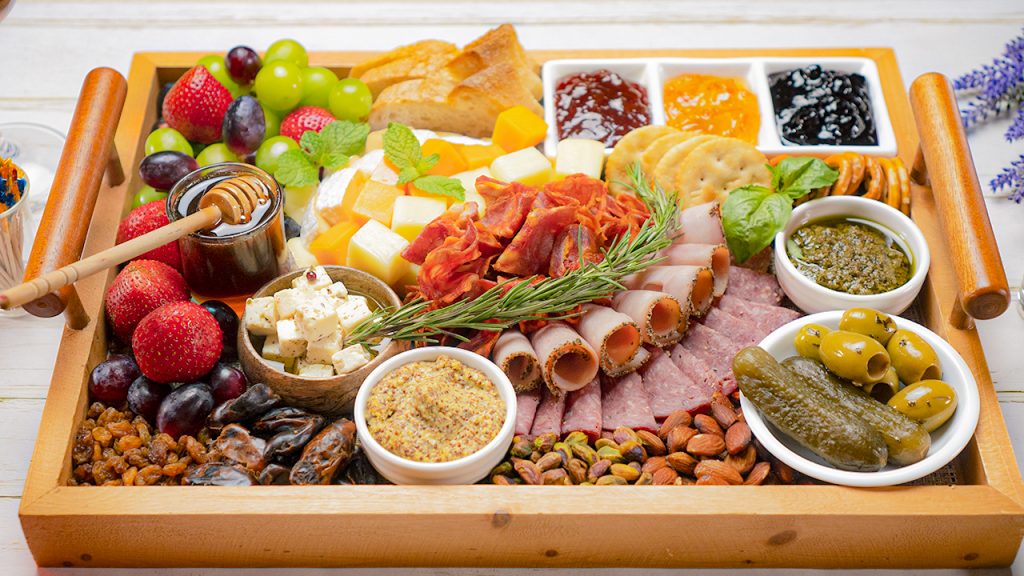 Charcuterie board (pronounced as shar-koo-tuh-ree) or chutery board is a platter of assembled meats, variations of cheeses, fruits, crackers, and accouterments. Charcuterie is a French term for curing a wide range of meats from thick and thin slices to soft spreads, making cured meats the stars of charcuterie boards. Recently, people have also started associating charcuterie boards with cheese, which explains why it is also called meat and cheese boards. That said, you can always make your own vegetarian charcuterie boards like this meatless Mediterranean Mezze platter.  If you are a vegan, then you should definitely try making a vegan charcuterie board.
When you make a charcuterie board, it's important to understand one of its basic goals: create contrasting flavors in each bite to achieve flavor layering. One of the best ways to achieve this is to pair a sweet morsel with a savory one. This is because salt enhances sweet flavors. That is why salty cheese like brie contrasts well with grapes. 
Drinks like wine, champagne, or cocktails are also prepared with charcuterie boards to complement the textures and flavors of the morsels. Remember, the secret is to know what morsels go well with one another. So, treat your cheese boards as your personal culinary adventure and explore the delectable pairings you can offer to your guests. 
What To Put On a Charcuterie Board?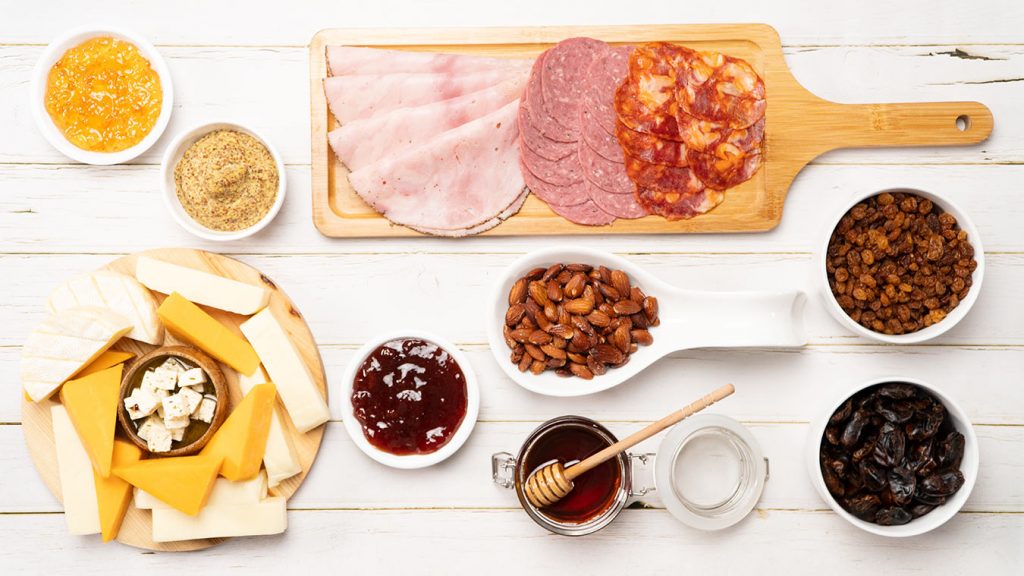 Essentially, a charcuterie board is all about mixing and matching until you find a good combination of morsels that complement one another. So focus on taste, variety, and texture.
There are five main components to a charcuterie board: 
Meats 

Cheeses

Spreads and Condiments 

Accents 

Beverages  
Best Meats for Charcuterie Board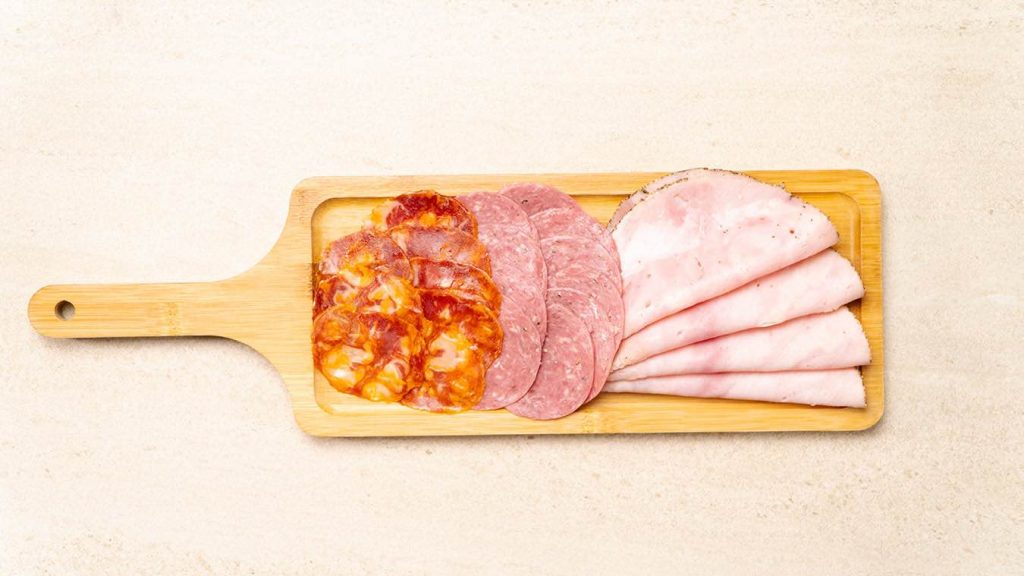 To make the best charcuterie board, we recommend using a variety of cooked and cured meats to balance the overall flavor profile. Cured meats like prosciutto and salami are more robust in flavor, so throw in some cooked honey-baked ham into the mix for added sweetness. 
Here are some of the popular meats to use:
Serving size per person: Depending on whether your charcuterie board is an appetizer or the main course, we recommend preparing 2 to 5 ounces of meat per person.
Best Cheeses for Charcuterie Board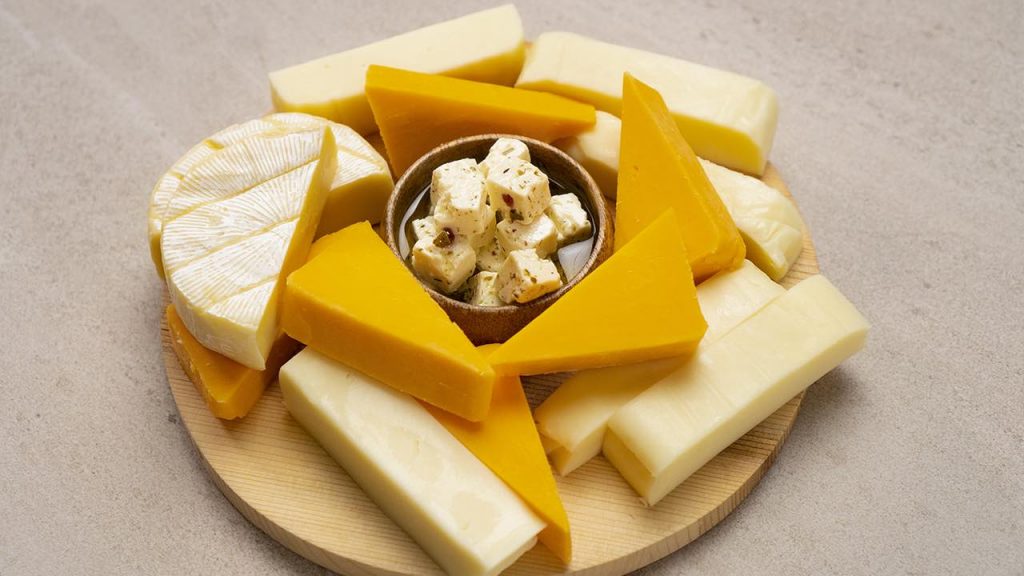 You always need a variety of cheese for a charcuterie. Include some aged cheese like aged gouda or asiago with soft varieties like brie or burrata. Finally, rich blue cheeses like Roquefort can help create the most flavorful boards. 
A variety of cheeses that you can use are: 
Soft cheeses: Brie, ricotta, burrata, feta, mascarpone 

Semi-soft cheeses: Havarti, Muenster, mozzarella 

Firm cheeses: 

G

ruyère, manchego 

Hard cheeses:

Blocks of

parmesan, aged Gouda, aged cheddar, Romano  

Blue cheeses: Gorgonzola, Stilton, Dunbarton blue
Serving size per person: About 2 to 3 ounces of cheese per person
READ ALSO: 23 Different Types Of Cheese, Explained
Best Spreads and Condiments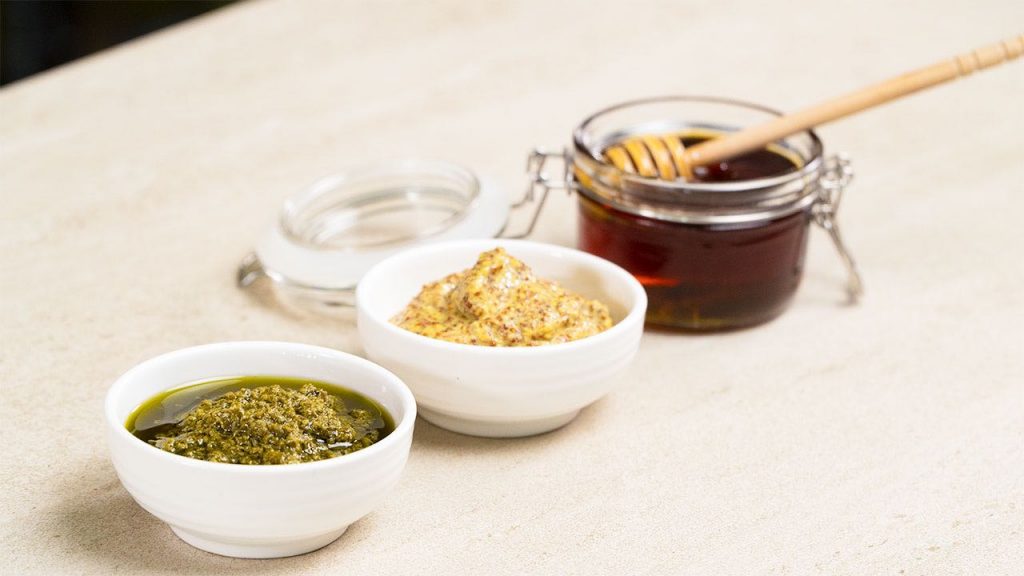 Also known as accouterments, spreads, especially spreadable meats and condiments, is the third component in cheese boards. Typically, these are used to provide added richness to your morsels and enhance flavors. 
Commonly used spreadable meats and condiments in charcuteries are: 
Pâté

Rillettes (pronounced ree-yet)

(Spiced) Honey and fruit jams

Mustards: Dijon, Tangy, Stoneground 

Tapenades

Hummus and bean dips 
Serving size per person: A saucer or two for each spread and condiment is a good serving size for charcuteries. 
Best Crackers and Bread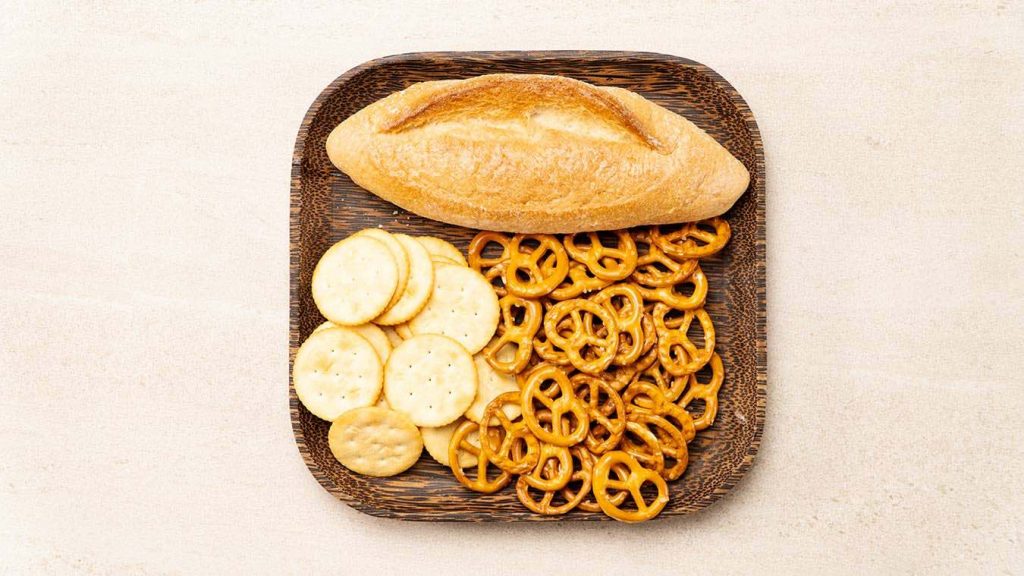 You'll also need some bread and crackers to go with your spreads and condiments. Do not choose strong-flavored crackers and bread loaded with cheese and herbs, as we do not want them overpowering the meats and cheeses. So, when choosing your crackers and bread, select only within this variety: 
Plain flavored crackers

Whole grain and wheat crackers

2-in-1 fruit and nuts crackers

Sea salt flavored crackers

Pretzels

Raisin pecan rye 

Breadsticks

Flatbreads 

French bread: sourdough, toasted baguettes 
Serving size per person: 3 to 8 ounces
Best Fruits, Pickles, and Nuts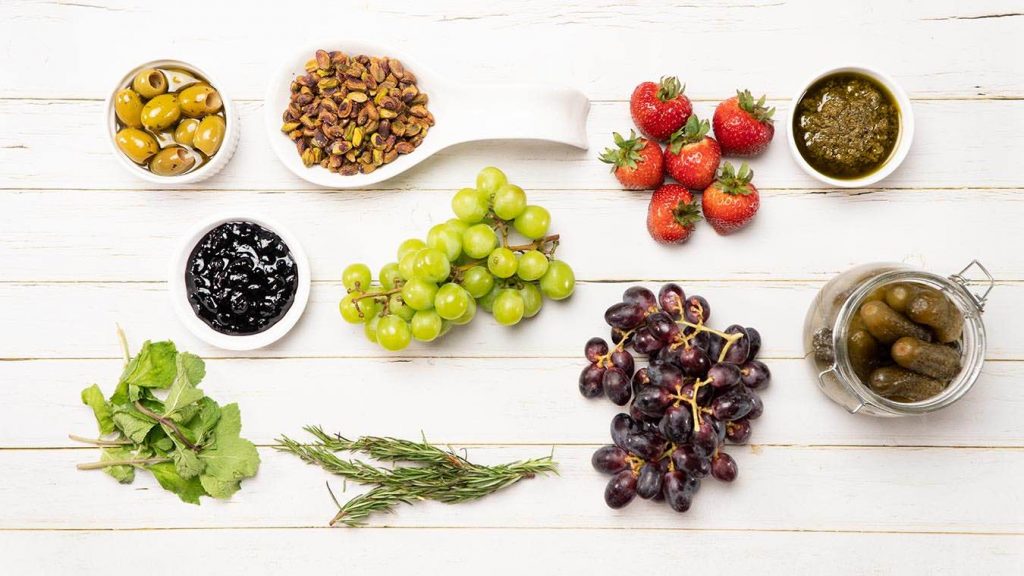 Fruits, pickled vegetables, and nuts are food accents that enhance flavors and add textures in charcuterie boards. They also refresh your palate from all the rich and salty morsels. That is why most charcuterie boards contain many such accents. 
Here are some of the food accents that you can try to mix and match: 
Grapes

Strawberries  

Apple and pear slices 

Celery and carrot sticks

Cucumbers

Nuts: Walnuts, almonds, pistachios, caramelized pecans 

Dates and raisins

Pickles and olives

Herbs: Rosemary, basil, mint, oregano 
Serving size per person: 4 to 6 pieces of fruits and vegetables and a handful of nuts 
Best Drinks to Pair With Charcuterie Board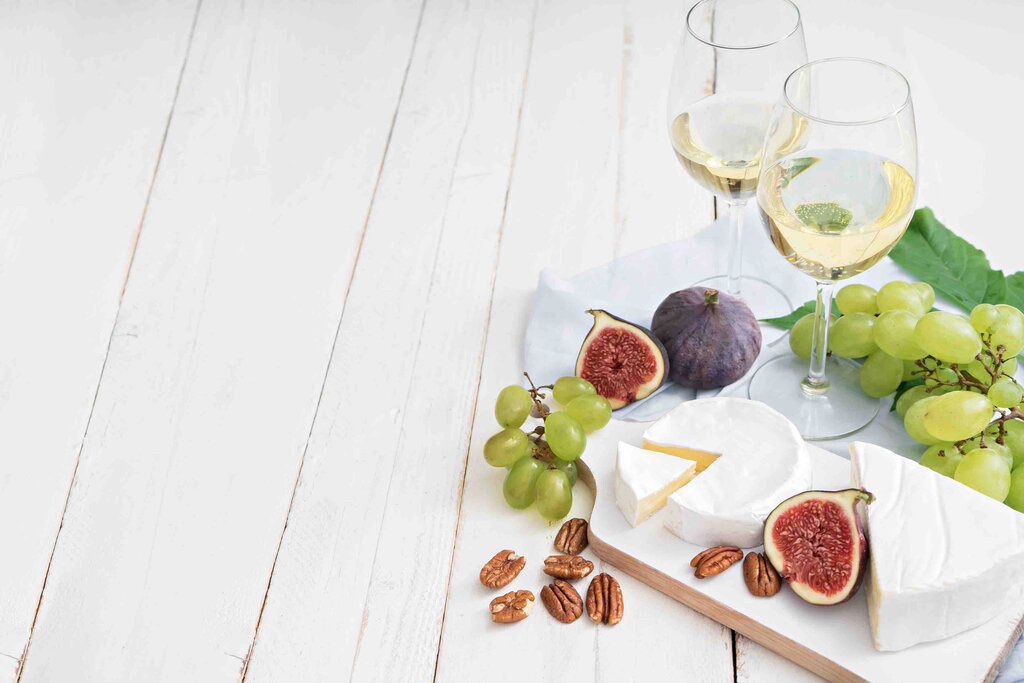 A charcuterie board is only complete when you have some beverage on the side. While we recommend opting for alcoholic beverages like wines and cocktails for that full French cuisine experience, non-alcoholic beverages will do just fine as well. 
The choice of your alcohol generally depends on the meat and cheese on your platter. Meat goes well with alcohol that has similar characteristics and does not have overpowering flavors. Generally, delicate meat goes well with white wines or light reds, while mild meat with medium-bodied wines. Sweet wines also pair well with salty cheeses.
Cocktails: Negroni cocktail,

Manhattan cocktail 

White wines: Sauvignon Blanc, Pinot Grigio, Chenin Blanc

Light reds: Pinot Noir, Syrah

Medium-bodied wines: Cabernet Franc

Full-bodied wines: Merlot

Non-alcoholic drinks: sparkling water or mineral water with lime, stevia sodas 
Serving size per person: 1 to 2 glasses 
READ ALSO: Sweet Wines: All About Its Types & Best Brands To Try
How To Make a Charcuterie Board
The next most important step when making a charcuterie board is arranging the morsels. If you've noticed, everything you put on a charcuterie board, down to the cutlery, is all well thought of. In a way, charcuterie boards are like your very own culinary handicraft. The goal of charcuterie boards is to be visually appealing, flavorful, and practical. That is why it is just as important to ensure the foods are arranged in the most convenient way possible for your guests to enjoy.  
Prepare your foods in bite-sized pieces and always work in odd numbers.
Just like decorations, odd numbers of morsels look better on your board.  Take note of the color combinations. Spacing out similarly colored foods helps create a more vibrant board. Use your accents to help separate and distinguish the foods. 
Here are the steps to show how you can make a charcuterie board: 
Choose the ideal board and utensils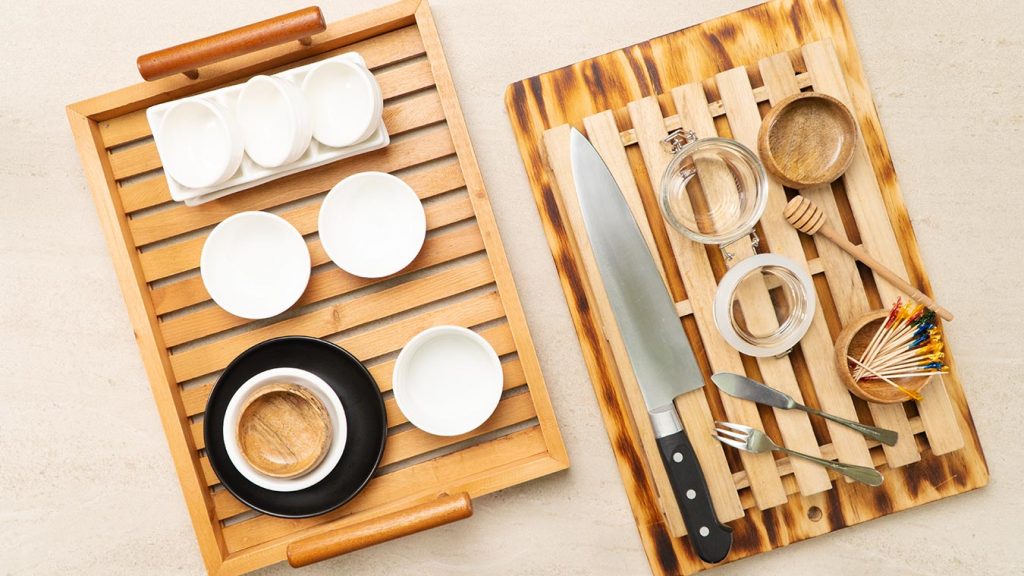 The size of the boards you choose depends on the size of your party. If you have a larger party, go for larger boards or use multiple smaller ones. You can also use any wooden serving boards, cutting boards, and plates if you like. 
We also recommend using matching spoons, forks, and cheese knives since they add aesthetic to the ensemble. You also need ramekins and soufflé bowls for your spreads, condiments, and pickled foods.
READ ALSO: 15 Best Electric Knives To Get
Always start with the cheese

Cheese helps anchor your board, so start with them. Arrange the cheese slightly off-center. Start by slicing your blocks of cheese into bite-sized pieces. You can either slice them into triangular pieces, cubes, or rectangular slices. Remember to work in odd numbers so choose between three, five, or seven types of cheeses. 
Slice, fold, and assemble the meat

Next, add the meat to your board. Slice, fold, then place them in the spaces between the cheeses. Ideally, you'd want to fold them into a half-moon shape and fan them out like a deck of cards. For larger meats, cut them up into quarters and fold them into a scroll. 
To make your board even more visually aesthetic, try folding the meats in a variety of ways. For thin meats like prosciutto and pepperoni, you can fold them like a ribbon. For greater variety, try folding meats that come in round shapes like mortadella or salami into a rose.  
Add your sweet accouterments

The key to better arranging your spreads and condiments is to place them next to the foods they complement. We recommend starting with sweets like honey and jams since most meats and cheeses are already savory.
In addition to what we already mentioned above, you can also add in any nuts you like. You can add herbs, pickled preserves, spreads, and condiments. Just be wary that wet condiments and food shouldn't touch your dry goods or else you'll risk mixing in all of the flavors.
Add pickles and savory sauces

After arranging the sweet condiments, add the pickles and savory sauces like mustard and pesto. Do note that foods like pickles and olives should be in ramekins and small bowls so that other food items do not get wet and soggy.
Arrange bread and crackers

Next, slice up your choice of bread and place them near the jams. Arrange your other crackers around the other spreads and condiments.
Add your fruits and vegetable accents near the cheese

Because fruits and vegetables are easily the brightest colored morsels on charcuterie boards, place them around the cheeses and meats to add a pop of color.
Fill the remaining spaces with nuts, dried fruits, and herbs

Finally, fill up the remaining spaces on the board with nuts and dried fruits like dates. Then, finish off with some sprigs of herbs that you can place around the middle to brighten up your charcuterie board. 
Serve the drinks

When you are ready to serve your guests, pour some reds or bubbly at the side. If not, refreshing lime soda or sparkling water is also the perfect complement for your charcuterie board.
The rule of thumb is to not have any of your spreads and condiments in the center. For one bowl, place it off-center. If you have two, place them at opposite corners of the board. For three, arrange them into the shape of triangle on the board. For four and more, have some bowls on the board and the rest around it.
Making Your Own Charcuterie Board Is Actually Quite Easy
While it may seem difficult at first, making your own charcuterie boards is easier than you think. And the best part is how easily customizable it is to suit your own taste. If you're making this at home, gather your family or friends and make the best charcuterie board together!