Advertisement
Continue Reading Below
Are you one of those people who're constantly on the prowl for aesthetic party food trends? If you are, then we're sure that by this time you have already heard of charcuterie boards. They have been around since the 15th century, but it's only until recently have they become famous to newer generations thanks to social media.
One of the reasons they rose into popularity is because of their aesthetic, dubbed as being "Instagrammable". The way the meat, cheese, crackers, and some fruits are placed makes charcuterie sets visually appealing that one can't help but buy one. This is why many social media users have turned into charcuterie influencers or food influencers.
In the past, charcuterie sets were limited to fancy events and major holidays, where they often make holiday cheese boards, which have everything you might want for a feast. Today, people take delight in the fact that they can enjoy them on a simple picnic, a romantic dinner date, or even for a movie night. However, buying a premade charcuterie board is pricey. Luckily, making one is easy too (though beware that some cutting will be involved). If you haven't got a clue on how to make one, sit through this article to find out what you'll need to do and what ingredients you need to add to your shopping list!
What Is a Charcuterie Board?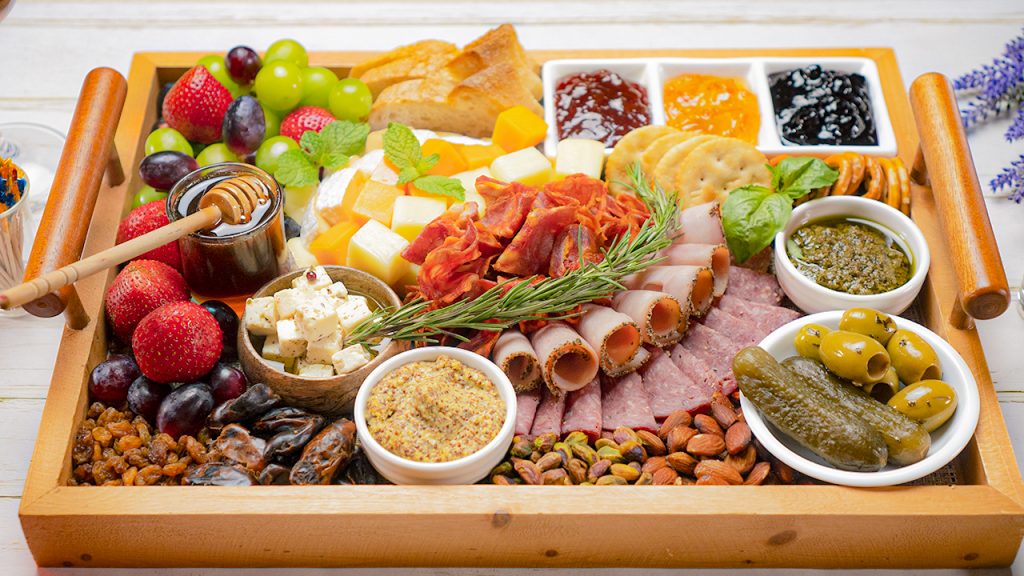 Charcuterie board (pronounced as shar-koo-tuh-ree) is a display of assembled cured meats, variations of cheeses, fruits, crackers, fresh herbs, and spreads and condiments to name a few. To add, charcuterie is a French term for curing meats such as bacon, ham, sausage, terrine, and pâtés. That is to say, cured meats are easily the stars of this party tray. But after a while, people started associating charcuterie boards with cheese, thus the name cheese board. Nowadays, they have become synonymous and their names have been used interchangeably.
When you make a cheese board, it's important to remember one of its basic goals: create contrasting flavors in each bite. You do that by mixing and matching ingredients. For example, salty cheese contrasts very well with sweet grapes. Likewise, feta cheese also goes well with honey and sweet wines.
To give you a head start, why don't you try this simple charcuterie board recipe that needs just a few ingredients? And if you want, you can also pair it with either wine, champagne, or a cocktail. Remember, the secret is to know what morsels go well with one another.
What You Need When Making a Charcuterie Board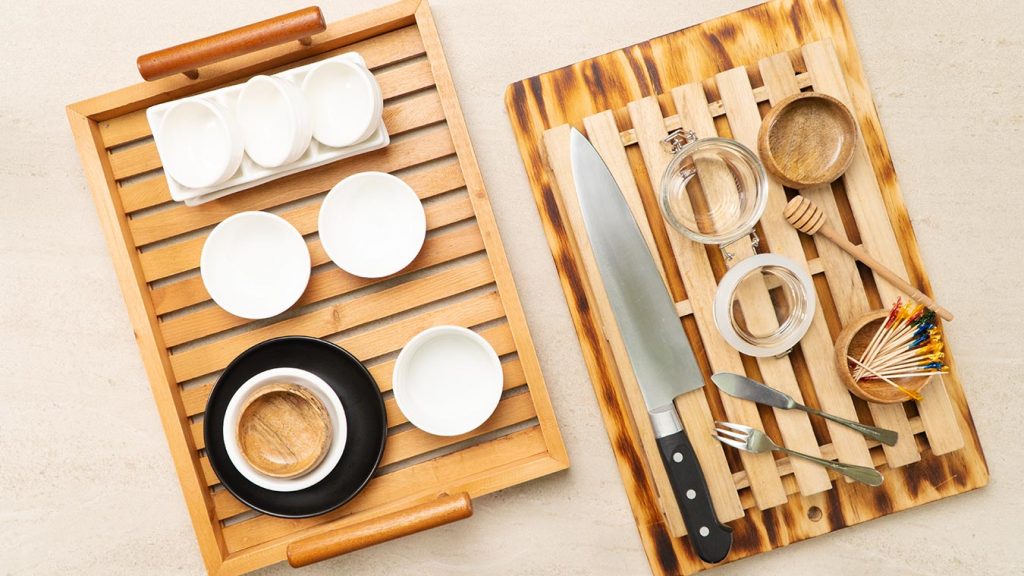 Making a fabulous first class cheese board does not necessarily need fancy equipment. We did mention it's an art, so naturally, the key to a beautiful cheese board is how you place delectable morsels.
Now that you know more about cheese boards, let's see what you need:
Serving Board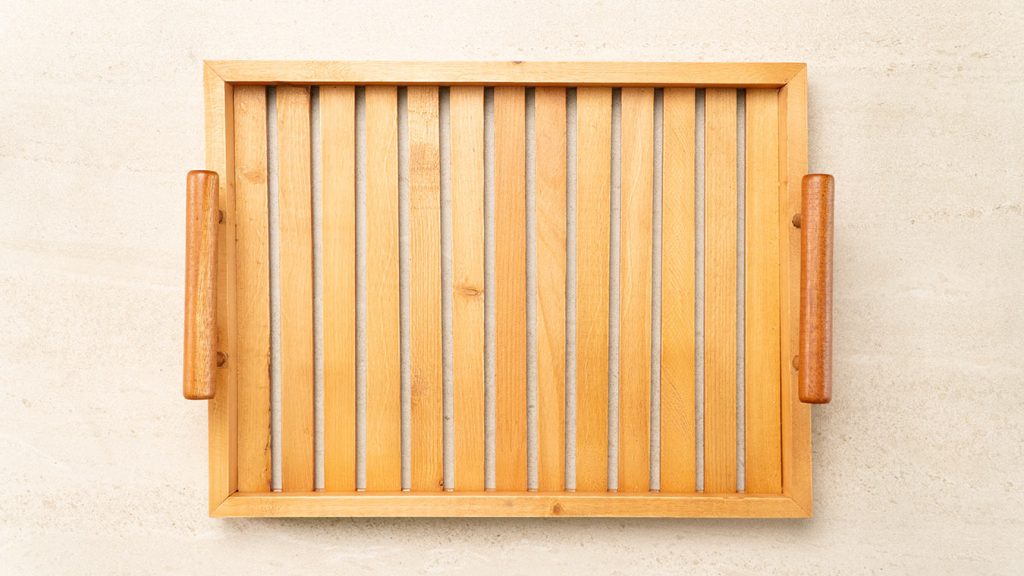 Cheese boards exude rustic aesthetics, and so it's important to take this into account when picking the right board. A rimmed board should also be useful in keeping runaway grapes and olives in place. If you don't have a wooden serving board, any wood platter and serving platter will work just fine. Compensate with how you place meats and cheese instead.
Serving Utensils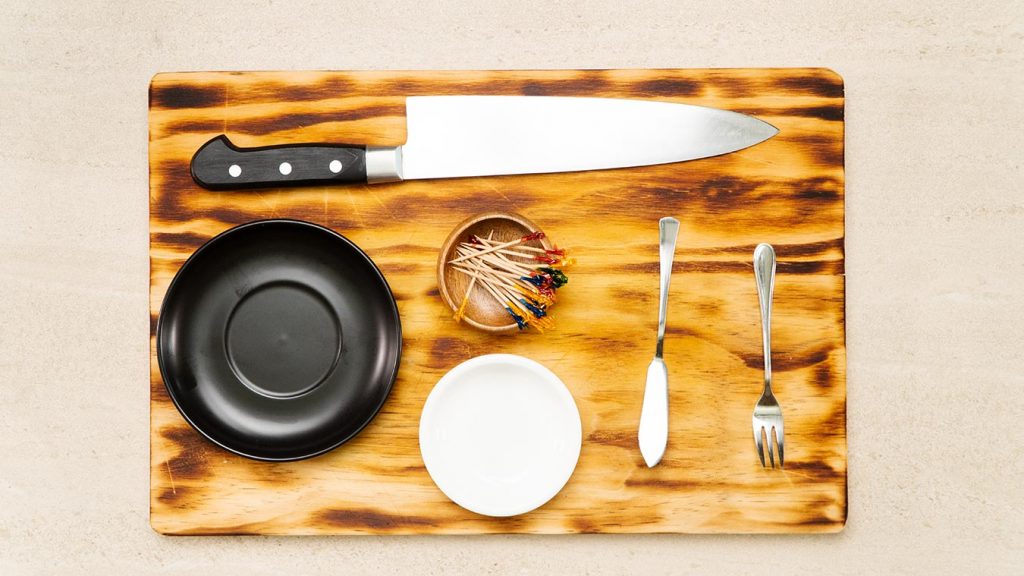 The cutlery sets you use for your cheese board are just as important as the serving board you put it on. It adds aesthetics to the ensemble. For this reason, many opt to get matching spoons, forks, and cheese knives.
READ ALSO: 15 Best Electric Knives To Get In 2021
Advertisement
Continue Reading Below
Small Bowls, Ramekins, and Souffle Dishes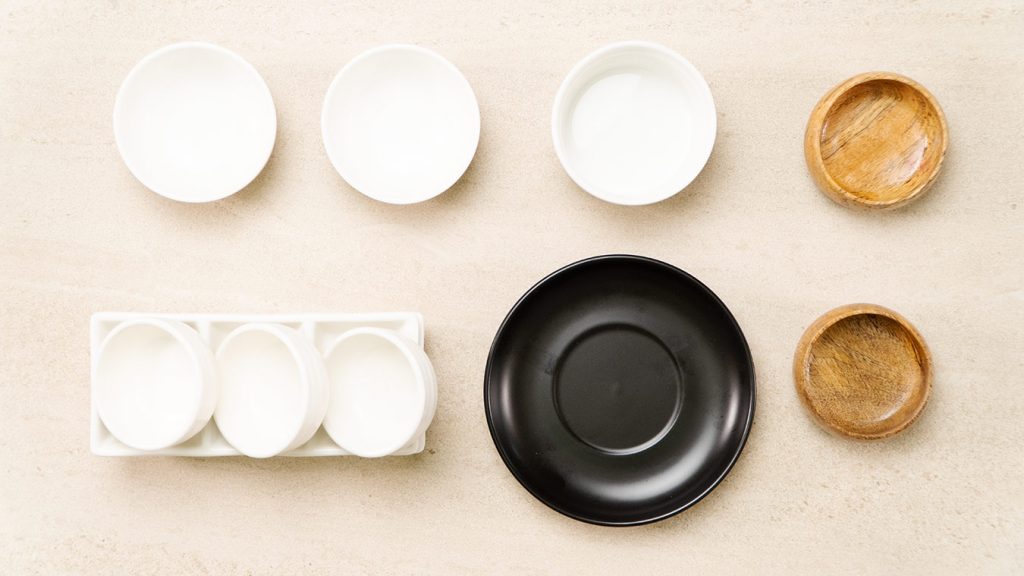 You also need small bowls, ramekins, and souffle dishes for your cheese board. Their primary role is to contain spreads and wet ingredients such as honey, jam, olives, and pickles, but you should also mix and match dishes you put on the board. And so be sure to put different sizes and colors as well to create an aesthetic vision.
What To Put On a Charcuterie Board?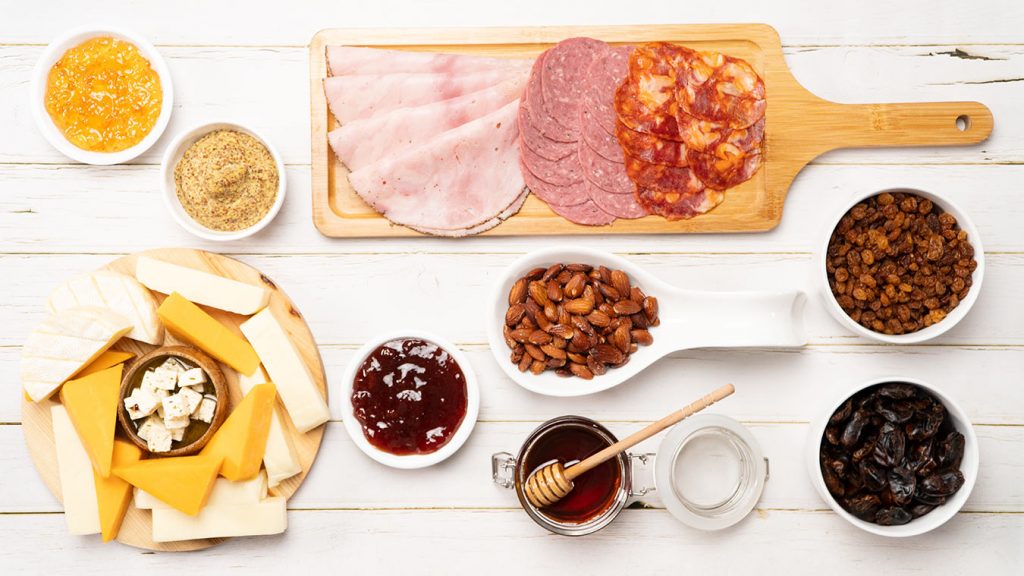 When putting up a cheese board, you must know what you'll need to focus on. Otherwise, you'll end up putting random food that does not even go well together. To help you get started, focus on taste, variety, and texture. With that said, knowing how to mix and match morsels that complement each other is a skill that you should have when you're trying to make a cheese board.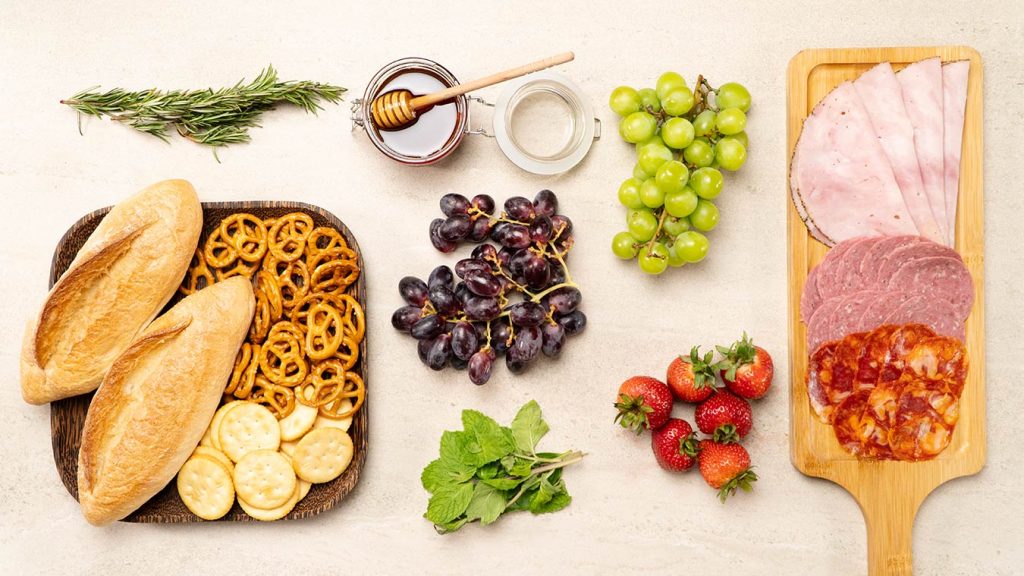 For example, sweet and salty go well together like brie and grapes or berries. But, you can also pair sour with salty. Perhaps like feta cheese and pretzels or salty crackers. If you're not into feta, you can try gruyère cheese instead. You can pair gruyère with crackers and wine on hand. Of course, you can pair sweet with sweet and salty with salty. But the idea of a cheese board is to bring out and enjoy contrasting flavors in morsels you put together.
Aside from cheese and crackers, you'll also find cured meats. You can pair them with champagne if you'd like or perhaps wine if that's what you prefer. The rule for complementing meat with alcohol is to pair those with similar characteristics together. For example, you can pair delicate meats with white wines or light reds such as Sauvignon Blanc and Pinot Grigio or Pinot Noir. This is so that the drink doesn't overpower the taste of the meat. Meanwhile, you can easily pair mild meats with a medium-bodied wine like Cabernet Franc. And lastly, strong meats like mortadella go well with full-bodied wines similar to Merlot. If you're impartial to wines, you can also prepare a cocktail. Prosciutto pairs well with a negroni cocktail.
READ ALSO: Sweet Wines: All About Its Types & Best Brands To Try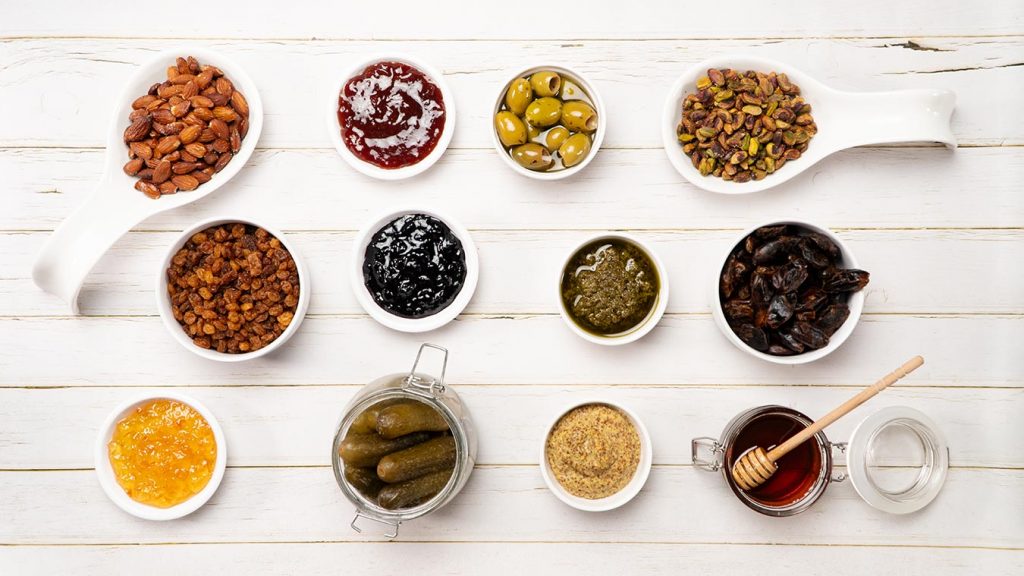 In addition to what we already mentioned above, you can also add in any nut you like. You can add herbs, pickled preserves,  spreads, and condiments. Just be wary that wet condiments and food shouldn't touch your dry goods or else you'll risk mixing in all of the flavors.
How To Make a Charcuterie Board
If you noticed, everything you put on a cheese board is well thought of even down to the cutlery that you will use. It's easy to say, everything you put on a cheese board adds beauty to it. So, keep this in mind when you try making one for the first time.
Aside from making it look beautiful, it's also just as important to arrange food in a way that guests would have less trouble grabbing what they want. To achieve that, make sure the food is bite-sized and spread throughout the board.
Here's what you have to do:
Get your block of cheese. If you have brie, cut a small pizza-like portion off it and start arranging it first on the board, like you would with big blocks of fresh mozzarella. Put them wherever you like. Other big pieces should also go in first.
Pickled and preserved foods. Prevent other food items from getting wet by placing them on ramekins or small bowls.  You should also arrange these first before placing smaller items so you can design and work around your space.
Arrange sliced cheese. Next, grab your cheese slices and arrange them around the board.
Slice and fold cured meats. Cut your meat products thinly and fold them. Or you can also make it seem like a flower. You don't have to fold other meats like sausages. Arrange meat by fanning it out around the board, preferably near cheeses where they pair up nicely.
Place spreads and condiments. Station these near meats and cheeses that complement them well. This is so if one accidentally spills a drop or two, it would be okay.
Arrange crackers and pretzels. Fill huge spaces with crackers and pretzels. Be sure to fan them out too throughout the board.
Add fresh fruits. You can also use berries, cherries, pears, and apples. Fresh fruits should also be placed where they're best paired with. For example, apples go well with gruyere cheese. Meanwhile, pears and berries are complementary to mozzarella.
Fill holes with nuts and herbs. Fill the remaining holes with either nuts or herbs. At this point, you may also place random fruits and herbs around the board. Placing strawberries and fresh herbs at random parts of the board also makes the board more visually appealing.
Making Your Own Charcuterie Board Is Actually Quite Easy
DIY charcuterie boards are actually quite fun to make. Charcuterie gift baskets you buy at stores are also relatively expensive than the ones you make at home! This is also a good way to have everything you want on a cheese board. Lastly, here's a simple tip: if you're making this at home, make it a family project and work on things you would like on a charcuterie board together!
Advertisement
Continue Reading Below