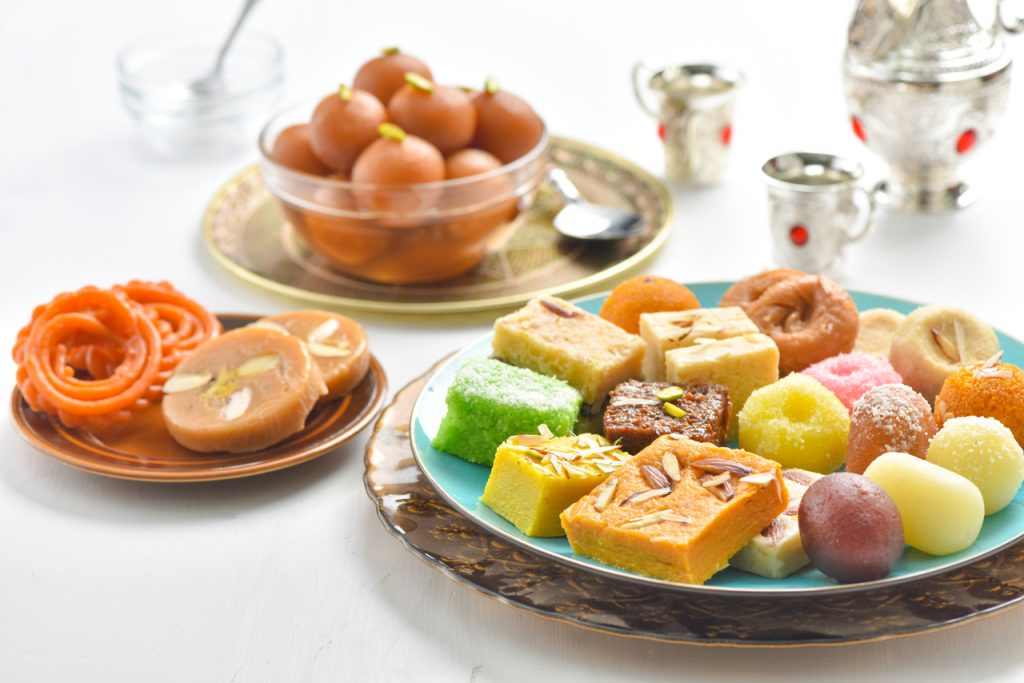 18 Indian Desserts You Can Make At Home
With the vast delightful dessert options offered by different cultures from different parts of the globe, it's no wonder why they say to leave a room for dessert. If you have a sweet tooth and are planning to explore the world of sugary treats, then we recommend you try Indian desserts! These colorful and delectable Indian sweets are perfect for every sugary craving with the perfect blend of sugar, spice, and everything nice.
Now, worry not! There is no need to go to India since we got you here a handy list of the best and easy Indian desserts that you can try making at home.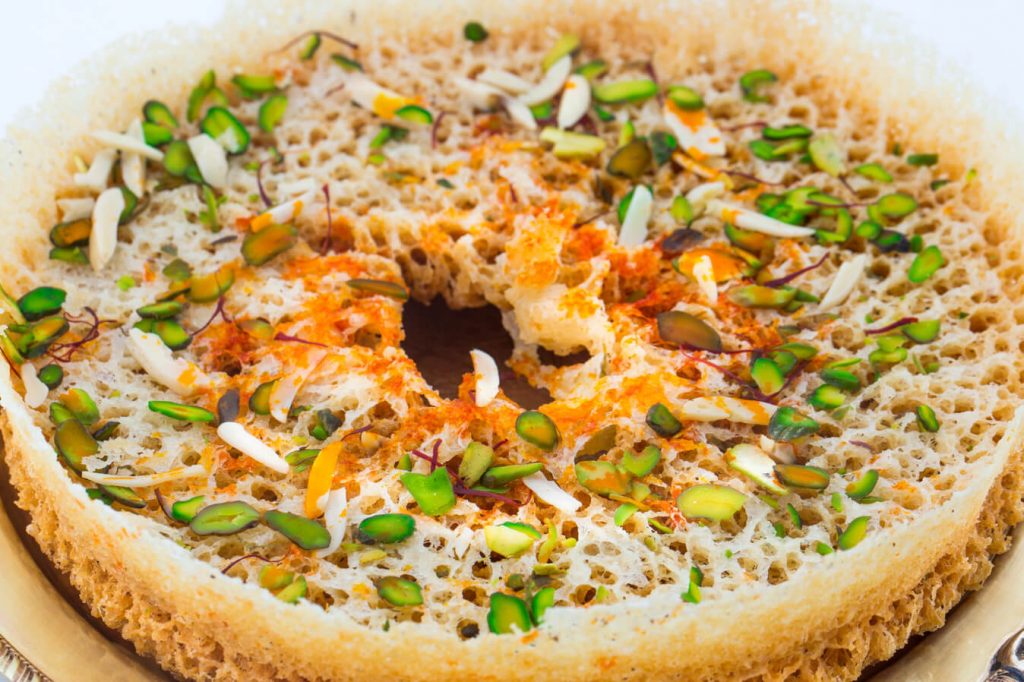 01 of 18
Ghevar
Ghevar is one of the best Indian desserts that you can make for a party or festival. This treat is also known as "honeycomb sweet" because of its honeycomb-like pattern. It is light, porous, and crunchy, mainly made of maida (flour) and ghee (clarified butter), and is perfect for everyone — whether you like sweets or not. It is very flexible as you can have it sweetened or unsweetened to suit your taste. Plus, you're free to mix and match it with different toppings you prefer.

For this recipe, we suggest you pair it with some sugar syrup and top it with a selection of your favorite nuts. But you can also use rabri (thickened milk), dried fruits, chocolates, or tutti frutti not only as added flavors but also to make the dessert more colorful.

Try Recipe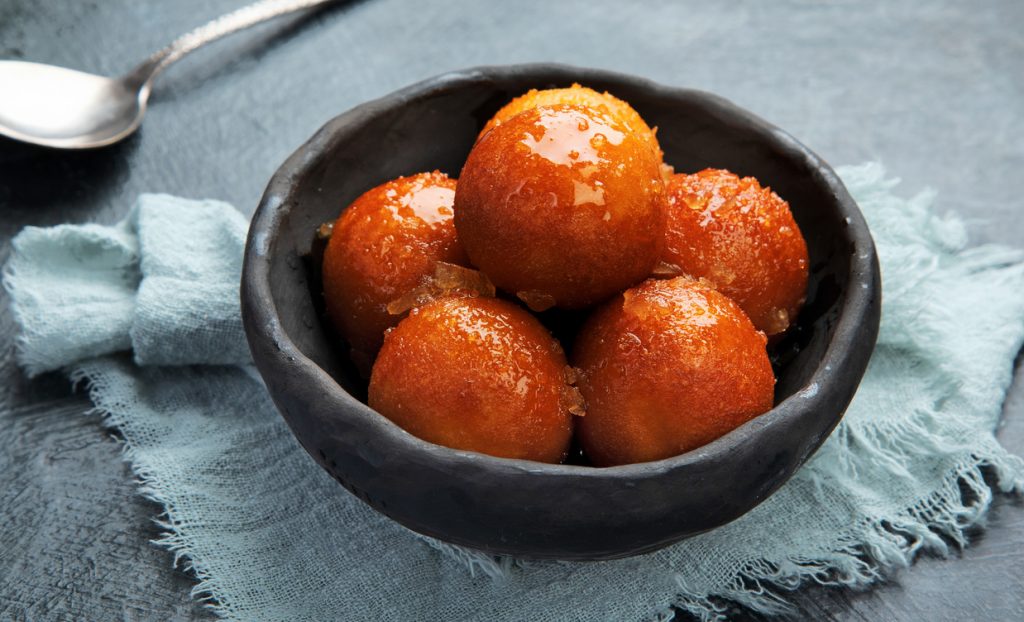 02 of 18
Gulab Jamun (Fried Dough Balls in Syrup)
Sweet gulab jamun, or fried dough balls in syrup, is one of the most popular Indian wedding desserts. Its name is derived from its appearance as gulab means "rose water" while jamun means "berry". This is because it is a berry-sized doughnut submerged in rose water syrup.

Traditionally, sweet shop owners, who are also makers of Indian desserts, use khoya or milk solids as gulab jamun's main ingredient. That is why it is also sometimes referred to as milk balls. From the caramelized sugar with a hint of spice from its doughnut to its sticky sweet syrup, this is definitely the answer to your sweet cravings.

Try Recipe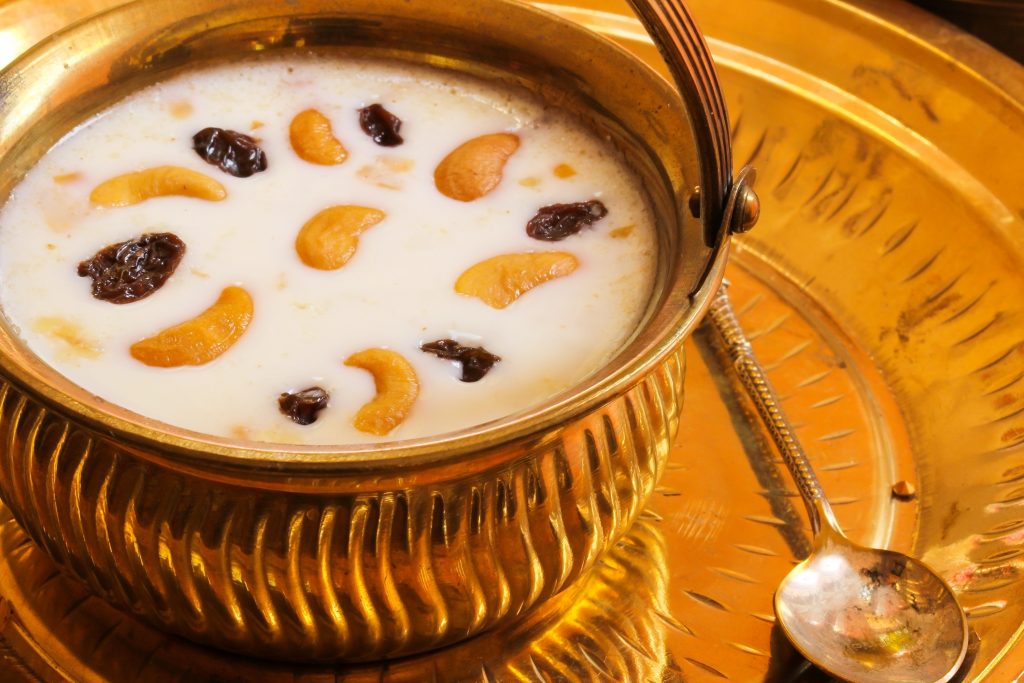 03 of 18
Kheer (Indian Rice Pudding)
Next on our list is Kheer, a sweet, aromatic, and creamy Indian rice pudding. The traditional version of Kheer uses rice as one of the main ingredients.  Although other varieties use vermicelli (rice noodles), sago (tapioca pearls), and even vegetables like pumpkin and carrots.

It is also one of the many Indian desserts with milk and is also flavored using different spices like rose water, saffron, and cardamom. You can also recreate this recipe by using other spices that you fancy or other cardamom substitutes available in your pantry. 

If you are looking for a vegan Indian dessert, you may also tweak this recipe! Use milk alternatives such as coconut or almond milk instead of the usual full-fat milk ingredient. You'll usually see this in every Indian gathering, but since it is easy to make, some also have this for breakfast or whenever they are looking for comfort food. 

Try Recipe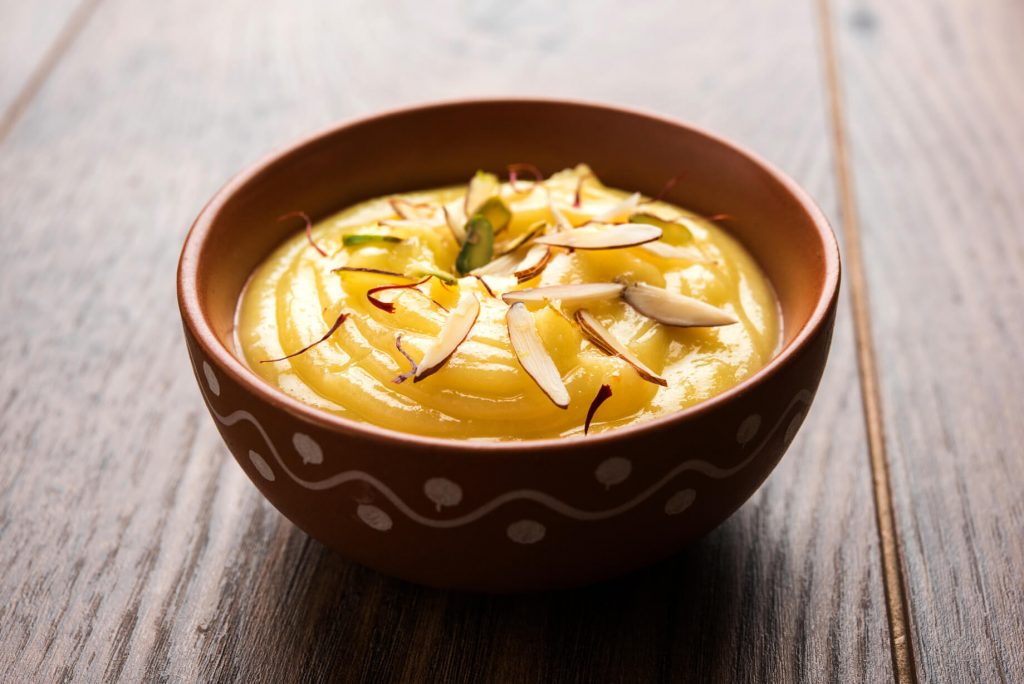 04 of 18
Shrikhand (Strained Yogurt)
Not a fan of overly sweet desserts? Try shrikhand! It has a perfect blend of sugary sweetness and sour tang of yogurt. At the same time, the aroma of the toasted nuts and spices added as toppings complement its flavor.

The traditional shrikhand recipe uses strained yogurt placed inside a cheesecloth and hung overnight to create a thick and creamy yogurt base. However, you can also use alternatives! For an instance, in this recipe, we used whipped strained yogurt to double its size. This treat is best served chilled.

Try Recipe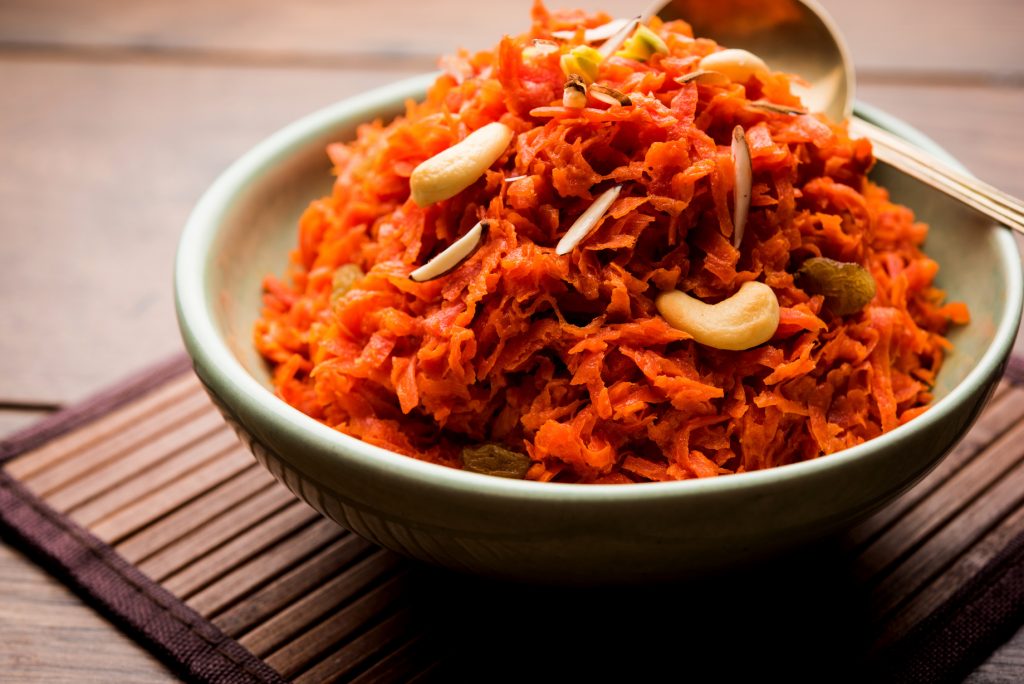 05 of 18
Gajar Ka Halwa
Looking for a healthy Indian dessert? Bring out your frozen carrots because we are going to make some gajar ka halwa. Gajar ka halwa (also known as carrot halwa) is a gluten-free Indian carrot pudding that has a rich and creamy texture because of the well-blended combination of milk, grated carrots, and sugar. This dessert has nuts and dried fruits for added texture and aroma.

You can serve this cold. However, we recommend trying the warm version as this sweet dessert can also bring warm comfort, especially during the cold winter or rainy days.

Try Recipe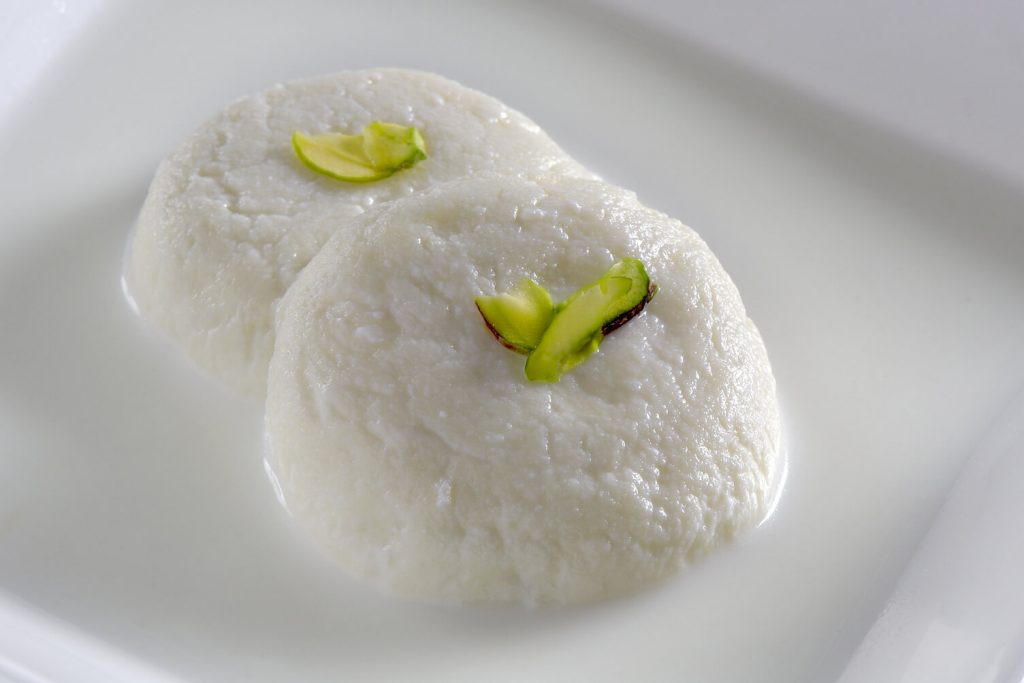 06 of 18
Rasmalai
This rasmalai dessert is a perfect combination of juicy, soft, and spongy texture! From the words ras meaning "juicy" and malai meaning "cream", the name rasmalai refers to the distinguishable paneer (cheese curd) balls dunked in a thick milky sweet syrup.

Like any other Indian dessert, rasmalai also has spices like cardamom and saffron, providing an added layer of flavor and spice. We suggest you serve this chilled with nut toppings like almonds for added texture.

Try Recipe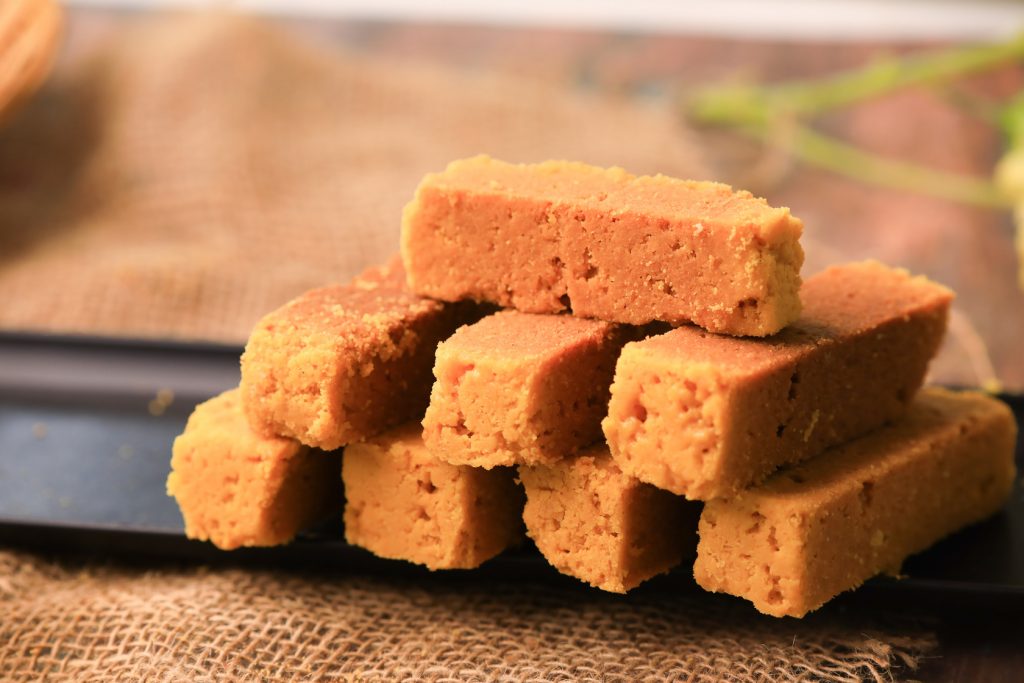 07 of 18
Mysore Pak
Believed to have originated from the royal Maharaja kitchen, Mysore pak is now a traditional dessert present at weddings, festivals, and even baby showers.

Mainly made of ghee (clarified butter) and gram flour (chickpea flour), this Indian dessert has two versions. One is the soft, fudgy type usually prepared by elders during gatherings. The other one is the crumbly, porous blocks that you usually see in Indian sweet shops.

This recipe is much like the latter, so expect a light, porous, and crunchy treat. It will definitely melt in your mouth once you have a bite!

Try Recipe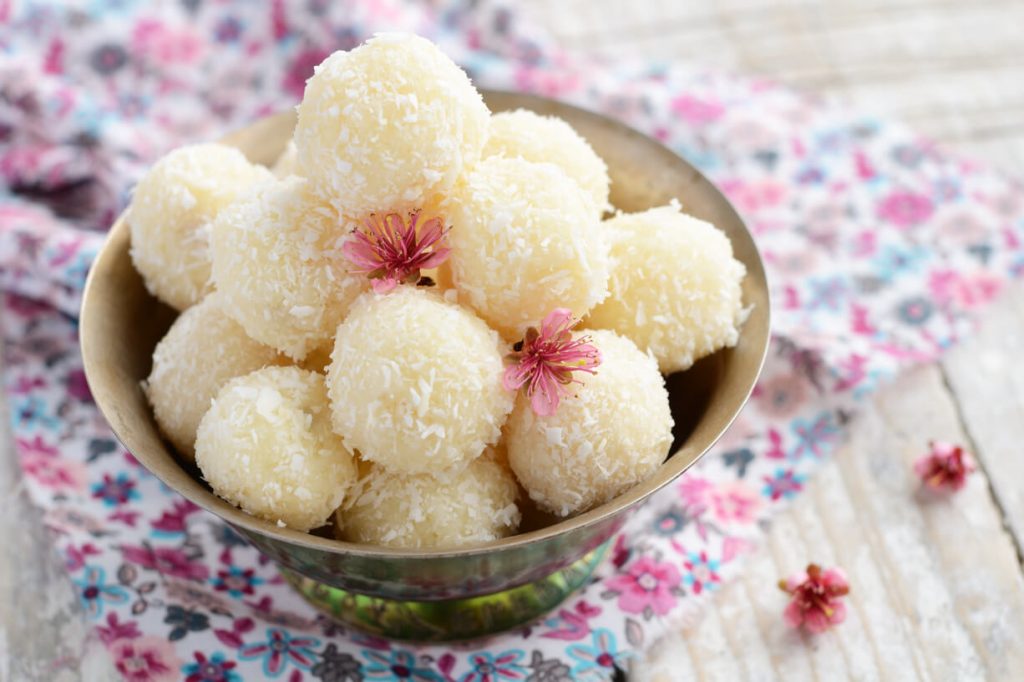 08 of 18
Coconut Ladoo
Sweet and nutty with a hint of cardamom, coconut ladoo is a festival hit dessert oozing with creamy and nutty goodness. Coconut ladoo's main ingredients are sugar, milk, and coconut. It is soft, fudge-like, and has flavors that just burst in your mouth!

Try Recipe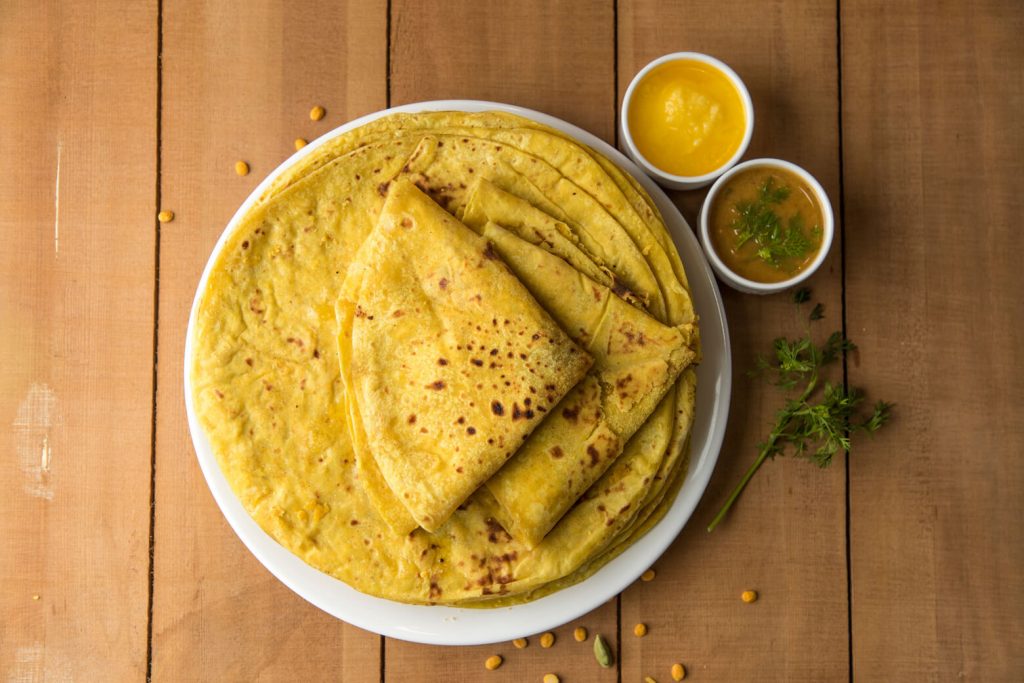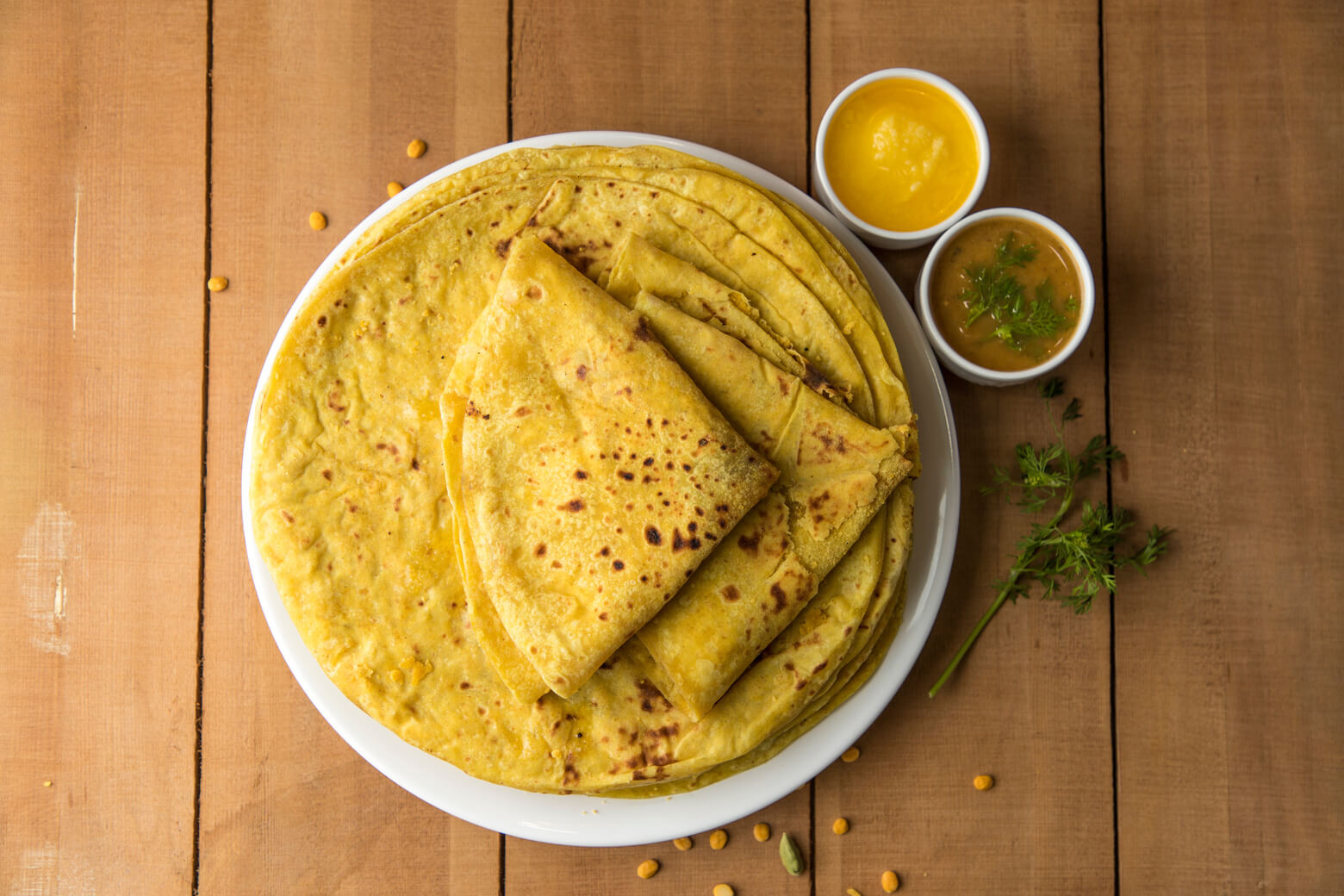 09 of 18
Puran Poli
Puran pertains to the sweet filling of this dessert made of lentils, jaggery (Indian dark brown sugar), and spices. Poli, on the other hand, means flatbread. The puran filling has a sweet, earthy, and beany taste, while the bread neutralizes the sweetness.

This dessert is a famous festival treat with vendors cooking it in front of you when you order. They'll usually show you how they place the filling inside a wheat dough, and how they rolled it thinly before placing it on a hot griddle. It is definitely fun to watch, but we think you'll find it more fun creating one yourself!

Try Recipe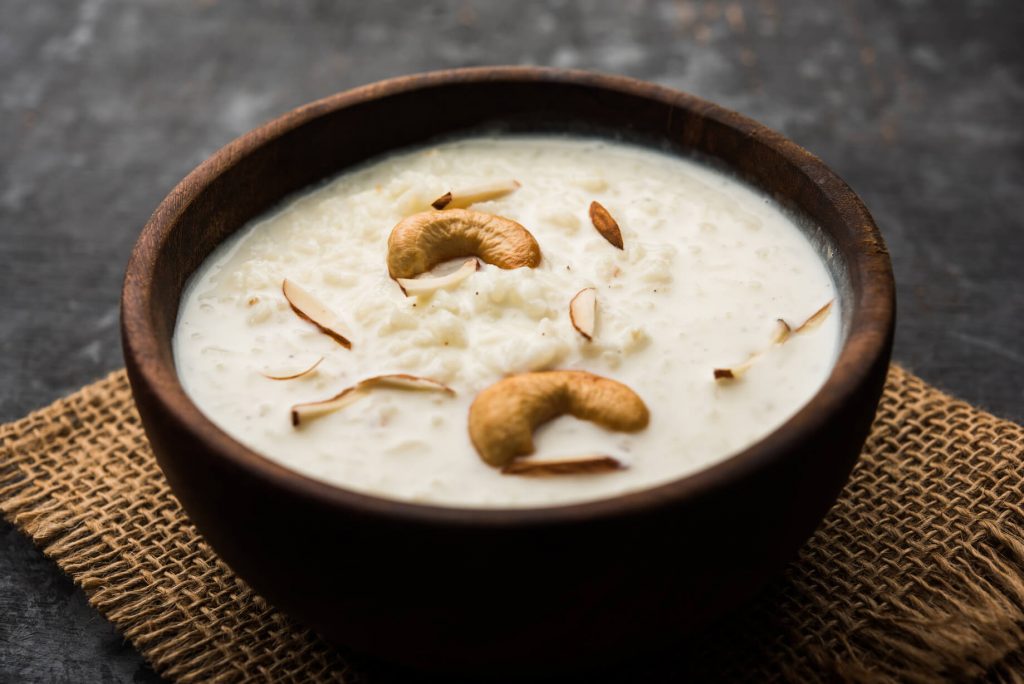 10 of 18
Phirni
Phirni, like kheer, is also made of rice. However, the phirni recipe uses coarsely ground rice grains to create a creamier and thicker consistency. Unlike kheer, which can be consumed hot or cold, phirni should be served chilled to let it set properly.

You may think it's like your typical rice pudding. However, phirni has a sweet, milky, and nutty flavor, with the slight taste of spices that also gives added flavor and aroma. Dried fruits are its usual toppings, but you are also welcome to use fresh or pureed fruits, like mangoes and berries.

Try Recipe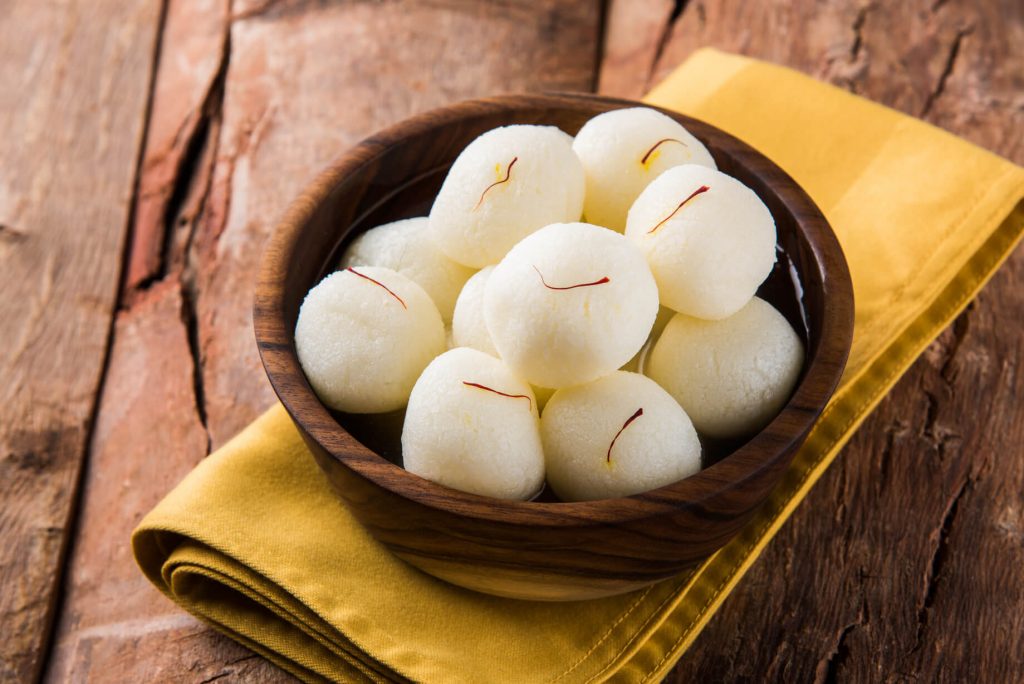 11 of 18
Rasgulla
Now, rasgulla may look identical to rasmalai, but they are slightly different. Rasgulla pertains to the soft and spongy ball dessert. However, submerging this juicy ball-like dessert in a creamy pool of thick milk makes it a rasmalai.

Rasgulla is sweet and milky as it is from curdled milk kneaded into a ball shape. Want to know how to make rasgulla? Check out our recipe!

Try Recipe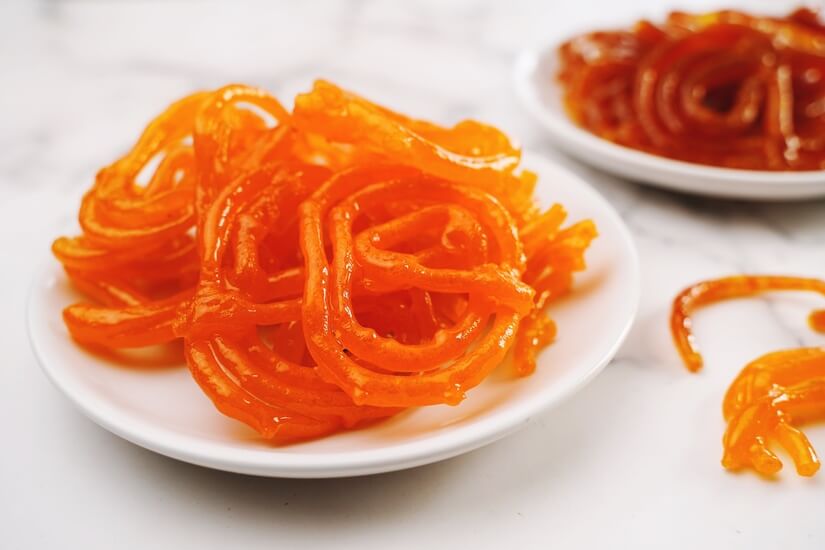 12 of 18
Jalebi
With its bright orange or yellow color, it's definitely hard not to notice jalebi once it's on the table. It is also recognizable because of its hoop-like design.

Since it's deep-fried and has a crystallized sugar coating, jalebi has a crispy and crunchy outer covering. However, its inside is soft and chewy. Want to have fun making this Indian dessert? Try following this easy jalebi recipe at home!

Try Recipe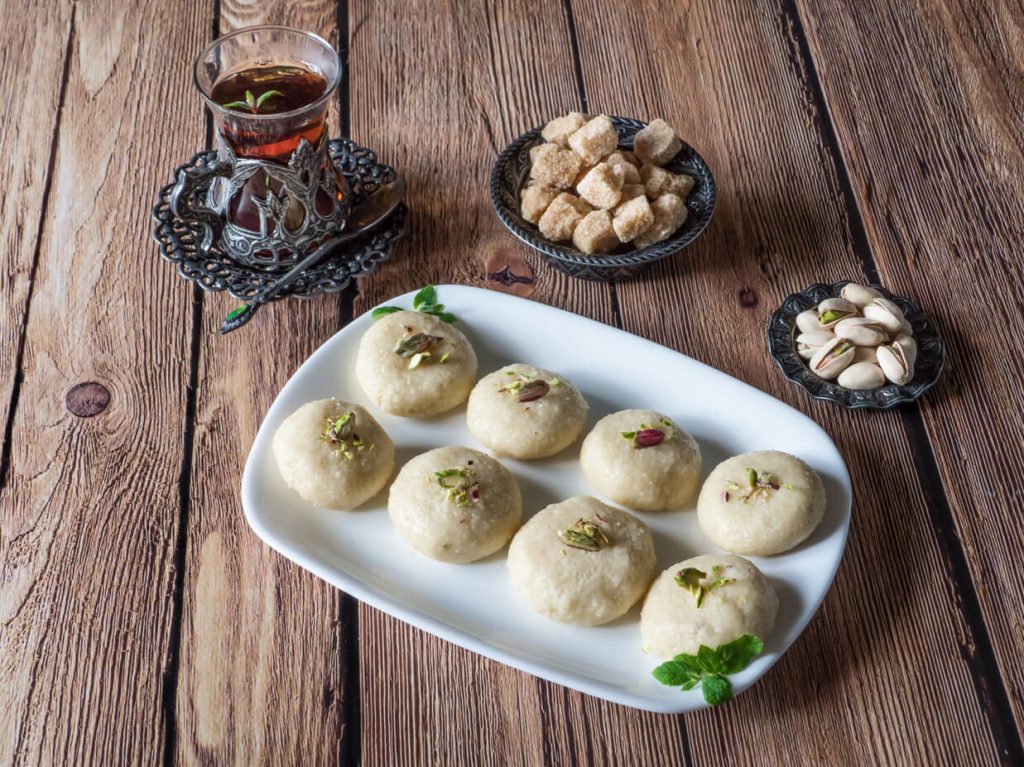 13 of 18
Doodh Peda/Milk Peda
Doodh peda (or milk peda) is a chewy and fudgy milk dessert popular in Indian celebrations. The traditional doodh peda recipe is made from milk and sugar, but it is more tedious to work on, especially if it is your first time creating this dish. So for this recipe, we included powdered milk for an instant version of this dessert that you can easily follow at home!

Try Recipe
14 of 18
Shahi Tukra
An Indian version of bread pudding believed to be served for royals, shahi tukra (meaning "royal piece") is made of crispy toasted bread pieces placed on a bed of rabri (condensed milk-based cream). With the perfect combo of crisp and melt-in-your-mouth creamy textures plus the harmony of sugary sweetness and a little spice, you will also feel like royalty once you try this delightful dessert.

Try Recipe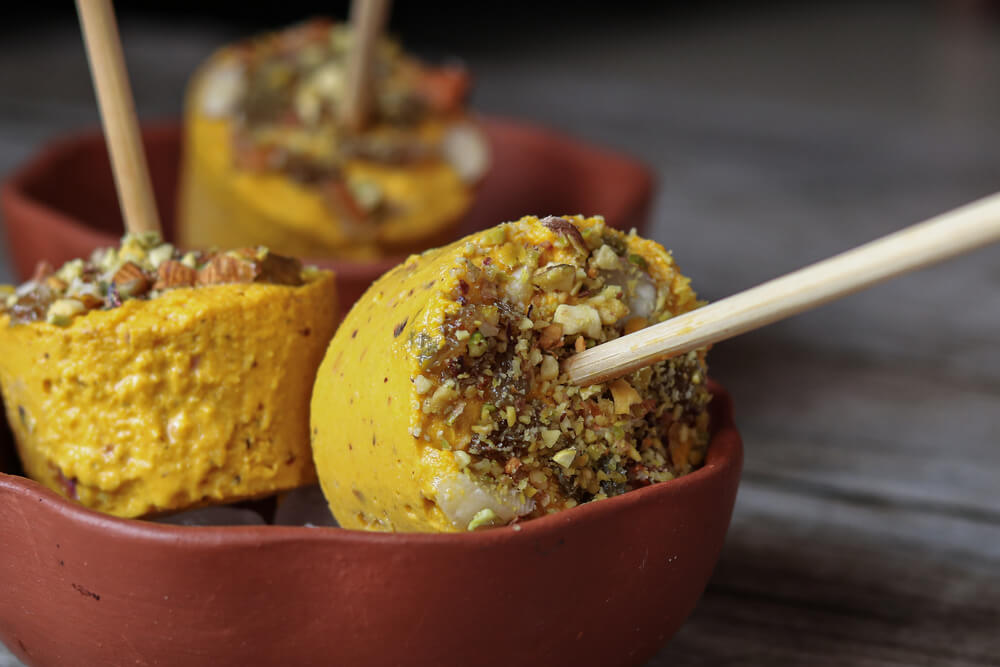 15 of 18
Kulfi
Of course, a dessert list will never be complete without ice cream. Kulfi, also known as Indian ice cream, is well-loved among Indian desserts, especially during summer. We have a mango kulfi ice cream for this recipe that is both sweet and refreshing! The cardamom and sprinkled pistachios provide an added flavor for guaranteed creamy goodness.

Try Recipe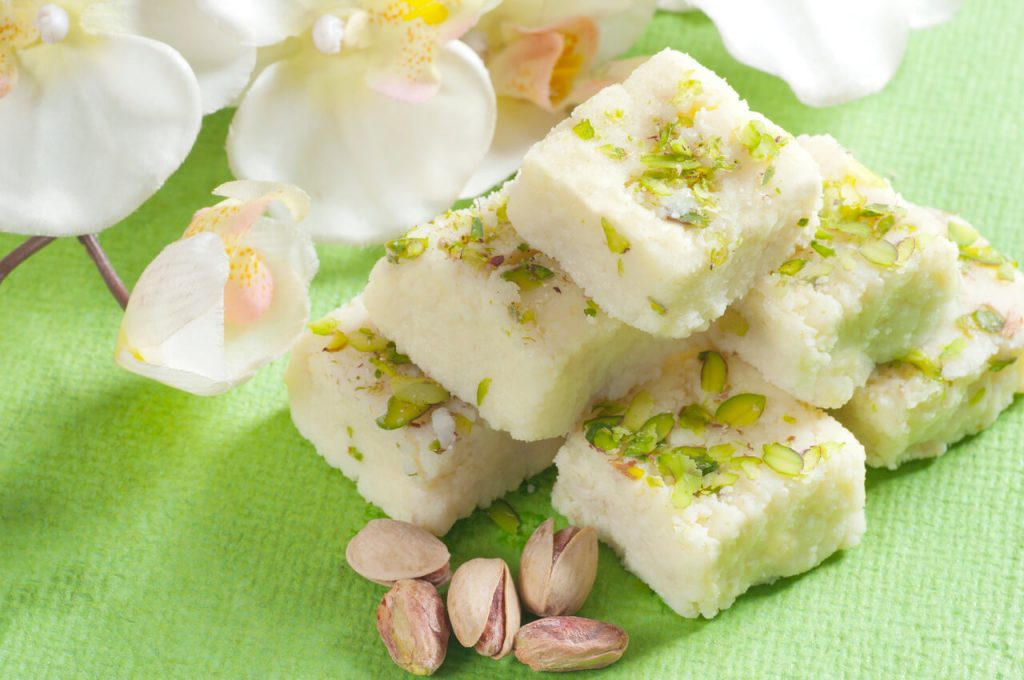 16 of 18
Kalakhand
Also known as Indian milk cake, kalakhand is a sweet dessert that you can easily whip up in your kitchen. This is not the same as your usual milk cake recipe as it is made of curdled cheese, sugar, and milk.

For this specific recipe, we used paneer (Indian curdled cheese), but you can also make kalakand with ricotta cheese. You can top it with pistachio or any selection of dried fruits for more flavor and texture!

Try Recipe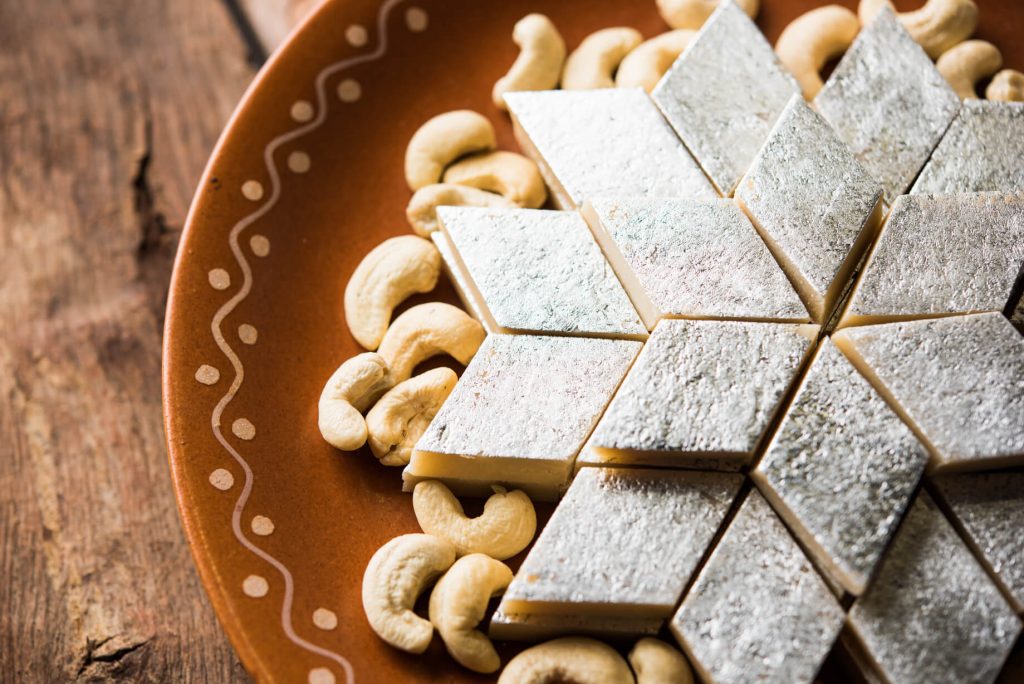 17 of 18
Kaju Katli
Kaju katli, which translates to cashew fudge, is a nutty, chewy dessert usually served during Diwali (Festival of Lights). Kaju katli only has three main ingredients: water, sugar, and cashews. With its diamond shape topped with a shining Chandi vark (silver leaf sheet), this dessert is not only delicious but also aesthetically appealing!

Try Recipe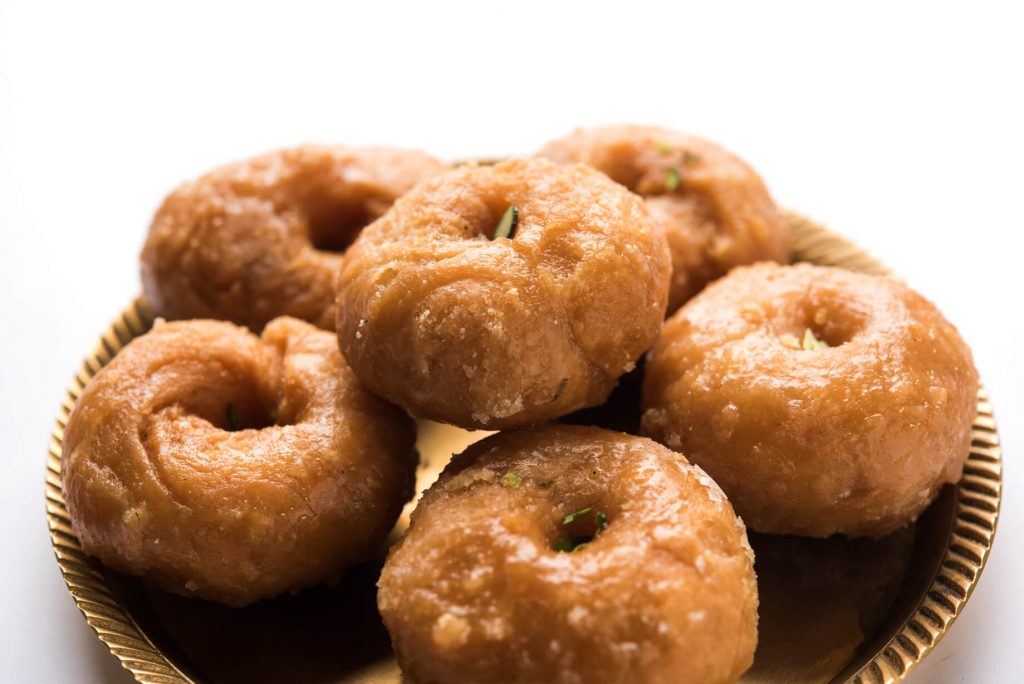 18 of 18
Balushahi or Badusha (Glazed Indian Doughnuts)
Sticky, sweet, and crunchy, balushahi or badusha is a dessert made of deep-fried dough balls with a sugar syrup glaze. They say this delicacy is India's take on glazed doughnuts. The sugar syrup becomes a snappy sugar coating once it cools down. This provides an additional texture while you munch this delicious dough ball! You may also add nuts or dried fruits as a garnish before serving.

Try Recipe