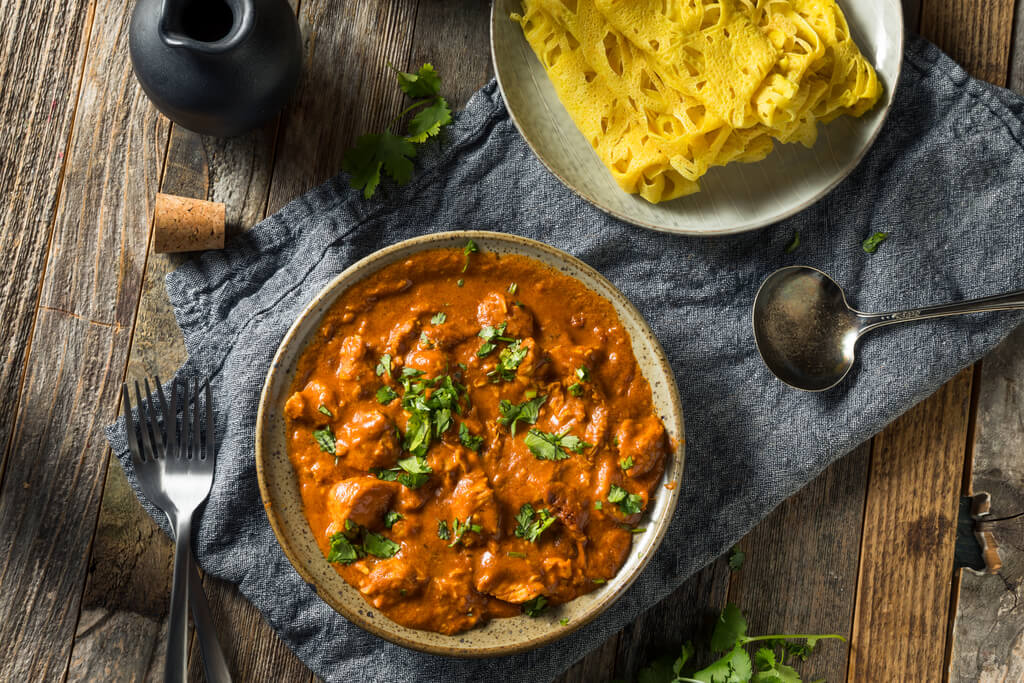 Butter Chicken vs Tikka Masala: What's the Difference? 
Indian cuisine took the world by storm with the unique taste and aroma of its flavorful dishes. And while they are distinctive, differentiating some of the dishes can be a challenge to some. We're thinking of two specific, similar food here, namely butter chicken and tikka masala. With their orange hue and aromatic smell, these two reigns as some of the most popular Indian dinner recipes. 
It's no secret that butter chicken vs tikka masala is a discussion that has been going on for quite a while. Now, it's time to put that confusion to rest. In this article, we'll talk about their similarities and differences in cooking methods, preparation, and more. Read on more and find out everything you need to know about these well-loved dishes!
What Is Butter Chicken?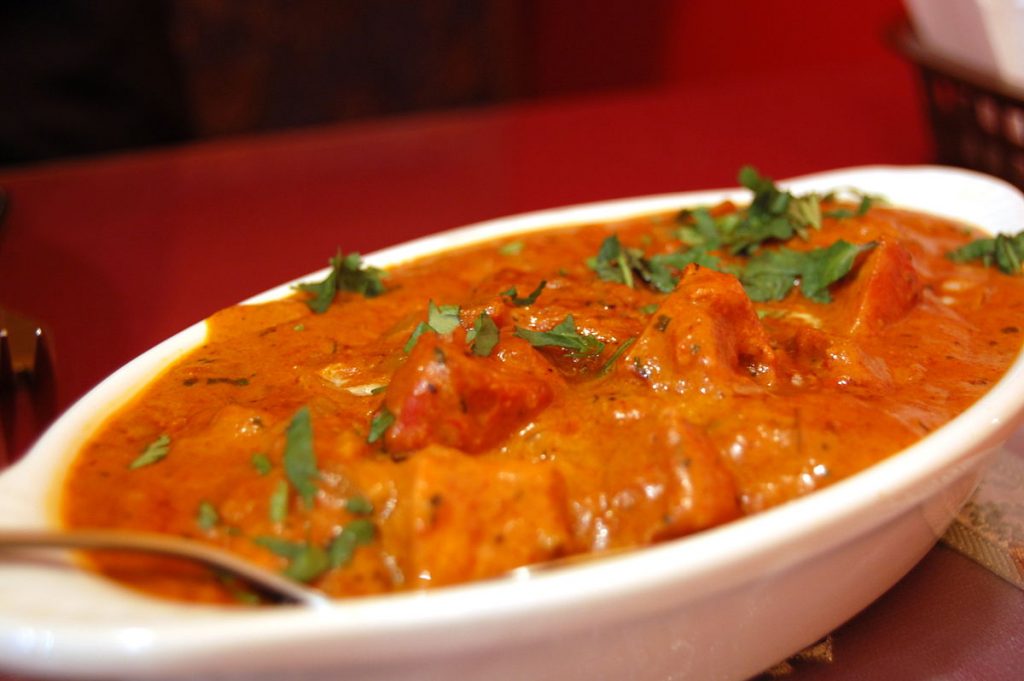 Butter chicken (traditionally known as murgh makhani) is a sort of curry dish that originated in Delhi, India. While butter chicken is not unheard of in many countries, it has its fair share of variations like many dishes. Butter chicken is unique to different regions in India, each with its own version of the dish though the difference is subtle. But in general, it's made of chicken pieces marinated in aromatic curry spices such as garam masala, turmeric, cumin, ground coriander, and more. The chicken pieces are then soaked in a creamy, mild-spiced tomato sauce-based curry made richer with butter, yogurt, and cilantro. 
Whichever variation you make, you can always pair it with a bowl of fluffy basmati rice or garlic butter naan bread that you can dip in the curry sauce. Because butter chicken is orange (sometimes inclining to red) in color, it's always compared and sometimes thought synonymous with chicken tikka masala.
The addictive curry in butter chicken was actually created by accident by mixing tandoori chicken in a butter tomato gravy sauce.
What Is Tikka Masala?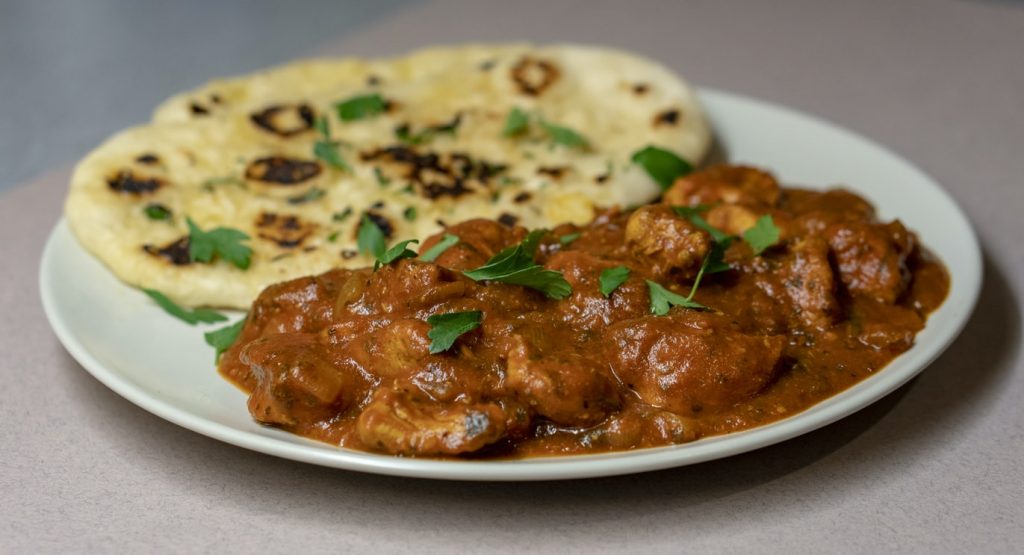 Like butter chicken, chicken tikka masala is chicken chunks (chicken tikka) in a creamy curry sauce. To make this dish, the chicken pieces are first marinated in garlic, ginger, chili pepper, and other curry spices. After marinating, the chicken is grilled first before smothered in creamy tomato-based curry sauce.
Despite what you may think, tikka masala is not an Indian dish. Yes, you heard us right. Currently, its origin is filled with many mysteries. Food historians, however, claimed that it can be dated back to a small restaurant in Glasgow in the 1970s. Some claim that the dish is British while some say it's Indian. Whichever, it's safe to say that tikka masala is an amazing fusion of British and Indian cuisine that many of us enjoy. All in all, this fusion dish is served with a buttery, yet earthy gravy with a distinct spiciness that came from curry spices. 
Butter Chicken Vs Tikka Masala: How Are They Different?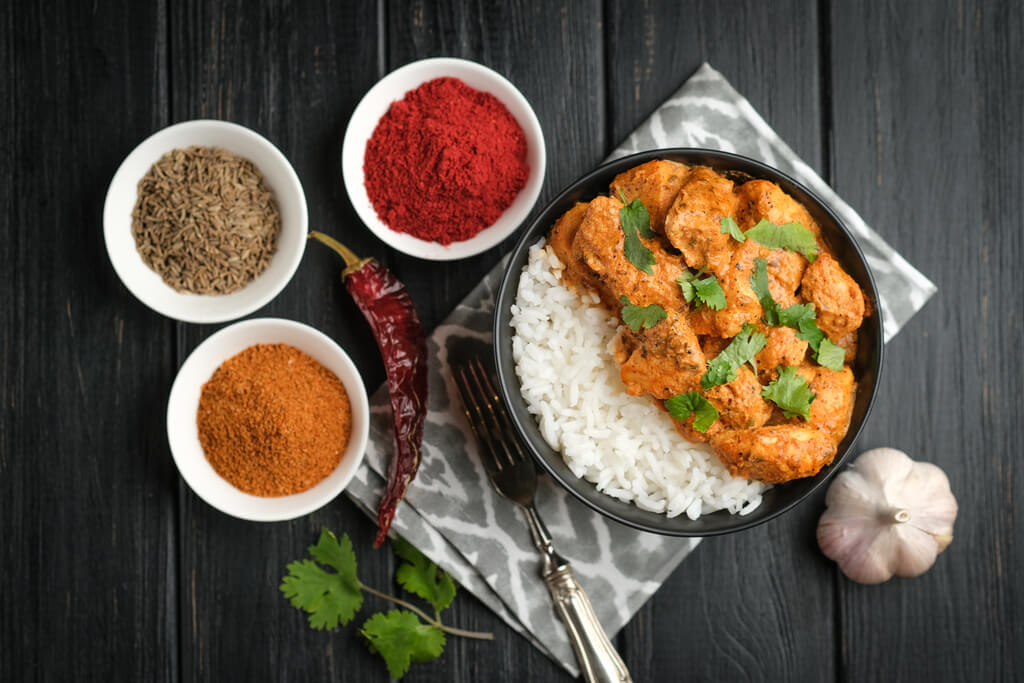 Butter chicken and tikka masala look identical because they are both curry dishes with the same orange/red color. What many don't know is that their difference is not based on the ingredients used or their appearance, but on the amount used for some of its ingredients. This explains why the main difference between butter chicken and chicken tikka masala is their flavor. Butter chicken tastes mildly sweet and has a rich creamy flavor. Chicken tikka masala has a slightly spicier and earthy taste. 
Both dishes use chicken, tomato paste (some versions use other tomato-based sauces such as passata), garam masala, yogurt, ginger, and more. However, butter chicken uses chicken with bones still intact. Tikka masala, on the other hand, uses boneless chicken. Additionally, the amount of tomato used in each dish also varies. Butter chicken uses lesser tomatoes which is why the tomato flavor that we pick up in butter chicken is moderate.
There is also more butter used in butter chicken that cuts through the spiciness and earthiness of the spices – the main reason why although it's a curry dish, its heat is not as apparent as chicken tikka masala. Meanwhile, chicken tikka masala has a strong tomato flavor with distinct spiciness thanks to the curry spices. Simply put, tikka masala is a tomato-based curry whereas butter chicken is a butter-based curry. 
Tikka Masala vs Butter Chicken: Which Should You Try?
To answer the question, both are delicious in their own way. Although both dishes look the same and practically use the same ingredients, they're not made to showcase the same flavors.
Butter chicken is creamier, sweeter, and less spicy. On the other hand, chicken tikka masala is made with spices and ingredients that complement each other so it has a stronger spice flavor that is meant to be tasted, not cut and balanced, unlike butter chicken. 
For this matter, the better choice would be depending on your preferences. If you don't have a problem with spices and the kick that come with it, you should try tikka masala. On the other hand, if you enjoy a creamy curry with a less intense spice flavor, the best option is butter chicken. But definitely give both dishes a shot!  
How to Make Butter Chicken
Pair this well-loved dish with garlic naan bread or basmati rice. To make it, follow the recipe below.
Marinade:
1.7 lbs chicken thighs
1 tbsp ginger, minced or finely grated
½ cup plain yogurt
1 tsp turmeric powder
1 tsp ground cumin
1 ½ tbsp garlic, minced
2 tsp garam masala
1 tsp red chili powder
1 tsp salt
Sauce: 
1 large onion, sliced or chopped
1 ½ tbsp garlic, minced
14 oz crushed tomatoes
1 tbsp ginger, minced or finely grated
1 ½ tsp ground cumin
2 tbsp olive oil
1 ½ tsp garam masala
1 tsp ground coriander
½ teaspoon kasoori methi (or dried fenugreek leaves)
1 tsp red chili powder
1 ¼ tsp salt (or to taste)
2 tbsp clarified butter (or 1 tbsp butter + 1 tbsp oil)
1 cup heavy cream (or evaporated milk)
1 tbsp sugar
Instructions: 
Firstly, combine the chicken and the rest of the ingredients for the marinade in a bowl. Marinate for at least 30 minutes to an hour.
In a small stock pot, heat oil in medium heat and add two to three chicken pieces. Cook until brown then set aside and keep warm.
Using the same pan, melt butter and fry onions until translucent. Next, sauté garlic and ginger until fragrant before adding coriander, cumin, and garam masala. Cook added spices for 20 seconds while stirring occasionally.
Add crushed tomatoes, chili powder, and salt. Simmer and stir occasionally until the mixture turns brown-red.
Turn off the heat and pour the mixture into a blender and blend until smooth. For this recipe, you need ¼ cup of water. Make sure to pour water in gradually.
Transfer the purée back into the pan and turn on the heat. Pour cream, sugar, and crushed kasoori methi and stir.
Add the chicken to the pan. Cook until the chicken is completely cooked and the consistency is thick or sauce-like.
Finally, garnish with cilantro. Serve with fluffy basmati rice or garlic butter naan bread.
How to Make Tikka Masala
Follow the recipe below and make the best chicken tikka masala!
Chicken marinade: 
1 cup plain yogurt

1 ½ tbsp garlic, minced

800 grams of bite-sized boneless and skinless chicken thighs

1 tbsp ginger

1 tsp turmeric

2 tsp garam masala

1 tsp ground cumin

1 tsp Kashmiri chili (or ½ tsp red chili powder)

1 tsp salt
Sauce: 
1 ½ tbsp garlic, grated

2 small onions, diced

1 tbsp ginger, grated

14 oz tomato puree

2 tsp garam masala

¼ cup water

1 ½ ground cumin

1 tsp turmeric powder

2 tbsp vegetable oil

1 tsp ground coriander

1 tsp Kashmiri chili or any chili powder (optional)

4 tbsp cilantro or coriander, for garnish

1 tsp red chili powder

2 tbsp butter

1 ¼ cups heavy cream

1 tsp salt
1 tsp brown sugar
Instructions: 
In a bowl, add the chicken and all the ingredients for the marinade.

Let it marinate for at least 10 minutes to an hour.

On a non-stick pan, heat cooking oil on high heat until sizzling. Add marinated chicken and c

ook chicken until brown. However, you can also grill your chicken. Keep warm and set aside.

Using the same pan, heat oil and butter on medium-high heat. Stir in onions and add

garlic and ginger and saute for 1 minute.

Next, stir in garam masala, cumin, turmeric, and coriander and fry for 20 seconds.
Afterward, you may add tomato puree, Kashmiri chili, and salt.

Let simmer while stirring occasionally for 10 to 15 minutes or until sauce clings to the back of your spoon and sauce turns brown-red color. 

Next, add cream and brown sugar. Mix well before adding chicken chunks and its juices. Cook for until chicken is cooked through. That's about 8 to 10 minutes. If the sauce is too thick, thin it out with a little water.
Lastly, garnish with cilantro or coriander.

Serve with basmati rice or naan.
Frequently Asked Questions
Which is healthier, butter chicken or tikka masala?
Even in its modern recipe, butter chicken is healthier than tikka masala. An average serving of tikka masala contains a whopping 400 to 500 calories. On the other hand, butter chicken may contain 438 calories on an average serving. If you're concerned with the amount of fat it has, you can always switch to low-fat substitutes for butter and heavy cream.

What is the difference between korma and butter chicken?
Just like butter chicken, chicken korma is another mildly spicy and creamy curry. However, korma is not made to display the heat of the spices but rather to flavor it. It uses spices such as cardamom and cinnamon. Meanwhile, butter chicken uses turmeric and chili peppers for a mild spicy kick. Chicken korma also has a slightly sour flavor because of the yogurt.

What is the difference between vindaloo and tikka masala?
Chicken vindaloo has a thick curry base that's relatively spicier than tikka. Meanwhile, tikka masala contains creamy ingredients such as yogurt and heavy cream to give it a rich creamy, yet spicy sauce.