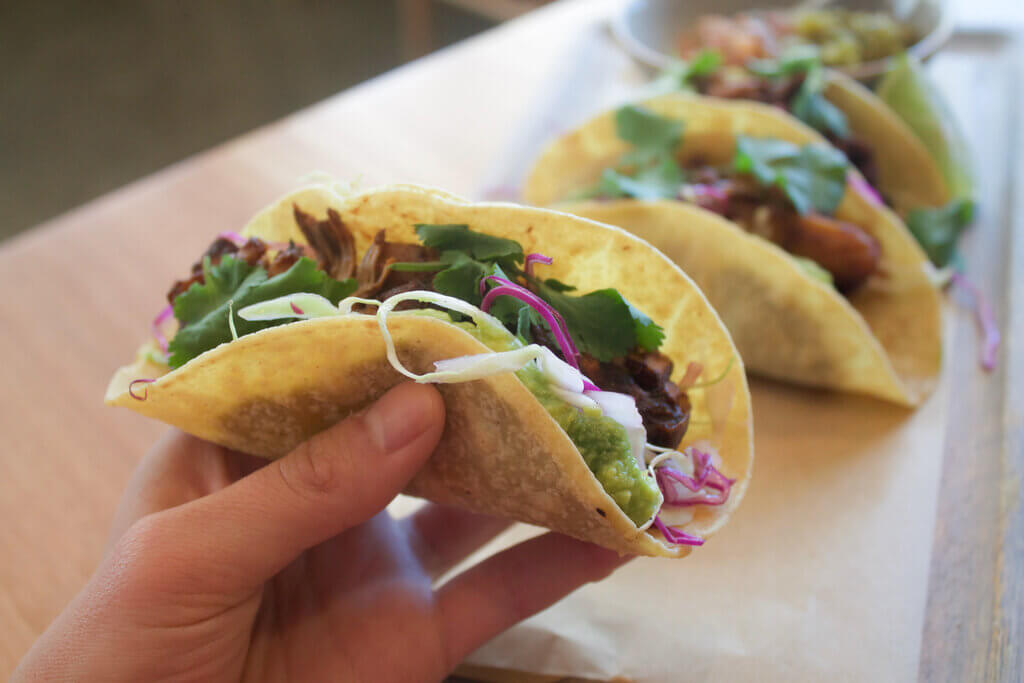 Jackfruit Carnitas Recipe
Jackfruit carnitas is deliciously tender, completely vegan, and full of flavors. Believe me, the appeal of this Mexican-inspired plant-based dinner isn't limited to vegetarians and vegans. Even non-vegans will swoon over its sheer deliciousness in every bite. Serve them during Taco Tuesdays, and no one would even notice there's no meat!
Jackfruit, a tropical fruit native to Southeast Asia, is a healthy meat substitute. It has a texture that's akin to that of a pulled pork: stringy and tender. You're probably wondering: what does jackfruit taste like? Well, ripe jackfruits are generally sweet, and fairly comparable to mangoes and pineapples. Meanwhile, unripe ones have a neutral flavor, and when cooked properly, they can even rival the succulence of meaty dishes! You can even saute this fruit with onions and slather it with BBQ sauce to make a hearty sandwich filling.
Recently, I tried making carnitas tacos for dinner. But instead of the usual pulled pork, I used shredded jackfruit. The resemblance is uncanny, I'm telling you. Just like in the classic carnitas recipe, jackfruit meat has been seasoned and cooked until it's juicy and fall-apart tender. My jackfruit carnitas recipe is proof that you can still enjoy tacos, enchiladas, and burritos even without the pork.
Cooking with fresh jackfruit is a bit of work. You have to slice the fruit into large chunks and pressure cook it before you can remove the seeds from the flesh. To save time and effort, I opted for canned jackfruit. I heard Trader Joe's jackfruit is a good choice. Whichever brand you prefer, cherry-pick an unripe green jackfruit. It's a better pretend meat than the ripe ones. But just a crucial tip: make sure to rinse away the brine and water as much as possible.
My jackfruit tacos recipe has the right elements–from seasonings to spices–to capture the taste of authentic Mexican carnitas. The mixture of dried oregano, cumin powder, and chili powder lends deep Mexican flavors to my vegan carnitas. And guess what else made my jackfruit recipe seem like the real deal? The orange juice and lemon juice duo! With these acidic ingredients, expect to have super tender jackfruit carnitas.
Making tacos de carnitas using jackfruit is so easy. After getting rid of any liquid from the canned jackfruit, I cut the chunks into pieces and placed them in the slow cooker. The jackfruit is then cooked slowly with spices, vegetable broth, orange juice, and lime juice. Feel free to add adobo sauce, soy sauce, and smoked paprika for extra flavors. Then, I let it simmer for 3 hours until the fruit was oh-so-tender and had soaked up all the flavors. Using forks, I pulled the cooked jackfruit apart into shreds to mimic pulled pork tacos. Lastly, I popped in the oven and baked it until the edges were deliciously crispy.
I love serving Mexican jackfruit carnitas rolled up on corn tortillas with guacamole and black beans. Toss some corn salsa and pico de gallo for the ultimate vegan jackfruit tacos. The toppings you can use for your pulled jackfruit tacos are endless: vegan sour cream, pickled jalapenos, and avocado slices. You can even divide your healthy carnitas into portions and prepare some tasty breakfast bowls, making for a fantastic meal prep idea. This recipe is downright one of the best vegan jackfruit recipes I've ever tried!
How To Make Jackfruit Carnitas
Have a healthy Mexican-inspired dinner with this jackfruit carnitas recipe. Serve this tender and slowly-cooked vegan carnitas as a filling for tacos and burritos.
Cooking:
3 hours 15 minutes
Total:
3 hours 25 minutes
Ingredients
40 oz jackfruit, (2 cans), in brine or water, drained

½ medium yellow onion, sliced

3 garlic cloves, minced

1 tsp kosher salt

1 tsp fresh ground black pepper

1 tsp dried oregano

1 tsp chili powder

1 tsp ground cumin

2 bay leaves

½ cup vegetable broth, low sodium

½ orange, juiced

½ lime, juiced
For Serving:
corn tortilla

guacamole

black bean

corn salsa

pico de gallo
Instructions
Cut each piece of jackfruit in half, then transfer to a slow cooker. Add the onion, garlic, salt, pepper, oregano, chili powder, cumin, bay leaves, vegetable broth, orange juice, and lime juice.

Cover and cook on High for 3 hours or Low for 6 hours.

Preheat the oven to 400 degrees F. Line a rimmed baking sheet with parchment paper.

Uncover the slow cooker and remove the bay leaves.

Using two forks, shred the jackfruit until it resembles the consistency of pulled pork.

Transfer the jackfruit to the prepared baking sheet and bake for 15 minutes, or until the edges are slightly crisp.

Serve shredded jackfruit with tortillas, guacamole, black beans, corn salsa, and pico de gallo, and enjoy!
Recipe Notes
The jackfruit will keep in an airtight container in the refrigerator for up to 5 days.

Sweeten your j

ackfruit carnitas

and add a bit of brown color by adding sugar.

You can also add a pinch of cinnamon for extra flavor.
Nutrition
Calories: 

197.30kcal

Fat: 

1.44g

Saturated Fat: 

0.41g

Monounsaturated Fat: 

0.37g

Polyunsaturated Fat: 

0.25g

Carbohydrates: 

48.15g

Fiber: 

3.89g

Sugar: 

37.64g

Protein: 

3.80g

Sodium: 

334.74mg

Calcium: 

68.54mg

Potassium: 

917.17mg

Iron: 

1.04mg

Vitamin A: 

19.21µg

Vitamin C: 

34.65mg