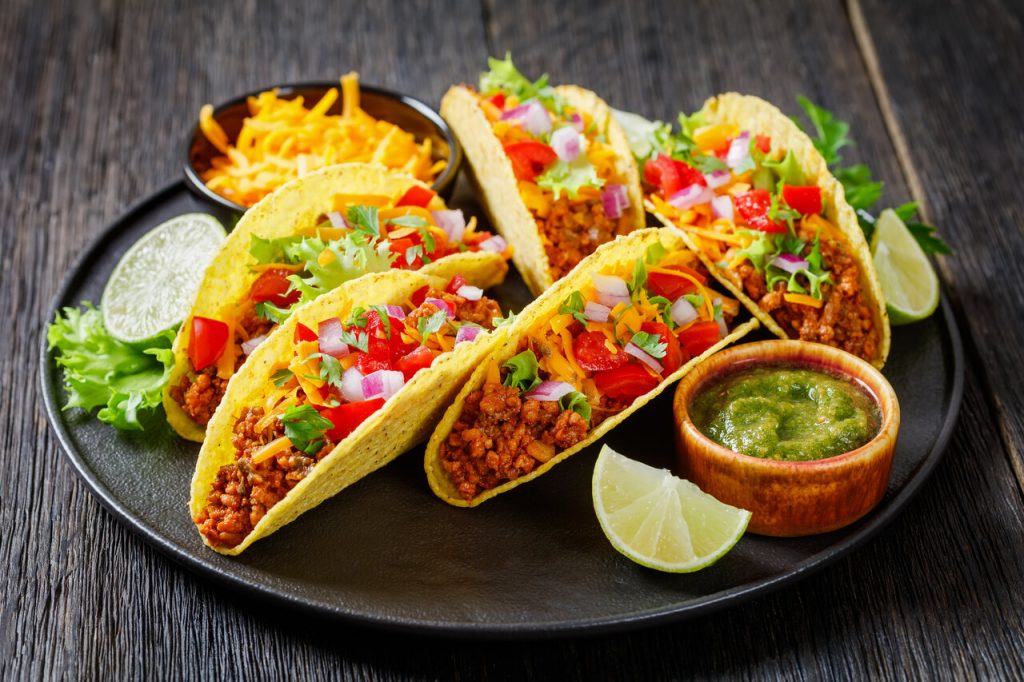 Ground Beef Tacos with shredded cheese, green salsa verde sauce, fresh lettuce, tomato, onion on a black plate with lime
Ever since I took a trip to Mexico, ground beef tacos have definitely become one of my favorite Mexican dishes. Locals call it tacos de asada, from the Spanish word "asada" which means grilled or roasted beef. I could say it's one of the BEST dishes I've had and so I had to ask the locals how to make this succulent dish. The secret? It's all in the spices. The tender ground beef is generously seasoned with savory, spicy, and earthy spices. No wonder each bite is bursting with flavor!
For a delicious dish like this, cooking ground beef for tacos is fairly easy to make. The tender ground beef is moist but not greasy and it has the right amount of kick that will wake up your taste buds. To make the best ground beef for tacos, choosing the right meat is crucial. You should go for flank or skirt steaks. Flanks are quick to cook and at the same time, it's lean meat so it has less fat. Skirts, on the other hand, are known for their beefy flavor. Either meats you go, they'll be perfect for hearty beef tacos.
The ingredients and steps for these ground beef Mexican tacos are simple. All I had to do was brown the ground beef, then cook it in water and tomato paste to make it more juicy. After that, I added a liberal amount of spices which mainly consists of chili powder, cumin, onion powder, and garlic powder. Simmer it for a few minutes to let the flavors seep into the meat then it's done!
Personally, I like having mine with crisp tacos by baking the taco shells in the oven. But you can totally enjoy that ground beef with soft tacos as well! Whenever I prepare this, I usually top it with onions, lettuce, cheese, and tomatoes, along with a few squeezes of lime. I made these homemade tacos for my family and friends. And let me tell you, they've been requesting me to prepare these every get-together! I highly recommend that you try out this ground beef taco recipe too for your next barbecue or casual dinner party.
How To Make Ground Beef Tacos
No need to travel all the way to Mexico if you're craving for ground beef tacos. You can easily make this flavor-packed dish at home using simple ingredients.
Ingredients
1 lb ground beef

2 tbsp tomato paste

⅔ cup water

8 hard taco shells, or soft
For Taco Seasoning:
1 tbsp chili powder

½ tbsp cumin

½ tsp onion powder

¼ tsp garlic powder

¼ tsp red pepper flakes

½ tsp oregano

½ tsp salt, or to taste

1 tsp pepper, to taste
For Serving:
lettuce, chopped

Mexican cheese blend, or cheddar cheese, shredded

tomatoes, chopped

red onions, chopped
Instructions
Brown ground beef over medium heat until no pink remains. Drain any fat.

Add seasoning mixture, water, and tomato paste. Bring to a simmer and let it simmer for 5 minutes or until thickened.

Meanwhile, preheat the oven to 350 degrees F. Place the taco shells on a tray and bake for 5 minutes or until heated.

Fill the taco shells with meat and desired toppings such as lettuce, cheese, tomatoes, and onions.

Serve and enjoy!
Recipe Notes
For added tang and creaminess, try serving your

beef tacos

with some crunchy

cabbage slaw.
Nutrition
Calories: 

427.92kcal

Fat: 

28.74g

Saturated Fat: 

10.48g

Trans Fat: 

1.38g

Monounsaturated Fat: 

11.98g

Polyunsaturated Fat: 

2.20g

Carbohydrates: 

19.93g

Fiber: 

3.12g

Sugar: 

1.57g

Protein: 

22.00g

Cholesterol: 

80.51mg

Sodium: 

442.86mg

Calcium: 

70.09mg

Potassium: 

515.79mg

Iron: 

3.84mg

Vitamin A: 

41.95µg

Vitamin C: 

1.91mg