So, you carved your jack o'lantern, but what do you do with all of those seeds? If you are like the old me you just throw them away, along with all of the slimy pumpkin innards. But yesterday I decided to roast them up.
I am not sure why I thought it was a difficult thing to do. Kind of like making hummus, I thought it was just one of those things. But making toasted pumpkin seeds is actually super easy and makes for a really yummy snack.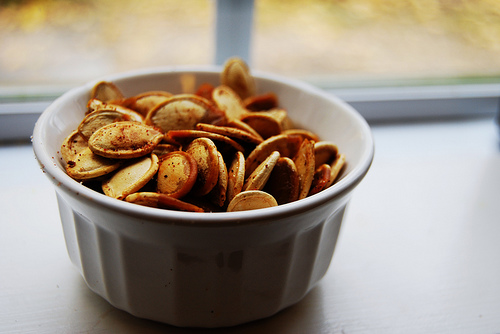 Toasted Pumpkin Seeds Recipe
How To Make Toasted Pumpkin Seeds
These toasted pumpkin seeds are a super easy and healthy snack. You can customize it by mixing in your preferred blend of spices. Make separate sets with different flavors for more variety.
Ingredients
1

pumpkin

vegetable oil,

just enough to lightly oil the seeds

salt ,

for seasoning

spices

sea salt,

freshly ground
Instructions
Get yourself a pumpkin. Remove the top and scoop all of the seeds and pulp stuff out. I have found that a large metal spoon works better than any of those plastic scrapers that are purposefully designed for this task.

Get the seeds and pulp separated from each other.

Rinse them off in your sink. Don't worry about a little excess pulp clinging to the seeds.

Coat the seeds with a tiny bit of vegetable oil. I actually did this step while my seeds were still in the colander. Remember a tiny bit goes a long way.

Spread the seeds out in a single layer on a baking sheet.

Add your salt and spices. Since this recipe is easily adaptable, you may use whichever spices you prefer. You can choose cinnamon and sugar if you prefer sweet pumpkin seeds, or you can go with some garlic powder and maybe some chili powder.

Put the seeds in an oven at 375 degrees F for 12 to 15 minutes, or until they turn a golden color. You will want to watch them carefully as all ovens are different.