The Cheesecake Factory is popular for its wide range of mouth watering cheesecake selections. One of our favorites is their Caramel Pecan Turtle Cheesecake made with pecan brownie and cheesecake with caramel-fudge swirl topped with caramel turtle pecans and chocolate. This baked sugary treat will always have room in our stomach.
Can't go to The Cheesecake Factory? No problem. In this recipe, we will bring this well-loved caramel cheesecake to your home. We'll teach you how to make their famous Caramel Pecan Turtle Cheesecake so you can enjoy it even if you're at home.
What Is Turtle Cheesecake?
Caramel and chocolate are a perfect match, especially with pecans. If you're not familiar with a turtle cheesecake or turtle pie, you might wonder why it's called turtle. The name comes from the combination of caramel, chocolate, and pecans that goes on top of the cheesecake. Pecans are arranged in a way that will make them look like turtle legs, and the caramel and chocolate will be the shells.
A turtle cheesecake consists of multiple layers of turtle laters, from the crust to the toppings. Instead of the regular graham crust, you can add pecans for additional crunch and flavor. The cheesecake filling, meanwhile, will have the caramel and chocolate flavor for extra sweetness. If you want to try another caramel cheesecake recipe, these Caramel Cheesecake Bars are perfect for snacking.
Your turtle cheesecake will not be complete without a mixture of deliciously sweet caramel, smooth chocolate, and crunchy pecans on top! These turtle cheesecake toppings add even more texture and flavor to the whole cheesecake.
How to Make Caramel Pecan Turtle Cheesecake from The Cheesecake Factory?
One thing we love about The Cheesecake Factory's Caramel Pecan turtle Cheesecake is its brownie crust. This dessert is truly a combination of different sweet treats! When making this caramel pecan cheesecake, start by making the brownie base. It should be baked separately to make sure all the elements in this cheesecake are perfectly cooked.
Once you have the base, you can start making the cheesecake filling. It's simple and uses only a few ingredients. What makes it better is the addition of silky smooth chocolate and buttery caramel swirls. You can use store-bought caramel sauce or make your own at home. Homemade caramel sauce, of course, is far better than a pre-made one.
The ingredients to a homemade caramel sauce are simple: sugar, butter, and salt. Making a caramel sauce from scratch however, is tricky, especially if you haven't worked with sugar before. You need to cook the sugar at the right temperature and mix it correctly until you've achieved the right consistency; otherwise, you'll end up with a grainy caramel sauce. Be careful with the hot sugar and don't burn yourself.
After baking your cheesecake, top it with more caramel, chocolate, and pecans for more turtle flavors and extra crunch.
How To Make Caramel Pecan Turtle Cheesecake Copycat From The Cheesecake Factory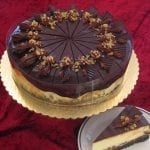 Crust
10 tbsp. butter
1 1/4 cup sugar
2 eggs
3/4 cup cocoa powder
1/2 cup pecans (chopped)
1/2 cup all-purpose flour
1 tsp. vanilla
Filling
16 oz. cream cheese
1/3 cup sugar
1/4 cup sour cream
2 large eggs
1 tsp. vanilla
Topping
1 1/4 cup caramel sauce
1/2 cup chocolate sauce
1/2 cup pecans (chopped)
Preheat your oven to 325 degrees F.
Beat eggs with vanilla.
Mix butter, cocoa and sugar in metal bowl and melt in microwave until butter is melted.
Whisk in eggs.
Slowly add in flour and pecans.
Pour crust mixture on 9-inch round pan.
Bake for 15 minutes.
Filling
Beat ingredients until well-blended.
Pour over brownie crust.
Mix 1/4 cup caramel sauce with 1/4 cup chocolate sauce.
Pour mixture on top of cheesecake filling.
Bake for 35 to 40 minutes.
Drizzle remaining sauces and sprinkle with pecans.
How to Make Copycat Cheesecake Factory Caramel Pecan Turtle Cheesecake
Enjoy The Cheesecake Factory's Caramel Pecan Turtle Cheesecake anytime without leaving your home. This dessert is composed of various treats, from the brownie base to turtle toppings.
Ingredients
For Crust:
10

tbsp

butter

1 ¼

cups

sugar

2

eggs

¾

cup

cocoa powder

½

cup

pecans,

chopped

½

cup

all-purpose flour

1

tsp

vanilla
For Filling:
16

oz

cream cheese

⅓

cup

sugar

¼

cup

sour cream

2

large eggs

1

tsp

vanilla
For Topping:
1 ¼

cups

caramel sauce

½

cup

chocolate sauce

½

cup

pecans,

chopped
Instructions
Crust:
Preheat your oven at 325 degrees F.

Beat eggs with vanilla.

Melt the butter in the microwave.

In a bowl, mix together the melted butter, cocoa, and sugar.

Whisk in the eggs.

Add the flour and pecans and mix carefully.

Pour the crust mixture in a 9-inch round pan.

Bake for 15 minutes. Set aside to cool
Filling:
Cover the outsides of the 9-inch round pan with aluminum foil, then set pan aside.

Reduce oven temperature to 300 degrees F.

Beat cream cheese, sour cream, and sugar until well-incorporated.

Add the eggs and vanilla extract and continue mixing.

Pour the filling into the brownie base.

In a separate bowl, mix ¼ cup of the caramel sauce with ¼ cup of the chocolate sauce.

Pour the caramel and chocolate mixture on top of the cheesecake filling.

Place the 9-inch pan inside a bigger pan. Fill the external pan with warm water up to about halfway up the sides of the 9-inch pan.

Bake the cheesecake for 30 to 40 minutes.
Toppings:
Once your cheesecake is baked, drizzle the remaining sauces and pecans on top. Then refrigerate until ready to serve.
Recipe Notes
Toast the pecans before making the cheesecake. Toasted pecans add extra flavor and depth to the cheesecake. You can toast them in your oven for 7 to 10 minutes, stirring occasionally, at 350 degrees F. Another way to toast pecans is by doing it on the stove. Simply place the nuts in a skillet and toast them over medium-heat until they are browned and fragrant.
Nutrition
Calcium:

128mg

Calories:

809kcal

Carbohydrates:

90g

Cholesterol:

148mg

Fat:

49g

Fiber:

5g

Iron:

3mg

Potassium:

392mg

Protein:

11g

Saturated Fat:

18g

Sodium:

575mg

Sugar:

49g

Vitamin A:

1583IU

Vitamin C:

1mg
Nutrition Disclaimer
Commonly Asked Questions
Can I use salted caramel?
Yes. Caramel can be super sweet, especially when paired with chocolate. A salted caramel cheesecake has the right balance of flavors between sweetness, saltiness, and tanginess from the cream cheese filling. Salted caramel also pairs well with chocolate so you will still win.

Why should I bake a cheesecake in a waterbath?
Baking your cheesecake in a water bath is an essential step as it helps in making sure the cheesecake bakes evenly. It also prevents your cheesecake from browning too much, cracking, and sinking. This process may sound intimidating but it's easy to do. Simply place your cake pan inside a bigger pan filled with hot water. Then wrap aluminum foil around the springform pan to ensure two things: the filling doesn't leak and the water doesn't enter the cheesecake.

Can I make a No-Bake Caramel Pecan Turtle Cheesecake?
Yes, you can make this recipe without baking. You need to alter the ingredients and the process to achieve similar results. First, no-bake cheesecakes don't use eggs for the filling. Instead, you need to chill the cheesecake in your fridge for it to set. For the base, you can use a chocolate wafer cookie crust instead of pecan-brownie. Check out our cheesecake recipes to learn more about this technique.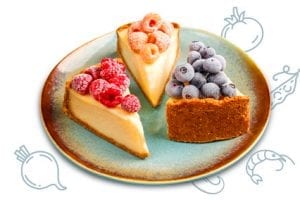 Conclusion
The Caramel Pecan Turtle Cheesecake of The Cheesecake Factory is an absolute crowd-pleaser. Its layers of flavors and textures from the caramel, chocolate, pecans, brownie, and cream cheese is irresistible. No need to drive to the local Cheesecake Factory for a slice of this baked goddess because you can now make a whole cake at home.
Related Cheesecake Recipes