How To Make Pistachio Drop Cookies
These Pistachio Drop Cookies are delightful treats that are packed with the goodness of real pistachios, and a hint of almond extract! It's nutty and chewy!
Ingredients
1

cup

pistachios,

salted or unsalted

1

cup

butter,

(2 sticks) unsalted, softened to room temperature

¾

cup

confectioners' sugar

1

tsp

pure vanilla extract

1

tsp

almond extract

2¼

cups

all-purpose flour,

spoon and leveled

1

drops

green food coloring
For Optional Brown Butter Icing:
¼

cup

butter,

(4 tbsp) unsalted

1

cup

confectioners' sugar

2

tbsp

milk,

or heavy cream

¼

tsp

pure vanilla extract
Instructions
Pulse pistachios in a food processor until small crumbs form.

There should be ¾ cup of very finely chopped pistachios. Set aside.

Using a handheld or stand mixer fitted with a paddle attachment, beat the butter for 1 minute on medium speed until completely smooth and creamy.

Add the confectioners' sugar, vanilla extract, and almond extract, then beat on medium-high speed until combined.

Add the flour, ¾ cup of pistachio crumbs, and food coloring and beat on medium-high speed until combined.

The dough may not come together at first, but keep mixing. The cookie dough will be thick.

Cover the cookie dough tightly and chill in the refrigerator for 30 minutes and up to 3 days.

Prepare the brown butter icing while cookie dough chills or while the cookies bake.

Preheat oven to 350 degrees F.

Line 2 large baking sheets with parchment paper or silicone baking mats. Set aside.

Roll the cookie dough into balls, about 1 tablespoon of dough each, and place dough balls 2-inches apart on the baking sheets.

If the cookie dough is too crumbly, keep rolling and working it with the hands. The warmth of the hands will help bring it together.

 

Bake the cookies for about 14 to 15 minutes, until golden brown on the bottom edges and just barely browned on top.

Allow the cookies to cool for 5 minutes on the baking sheet, then transfer to a wire rack.

Make sure the cookies are cool to touch before dipping in icing.
Brown Butter Icing:
Slice the butter into pieces and place in a light-colored skillet. Melt the butter over medium heat, stirring occasionally.

Once melted, the butter will begin to foam. Keep stirring occasionally.

After 5 to 6 minutes, the butter will begin browning, lightly browned specks will begin to form, and a nutty aroma will be obtained.

Once browned, remove from heat immediately and allow to cool for 5 minutes. (The butter will eventually solidify, so don't let it sit too long.)

After 5 minutes, whisk in the rest of the icing ingredients until smooth.

Add more confectioners' sugar for a thicker texture, if desired. Likewise, add more milk to thin out if needed.

Dip the cookies in icing or drizzle on top. If coated lightly, the icing will set after 1 to 2 hours.

Cover the leftover iced cookies tightly and store at room temperature for 1 day or in the refrigerator for up to 1 week.
Recipe Notes
If chilling the dough for 2 or more hours, let the cookie dough sit at room temperature for at least 30 minutes before rolling into balls. The cookie dough will be very stiff after being in the refrigerator that long.
A light-colored skillet will help determine when the butter begins browning.
Cookies without icing can sit covered at room temperature for up to 1 week. The cookie dough or cookie dough balls can also be frozen for up to 3 months. Thaw in the refrigerator and bring to room temperature before baking.
Pistachios: A total of ¾ cup of very finely chopped pistachios is needed in this cookie dough. As instructed in step 1, begin with 1 cup of salted or unsalted pistachios and pulse them in a food processor until small crumbs form. Only use ¾ cup in the cookie dough because any more will make the cookies too crumbly. If there is extra, use it as a garnish on the icing or sprinkle over ice cream, cake, salad, and more!
Confectioners' Sugar: Use confectioners' (powdered) sugar. Don't use granulated sugar. The cookies will over-spread and have a granular texture.
Light Colored Icing: The darker your brown butter, the darker the icing. Remove the brown butter from the stove right away, so it's a lighter shade of yellow making the icing a lighter shade as well. Preferably use heavy cream in the icing. It's thicker than milk and will create a creamier, whiter icing.
Nutrition
Calories: 

128.11kcal

Fat: 

8.05g

Saturated Fat: 

4.27g

Trans Fat: 

0.26g

Monounsaturated Fat: 

2.48g

Polyunsaturated Fat: 

0.74g

Carbohydrates: 

12.80g

Fiber: 

0.56g

Sugar: 

6.07g

Protein: 

1.59g

Cholesterol: 

17.03mg

Sodium: 

1.56mg

Calcium: 

7.68mg

Potassium: 

46.88mg

Iron: 

0.50mg

Vitamin A: 

55.01µg

Vitamin C: 

0.19mg
Topics:
Related Recipes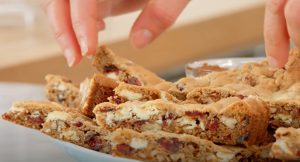 Cookies
These watergate cookies are filled with the delightful crunch of pecans, pistachios, and shredded coconut. Bake a batch in 15 minutes!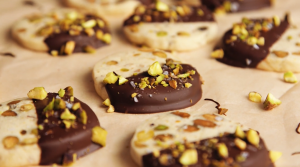 Cookies
Black and White Cookies with Pistachios Recipe
Delight in these soft and cakey white cookies with pistachios for topping. They're frosted with chocolate icing on one side and vanilla on the other.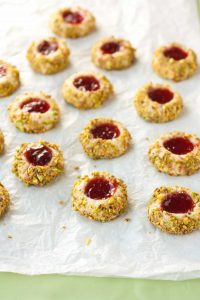 Cookies
Italian Thumbprint Cookies Recipe
A gorgeous classic combination of red, white, and green in this Italian Thumbprint Cookies recipe made of chocolate, jam, pistachios, and beans!