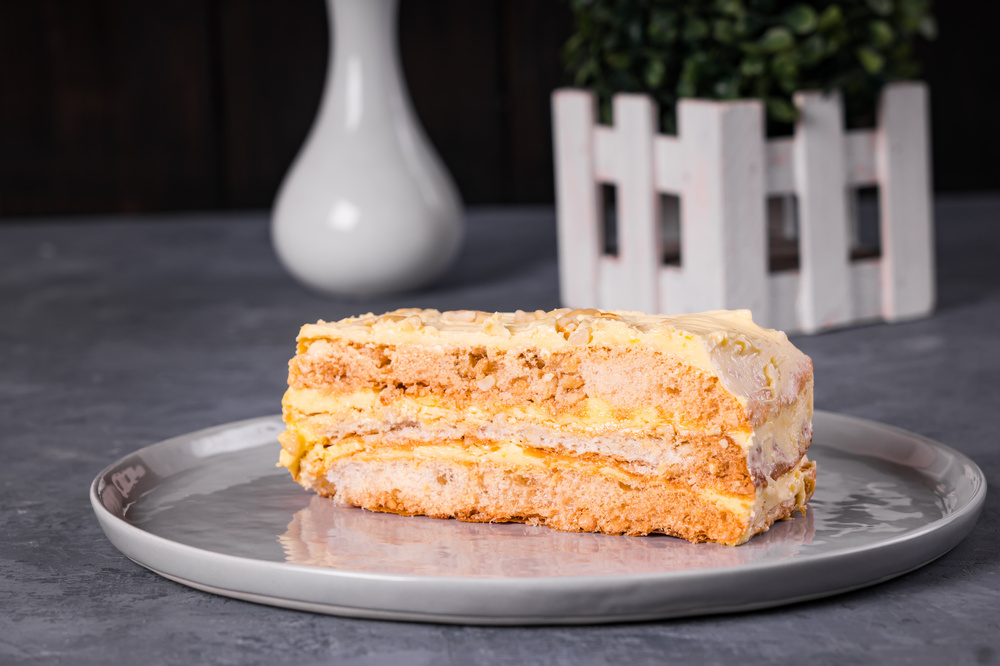 Sans Rival (Filipino Cashew Cake) Recipe
How To Make Sans Rival (Filipino Cashew Cake)
Treat yourself to a nutty and buttery dessert with this sans rival or Filipino cashew cake! It has layers of meringue, buttercream, and nuts.
Ingredients
For Meringue Layers:
6

egg whites

1⁄2

tsp

cream of tartar

3⁄4

cup

sugar

1

cup

unsalted cashews,

roasted, finely chopped

1

tsp

vanilla extract
For French Buttercream:
1½

cups

sugar

3⁄4

cup

water

9

egg yolks

1½

cups

butter,

softened, at room temperature
For Cake:
1½

cups

cashews,

toasted and chopped
Instructions
Meringue Layers:
In a bowl of a stand mixer, beat the egg whites on medium-high speed for about 1 minute.

Add the cream of tartar and continue to beat until soft peaks form.

Gradually add sugar while beating continuously until stiff peaks form.

Pour in the vanilla and add about ⅓ of the finely chopped cashews.

Gently fold in using a rubber spatula. Fold the remaining cashews in 2 more additions.

Invert 3 9-inch round cake pans and grease and flour the bottoms.

Scoop equal amounts of the meringue batter on the surface of the prepared pans and using a spatula, spread until smooth and evenly flattened.

Bake the meringue in a 325 degrees F oven for about 15 to 20 minutes or until lightly browned.

Remove from oven and while still hot, use a wide spatula to lift the meringues and transfer to a cooling rack.
French Buttercream:
In a medium saucepan, combine the sugar and water and stir. Let the mixture boil over medium heat. Once boiling, place a candy thermometer in the pan to monitor the temperature.

Meanwhile, beat the egg yolks in a stand mixer on high speed until the mixture starts to thicken and become pale in color. Continue to beat while the sugar/ water mixture cooks in the pan.

Once the temperature of the sugar mixture reaches 238 degrees F, turn the heat off and slowly pour the sugar syrup in a thin, continuous stream into the yolks with the mixer still running.

Continue beating the yolks until the mixing bowl is cool to the touch.

With the mixer still running, add the softened butter, about 1 tablespoon at a time. Beat until a fluffy buttercream forms.
To Assemble:
On a serving platter, place 1 meringue layer. Spread a thin layer of buttercream over the surface of the meringue and sprinkle with some of the chopped cashews.

Place the second meringue layer on top. Spread a thin layer of the buttercream and sprinkle with cashews.

For the final layer, place the last cake wafer with its bottom side up on top of the buttercream layer. Cover the top and sides of the cake with the remaining buttercream.

Garnish the top and sides of the cake with the remaining chopped cashews.

Chill in the refrigerator for at least 2 hours before serving. Enjoy!