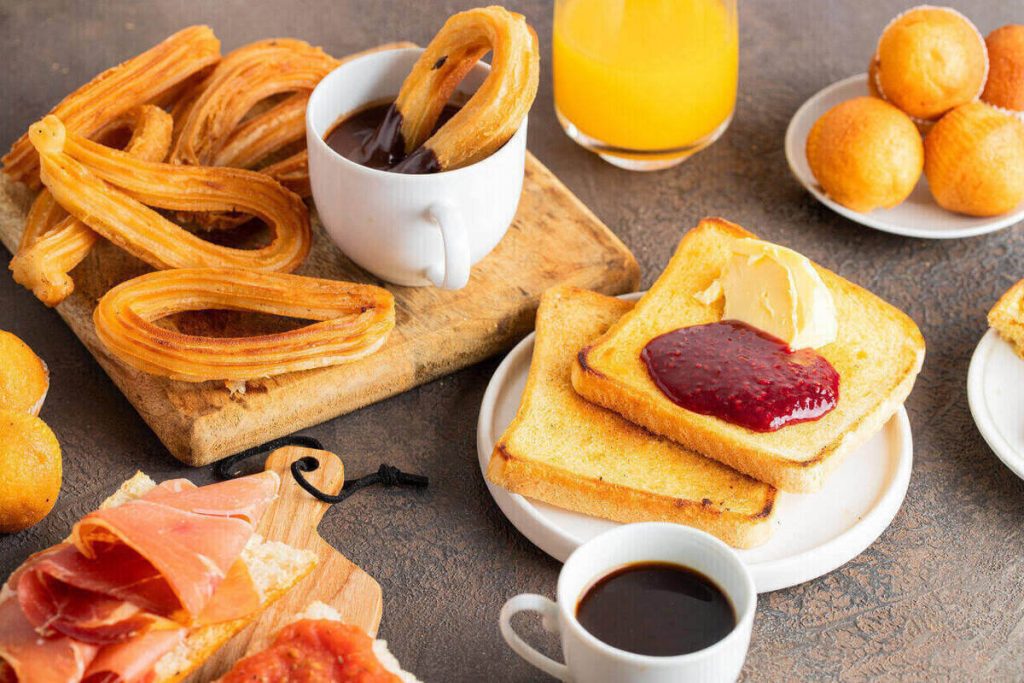 15 Best Spanish Breakfast Foods to Start Your Day
Just finished your way through yummy Mexican breakfasts? Well, there's no reason for you to come back to the stale cereal and milk. You can jazz up your mornings with these Spanish breakfast foods instead! Pick from hearty, light, sweet, and savory, or maybe try a combination of them. Perhaps broken eggs and a steaming mug of rich hot chocolate? If that doesn't suit your palate, check the short list below of what else you can make at home!
---
Jumpstart Your Mornings With These Spanish Breakfast Ideas
It's no secret that breakfast is the most important meal of the day. They're your source of energy and provider of necessary nutrients to get you through every day of the week! Now, finding your type of breakfast meal definitely helps you stay motivated not to skip them. Take your pick from these traditional Spanish breakfast foods: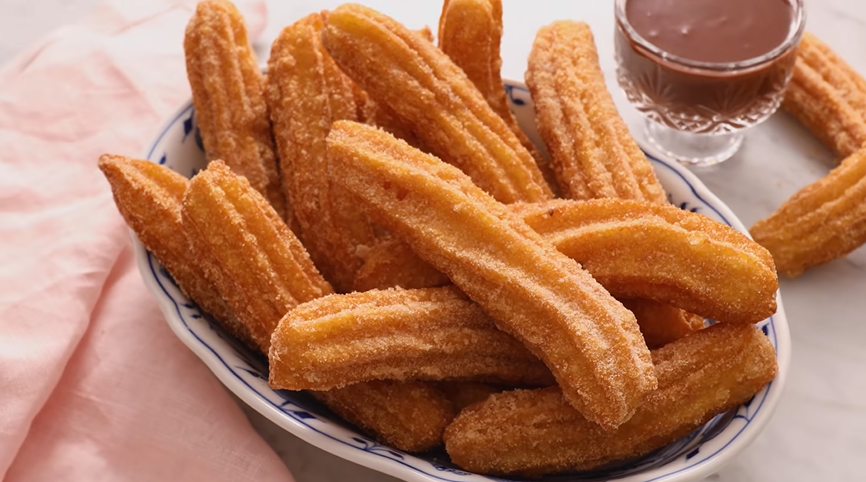 01 of 15
Churros Con Chocolate
When it comes to Spanish breakfast, you just can't forget churros or churros con chocolate! In fact, they are on top of the list. The rest of the world considers them more like a dessert, but in Spain, they are often eaten for breakfast.

We're sure you've already heard of them. But in case you haven't, these long-fried doughs are covered in cinnamon sugar. Think of them like the stick version of cinnamon doughnuts, only crispier. And dare we say it? They're even better than cinnamon doughnuts too! Now, the whole thing is delicious on its own. But don't skip the chocolate dip! They're called churros con chocolate for a reason.

Try Recipe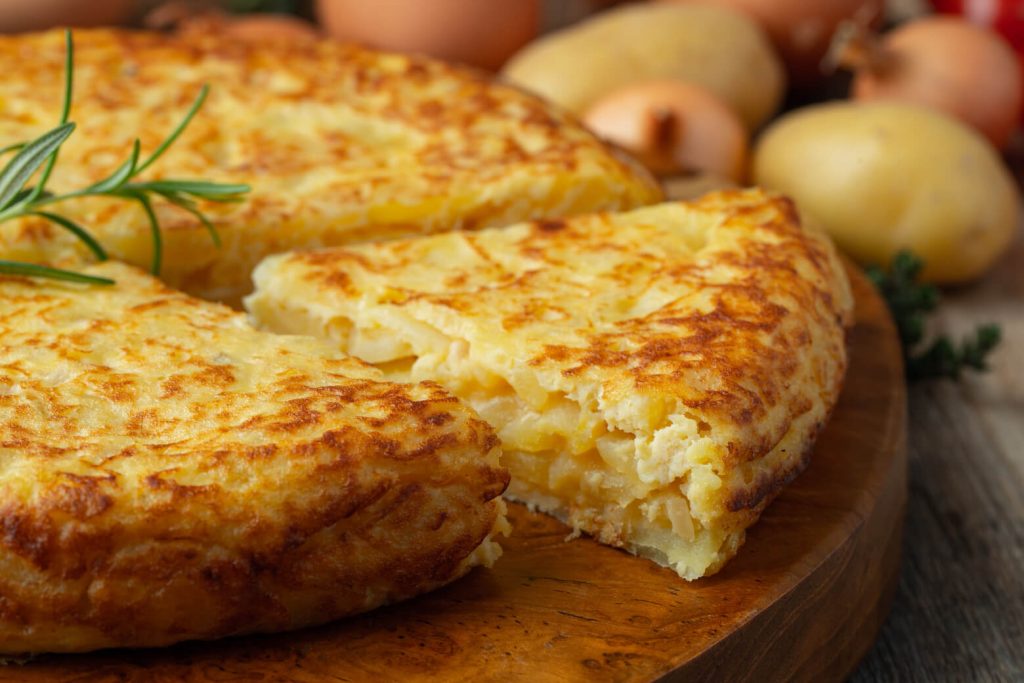 02 of 15
Spanish Omelet
This breakfast meal is called by many names: the more common ones are Spanish omelet and tortilla española or tortilla de patatas. Before you say no, know that this is not your typical American breakfast omelet. It's a rich and savory dish that combines silky eggs and savory potatoes all in one dish! Because the Spanish omelet has potatoes, the dish is also hearty. Team it up with a steaming mug of hot chocolate or cafe con leche for a filling and delicious breakfast!
You may also add manchego cheese and sliced chorizo for a more savory and filling dish! 
Try Recipe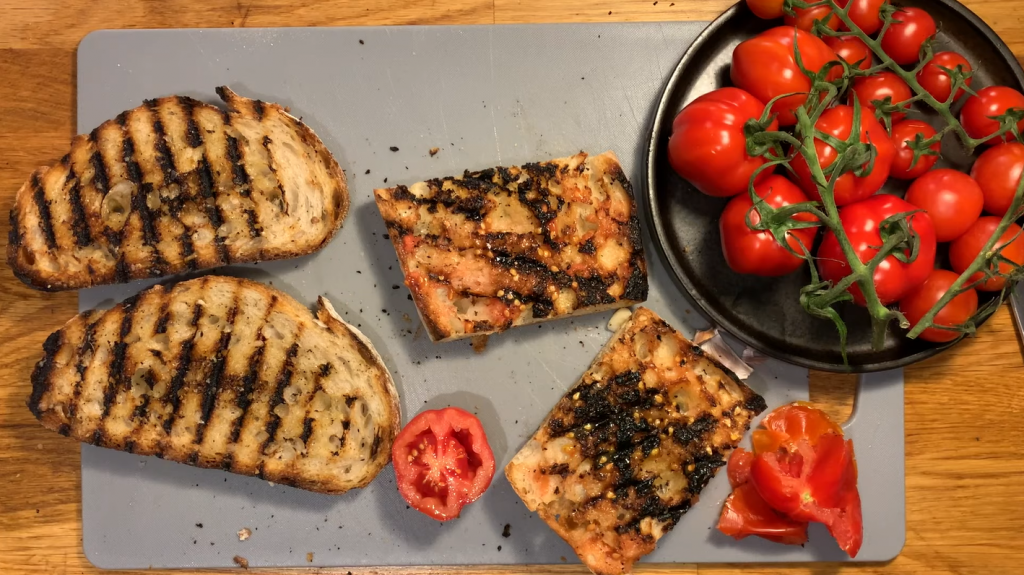 03 of 15
Pan Con Tomate
Spain is big on bread. As a matter of fact, it's also a common breakfast item in Spain better known as tostada. One of the most famous (and one of many) is pan con tomate or bread with tomato. Now, it's not as boring as it sounds. Imagine crispy, perfectly charred bread with the bursting sweetness of tomatoes, herby olive oil, and sometimes the nutty and pungent flavor of garlic.

All in all, we'd say it tastes pretty close to bruschetta or pizza, only with fewer toppings. You can also add cheese preferably manchego if you want to bring in more salty flavor.

Try Recipe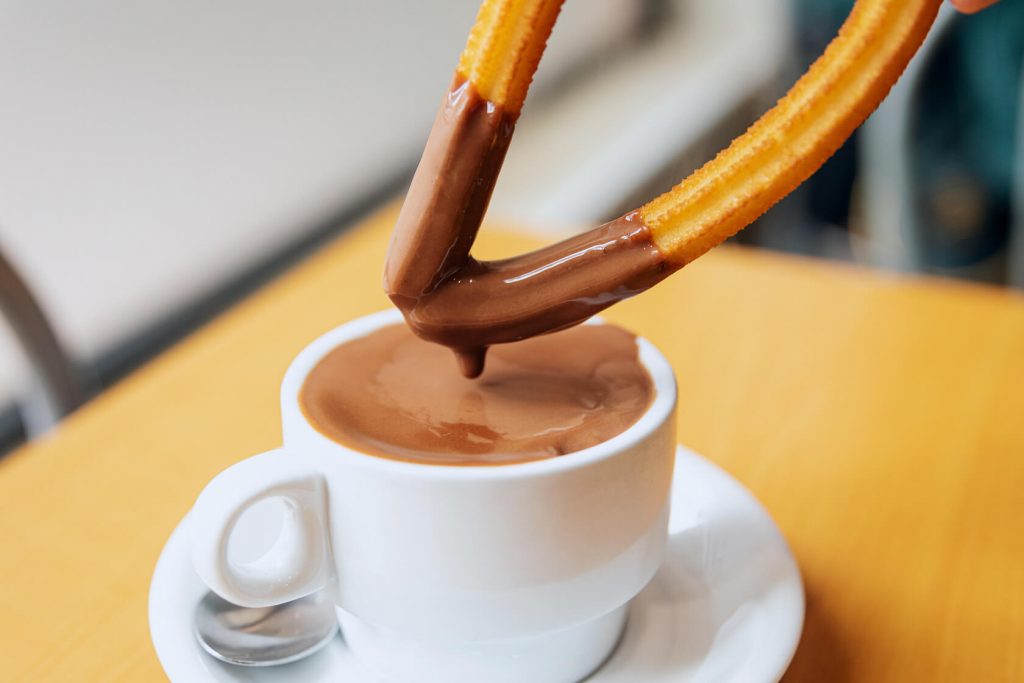 04 of 15
Spanish Hot Chocolate
In Spain, hot chocolate is not limited to the winter season or on Christmas day. In fact, you'll often see it beside golden, crispy churros as a dip. Unlike other hot chocolate though, this Spanish rendition is considered more as a dip rather than a drink because of its thick consistency. The secret? No, not more chocolate but cornstarch. It transforms the normal drink into velvety treats you can dunk your churros or buñuelos (Spanish doughnuts) in.

There are many ways you can get creative with your hot chocolate. Once you finish the base, you can personalize it by adding cinnamon or cayenne pepper. Or keep it simple! No one will judge you.

Try Recipe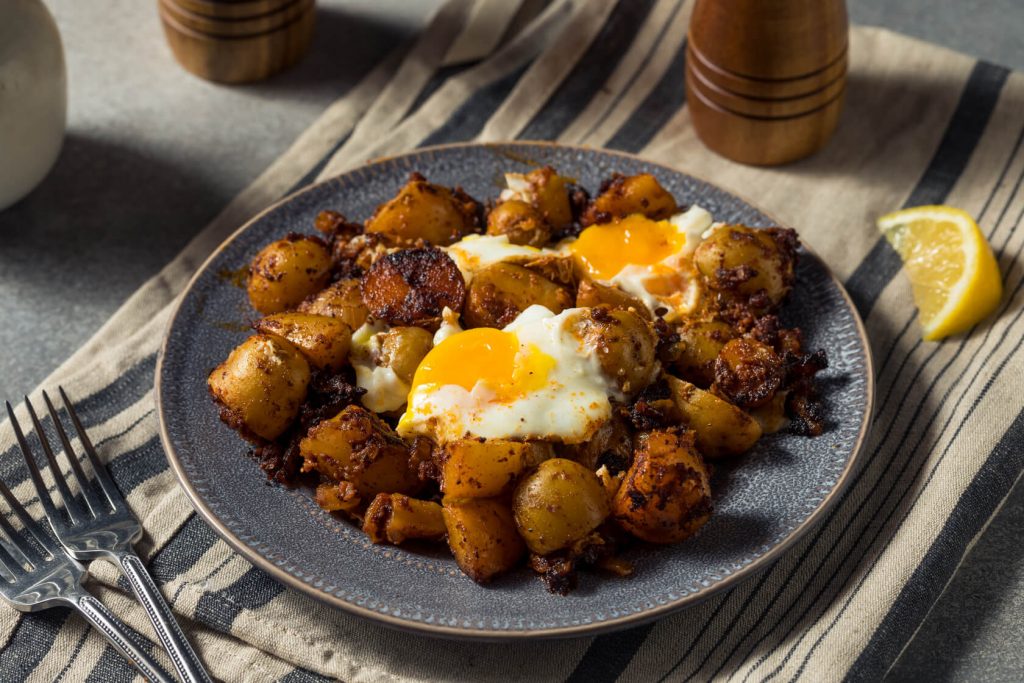 05 of 15
Huevos Rotos (Broken Eggs)
Huevos rotos (also called broken eggs or huevos estellados) are comfort food to Spaniards just like how chilis and mac and cheese are to Americans. First things first, the runny egg is not an option but an important component of this dish. It sits on top of either potato rounds, french fries, or chips depending on the region or personal preferences. It also has chorizo sausage or serrano ham for heat and extra smoky flavor. Although there's nothing wrong with a dash of paprika here and there. As a matter of fact, it's encouraged! But if you don't have it, a good paprika substitute will do.

Now, notice how it has everything on it. It could easily be your breakfast, lunch, or dinner. It's that versatile! Don't forget to pierce the egg yolk before you eat it!

Try Recipe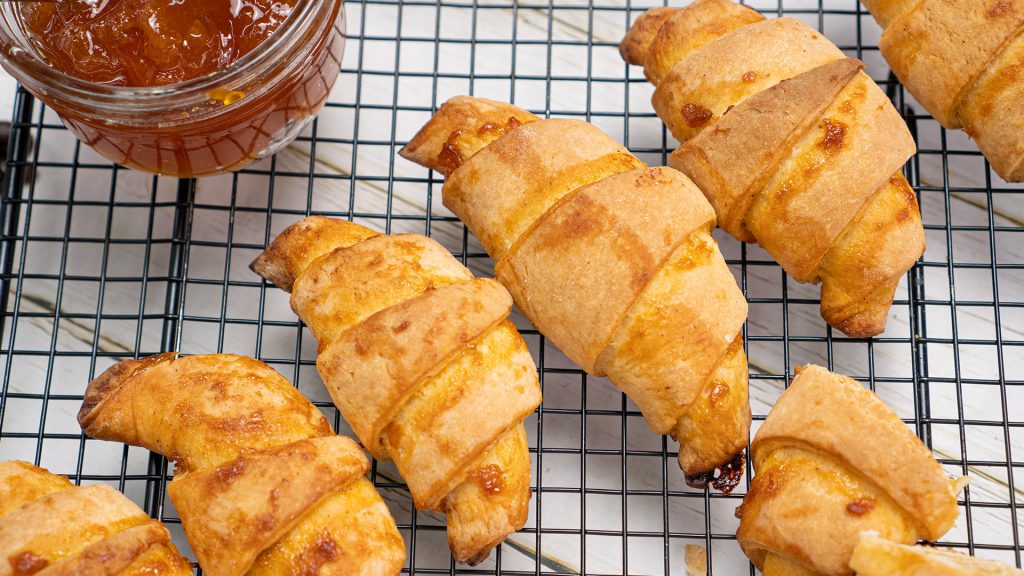 06 of 15
Croissant
You can't deny that croissant is one of the favorite breakfast foods in the world. Many go gaga over croissants with chocolate. Croissant de alemandra (also known as almond croissant) is also another crowd favorite. But the right way to a Spaniard's heart is a grilled croissant filled with jam and butter. Or also known in Spain as croissant a la plancha con mermelada y mantequilla. Whichever way you want to eat this buttery, flaky pastry, it will sure to perk you up!

Now, since croissants require time and effort to achieve a flaky texture, they can be intimidating for some home cooks. Start by trying your hand at making easy crescent rolls to save your worries and mornings. Enjoy it as they do in Spain, accompanied by fresh orange juice or coffee.

Try Recipe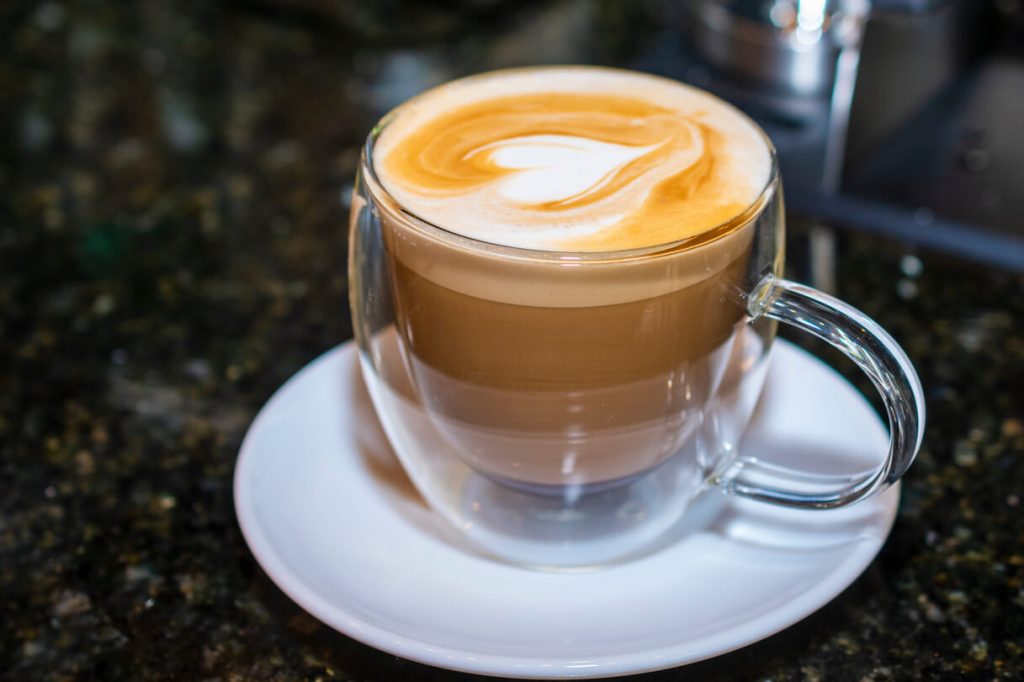 07 of 15
Cafe Con Leche
As you know, there are many types of coffee existing in the world. In America, the favorite is caffe latte. In Spain, the throne belongs to cafe con leche which means coffee with milk. Now, what makes it different from a latte? It's made of espresso and steamed milk that's been ultra-high-temperature pasteurized. Just like any coffee in the world, it can be enjoyed any time of the day, but is best enjoyed during breakfast. It can be served with zumo de naranja (orange juice) or enjoyed with basque cake or any sugary pastry like croissants or churros to combat the sweetness!

Try Recipe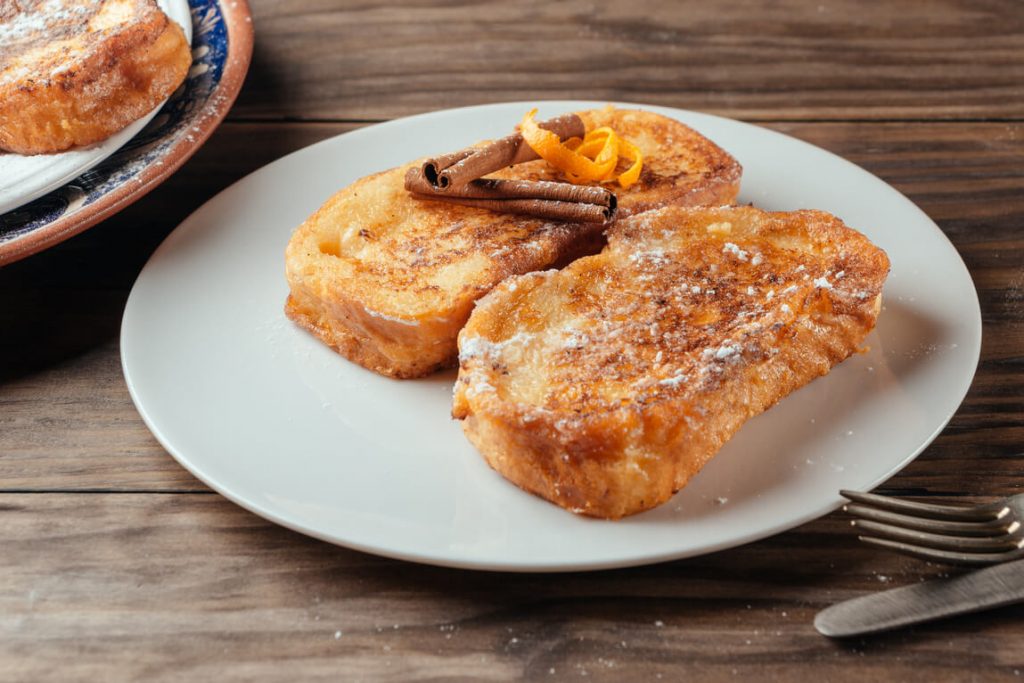 08 of 15
Torrijas (Spanish French Toast)
Meet the Spanish version of french toast: torrijas! This is a little more complicated than French toast but nevertheless a doable recipe. Think of it as a cross between French toast and pudding. It starts with stale bread (preferably a baguette or brioche bread) dipped in a mixture of eggs and milk and then cooked in olive oil until golden brown.

Some recipes like torrijas con vino include mosto (unfermented grape juice), liquor, or red and white wine. They're also flavored with all sorts of spices in the mixture such as cardamom and star anise. Now, here's the fun part: sprinkle with cinnamon sugar and drizzle with honey to give it the Spanish spin!

Try Recipe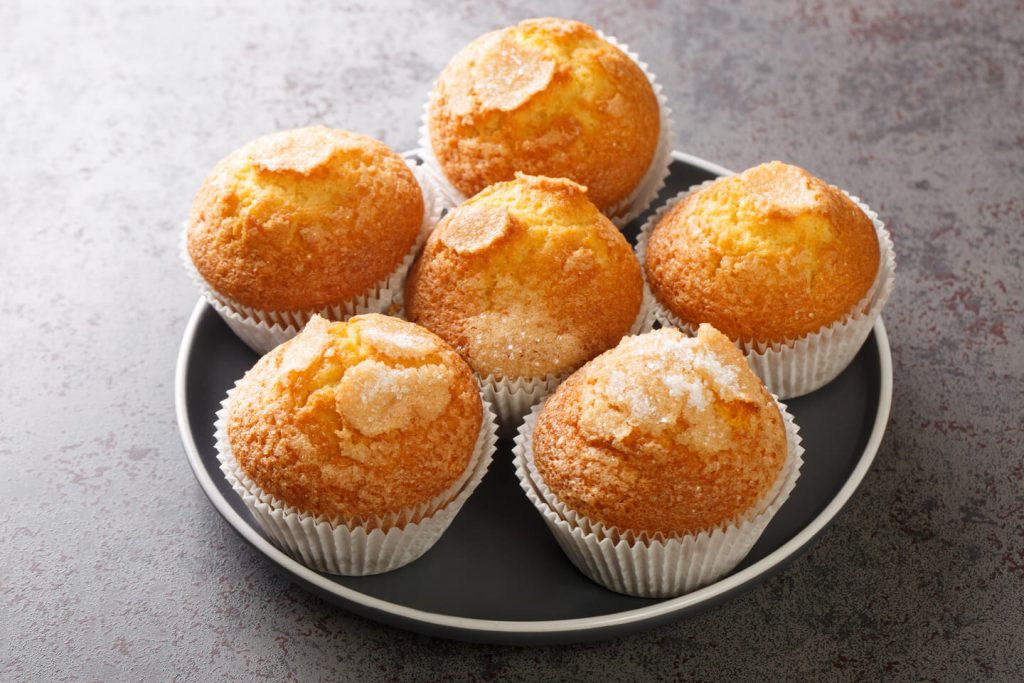 09 of 15
Magdalenas (Spanish Muffins)
Just like the rest of the world, Spain isn't exactly shy to have sweets for breakfast. Besides croissants and churros, another sweet you can eat for breakfast are magdalenas. Magdalenas or Spanish cupcakes are sweet, fluffy treats that look like muffins. If you haven't had one before, it's best described as light and airy with an incredibly bright, lemony taste that makes them quite addicting. They are typically enjoyed during breakfast with a cup of cafe con leche!

Try Recipe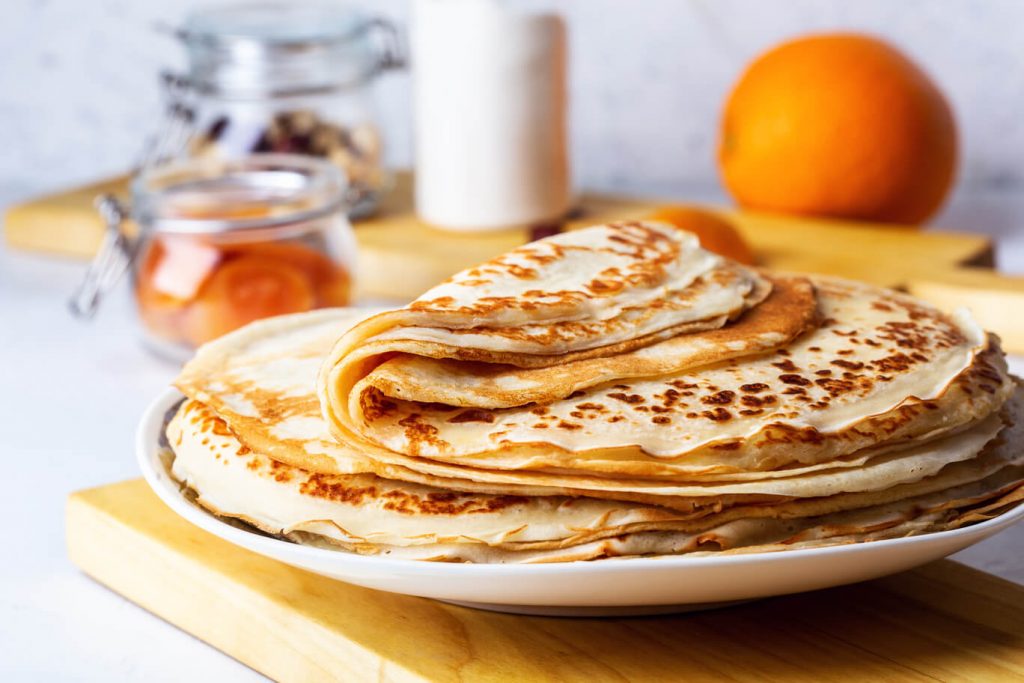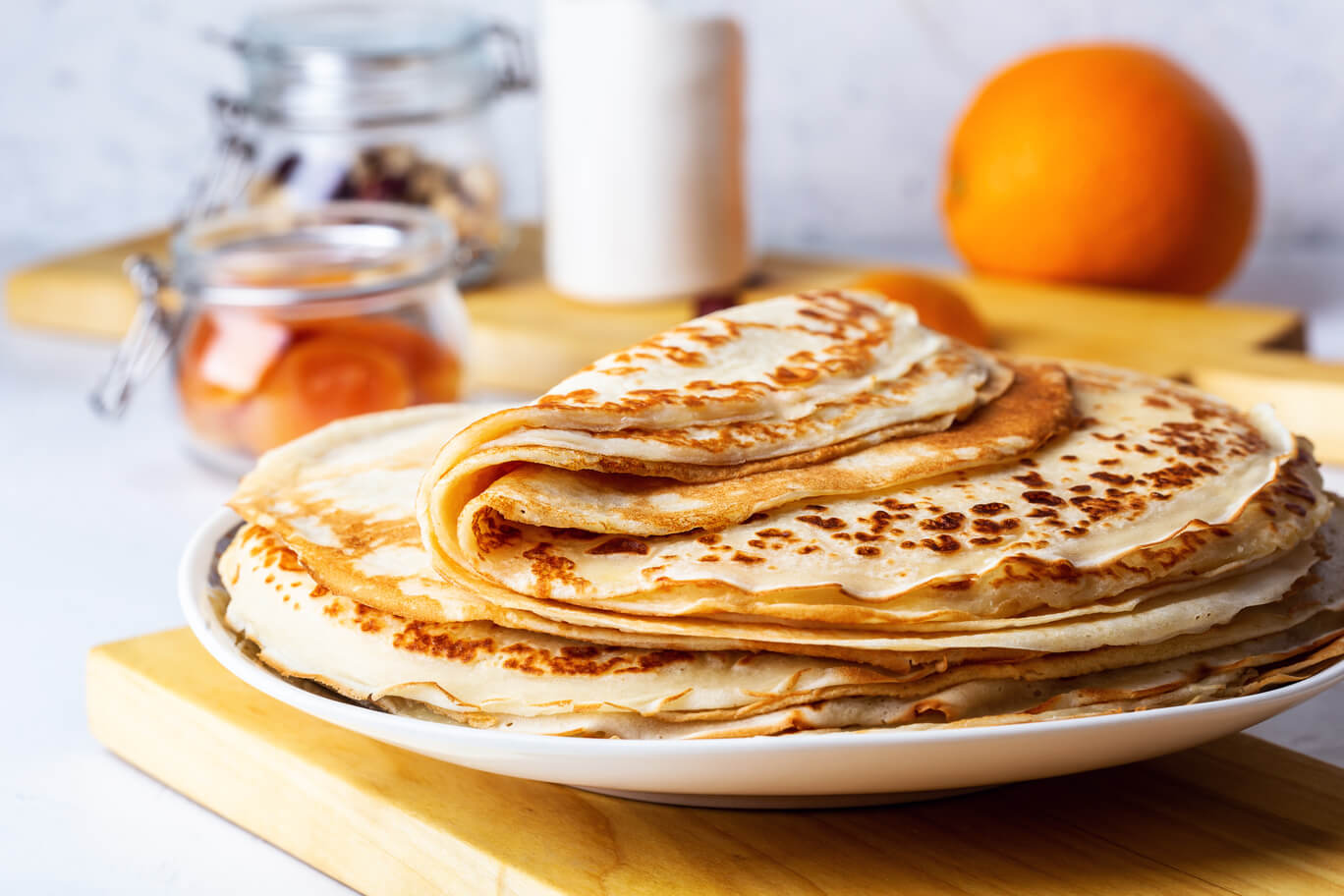 10 of 15
Frisuelos (Spanish Crepes)
Crepes have been increasing in popularity all around the world. But did you know its Spanish cousin, frisuelos? Frisuelos starts just like any French crepe but with the addition of sweet anisette liqueur. It's also traditionally served with a thin layer of sugar! Despite the difference, you can also play and get creative with it just like any crepe you make at home. You can fill them with various crepe fillings like dulce de leche, pastry cream, jam, or chestnut cream. Or better yet, with the favorite chocolate spread in the world: Nutella!

Try Recipe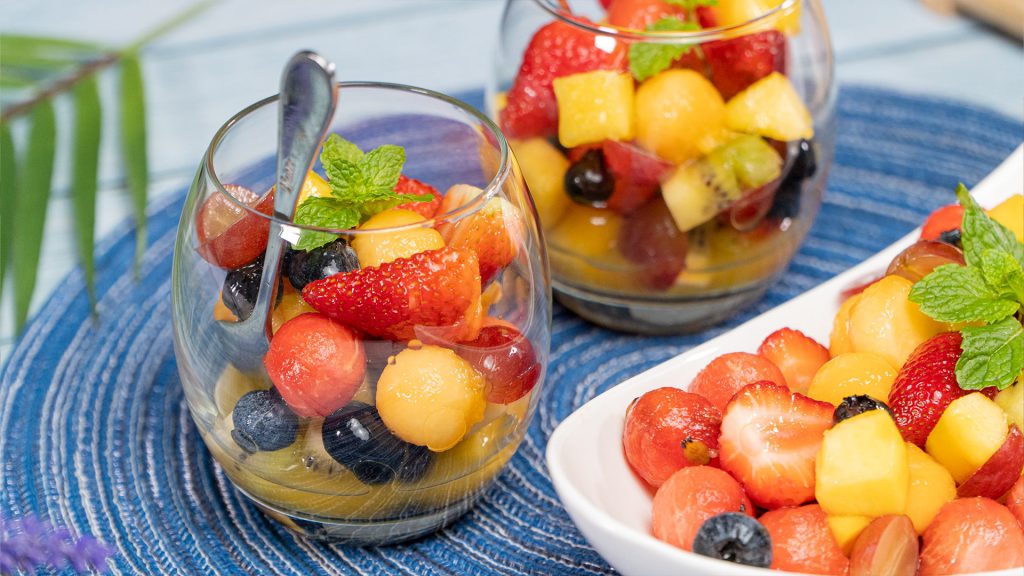 11 of 15
Fruit Salad
Spain is blessed with fruits and they take advantage of it every chance they get by mixing a bowl of fresh fruit salad for breakfast! The usual fruits they add are a combination of strawberries, bananas, and oranges but you can also add whatever is available. You can try kiwi, watermelon, blueberry, or grapes. Whatever your pantry has! Just don't forget the orange juice. It's a Spanish breakfast staple that binds the fruits together and adds a bursting tangy flavor.

Try Recipe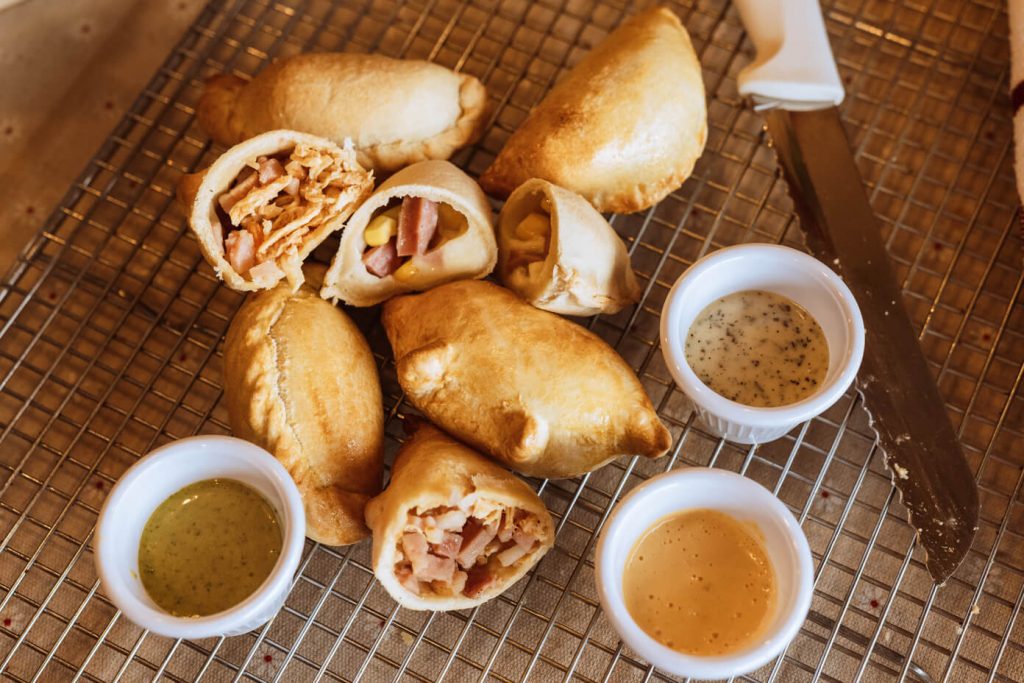 12 of 15
Breakfast Empanadas
Empanadas are pockets of buttery, flaky dough filled with some sort of protein such as pork, chicken, or beef. But for this recipe, you'll be filling it with a combination of chorizo, potatoes, red bell peppers, eggs, and some sort of Mexican cheese like queso fresco or cotija. You can say they taste a little like breakfast burritos but are incredibly buttery thanks to the crust!

Overall, it is a meaty and hearty dish that will certainly fuel you for the rest of the day. They're handy and not as hard to eat as burritos or tacos though which is a plus!

Try Recipe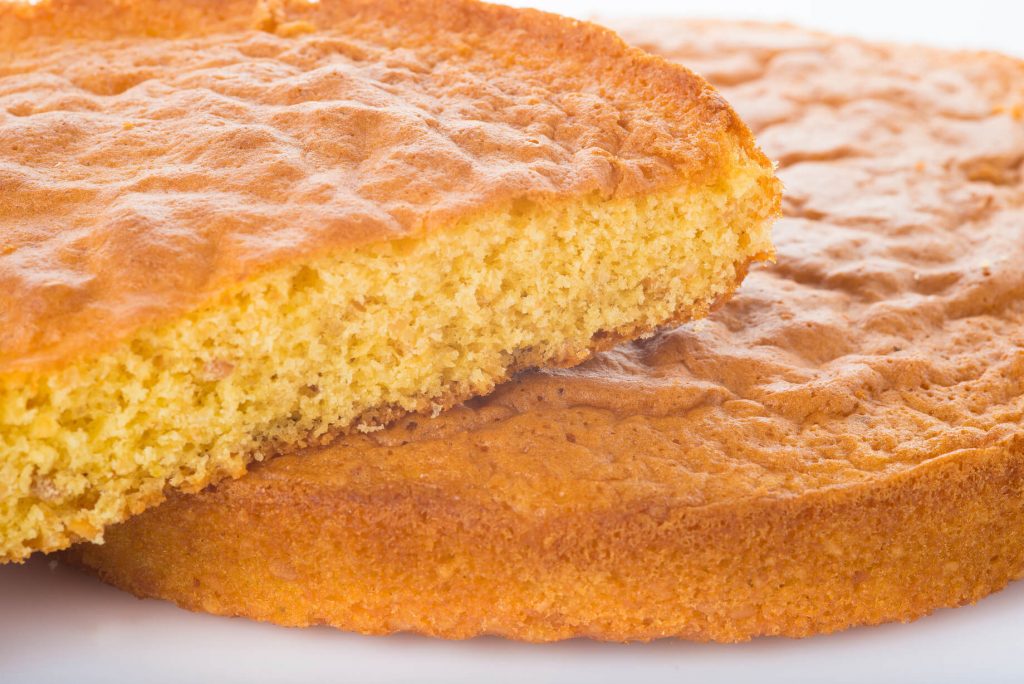 13 of 15
Bizcocho (Spanish Sponge Cake)
Bizcocho is a Spanish breakfast staple you'll often see in bakeries and cafes. To be more specific, it's a general term for pastries, cookies, or cakes in the Spanish-speaking world. But the one we're referring to here is a sponge cake, generally known as bizcocho. It's often served alongside a cup of hot chocolate or cafe con leche. Like the well-known sponge cake in the U.S., bizcocho has many varieties such as chocolate, lemon, and yogurt. If you like baked goods that are not too sweet, we suggest you start with this. It's airy and fluffy, with just the right amount of sweetness!

Try Recipe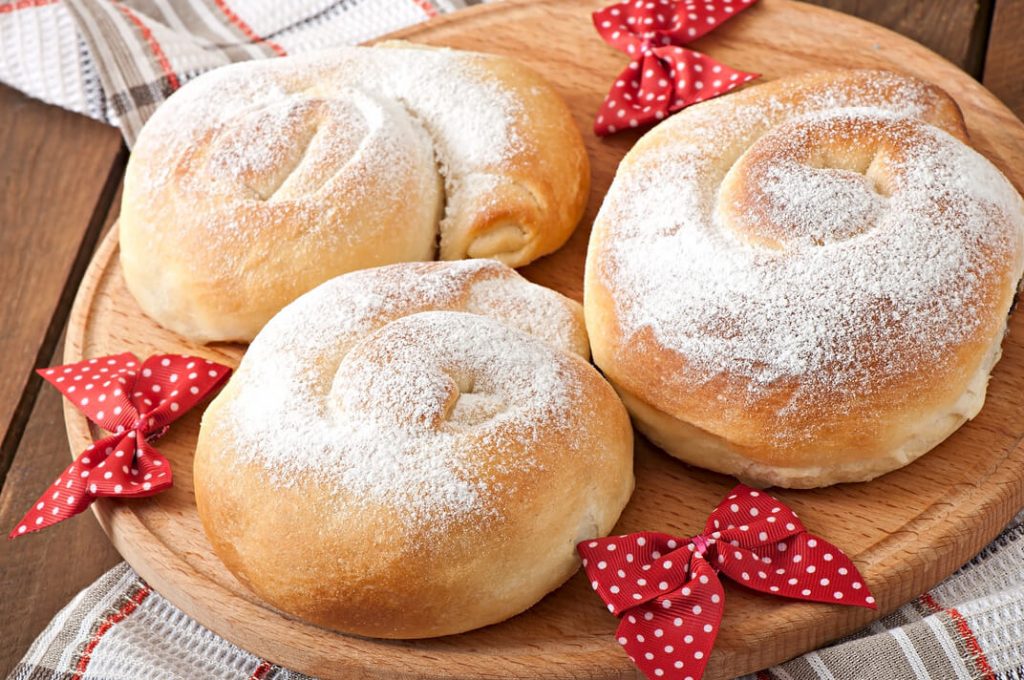 14 of 15
Mallorcan Ensaimadas
Looking for more sweet breakfast ideas? Try ensaimadas or Spanish breakfast rolls from Mallorca! This pastry is rolled into spirals and then dusted with powdered sugar for a delightful, flaky bressert. The base recipe begins with yeasted dough with eggs, flour, milk, and white sugar. But other recipes have emerged since then that include pumpkin, cream, and chocolate. If you haven't tried the original yet, give it a spin first before getting creative with it!

Try Recipe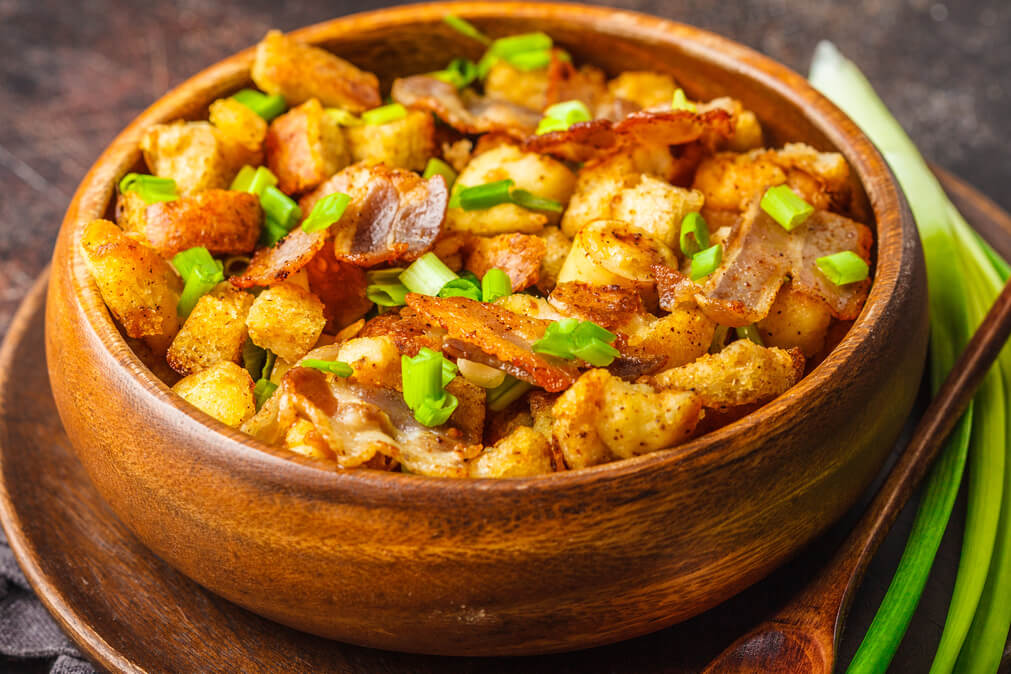 15 of 15
Spanish Migas
Not a fan of sweet breakfasts? Then you're looking for savory foods like Spanish migas. Each cuisine has its own tricks for saving leftovers. Spain has Spanish migas. In fact, "migas" literally means crumbs. The recipe uses stale bread and leftover vegetables or meat (preferably chorizo) for a smokey flavor. Softened peppers, tomatoes, and asparagus are also important components of this dish. On top sits a runny egg with crispy bread cooked in olive oil, garlic, and paprika. Just imagine crispy bread dipped in the runny yolk — heaven!

Try Recipe