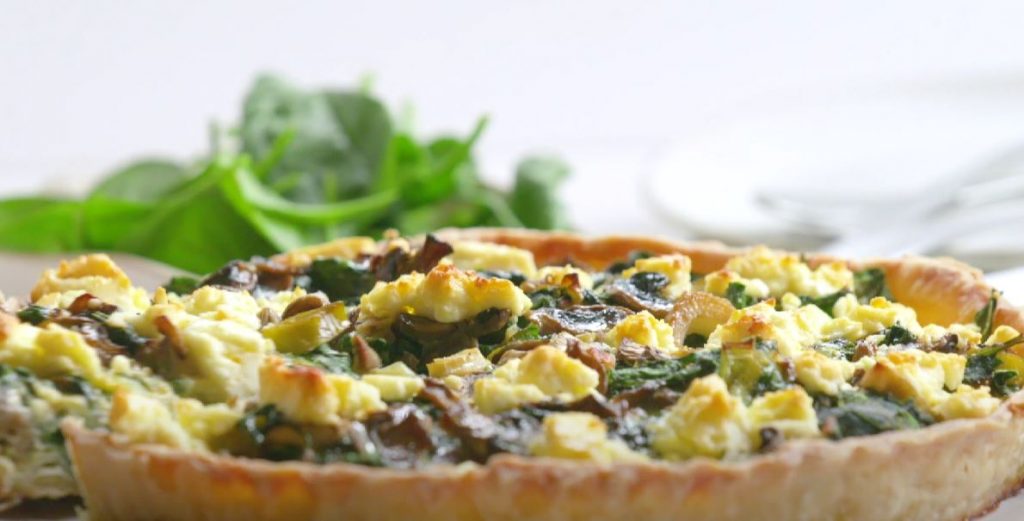 Mushroom, Ramp, and Spinach Tart Recipe
How To Make Mushroom, Ramp, and Spinach Tart
A tart recipe that won't hurt your diet. This vegetarian mushroom spinach tart is composed of dough with sautéed ramps, spinach, and mushrooms.
Ingredients
ramps,

1 bunch

1

pkg

portobello mushrooms

2

clove

garlic

3

cups

spinach

¼

cup

fig infused vinegar

¼

cup

port

salt and pepper

2

cups

gruyere cheese,

grated, depends on your level of cheese love

phyllo dough,

9 sheets

olive oil
Instructions
Preheat the oven to 350 degrees F. Chop off the ends of the ramps and dice the remaining stalk, including the leaves.

Turn to the mushrooms, chop them up, and set them aside.

Place a little olive oil in a saucepan on medium heat and sauté the ramps, mushrooms, and garlic for about five minutes or until the ramps have wilted a bit.

Throw in the spinach and continue cooking until the spinach has wilted. Lower the heat a bit and add the vinegar and the port, cooking until both liquids have reduced.

Add the salt and pepper to taste and remove the mixture from the heat. While the ramp mixture cools, turn to the phyllo dough.

Place a large sheet of parchment paper on a clean surface. Carefully place one sheet on the parchment paper and with a light hand, brush it with the olive oil.

Place a second sheet on top of the oiled sheet and brush it with olive oil. Repeat with the third sheet.

Place a line of the cheese along with one of the long ends of the phyllo dough and then spoon some of the ramp mixtures on top of the cheese.

Fold in the short ends of the dough to about a ½-inch and then carefully start rolling the dough lengthwise.

Place the tart seam side down on a baking sheet and continue the process for the remaining pieces of phyllo dough.

Bake the tarts for 10-15 minutes, or until the sheets are golden brown.

Allow to cool and then cut each tart into 3 or 4 equal parts.
Nutrition
Calories: 

157.25kcal

Fat: 

11.66g

Saturated Fat: 

6.38g

Trans Fat: 

0.00g

Monounsaturated Fat: 

3.98g

Polyunsaturated Fat: 

0.70g

Carbohydrates: 

1.75g

Fiber: 

0.45g

Sugar: 

0.69g

Protein: 

10.46g

Cholesterol: 

36.30mg

Sodium: 

246.08mg

Calcium: 

348.03mg

Potassium: 

136.49mg

Iron: 

0.44mg

Vitamin A: 

142.25µg

Vitamin C: 

3.40mg