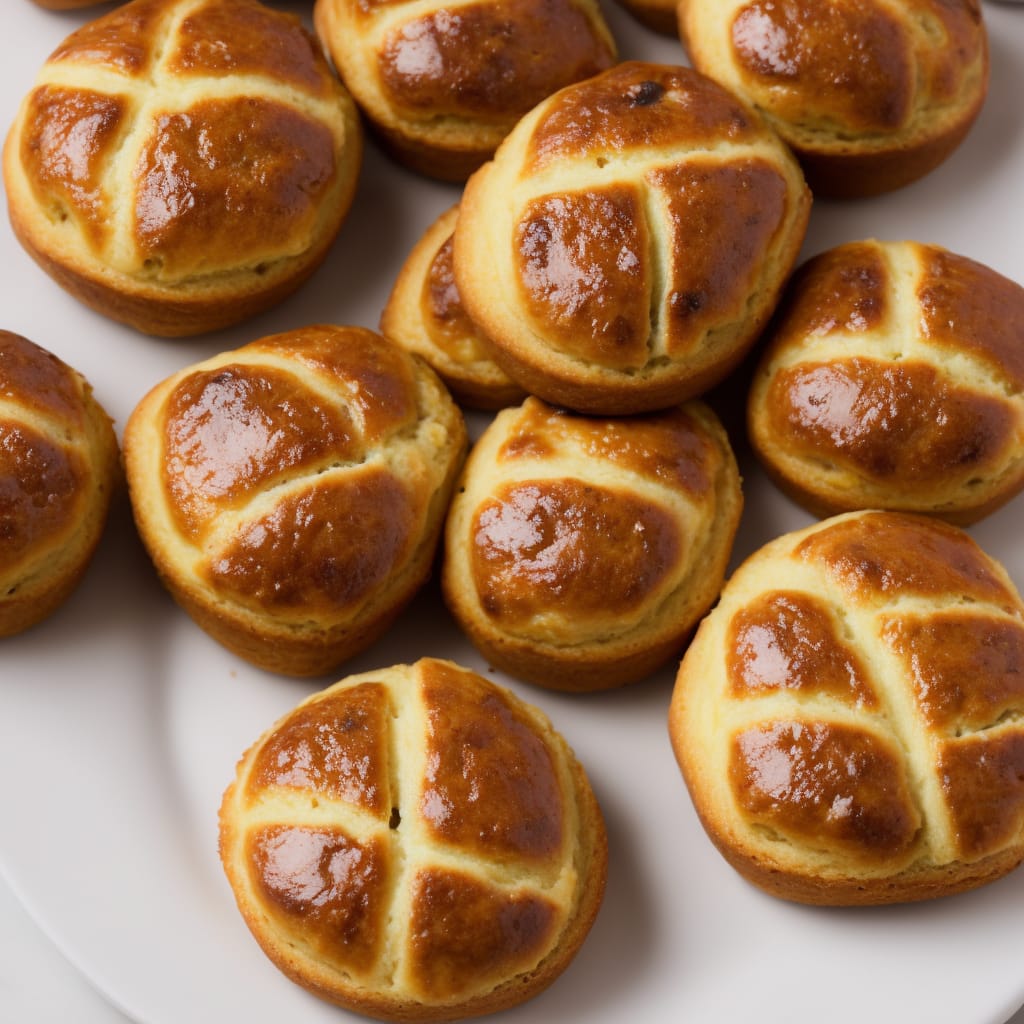 Lemon & marzipan hot cross buns Recipe
How To Make Lemon & marzipan hot cross buns
Springtime is about to get better with these amazing Easter recipes! We have a ton of savory classics ranging from appetizers to main courses, and even desserts. Try your hand at a proper Easter dinner with a leg of lamb, flavorful corn casserole, and more. And no Easter celebration would be complete without fun treats like Easter eggs and sweet carrot cake. So grab a spatula, and get cooking on these exquisite Easter recipes!
Ingredients
2 cups all-purpose flour
1/4 cup granulated sugar
1/2 tsp salt
1 tbsp active dry yeast
1/2 cup warm milk
1/4 cup unsalted butter, melted
1 egg, beaten
1 tsp lemon zest
1/2 cup marzipan, diced
1/4 cup powdered sugar
1 tbsp lemon juice
1/4 cup flour (for the cross on top)
Instructions
In a large mixing bowl, combine flour, sugar, salt, and yeast. Mix well.

In a separate bowl, mix warm milk, melted butter, beaten egg, and lemon zest.

Gradually pour the wet mixture into the dry mixture. Mix until a soft dough forms.

Knead the dough on a lightly floured surface for about 5 minutes, or until smooth and elastic.

Place the dough in a greased bowl, cover with a clean kitchen towel, and let it rise in a warm place for 1 hour, or until doubled in size.

Preheat the oven to 375°F (190°C).

Punch down the risen dough and divide it into 8 equal portions.

Flatten each portion into a disc, and place a small piece of marzipan in the center. Fold the edges over the marzipan and shape into smooth balls.

Place the buns on a greased baking sheet or lined with parchment paper, leaving enough space in between. Cover and let them rise for another 30 minutes.

In a small bowl, mix powdered sugar and lemon juice to make a glaze.

In a separate bowl, mix 1/4 cup flour with enough water to create a thick paste.

Using a piping bag or a plastic sandwich bag with a small hole cut, pipe the flour and water paste in a cross shape on top of each bun.

Bake in the preheated oven for 15-20 minutes, or until golden brown.

Remove from the oven and brush the buns with the lemon glaze while still warm.

Allow the buns to cool slightly before serving.
Nutrition
Calories :

348kcal

Total Fat :

13g

Saturated Fat :

6g

Cholesterol :

57mg

Sodium :

269mg

Total Carbohydrates :

51g

Dietary Fiber :

2g

Sugar :

16g

Protein :

6g