We have the classic carrot cake but our sugar-free carrot cake is a show-stealer. This recipe serves moist, tender, and naturally sweetened carrot cake slathered with sweet and tangy cream cheese frosting. It's packed with fruits and nuts and has zero sugar! What more can we ask for?
This healthy sugar free carrot cake recipe will make your staple dessert for Easter or any other special occasion, giving you a sweet treat in just an hour. Serve another healthy dessert alongside it with our vegan chocolate mousse.
What's In Our Sugar Free Carrot Cake? 
We can mix and match healthy substitutes for baking a sugar-free cake but we got it right in this healthy carrot cake recipe.
The shredded coconut gives our cake an amazing texture while cinnamon gives it a warm and spicy flavor. The nutty flavor goes perfectly with the sweetness of our carrots so we added in a lot of them. In addition, we're using honey as a natural sweetener just to add to the sweetness of our nuts, fruits, and vegetables. 
And to make things even better, we're topping off this sugar-free cake recipe with a 4-ingredient cream cheese frosting. If you're also wondering about the calories, this is also a low carb carrot cake! Check out our other sugar-free dessert recipes.
Tips In Making Sugar Free Carrot Cake
We're going all out with healthy alternatives in this recipe so be the judge and put this diabetic cake to the test. Here are a couple of tips in making this recipe:  
Make sure your carrot cake rests and

reaches room temperature

before frosting, or you will have difficulty spreading it out.

Cover the cake

when chilling to avoid absorbing the smell from the fridge. 

Give a chocolatey touch

to your cake by mixing ½ cup of

sugar-free baking cocoa to the cake frosting. 

After cutting the cream cheese into cubes leave them

at room temperature

for an hour or until fully soft.
Got a few more batters left? Make mini versions of this dessert by turning those extra batters into fun size cakes by simply following our delightful carrot cupcakes recipe. Your healthy dessert will surely be the topic of the table once it is served.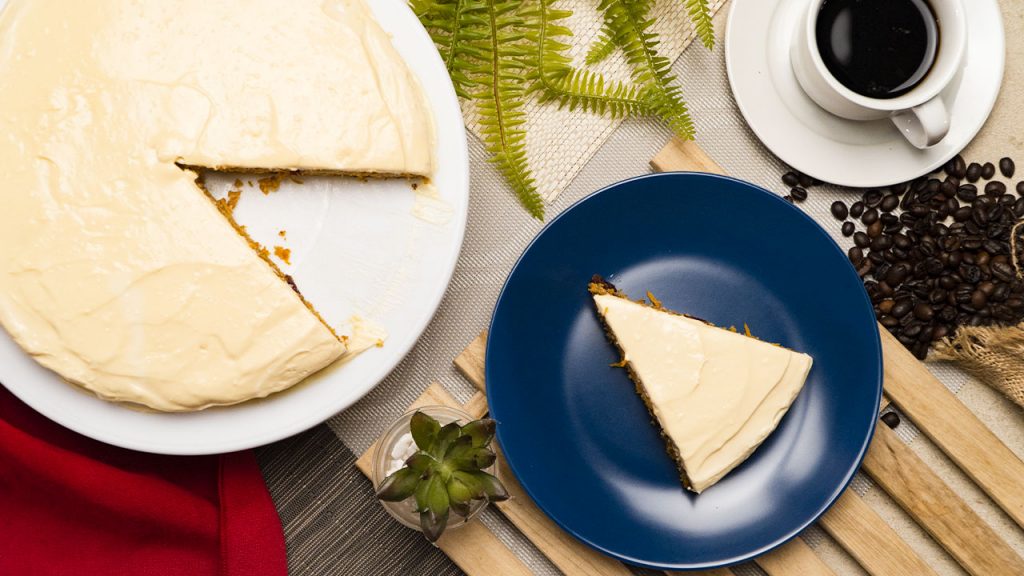 Sugar Free Carrot Cake Recipe
How To Make Sugar Free Carrot Cake
This healthy sugar-free dessert takes only an hour to prepare. Enjoy this nutty, woody, spicy-sweet, no sugar carrot cake slathered in naturally sweetened cream cheese frosting topped with more nuts.
Ingredients
For Carrot Cake:
8

oz

carrots,

peeled and finely grated

1½

cups

almond flour

2

pcs

eggs

½

cups

coconut,

desiccated

½

cup

dried cranberries

⅓

cup

walnuts,

or pecan nuts, roasted, and chopped

¼

cup

honey

¼

cup

milk

¼

cup

coconut oil

¼

cup

applesauce,

unsweetened

2

tsp

ground cinnamon

1

tsp

vanilla extract

1

tsp

baking powder

¼

tsp

ground green cardamom

½

tsp

ground ginger

¾

tsp

salt

⅛

tsp

ground nutmeg

cooking spray
For Cream Cheese Frosting:
4

oz

cream cheese,

preferably organic

½

cup

heavy cream,

chilled

4

tbsp

honey

½

tsp

pure vanilla extract
Instructions
Carrot Cake:
Preheat the oven at 350 degrees F. Grease an 8-inch springform cake tin with cooking spray and line with parchment paper.

In a large bowl, mix the carrots, almond flour, desiccated coconut, walnuts or pecans, cranberries, ground cinnamon, baking powder, ground ginger, ground green cardamom, nutmeg, and salt.

In another bowl, add in the eggs, honey, milk, coconut oil, applesauce, and vanilla extract. Whisk to combine.

Add the dry mixture into your wet mixture until evenly combined

Transfer the cake batter to your cake tin. Bake it in the oven for roughly 45 minutes, or until a cake tester comes out clean.

Once your cake is done baking, remove it from the pan and allow it cool on a rack.
Cream Cheese Frosting:
In a chilled mixing bowl beat the heavy cream until soft peaks form.

In a separate bowl, add in the cream cheese, honey, and vanilla extract. Cream until smooth, roughly 5 minutes.

Fold in the whipped cream to your cream cheese mixture until evenly incorporated.

Spread your cream cheese frosting over your cooled cake.

Stick roughly 4 pieces of toothpicks into the cake and place your cling film on top. This will prevent the cling film from sticking to your frosting.

Cover your carrot cake and chill until the frosting becomes firm. Enjoy your sugar-free carrot cake at room temperature or served chilled.
Nutrition
Sugar:

26g

:

Calcium:

129mg

Calories:

438kcal

Carbohydrates:

35g

Cholesterol:

38mg

Fat:

33g

Fiber:

5g

Iron:

1mg

Monounsaturated Fat:

4g

Polyunsaturated Fat:

3g

Potassium:

197mg

Protein:

7g

Saturated Fat:

15g

Sodium:

348mg

Vitamin A:

5164IU

Vitamin C:

2mg
Nutrition Disclaimer
Commonly Asked Questions
What flavors go well with carrot cake?
Nutty and fruity flavors are usually added to the carrot cake batter using sweet fruits like raisins and pineapple, which we used in our recipe. Nuts also give our carrot cake greater texture! You can also add nuts of your choice in your buttercream, browned butter, or cream cheese filling or frosting.
How do I bake dessert without using sugar?
You can make sugar free desserts with ground almonds and grated vegetables and use their natural sweetness. Honey and maple syrup are natural sugars that you can also use. You can also use fruit juice concentrates or syrup just like how we did in these diabetic recipes: sugar free apple pie and berry cobbler recipe. Else, you can also try sugar alcohols derived from fruits and vegetables like Xylitol and Erythritol.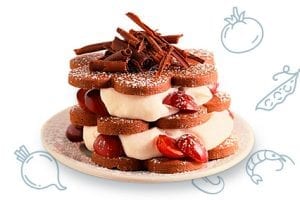 Conclusion
This sugar free carrot cake with classic nutty, creamy flavors is the perfect healthy go-to dessert that's easy to make. It's a diet-friendly cake that can be the perfect sub to your favorite chocolate cake!
Topics: