This simple Easter roast only needs a few ingredients and is roasted to perfection! Baste in canned soups for a moist and savory main dish.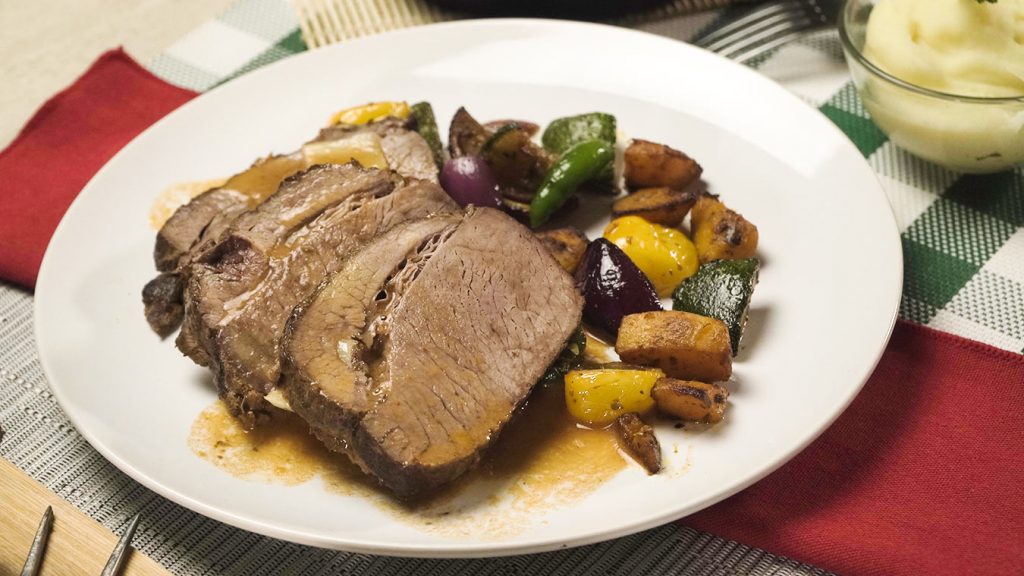 Easter Roast Recipe
Ingredients
5

lb

beef chuck roast,

tri-tip roast, or top or bottom round roast, trimmed

10¾

oz

condensed tomato soup,

(1 can)

10¾

oz

condensed mushroom soup,

(1 can)

2

cups

beef broth

½

tsp

onion powder

½

tsp

garlic powder

½

tsp

dried rosemary

½

tsp

dried oregano

½

tsp

dried thyme

½

tsp

paprika

½

tsp

salt

½

tsp

ground black pepper and sea salt

whole

cloves,

from 1 head of garlic, peeled

¼

cup

vegetable oil

kitchen twine
To serve:
mashed potatoes

roasted vegetables,

cherry tomatoes, zucchinis, squash, bell peppers, & red onions
Instructions
Preheat your oven to 300 degrees F.

Combine onion & garlic powders, rosemary, oregano, thyme, paprika, salt & pepper. Set aside.

In a large bowl, combine beef broth with the condensed soups. Whisk until evenly incorporated and then set aside.

To truss the beef properly, cut beef in half.

Slice your twine under your beef roast, roughly 3 centimeter from the top. You'll now have a shorter & longer end. Loop these 2 ends around your index & middle fingers. Once you have formed the loop, feed the shorter end through the loop.

You would have formed a sliding knot. Slide this all the way down until it reaches the meat, then tighten by tugging at the short end.

Next, cross-tie the twine over the free end, then slide it under the roast. You'll once again have a sliding knot. Repeat until you've reached the end of the beef roast.

Tightly tie a knot to hold the roast in place.

Generously season the trussed beef with the spice mixture.

Using a paring knife, poke enough holes around your beef roast. Place a clove of garlic into each hole, then truss with kitchen twine.

Heat up a skillet with oil, & sear the trussed beef until browned on all sides.

Transfer to a roasting tin then pour the soup mixture over & around the roasting tin, then cover with foil.

Transfer to the oven and braise for roughly 1½ hours. Discard foil & allow to roast for another 1½ hours. Baste frequently with the soup mixture.

Once your easter roast is done cooking, remove the twine & discard.

Portion accordingly, then serve it alongside some roasted vegetables & mashed potatoes roughly 1 cup each per serving. You can also serve the roasting juices as a sauce, roughly ⅓ cup sauce per serving.