It's double the treat with our delectable Candy Corn Rice Krispies Recipe! If you're craving crunchy Rice Krispies and miss the marshmallow taste of the classic candy corn, then this recipe is for you. 
Although, make no mistake. For this recipe, we won't be using any of Brach's candy. Instead, we're going to make a Rice Krispies cereal treat that looks exactly like the iconic orange candy, complete with its three-colored stripes!
These crispy rice and soft marshmallow snacks are also perfect easy Halloween treats! Whip up a batch of these Halloween desserts and you're all set for your next spooky party.
What Is Candy Corn: What Is It Made Of, What Does It Taste Like?
Candy corn is a popular, sweet candy that's made to look like dried corn kernels (hence the word "corn" in its name). You can easily spot this classic candy thanks to its signature triangular shape and three-colored stripes.
Candy corns are made up of sugar, corn syrup, confectioner's glaze, honey, gelatin, and artificial flavors. These candy corn ingredients give the sweet treat a marshmallow-like texture with a delicious vanilla flavor! 
Before its contemporary name, candy corn used to be called "chicken feed" back in the 1800s. In fact, this small tricolor treat is actually one of the oldest American candy you can still find today. Also, candy corns used to be enjoyed all year round, with many labeling it as an affordable and tasty everyday candy treat! 
Now, candy corn is most associated with the fall season and Halloween. This happened when households started giving away candy to trick or treaters. In fact, its most famous colors of orange, yellow, and white, are all harvest-related.
Thanks to its rise to popularity, all kinds of recipes were made. There's candy corn cookies, cakes, and even a Candy Corn Brownie Pizza! There are also candy corn cobs that use the candy, with its yellow bottom stripe, to form what looks like a real corn cob! And just like this recipe, we have our Candy Corn Shooters Drink that looks just like the classic Halloween candy, with its white, orange, and yellow layers.
Tips on Making Homemade Candy Corn Rice Krispies Treats
But in this recipe, we're going to make a Rice Krispies treat that's made to look like big candy corn! It's crispy, and has soft, mushy marshmallow and butter to help bind the Rice Krispies together. These select ingredients also give the treat the familiar taste and flavor you'd find in the classic orange candy.
Here are some tips you can keep in mind when making the perfect Rice Krispies cereal treats. First, do not overheat the marshmallows in the microwave! Doing so will result in hard and tough treats. You can check the marshmallows every 30 seconds while they're melting in the microwave, stirring every time.
Second, don't overmix the marshmallow mixture when you've added in the Rice Krispies! There's a chance that you might break the cereals in half when you do this, which will result in a denser treat. And speaking of dense, make sure you don't press the mixture too firmly into the pan. You want the treat to be just the right amount of light and gooey. 
Lastly, in this recipe, we used green and pink food coloring rather than the candy's usual white, orange, and yellow colors to switch things up a little, though you most certainly can stick to the typical Halloween color theme if you prefer!
More Candy Corn Rice Krispies Variations And Recipes To Try
Our Rice Krispies treat is great eaten as it is! However, there are little touches you can also do and add to mix things up a bit.
If you're not a fan of touching sticky treats, you can always just stick them in colorful popsicle sticks, cookie sticks, or paper straws. Also, if this variation of the recipe isn't sweet enough for you, we have some other tips that might do the trick. 
If you want to mix some delicious chocolatey goodness in there, we suggest you try coating the bottom layer of the candy corn-shaped treat with brown, candy coating chocolate, or candy melts. This is especially perfect for making the Thanksgiving version, which has brown stripes at the bottom. 
If you want to try more of our homemade candy recipes, go ahead and check our candy category. We recommend you try our Homemade Sweet and Sour Gummy Candy Recipe, as well as our scrumptious Easter Egg Candy Recipe.
For more Halloween food ideas, we have a recipe for Candy Apples For Halloween and Butterfinger Eyeballs! So, what are you waiting for? Let's get cooking!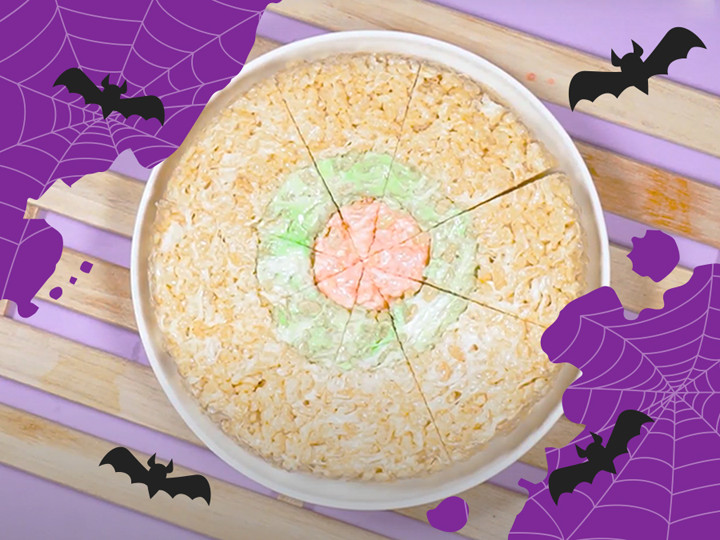 Candy Corn Rice Krispies Recipe
How To Make Candy Corn Rice Krispies
Treat your guests to a crunchy and gooey Rice Krispies treat, shaped just like the iconic candy corn for your next Halloween party! Taste the melted goodness of marshmallows and butter, mixed with Rice krispies for an addicting crunch.
Ingredients
unsalted butter,

for greasing the hands
For Rice Krispies Ring:
3

cups

rice cereal,

preferably Rice Krispies

3 ½

cups

plain marshmallows

3

tbsp

unsalted butter,

at room temperature
For Green Ring:
2

cups

Rice Krispies cereal

2 ¾

cups

plain marshmallows

2

tbsp

unsalted butter,

at room temperature

drops

green food coloring
For Pink Center:
1

cup

Rice Krispies cereal

1

cup

plain marshmallows

2

tbsp

unsalted butter,

at room temperature

drops

red food coloring
Instructions
Grease a ring mold, an 8 ½-centimeter cookie cutter, a 4-centimeter cookie cutter, and a spatula with cooking spray.
Rice Krispies Ring:
In a microwave-safe bowl, add the mini marshmallows and butter. Then, mix.

Microwave for 3 minutes, until the marshmallows become warm and slightly melted.

Remove from the microwave. Quickly mix the melted marshmallows until evenly combined and add the rice cereal.

Using a greased spatula, fold the mixture until evenly incorporated, then immediately transfer to the greased cake ring.

Grease your hands with butter, then spread the mixture until it covers the area inside the cake ring. Using an 8 ½-centimeter cookie cutter, press down the cookie cutter and trim the middle part, creating a
Green Ring:
Repeat the same process with the ingredients for the green ring, adding the green food coloring together with the rice cereal. Use the 4-cm cookie cutter to trim the middle part.
Pink Center:
Repeat the process for the pink center, adding the red food coloring together with the rice cereal.

Once your three colors are pressed into the pans, allow to fully cool and set, at least 30 minutes.

When firm, flip over your cake pans onto a cutting surface, and tap pan on cutting board to remove the rice cereal round. Portion your rice cereal ring similar to slicing a pie then serve!
Recipe Notes
The Rice Krispies and marshmallow mixture can be very sticky, making it difficult to work with.

Rub more butter on your hands as necessary to prevent the mixture from sticking to your hands and work quickly, as the mixture is more difficult to mold as it cools.

We use green and pink food coloring for the candy corn in this recipe. However, you can use orange and yellow food coloring to make it a quintessential Halloween treat! 
You can also add a bit of orange and lemon zest for a surprising hint of citrus flavor. Add 1 tablespoon of grated orange zest to the Green Rice Krispies Mixture, and 1 tablespoon of grated lemon zest to the Pink Rice Krispies Mixture.
You can let this dish cool and set for up to 2 hours, or even overnight.
Nutrition
Sugar:

41g

:

Calcium:

39mg

Calories:

383kcal

Carbohydrates:

73g

Cholesterol:

27mg

Fat:

11g

Fiber:

1g

Iron:

7mg

Potassium:

25mg

Protein:

3g

Saturated Fat:

7g

Sodium:

202mg

Vitamin A:

1196IU

Vitamin C:

9mg
Nutrition Disclaimer
Commonly Asked Questions
Can I make candy corn rice krispies in advance?
Yes, you can! In case you're serving these at a party, you can make the Rice Krispies cereal treats a day in advance. Just make sure to wrap your uncut mixture tightly using a plastic wrap. Only cut them on the day of serving.
How to store these treats?
Store the treats in a single layer, on parchment-lined airtight containers. You can also store them in a Ziploc bag. The key is making sure that everything is airtight. Stored properly, these treats can last for up to 3 days at room temperature. We recommend storing the treats at room temperature since the cold temperature in the fridge can turn them hard.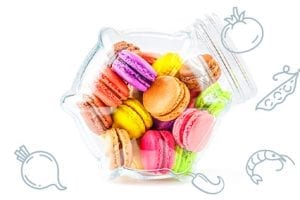 Conclusion
Our Candy Corn-shaped Rice Krispies are a great treat at parties! It's easy to make and only needs 3 ingredients. Change up the colors to fit for whatever occasion you're serving them!