Looking for Easter cake ideas? We've got you covered. For your next Easter hosting, serve our bright and citrusy lemon bundt cake that's perfectly fluffy on the inside and crisp on the outside.
You don't need to go overboard with your choice of dessert for this affair. Infused with lemon extract and sprinkled with just the right amount of icing sugar, this lemon bundt cake should have a dainty and rustic feel to it. It's a perfect addition to a festive table spread that's ideal for the occasion. Serve this dessert after a course of roast leg of lamb for a classic Easter meal.
Aside from your traditional Easter spread, this lemon bundt cake is also great to have for casual gatherings. If your holiday plans involve just hanging out with friends, then there's more wiggle room for creativity. If this is the case, then you should definitely do your own take on our experimental crockpot ham glazed with Dr. Pepper and brown sugar. This Easter roast idea puts a modern twist on a classic favorite.
What Is A Bundt Cake?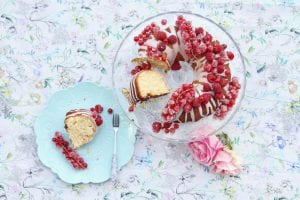 In a nutshell, bundt cakes differ from regular cakes because of the pan used in baking. As a result, their appearance varies as well. Instead of baking the batter in a regular baking tray as you would any cake, bundt cake batters are baked inside ring-like molds called bundt pans.
The bundt cake's distinct shape allows more surface area of the cake to be exposed to heat. Because of this, the exterior of the bundt cake becomes browner and crispier compared to the regular cakes. This provides a nice contrast in terms of texture to the soft and spongy cake inside.
Frosting bundt cakes are also nearly impossible to refine because of their shape. This is why most of the flavoring of bundt cakes are done in the batter itself. For this recipe, the pop of flavor comes from a few drops of lemon extract.
What Does This Lemon Bundt Cake Taste Like?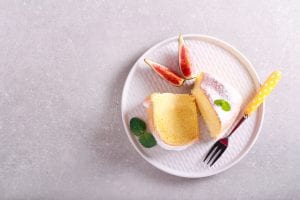 A little goes a long way in using lemon extract as its flavor is much more concentrated compared to lemon juice. A tinge of this extract, in addition to the creamy buttermilk, should add just the perfect amount of mouthwatering tartness you would desire in a cake.
If you want the distinct citrus flavor of lemons but don't want your cake to be too overly sour, you can also take a gander at our Limoncello bundt cake. Instead of lemon extract, this recipe calls for Limoncello, sweet liquor with an intensely lemony flavor.
With the unique look of bundt cakes, they can easily pass-off as incredible in their own right. This particular lemon bundt cake of ours is a versatile dessert, too. Its subtle lemon flavor makes this bundt cake easy to pair with other sweet and savory dishes.
Tips On How To Make Lemon Bundt Cake
Making bundt cakes in general can be a bit of a challenge especially for first-timers. So we've listed a few important things to take note of to ensure that you make your best version of lemon bundt cake for your Easter feast:
Prepare your bundt pan before pouring the batter
It's crucial to grease your bundt pan before proceeding with the other steps. If you skip this step, you might not be able to release the cake properly. This might result in a crumbled exterior.
First and foremost, we suggest using a non-stick bundt pan. The key to preventing your bundt cake from sticking is to provide a barrier between the pan and the batter before baking. Bakers use different ingredients for greasing bundt pans. We've listed some of the most popular ones below, so feel free to try and see what works for you:
Non-stick spray, butter, or oil–  Spray the insides of your bundt pan with a non-stick spray. Ensure that you completely coat the pan so that the cake releases smoothly. You can also try coating your pan with butter or oil as an alternative. Just make sure not to go overboard as this can make your cake very greasy.
Flour– You can sprinkle the insides of the pan with flour before pouring the batter.
Sugar– Oil your bundt pan first so that the sugar will have something to stick to. Coat the entire insides of the pan with sugar. The baking process will melt the sugar, coating the exterior of your bundt cake. The sugar will harden as it cools down creating a crispy exterior that's satisfying to cut into.
Carefully fill the bundt pans
Make sure that your lemon bundt cake molds perfectly to the shape of your bundt pan by carefully filling them with the batter. If you pour the batter too quickly, you might not be able to fill all the nooks and crannies of your pan. So, we suggest using a measuring cup to transfer your batter.
Don't overfill your pan
This reminder comes in handy especially when it comes to baking goods that tend to rise like cake. As a rule of thumb, only pour batter into the bundt pans up to ⅔ full. This gives your Easter cake enough room to rise. If you fill your pan too much, your cake might overflow. Not only would it be a huge waste of ingredients, but it's also messy and it could affect the shape of your special lemon bundt cake.
Now, you're all set to proceed with baking your very own lemon bundt cake for your Easter celebration.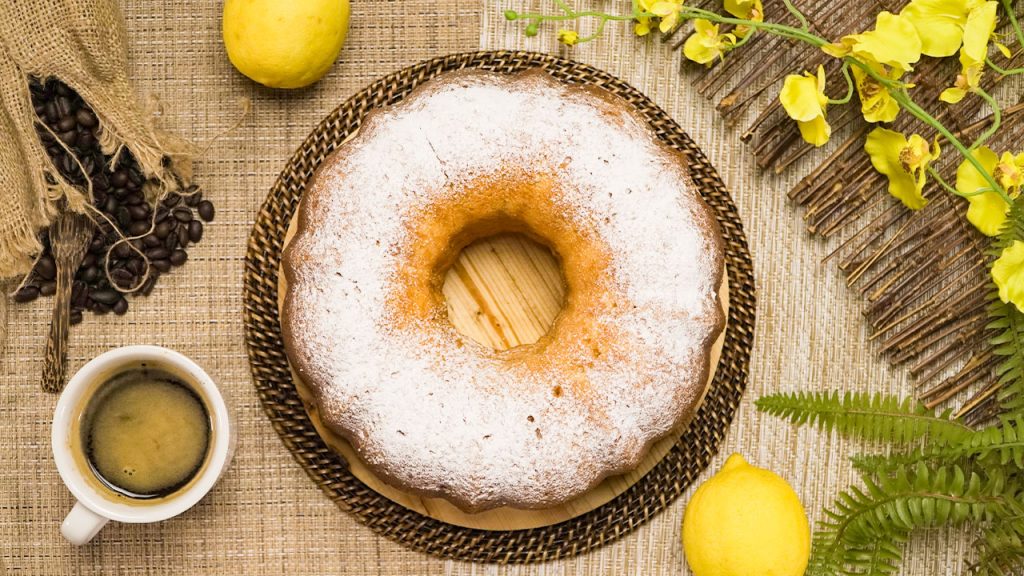 Easter Lemon Bundt Cake Recipe
How To Make Easter Lemon Bundt Cake
Make your Easter feast more lively with this bright lemon bundt cake. You can't go wrong with this citrusy cake that's crisp and sugary on the outside, and fluffy on the inside.
Ingredients
3

cups

all-purpose flour

2

tsp

baking powder

1

tsp

salt

2

cups

sugar,

granulated

1

cup

butter,

softened

3

eggs,

large

1

tsp

vanilla extract

¼

cup

lemon liqueur,

or orange liqueur

2

lemons,

juiced and zested

1

cup

milk

½

cup

powdered sugar
Instructions
Preheat the oven to 350 degrees F & grease a Bundt pan with cooking spray.

Sift together the flour, baking powder, and salt in a bowl. Set aside.

Cream together the butter and sugar in another bowl until light and fluffy.

Add the eggs, vanilla extract, milk, liqueur, & lemon juice. Continue creaming.

Fold the dry ingredients, ending with the lemon zests, until smooth.

Pour the batter into a Bundt pan and bake for roughly 50 minutes.

When a toothpick comes out clean, cool the cake while in the bundt pan for roughly 10 minutes before inverting onto a wire rack.

Dot around the cake with a skewer then brush with liqueur. Set aside until the cake absorbs the liqueur.

Sprinkle on powdered sugar before serving.
Nutrition
Sugar:

46g

:

Calcium:

100mg

Calories:

468kcal

Carbohydrates:

75g

Cholesterol:

52mg

Fat:

16g

Fiber:

1g

Iron:

2mg

Potassium:

100mg

Protein:

6g

Saturated Fat:

4g

Sodium:

487mg

Trans Fat:

1g

Vitamin A:

717IU

Vitamin C:

1mg
Nutrition Disclaimer
Commonly Asked Questions
How do I get the bundt cake out of the bundt pan?
If you forgot to prep your bundt pan and your cake is already stuck to the pan, you can try gently tapping your bundt pan on your countertop to loosen it. Another way is by tapping the sides of the bundt pan with a wooden spoon. Just make sure that you tap on the pan gently to avoid ruining the structure of the cake.
How do I decorate a lemon bundt cake?
The bundt cake's distinct ring-like shape makes it particularly difficult to frost compared to regular cakes. This is why most of the flavoring of bundt cakes is cooked inside the cake itself. In terms of appearance, the exterior of bundt cakes is usually either left bare, glazed or sprinkled with toppings. For this recipe, we recommend dusting the cake with powdered sugar. The powdered sugar adds a dainty touch and a subtle sweetness to the citrusy cake.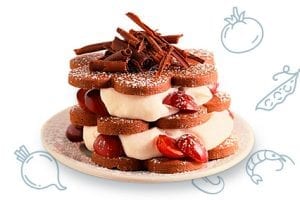 Conclusion
Bundt cakes are a perfect addition to feasts of every occasion. This lemon bundt cake recipe yields a sweet and tart lemon cake that's perfectly crisp and sugary on the outside while being satisfyingly soft and fluffy on the inside. Serve this fun and delicious dessert for formal and casual gatherings as it looks and feels classic and elegant without having to try too hard.