Craving for shortbread cookies but there is no Girl Scout cookie box in sight? We've got you covered. You don't have to bear another cookie-less day. Just follow this easy shortbread cookie recipe and have a bite of the classic Girl Scout Trefoil.
Trefoil, The Classic Girl Scout Cookie
The word trefoil is derived from the Latin word trifolium which means "three leaf." Trefoil is a leafy portrayal of the Girl Scout promise, deliciously formed to match the shape of the Girl Scout's iconic logo. This three-leafed plant symbolizes the Girl Scout's three-fold promise; to serve God and my country, to help people at all times, and to live by the Girl Scout Law.
Girl Scout cookie sales started as early as 1917, five years after Juliette Gordon Low established the Girl Scouts. In the 1920s and 1930s, Girl Scout members would bake their own shortbread sugar cookies in the comfort of their homes and sell them door-to-door. Little by little, these cookie sales expanded from girls baking in their kitchens at home to a big commercial enterprise. To date, everybody's excited for the awesomely delicious cookie sales season to relish the sweetness of the Girl Scout shortbread cookies.
Originally, there were three tasty choices: Peanut Butter Sandwich (Do-si-dos), Shortbread (Trefoils) and Chocolate Mints, now called Thin Mints. Today, Girl Scout members produce more fresh shortbread recipes, making the people anticipate the cookie season all the more. And the classic Girl Scout cookie Trefoils remained a favorite in the Cookie Lineup and truly a scrumptious best-seller for decades.
Trefoil and Wine: The Perfect Pair
It is high time to pair your Girl Scout treats with more than just tea, coffee, milk or ice cream. If you love your fair share of beverages, too, you can pair Trefoils with wine. Wines usually have richness and creaminess that blend perfectly with shortbread cookies.
A glass of wine will bring out the sweet, buttery flavors in your made-from-scratch Trefoils cookies. So learn how to bake classic Girl Scout cookies with our easy shortbread cookie recipe and take out that fine wine long hidden in your rack. This perfect pair will definitely fill your late-night cravings. 
How To Make Copycat Trefoils
You need not worry about getting your fingers sticky because these delightfully easy shortbread cookies are crispy without being too dry. Aside from the crisp texture, trefoil cookie is also sweet and it crumbles in your mouth.
Copycat Trefoils are easy to prepare. This shortbread cookie recipe comes together with only a few ingredients! In an hour or two, you will have a taste of these perfectly sweet treats.
How To Make Copycat Trefoils
Satisfy your mid-afternoon or late-night munchies with these classic Girl Scout cookies. These shortbread biscuits with a hint of vanilla flavoring are made with easy steps. Have a bite of your own shortbread cookies in just a few minutes!
Ingredients
2

cups

all-purpose flour

⅓

cup

sugar

1

tbsp

salt,

to taste

1

lb

unsalted butter,

room temperature

2

tbsp

vanilla extract
Instructions
Cream the butter and sugar In a mixing bowl until light and fluffy. Then, slowly add in the vanilla extract.

In a separate bowl, whisk together the all-purpose flour, sugar, and salt. Then, gradually add this to the butter mixture.

Roll the dough on a lightly-floured surface and then, divide into 2 pieces and shape into square or round logs, about 1 ½ inches thick.

Wrap them each dough in plastic wrap and chill for at least an hour.

When ready to bake, remove the dough from the refrigerator 15 minutes prior to slicing.

Preheat the oven to 350 degrees F. Line a cookie sheet with parchment paper.

Cut slices of the cookie logs ⅛ to ¼ inches thick each. Then press with a cookie stamp of your choice.

Bake for 15 minutes and check.

Let them cool before serving. And there, you can now enjoy your own copycat Trefoils with your friends and family.
Recipe Notes
When baking, it's best to bake one sheet at a time to allow

even heat circulation around the sheet, ensuring that each cookie will be browned the right amount.

If you want your trefoils extra crumbly, wait until the edges become golden brown before removing them from the oven.

Store in an airtight container, if not eating immediately.
Nutrition
Calcium:

21mg

Calories:

635kcal

Carbohydrates:

37g

Cholesterol:

139mg

Fat:

53g

Fiber:

1g

Iron:

2mg

Potassium:

54mg

Protein:

4g

Saturated Fat:

33g

Sodium:

1005mg

Sugar:

10g

Vitamin A:

1619IU
Nutrition Disclaimer
Commonly Asked Questions
What's the difference between shortbread cookies and butter cookies?
Butter cookies are very similar to shortbread. The only difference is, the amount of flour and sugar in butter cookies is higher than that of shortbread, and shortbread cookies are usually baked at a lower temperature.
What kind of cookies are trefoils?
Trefoils are traditional shortbread cookies made in the shape of the Girl Scout emblem, trefoil.
How do you know when shortbread is cooked?
The shortbread is done when the color on the bottom changes. But if you want it extra crunchy, wait until the edges turn golden brown.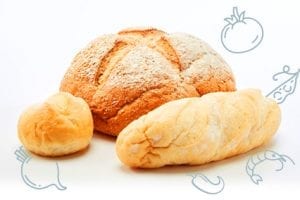 Conclusion
With this simple copycat shortbread recipe, you don't have to chase down a Girl Scout or wait for the cookie season. This homemade version of copycat Trefoils is just as luscious as the original. And with a hint of vanilla flavoring and a sprinkle of sugar, you will surely enjoy every bite!
Related Breads & Doughs Recipes