If you're searching for culinary recipes you can indulge, or just craving for a good piece of meat for dinner, look no further than our roast lamb recipe! Sunday dinners will never be the same after you've showcased this delectable dish. The best thing about it is that it's fuss-free and the flavors that permeate the lamb are simple, yet flavorsome. We've tossed in a mint jelly that you can dip or spoon over your slice of lamb for freshness! 
Mint and lamb seem like an odd combination at first. But the savory and pungent, pine-like flavor of the roasted lamb and the bright taste of the mint jelly works great together! Plus, the mint jelly helps to cleanse your palate as you eat. This will energize you to finish your plate of scrumptious lamb or other meals that are on the table. We promise it will be worth the effort and wait in the oven.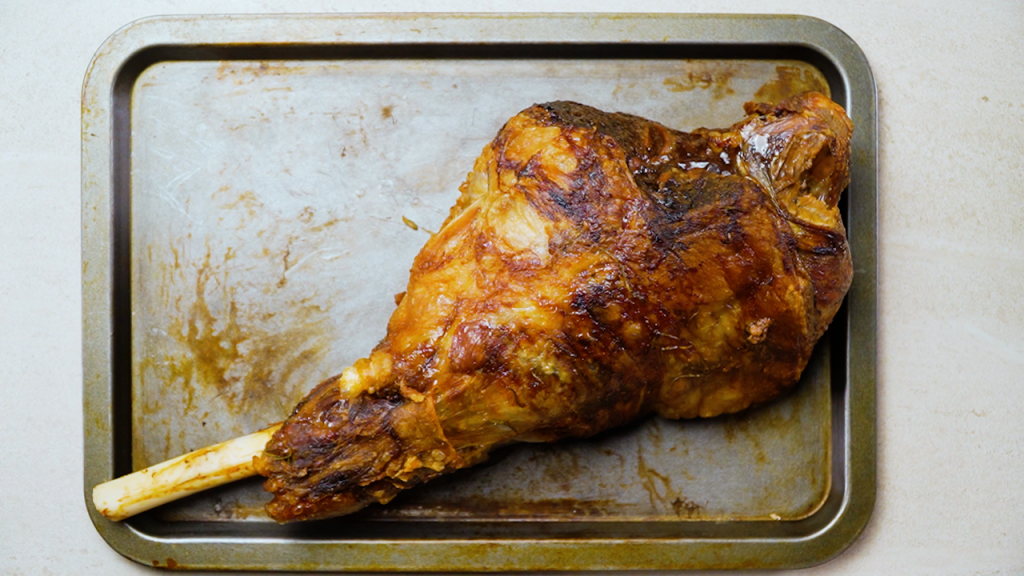 Lamb meat is known to be difficult to work with as it tastes more intense and gamey compared to other meats. However, it's all a myth, and only because lamb is not as popular in America as beef or chicken is. But like any other meat, it is easy to work with and provides juicy and succulent flavors when cooked right. The key to a good lamb is putting just the right amount of flavoring to accentuate the meat. Not at all intimidating when you think about it, right?  And with our rosemary-scented dish, we can assure you that the simple herb added will make the lamb a great meal! 
Of course, what's a good lamb roast without some roasted side dish? Our roast lamb recipe also comes with potatoes that you can cook together with the meat. It's efficient and will save you time for side-dishes. But if you're feeling like adding more to your dinner ensemble, we've got just the right add-on! Try this recipe with our Roasted Pumpkin and Sweet Potato Soup with White Truffle Oil to complete your main course. Then end your meal on a light note with our Semisweet Chocolate Mousse. With all of these, it'll be one whole meal to remember. Check out how to make the star of your Sunday dinner below!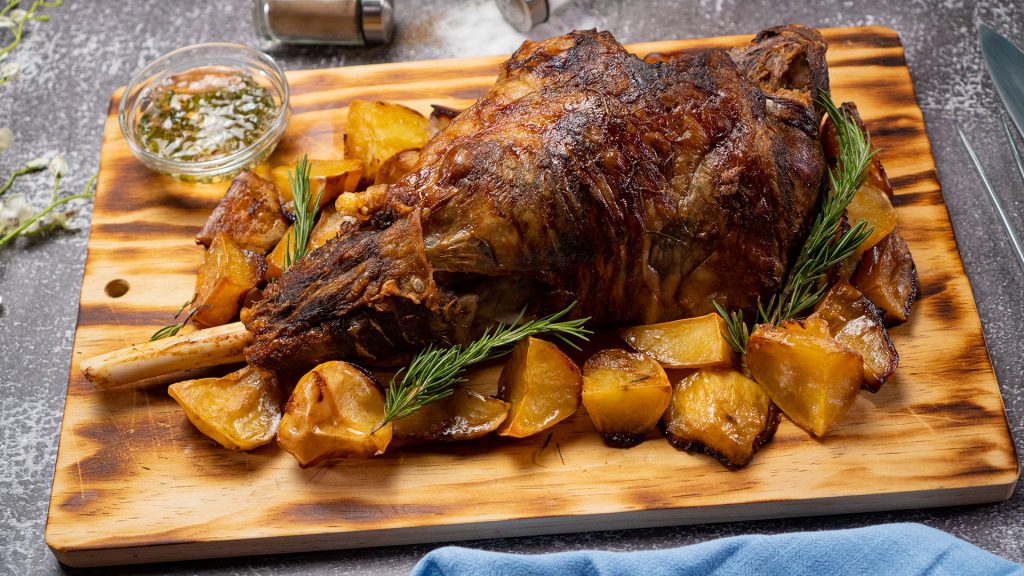 Roast Lamb With Mint Jelly Recipe
How To Make Roast Lamb with Mint Jelly
A rich, rosemary-scented leg of lamb roasted to charred perfection. Served with a side of mint jelly to brighten the meat up and keep your palate fresh.
Ingredients
1

lamb leg ,

with shank

1

rosemary stalk

5

potatoes,

medium-sized, peeled and quartered

3

tbsp

olive oil

1

tbsp

kosher salt
For Mint Jelly:
½

cup

vinegar

1¼

cups

water,

divided

2

tbsp

gelatin powder

½

cup

mint leaves,

chopped

1

cup

mint leaves,

fresh

3

cups

refined sugar
Instructions
Lamb:
Preheat your oven to 356 degrees F.

Brush the lamb with olive oil and sprinkle rosemary and salt all over it.

Place the potato on a baking sheet wrapped in foil.

Next, place the seasoned lamb leg on a trivet in a baking tray or directly onto the oven rack for a bigger size of lamb leg, along with the potatoes. Bake it in the oven for roughly 2 to 3 hours.

Remove the roasted leg from the oven, then wrap it in aluminum foil for 30 minutes to retain the heat before carving it and then serving.
Mint Jelly:
Combine the fresh mint leaves, sugar, vinegar, and a cup of water in a saucepan.

Bring the saucepan to a boil and simmer its contents for 10 minutes before straining them.

Now, take the gelatin and dissolve it in ¼ cup of water.

Add the dissolved gelatin to the strained mixture and mix in the chopped mint leaves. Allow the jelly to cool for it to naturally thicken.

Serve the room-temperature or chilled jelly alongside the roasted lamb leg. Enjoy!
Nutrition
Sugar:

1g

:

Calcium:

58mg

Calories:

448kcal

Carbohydrates:

28g

Cholesterol:

131mg

Fat:

15g

Fiber:

4g

Iron:

5mg

Monounsaturated Fat:

8g

Polyunsaturated Fat:

2g

Potassium:

1286mg

Protein:

47g

Saturated Fat:

4g

Sodium:

1142mg

Vitamin A:

413IU

Vitamin C:

33mg
Nutrition Disclaimer
Commonly Asked Questions
Can I use other parts of the lamb for this recipe?
You can give it a try! While we do recommend using shank for more flavor, you can try others that are good for roasting. Some that are best for this would be loin, whole leg, shoulder, and breast. But keep in mind that some of this may require more cooking times than most, so it's best to check with your butcher for when you're getting lamb meat next time.
How do I ensure my lamb will be evenly cooked?
The best tip is to never cook your lamb while it's still cold. Make sure to thaw your lamb and let it come to room temperature. This will ensure that your lamb will be cooked as directed on the recipe. 1 to 2 hours should work to bring your lamb to room temperature. Another great tip is to get a meat thermometer so that you can check the doneness to your desired level while it's roasting.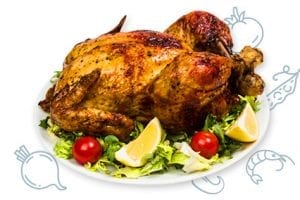 Conclusion
Try something new for your Sunday dinners with our recipe for roast lamb! It's well-seasoned, aromatic, and is sure to please your friends and family. Enjoy it with our refreshing mint jelly for more depth of flavor.