Experience the flavors of traditional Tex-Mex cuisine with this homemade refried beans tostadas recipe. If you feel like expanding your menu for the day or even a week, then start with this simple yet extravagant meal. It's a tortilla dish overflowing with delicious toppings accompanied by a delightful and creamy salsa. This authentic Tex-Mex specialty that highlights a crispy toasted corn tortilla combined with the slightly sweet and rich taste of refried beans creating the perfect afternoon appetizer choice.
Tostadas refried beans can also be enjoyed as a main dish along with some classic tortilla chips or a delicious Chicken Tacos. It's the perfect time to munch on these crunchy tostadas!
What Are Refried Beans Tostadas?
Tostadas, the Spanish word for "toasted," are basically like tacos, that you lay and toast flat and assemble the ingredients on top. We use corn tortillas for this recipe since it's round in shape and rough in texture making it the perfect base to put the additional ingredients on top. These tortillas are then deep fried in oil until it reaches a crispy texture. Lastly, add the beans and crunchy vegetables nicely on top for a big scrumptious bite. If you have leftover corn tortillas, then make some delicious Chicken Quesadillas or Tex Mex Nachos (Hooters Copycat) on the side. 
Cooked spread across the tortilla is what makes this recipe an overall delicacy. It consists of pinto beans, but regular ones like black beans or red beans can also be used for this recipe. Enjoy this traditional Mexican side dish with dipping sauce. Serve it alongside other Mexican dishes for an appetizing Mexican cuisine experience. 
In Spanish, refried beans are called frijoles refritos which means "well-fried." The process involves having to "re-fry" the beans after boiling. Feel free to use regular vegetable oil or lard for additional flavor. It really depends on your preferred taste. The result is a creamy and pasty consistency similar to a mashed potato. Spread this evenly on your tostadas and enjoy it with a variety of toppings. You can also just strain, fry, then mash the beans straight from the can. Store-bought refried beans are available as well, but we recommend trying your hand at cooking this at home for a more flavorful dish.
The Best Toppings for Your Tostadas
Combining tostadas with refried beans is just the beginning for this wonderful dish. Enhance it even more with the toppings. Tostadas are a colorful appetizer that makes it delightful to eat. Our dish uses simple ingredients to make a delicious meal just for you. After spreading the refried beans across your tostadas, it's time for the fresh vegetables, tasty chicken breast, and cheese toppings. Fresh shredded lettuce, tomatoes, and onions are the classic tostadas toppings. 
The amount of toppings you put depends on your cravings. You can go for the extra cheesy goodness or add other vegetables if you're planning for a healthier alternative. Avocado slices and sliced olives are one of the preferred healthy choices that you can include on your toppings list. The chicken meat also gives you that extra protein and wonderful flavor. 
For the finishing touch, you can add creamy salsa with sour cream and cilantro leaves on top for a fancier and appetizing result. Once you've enjoyed making the dish, experiment on other delicious add-ons that go well with your tostadas refried beans. Try adding some spiciness to it for a savory experience.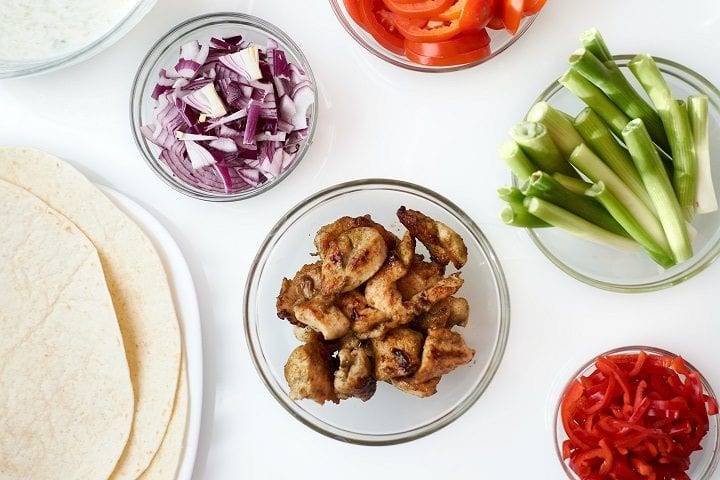 Refried Beans Tostadas with Creamy Salsa
How To Make Refried Beans Tostadas with Creamy Salsa
Experience the delicious and crispy taste of homemade tostadas and refried beans with these easy steps!
Ingredients
For Corn Tortillas
1

tbsp

vegetable oil

4

large

corn tortillas
For Chicken Toppings
24

oz

chicken breast,

bite-size strips, boneless and skinless

1

cloves

garlic,

chopped

1

tbsp

lime juice

1

tsp

chili powder

1

tsp

oregano

1

tbsp

olive oil
For Refried Beans
½

cup

vegetable oil

½

onion,

finely chopped

15

oz

pinto beans,

(1 can) drained; or red or black beans

¼

cup

water

salt and pepper,

to taste
Assemble
1/2

head

iceberg lettuce,

shredded

tomatoes,

chopped

1

small

red onions,

sliced thinly

1

cup

Monterey Jack,

grated

cilantro leaves,

chopped

½

cup

salsa

¾

cup

sour cream
Instructions
Corn Tortillas
In a large skillet, heat the oil over medium-high heat.

Carefully place corn tortillas in hot oil.

Fry corn tortillas until they turn crispy, flip once to cook the other side.

Place the tortillas onto a paper towel to drain, season with salt.
Chicken Toppings
In a glass dish, combine chicken, garlic, lime juice, chili powder, oregano, and olive oil.

Let the ingredients marinate for 15 minutes.

In a cast iron grill pan over medium heat, cook chicken breasts for 4 minutes per side.

Slice chicken into thin slices and keep warm.
Refried Beans
Heat the oil in a heavy saucepan.

Cook the onions until they become tender

Add the beans and water and bring them to a simmer.

Stir the beans occasionally until they begin to clump together in one mass.

While stirring, gently mash the beans to achieve a pasty consistency.

Season with salt and pepper.
Assembly
Layer the beans, lettuce, tomatoes, chicken slices, red onions, cheese, and cilantro evenly on top of each tostado.

Combine the creamy salsa with sour cream.

Garnish with cilantro and serve. Enjoy!
Frequently Asked Questions
How to keep tostadas crispy?
The best way to retain that tostadas crisp even when you stored them for days in the refrigerator, is by baking. Grab your baking sheet and lay the tostadas on top. Bake in the oven at 400 degrees F for about 3 to 5 minutes.
How to reheat the refried beans?
It's better to reheat it on the stove. Place your refried beans in a pot over medium heat. Add a tablespoon of water to keep the beans from drying and burning at the bottom. You may need more water, but not too much to avoid a runny texture. Remember not to boil your refried beans to avoid burning it. Heat for about 5 minutes or until it reaches its desired texture. If you're rushing, then heating it in a microwave on high for 2 minutes is also quick and effective. When it's done, stir once, and enjoy!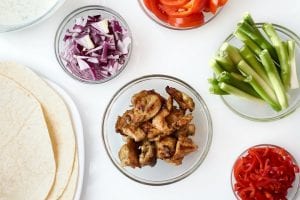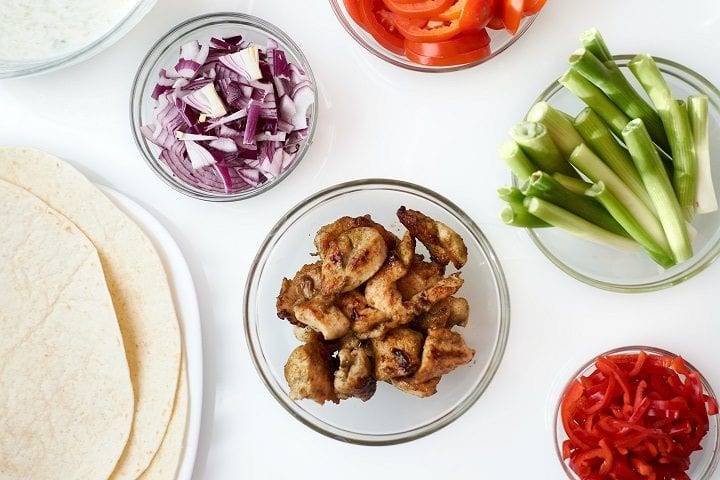 Conclusion
Perfect for sharing with your family or friends, this tostadas refried beans recipe is a delicious dish that you can enjoy as an appetizer or a main dish. Easy to make, and fun to prepare, this dish is definitely for all occasions!