Love fried foods and dill pickles? Then you should try making this homemade fried pickles recipe! The batter for fried pickles is made with rice flour so it's extra crispy. The crispy coating and the firm texture of sweet-sour dill pickles combined taste delicious. Fry the pickles to golden brown perfection and serve them alongside your favorite dipping sauce like ranch dressing or tartar sauce. They pass as easy finger food ideas for parties, too!
Tips on Making this Fried Pickles Recipe
Aside from being one of the great finger foods that you can serve, this deep fried pickles recipe will also do well as a side dish to your meat dishes like baby back ribs and chicken satay. Here are the best tips and techniques on how to make fried pickles.
Use a cast iron skillet, a dutch oven, or a deep fryer for frying.

These three help keep a good evenly distributed

oil temperature

giving your fried pickles a good golden brown crust. It'll also help to use a

slotted spoon

or a spider strainer to flip and pick the pickles instead of tongs.
Make sure that the oil is at the optimal frying temperature

of 375 degrees F before frying. Use an instant read thermometer but if you don't have one, test the oil by dipping the handle of a wooden spoon. If it forms small bubbles, it's ready.
Aside from frying whole pickles, you can make fried pickle chips or pickle fries.

For

dill pickle chips,

the best pickles to use are those that are sliced thick. Thick

pickle slices

will hold their shape better and won't dry out while frying. You can slice them lengthwise to make pickle fries, too.
Drain off excess pickle juice by placing the pickles on paper towels.

This will help ensure that the breading will stick and that they will come out crispy.
Once fried,

place the pickles on a cooling rack with enough space around each piece

. Give them a good air circulation so that they will maintain their crispiness.
Customize the seasoning of this deep fried pickles recipe. You can use cajun seasoning, Italian seasoning, Greek seasoning, garlic powder, black pepper, and even hot sauce, for instance.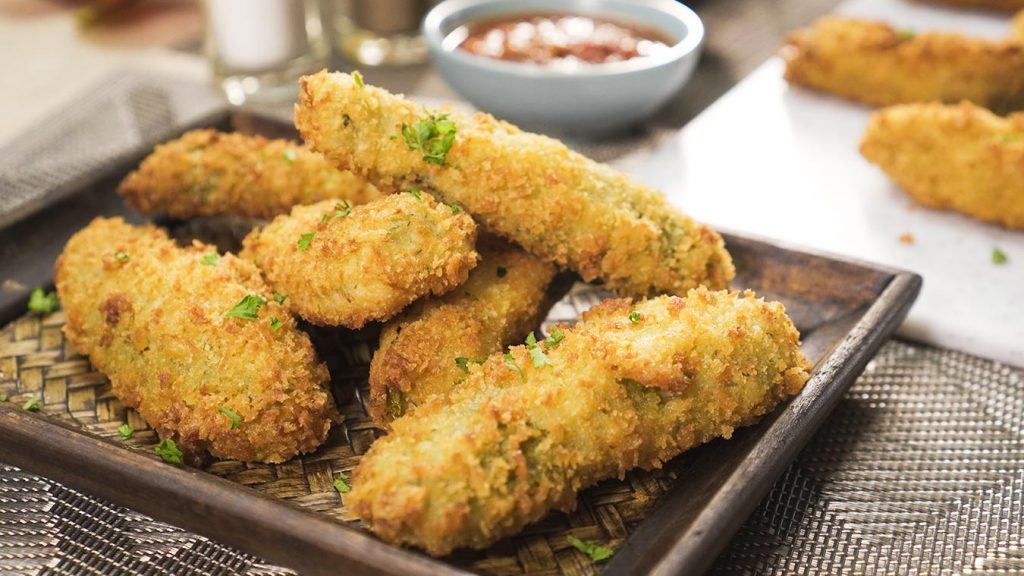 Fried Pickles Recipe
How To Make Fried Pickles
This easy fried pickles recipe makes the crispiest pickles with a breading made with yogurt, rice flour, and Japanese breadcrumbs. It's best served with a fried pickle dip!
Ingredients
13

oz

dill pickles,

(1 jar), whole, drained, trimmed, and halved or quartered lengthwise depending on size

3

eggs

1

cup

yogurt

1½

cup

rice flour,

divided

½

tbsp

dill weed

½

tbsp

onion powder

¼

tsp

cayenne pepper

2

cups

Japanese breadcrumbs

6

cups

vegetable oil,

for frying
To Serve:
¼

cup

tomato salsa,

per serving

¼

cup

mayonnaise,

per serving
Instructions
Cover a baking sheet with parchment paper.

In a shallow bowl, whisk together the eggs, yogurt, 1 cup of rice flour, salt, dill weed, onion powder, and cayenne powder until well combined.

Prepare the breading station. Dredge the pickles in the remaining rice flour, dip in the batter, and coat in breadcrumbs. Place these onto the baking sheet. Repeat until all pickles have been breaded in this manner.

Cover and chill the pickles for at least 1 hour. This will allow the coating to stick to the pickles.

Preheat the oil in a deep pan to 375 degrees F.

Fry the pickles in batches for roughly 8 to 10 minutes until golden brown and crispy. Drain these onto a basket lined with paper towels.

Serve these immediately with tomato salsa and mayonnaise or any dipping sauce of your choice.
Nutrition
Sugar:

7g

:

Calcium:

202mg

Calories:

537kcal

Carbohydrates:

77g

Cholesterol:

137mg

Fat:

18g

Fiber:

4g

Iron:

3mg

Monounsaturated Fat:

5g

Polyunsaturated Fat:

8g

Potassium:

390mg

Protein:

15g

Saturated Fat:

5g

Sodium:

1305mg

Trans Fat:

1g

Vitamin A:

550IU

Vitamin C:

2mg
Nutrition Disclaimer
Frequently Asked Questions
How do you keep fried pickles from getting soggy?
To keep the fried pickles from getting soggy, it's important to pat them dry well before breading. Then, fry them at the correct temperature. The oil temperature should be around 375 degrees F. Lastly, make sure to immediately place them on a rack or dish on a single layer and with enough space in between each piece so that there's a good air circulation around them. Don't stack them up or place them so close together because the steam will cause them to get soggy. So do all these and you're guaranteed to have crispy fried pickles every time!

How do you get breading to stick to fried pickles?
It's the liquids in any food that cause the breading to fall off. To get the breading to stick to fried pickles, be sure to drain off as much pickle juice as possible. Then, when breading, drain off the excess as well before proceeding to the next layer of breading. Additionally, it'll also help the breading to stick better if you refrigerate the breaded pickles for a few hours before frying, just like what we did for this recipe.

Can you freeze fried pickles?
Yes, you can freeze and re-fry the already fried pickles. But if you want to make them ahead of time, a better way to do it is to freeze uncooked breaded fried pickles instead. They will stay good for up to 3 months.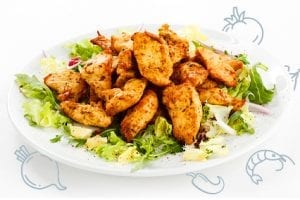 Conclusion
Try this irresistibly crunchy breading made with rice flour, yogurt, and Japanese bread crumbs for your fried pickles. Whether it's for an appetizer, snack, or side dish, this fried pickle recipe will surely satisfy your crispy fried food cravings!