Fried chicken livers are the kind of exotic dish that is not as inviting for some people. But we're telling you, our fried chicken livers recipe can turn this outlandish ingredient into a delicacy worth trying. it's a dish that offers a rich and flavorful taste. It's a chicken recipe that's easy to make and delicious to eat with a dipping sauce on the side. 
Don't be afraid to expand your taste buds with this delicious fried chicken livers recipe. It has a similar process with any crispy and breaded chicken recipe. Instead of chicken meat, however, we're using chicken livers. You won't even recognize the chicken liver taste since our recipe is able to blend its rich and distinctive flavor with the added seasonings. 
Our step-by-step recipe guides you through the basics of deep frying chicken livers. We also included helpful tips for you to remove the initial metallic liver taste and make your chicken livers extra tasty. It's a simple recipe that's best served with a delicious side of Mashed Potatoes Recipe (Outback Steakhouse Copycat) or Green Beans Recipe (Texas Roadhouse Copycat). 
What Does Chicken Livers Taste Like
Livers, in general, are specialty dishes in certain parts of the world. In French cuisine, for instance, you have the foie gras which is made from the fattened liver of a duck or goose. it's a popular dish enjoyed for its buttery, refined, and smooth texture that tastes good with every bite.
That's why consuming chicken livers shouldn't be any different. It's a delicacy worth including in your next meal. On its own, a chicken liver has a bold and distinct taste. It has that metallic taste which makes it overall bitter. 
To remove this strong liver taste, and to fully release the delicious taste of chicken livers, you have to prep and clean it properly. Make sure that your chicken liver doesn't have remaining veins in it. You also have to soak the liver with milk or water so that the innate liver flavor is not too overpowering. Do this if you're particular or sensitive with the taste of chicken livers. Some people skip the preparation stage since the bold taste adds extra flavor to the dish.

Tip: Soak the chicken liver in milk or water for 3 hours before seasoning and frying to lighten the strong flavor. You can use water too, but take note that it may not work as much.
Tips to Make Fried Chicken Livers Extra Tasty
Once you've prepared the chicken livers, make sure to follow these tips on seasoning and coating to fully enjoy this delectable dish.
Soaking the chicken liver in milk

not only helps remove the metallic taste, but it aids in cleaning and tenderizing the meat, and also gives it a much rounded flavor. 

Seasoning the chicken liver before and after cooking

will really bring out the texture and flavor of the dish. The seasoned flour gives its overall subtle spice. Seasoning it afterwards with a bit of salt and pepper, and a squeeze of lemon will make it extra scrumptious. 

Try adding some caramelized onions

on top of the chicken livers. If you're not a fan of the dipping sauces option, caramelized onions make a great alternative for a delicious sweet flavor to balance out the meal. 

Avoid overcooking

your chicken liver since it can affect the overall taste and texture of the dish. Overcooking liver can toughen it up and ruin the experience with the disappointing taste. We want our fried chicken livers to be soft and tender. The flavor should also be savory and rich with a hint of sweetness. 

Serve with lemon wedges, a dipping sauce, and side dishes of your choice

. This is a delicious meal where it can go well with other dishes and dips. We have a list of recommendations for dipping sauces down below if you're interested. 
The Best Dipping Sauces for Fried Chicken Livers
We have a list of recommendations for your dipping sauces that we believe will go well with this recipe. Here are some of the simple yet tasty dipping sauces which you can also easily make at home. 
Ranch dressing

– it's a classic dipping sauce that goes well with any chicken recipe. A ranch dressing is creamy and tangy which really combines with the richness of the chicken livers. 

Garlic Dipping Sauce Recipe (Papa John's Copycat)

– if you're a fan of that butter with a hint of garlicky taste, then this sauce is perfect for you. It's a copycat recipe that's quick and easy to make. 

Cottage Cheese and Onion Dip Recipe

– it's another cream-based dip that's rich in taste with a bit of tanginess. It has cream cheese, cottage cheese, and other seasonings which gives it that extra tang with mild sweetness. 

Blue Cheese Dressing Recipe

– This is another well-known type of cheese dip. It has a bold flavor from the blue cheese used and combined with mayonnaise, lemon juice, white vinegar, and other spices. 

Honey-mustard dip

– Lastly, this dipping sauce blends the delicious flavors of honey and mustard to give you that sweet and sharp taste from the mustard. It's perfect for your fried chicken livers so that it's bursting with flavors.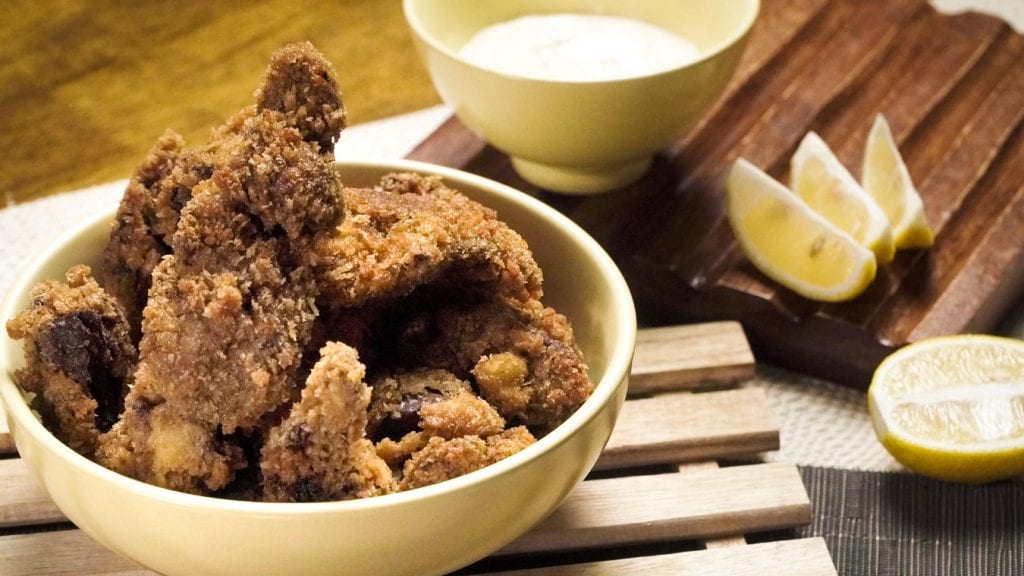 Fried Chicken Livers (Cracker Barrel Copycat)
How To Make Fried Chicken Livers (Cracker Barrel Copycat)
Here is a simple and delicious fried chicken livers recipe that brings out a savory and mild sweetness to chicken livers. Served with a delicious dip, it can surely turn into a scrumptious meal.
Ingredients
2

lbs

chicken livers

2

cups

all-purpose flour

4

cups

bread crumbs

2

tsp

salt

1

tsp

chili powder

salt and pepper,

to taste

⅔

cup

milk

4

large eggs
To serve:
1

lemon wedge,

per serving

¼

cup

ranch dressing
Instructions
In a bowl, whisk the eggs and milk.

In another bowl, sift together the flour, salt, and chili powder.

Dredge the livers in the seasoned flour, dip in eggs, and coat in bread crumbs.

Fry the livers for 2 to 3 minutes on each side and then drain on paper towels.

Serve with fresh lemon wedges and ranch dressing!
Nutrition
Sugar:

5g

:

Calcium:

149mg

Calories:

507kcal

Carbohydrates:

65g

Cholesterol:

475mg

Fat:

11g

Fiber:

3g

Iron:

15mg

Potassium:

464mg

Protein:

33g

Saturated Fat:

4g

Sodium:

1103mg

Trans Fat:

1g

Vitamin A:

12814IU

Vitamin C:

20mg
Nutrition Disclaimer
Commonly Asked Questions
How long does chicken liver last in the fridge?
If you have some leftover raw chicken livers, they can last up to 1 to 2 days in the fridge. They can last longer inside the freezer about 3 to 4 months. If you're storing cooked fried chicken livers, make sure they are inside an airtight container to avoid any outside contaminant. They can last up to 3 to 4 days in the fridge, and up to a week in the freezer.

How do you reheat fried chicken livers?
When reheating fried chicken livers, it's best to allow them to thaw or come to room temperature. This is to prevent toughening up your chicken livers when reheating. It also helps in retaining the chicken livers' moisture. Our fried chicken livers preheat well inside the oven. It won't be as good and crispy when reheated inside the microwave. Preheat the oven to 375 degrees F. Place them on a wire rack on top of a baking sheet. Line them up and heat for about 5 minutes.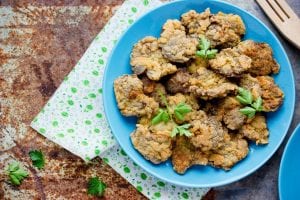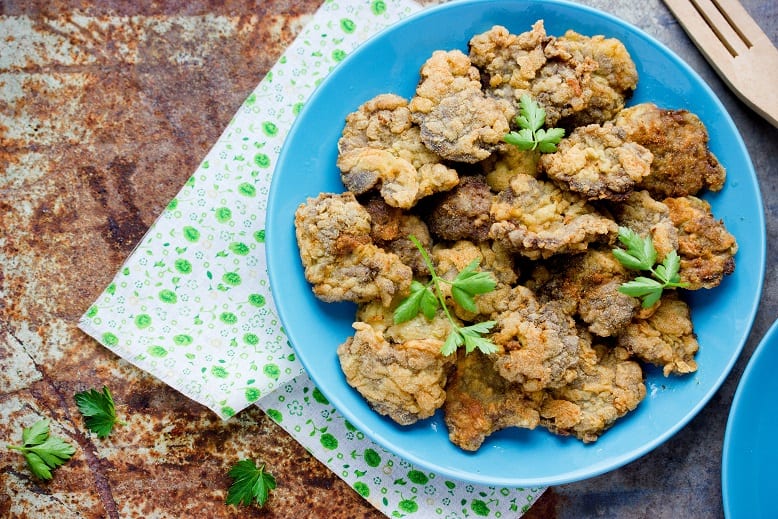 Conclusion
With this fried chicken livers recipe, your love for chicken livers will grow even more. It's all about proper handling and cooking when it comes to cooking our chicken livers. The right amount of seasonings and spices ensure that the taste is up to the standard. Don't forget to serve with delicious mashed potatoes or corn muffins on the side.