Here's a fun way for kids to eat chicken without all the mess. This fast and easy chicken croquettes recipe make use of simple cupboard staples. Once you take a bite out of this delicious finger food, you'll be delighted by how the chicken is juicy and well-seasoned. The crispy outer layer makes a satisfying sound in every bite. These mock chicken legs are a great dish to serve at home or to pack for lunch when your kids go to school. Often served on Christmas and as a snack in Dominican Republic, chicken croquettes or croquetas de pollo is definitely loved by many.
To make a complete meal out of this Chicken Croquettes recipe, pair it with this warm and delicious Butternut Squash Soup with Sage.
What Is A Croquette
Croquettes are deep fried balls that are typically made with meat, potatoes, poultry or fish coated with breadcrumbs for a crispy outer layer that everyone loves. It can be shaped into patties or drumsticks too, depending on how you wish to plate them. 
The great thing about croquettes is that they are easily customizable. Think of it as a plain canvas—you can put all sorts of spices and can even place a cube of cheese inside for some fun melted goodness.
There are a variety of delicious croquettes. Some examples are ham, cod, shrimp, sausage or even vegetables like spinach and mushroom. If you'd like, you can make some Salmon Croquettes to add a seafood alternative to your croquette platter.
Why Serve Chicken Croquettes
Making chicken croquettes is simple and easy. It does not take too much time or too many ingredients. It is affordable as well, since the cut of meat is not the most important consideration. You can use any part of the chicken for this recipe. In fact, making use of leftover meat or sneaking in some vegetables are okay as long as you get rid of bones or any inedible stuff in your ingredients.
Since you will be using boneless chicken for these croquettes, it makes a great snack for kids. Not just because it is less of a hassle for them to eat, but because chicken has a lot of protein! As we may well know, protein can help to boost their energy and build muscles—perfect for the
highly energetic little ones! Shape it into drumsticks as mock chicken legs so they have a better grip while eating.
This savory chicken finger food is sure to be the favorite of dishes when it comes to satisfying  the children. For more fun recipes, check out this list of quick and easy dinner recipes for working parents.
Making Chicken Croquettes
Wanna get that nice even bites of chicken croquettes? They key to this is having your ingredients minced in the food processor. Poorly minced ingredients, especially meat, will result in chunky fried croquettes or worse, you won't be able to pack it into your desired shapes. While it's possible to do this by hand, having a food processor to mince the ingredients is a lot easier and faster.
When making this chicken croquette recipe, you want to get that brown crispy outer layer with a juicy and flavorful meat inside. To achieve such texture, we recommend cooking it in the deep fryer so there won't be any constant flipping required. It also ensures that the patties submerged in the oil will cook evenly. You'll also want to avoid frying the croquettes on high heat as it results in undercooked contents with a burnt outer layer. Keep it at a medium temperature to guarantee fully cooked croquettes. Once you're done, place it in a colander, or leave it in a container with some serviette, to strain excessive oil before serving. By doing this, it will drain the excess oil and make the fried chicken croquettes even crispier by drying out the outer layer of the croquettes.
How To Make Chicken Croquettes (Mock Chicken Legs)
Ingredients
For the croquettes:
2

cups

chicken,

cooked, boned, cut into chunks

1

onion,

chopped

2

cloves garlic,

minced

2

tbsp

Dijon mustard

2

tbsp

mayonnaise ,

or creamy garlic dressing

1

tbsp

honey

1

tbsp

vegetable oil

2

tsp

basil,

dried

1

tsp

salt

1

tsp

pepper

1

tsp

paprika

1

tsp

chili powder

1

cup

breadcrumbs
For Breading:
2

egg,

beaten, may add water

bread crumbs ,

additional, for coating

vegetable oil ,

for frying
Instructions
Put all the croquette ingredients into a food processor.

Pulse until finely minced and able to mold into croquettes. (Adjust consistency by adding oil or breadcrumbs).

Mold into chicken leg shapes.

Dip in beaten egg, roll in breadcrumbs and fry for 10 minutes, or until golden and cooked.

Strain excess oil before serving.
Commonly Asked Questions
How long can you keep croquettes in the freezer?
The great thing about croquettes is that you can prepare a batch and save the rest for later. This is most convenient for busy parents and individuals who don't have a lot of time on hand. Simply place your shaped uncooked croquettes in a freezer-safe container and it will be good for as long as a month. Once you feel like cooking, remove it from the freezer and place it inside the refrigerator overnight or until it gets thawed and ready to be fried.
How to reheat croquettes?
Instead of freezing uncooked croquettes, you can just reheat cooked ones when you want to eat them again. Pop them in the oven at 325 degrees F for 10 to 15 minutes.
What is an alternative to frying croquettes?
Some people try to avoid frying for a healthier meal. As an alternative, you can always use an air fryer which does not require oil. You will still end up with crunchy and juicy croquettes. In addition, you can also opt to cook it in the oven just like this Oven-Fried Spanish Croquettes.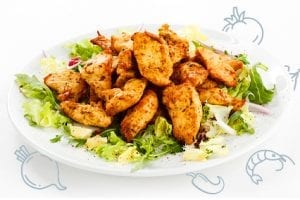 Conclusion
Having a delicious snack should be fun, quick and easy. You can simply munch on this no-hassle-to-eat Chicken Croquettes anytime of the day.
Topics: