Although Texas Roadhouse is more well-known for its steaks and ribs, it is also the home of the famous cactus blossom. It's composed of golden-fried medium to large onions served with the signature creamy and spicy Texas Roadhouse sauce. Moreover, this appetizer is presented like a flower by carefully cutting the onions into wedges and separating the "petals" to make it look like a blooming onion. In this dish, onion is certainly not just a base ingredient anymore but a beautiful dish by itself! Above all, it's an exceptional side to our rib-eye steak.
This recipe is perfect if you need big portions to serve as one serving of a single onion for yourself is already filling. So you can definitely make it for a party or a weekend drinking session with your buddies. Moreover, the seasoning on our batter, flour, and sauce are on-point. You are guaranteed layers of flavor from this deep-fried and coated onion blossom. When you serve this with the sour and spicy Texas Roadhouse dipping sauce, it definitely gets better. So try this recipe now and savor the taste of crunchy onion blossoms!
Texas Roadhouse Onion Cactus Blossom and Creamy Chili Sauce Recipe (Copycat) Video
How To Make Texas Roadhouse Onion Cactus Blossom and Creamy Chili Sauce (Copycat)
Our crispy Texas Roadhouse cactus blossom boasts a layer of flavor together with its creamy chili sauce. This 15-minute recipe will be your new favorite!
Advertisement
Continue Reading Below
Ingredients
6

yellow onions,

3 inches diameter or larger

5

cups

vegetable oil,

for frying
For Batter:
3

cups

cornstarch

1½

cups

cake flour

2

tsp

garlic powder

2

tsp

paprika

1

tsp

salt

1

tsp

pepper

24

oz

cold pale ale beer,

or any cold beer of your choice, preferably Dark Lager
For Seasoned Flour:
2

cups

cake flour

4

tsp

paprika

2

tsp

garlic powder

½

tsp

pepper

¼

tsp

cayenne pepper
For Creamy Chili Sauce:
8

oz

mayonnaise

8

oz

sour cream

¼

cup

chili sauce

½

tsp

cayenne pepper

2

tbsp

horseradish,

prepared
Instructions
To prepare the seasoned flour, add the cake flour, paprika, garlic powder, pepper, and cayenne pepper in a bowl, then whisk to combine. Set aside.

Next, prepare the chili sauce by mixing mayonnaise, sour cream, chili sauce, cayenne pepper, and prepared horseradish in another bowl. Then set aside.

To form a blooming onion, cut each onion into 12 to 16 vertical wedges. Be careful not to cut all the way through the onion to keep the bottom intact.

Separate the layer slowly to have it fry evenly and remove the onion core. Set aside.

Prepare the batter by mixing the cornstarch, flour, garlic salt, paprika, salt, and pepper in a large bowl. Whisk to combine.

Add in the beer and mix until well-combined.

Dredge the onions in flour, dip in the batter, and coat well. Shake to remove excess batter.

Heat up a deep skillet with oil, ready for frying.

Fry the onions for roughly 1½ minutes on each side.

Drain on paper towels. Place the onion upright in a shallow bowl.

Serve with the creamy chili sauce and enjoy!
Recipe Notes
In this recipe, we used 1 cup of sauce per serving.
Advertisement
Continue Reading Below
Advertisement
Continue Reading Below
Commonly Asked Questions
Is the cactus blossom at Texas Roadhouse vegetarian?
This dish is vegetarian and also vegan! The famous blooming onion is originally made with a buttermilk batter, but we were able to make it crispy and tasty with dairy-free and vegan-friendly ingredients. So for vegans, no need to worry, because you'll just have to leave out the chili sauce to enjoy this savory and addictive dish. If you're after another healthy dish from their menu, you can try their Texas Roadhouse green beans.
What is the blooming onion sauce made of?
As you can see from this recipe, the Texas Roadhouse onion sauce consists of mayonnaise, sour cream, chili sauce, cayenne pepper, and horseradish. You can modify it by adding herbs like dill or cilantro.
How long is a blooming onion good for?
You can store leftover blooming onions in the fridge for 4 to 5 days in a glass tupperware container lined with paper towels.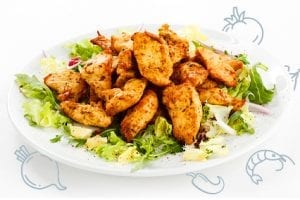 Conclusion
This version of Texas Roadhouse cactus blossom is a good appetizer and side dish. If you want the feel of the restaurant's menu itself, grill some steaks and ribs and serve them with these fried onion blossoms and its creamy chili sauce.
Advertisement
Continue Reading Below
Topics:
Advertisement
Continue Reading Below
Advertisement
Continue Reading Below