The Cheesecake Factory has a wide selection of meals ranging from sweet cakes like caramel pecan turtle cheesecake to a variety of main courses like the Steak Diane. Among the yummy appetizers on their menu are crispy fried chicken strips. Which we'll be recreating with a buttermilk marinade that promises succulent and flavorful chicken pieces! Made irresistibly crunchy on the outside through breading and deep-frying. 
Tips for Making Chicken Strips Like The Cheesecake Factory
The secret of our juicy and flavorful fried chicken strips is marinating. We leave our chicken in a buttermilk marinade mixed with ranch dressing and simple seasonings. We do this for hours for that tender and extra tasty chicken tenders. Once fried, you get to enjoy crispy golden brown chicken fingers that go great with a lot of side dishes and dips.
Of course, we'd like to have the results as close to the luscious finger food that your kids used to order from The Cheesecake Factory, so here are some tips to make the best chicken tenders: 
Cut against the grain.

When you slice chicken breasts, you would want to cut opposite of the visible thin lines or grain lines to easily break them apart. Doing this also gives you meat pieces that are more tender.

Firmly press the breading into your chicken strips

to make sure that it sticks. If you have time, let them rest for a couple of minutes, and all these will help make your buttermilk fried chicken tenders extra crispy.

Check the temperature of the cooking oil.

It shouldn't be too high since it can burn the chicken breading. In contrast, low heat will make the chicken too dense and oily.

Have these chicken strips with your favorite dip.

The best way to enjoy these homemade chicken strips is to have them with your favorite dips and sauces. Slather it with ketchup or a sweet and tangy

honey mustard dip

and make the experience a whole lot better!
Check out our CAQ section down below for easy and delicious dish pairing ideas for our crispy chicken fingers.
How To Make Chicken Strips (The Cheesecake Factory Copycat)
These scrumptious crispy chicken tenders are marinated in honey, ranch dressing, and buttermilk, simply breaded, and fried to perfection. No doubt, this easy recipe gives you the same crunchy chicken strips that the kids love from The Cheesecake Factory.
Advertisement
Continue Reading Below
Ingredients
1

cup

all-purpose flour

1

cup

bread crumbs

salt and ground black pepper,

to taste

1½

tsp

garlic powder

1½

tsp

onion powder

1

cup

buttermilk

½

cup

honey

½

cup

ranch dressing,

plus extra to serve

1½

lb

chicken breast ,

skinless and boneless, and cut into strips

vegetable oil,

for deep-frying
To Serve:
fries ,

or fresh fruit slices
Instructions
Defrost chicken at room temperature, if needed.

Preheat oil at 375 degrees F in a deep-fryer.

Mix the garlic and onion powders, honey, ranch dressing, and buttermilk until they are well combined.

Marinate the chicken strips into the prepared mixture for at least 3 hours, best if overnight.

In a large bowl, mix the flour, crumbs, salt, and pepper.

Slightly drain the chicken from the marinade, and coat the chicken breasts in the mixture.

Deep fry the breasts for about 1 to 2 minutes or until they become golden brown.

Serve with chips, fruits, and ranch dressing. Enjoy!
Advertisement
Continue Reading Below
Advertisement
Continue Reading Below
Commonly Asked Questions
How do you keep chicken strips crispy?
Place them on a baking sheet inside a preheated oven on low heat, around 200 degrees F. You can keep it inside for 2 hours, beyond that your chicken can start drying out. It will give you just enough time until you finish frying the rest of the batch. Leave them uncovered as well to prevent creating steam that will mess up the crispiness of your chicken fingers.
What do you eat with chicken strips?
Enjoy it with a side of fries or fresh fruits, just like how they serve it at The Cheesecake Factory. You can make fun curly fries inspired by Arby's from scratch and our fresh fruit salad with six delicious fruits for a complete meal.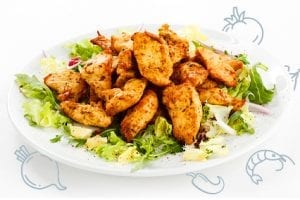 Conclusion
This recipe for making deep-fried chicken strips inspired by The Cheesecake Factory promises delicious-tasting finger food. Win the hearts of your children and bring back good memories by making this comfort food in your own kitchen.
Advertisement
Continue Reading Below
Topics:
Advertisement
Continue Reading Below
Advertisement
Continue Reading Below