Raising Cane's is relatively new to the game than its rivals, such as KFC and Chick-Fil-a. Despite being founded in 1996, their Southern-style fried chicken recipe easily gained popularity. Raising Cane's rose to fame with their minimalist approach to their menu. This minimalist approach was welcomed by people who want to have a simple yet filling meal.
If you are familiar with Raising Cane's, you're probably aware of their best-seller: the chicken tenders. It's crispy, flavorful, and most importantly, inexpensive — it's perfect for a quick lunch or a snack.
Recreate these chicken tenders at the comfort of your own home by following these easy steps. Have it for lunch, dinner, or snack and you can also prepare it for picnics and gatherings. It will also ensure a gastronomic experience reminiscent of Raising Cane's. Sometimes, it also helps to have that "reset button" to your palate especially when eating fried foods. Try this Black Bean and Rice Salad Recipe as it goes well with the chicken fingers.
Copycat Raising Cane's Chicken Fingers Recipe
Ingredients
1 ½

lb

boneless chicken breasts

cut into strips

1

cup

buttermilk

1

egg

1

cup

all-purpose flour

1

cup

bread crumbs

1

tsp

baking powder

2

tsp

garlic powder

1

tsp

salt

½

tsp

pepper

3

cups

cooking oil

chopped parsley

for garnish
Instructions
Soak the chicken strips in the buttermilk and refrigerate for at least 2 hours.

Prepare 3 bowls. Combine the flour and baking soda in the first bowl.

Whisk the egg with a little water in the second bowl.

Place the breadcrumbs and seasonings in the last bowl.

Dredge the chicken in the flour first, then dip it in the egg and finally coat it in the breadcrumbs.

Heat the oil in a pan on high heat and deep-fry the chicken pieces for about 10 minutes, until the skin is golden.

Place on a paper towel to absorb the extra oil and let cool before serving.
Commonly Asked Questions
What oil is good for deep-frying?
Choose an oil with a high smoke point, like canola or peanut oil. These types of oils are good for cooking at high temperatures.
Can I use an air-fryer to fry the chicken?
Yes, you can! Air-frying your chicken tenders will cut down the amount of oil used, making them a lot healthier. However, they might not be as crispy as the original deep-fried kind.
How do I make buttermilk?
If you don't have buttermilk on hand, you could always make your own. It is as simple as incorporating acid into milk. Add one tablespoon of white vinegar or lemon juice for every cup of whole milk, let sit and wait for it to curdle. And your buttermilk is now ready!

Is there a non-dairy substitute to buttermilk?
Yes! You could make your own by using the same milk to acid ratio. Add one tablespoon of white vinegar or lemon juice for every cup of your preferred dairy-free milk. Let it sit and curdle.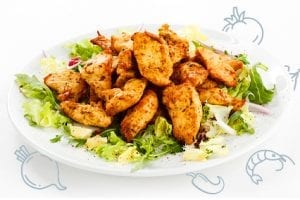 Conclusion
Bring the taste of the South into your home with these chicken fingers. Serve them at your next house party or potluck and they will be snapped up in no time!