Here's a homemade version of the famous Applebee's chicken tenders. These crispy chicken fingers are marinated with a buttermilk mixture so that they're irresistibly tender, moist, and juicy! Perfectly fried to golden brown perfection, you dunk each piece in a luscious sweet-tangy honey mustard dip. You get delicious chicken tenders in your mouth and the satisfying sound of crunch in every bite! Serve it with a side of french fries, or Mexican Caesar salad for a healthier alternative.
Tips on Making Applebee's Chicken Tenders
Once you try making these crispy chicken tenders, we bet they'll be on the top of your best chicken recipes. They're easy to make, affordable, and they're something that both kids and adults will enjoy. Here are the best tips about making them.
Do not marinate them for too long.

While the marinade tenderizes and flavors the chicken, leaving them in it for too long will cause the protein to denature excessively and will result in an undesirable texture. So marinate them only for up to 4 hours.
To get the best golden brown crust,

use a deep fryer or any heavy bottomed-pan to fry the chicken strips so that the heat is evenly distributed. Also, make sure that the oil reaches 375 degrees F before frying.
Fry in batches.

It's important not to overcrowd the frying pan as this will result to an oil temperature drop and might give you soggy and oily chicken tenders.
For ingredient substitutions

, you can actually make your own buttermilk at home if you can't find it in the grocery. Just combine 1 tablespoon of white vinegar for every 1 cup of whole or evaporated milk, and you're good to go. In the same way, you can also use

dijon mustard

to make a

honey dijon

dip. 
Drain the cooked chicken tenders on a colander or a wire rack

in which each piece will have good air circulation around them. This is the key to maintaining the crispiness.

Lastly, customize this recipe!

If you want to, you can make it even spicier by adding a teaspoon of cayenne or hot sauce into the marinade. You can serve it with other dips like

spicy mayo

,

honey BBQ sauce

, or even alcohol-infused

beer cheese dip

, for instance

!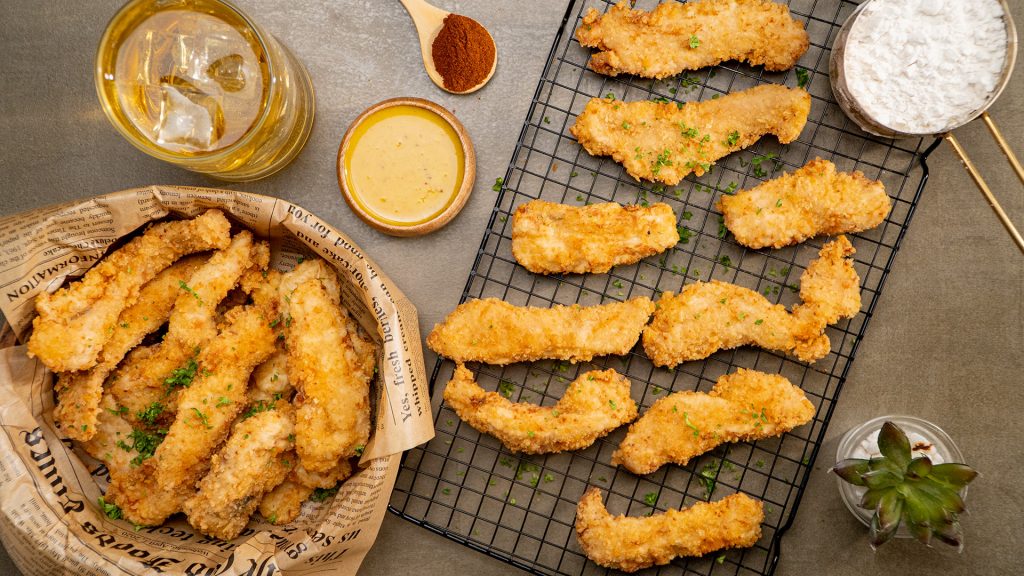 Copycat Applebee's Chicken Tenders With Paprika Honey Mustard Recipe
How To Make Copycat Applebee's Chicken Tenders With Paprika Honey Mustard
This recipe for Applebee's chicken tenders makes the juiciest and crispiest chicken strips marinated with buttermilk and baking soda coated with bread crumbs. With the paprika honey mustard dip, each bite of this comfort food will give a feast in your mouth!
Ingredients
For Chicken Tenders:
1¾

lb

chicken breasts,

boneless and skinless, cut into strips

2

garlic cloves,

minced

1

egg

1

cup

buttermilk

1

cup

all purpose flour

1

cup

breadcrumbs

1

tsp

salt

1

tsp

baking powder

vegetable oil,

roughly 5 to 8 cups, for frying
For Paprika Honey Mustard Dip: (YIELD: ¾ cup)
¼

cup

mayonnaise

¼

cup

yellow mustard,

prepared

¼

cup

honey

1

tbsp

grain mustard

1

tbsp

distilled white vinegar

¼

tsp

paprika

salt,

to taste

ground black pepper,

to taste
Instructions
In a large mixing bowl, whisk together the egg, buttermilk, and garlic.

Add the chicken and toss to combine.

Cover, and set aside in a chilled area. Allow it to marinate for at least an hour or up to 4 hours.
For the sauce:
Combine all the ingredients together in a mixing bowl. Whisk until evenly incorporated.

Season with salt and pepper. Adjust accordingly and set aside.

Preheat your oil ready for deep frying then prepare a basket lined with paper towels.

In a bowl, combine flour, breadcrumbs, salt, and baking powder for the breading.

Drain the chicken from the liquid mixture and coat it with the breadcrumb mix.

Deep fry for roughly 5 to 7 minutes until the juices run clear and the breading is golden brown.

Drain well onto your basket. Serve with roughly ¼ cup per serving of your prepared sauce.
Nutrition
Sugar:

30g

:

Calcium:

302mg

Calories:

1054kcal

Carbohydrates:

88g

Cholesterol:

241mg

Fat:

46g

Fiber:

4g

Iron:

7mg

Monounsaturated Fat:

16g

Polyunsaturated Fat:

15g

Potassium:

889mg

Protein:

70g

Saturated Fat:

12g

Sodium:

1865mg

Trans Fat:

1g

Vitamin A:

474IU

Vitamin C:

2mg
Nutrition Disclaimer
Frequently Asked Questions
How do you keep chicken tenders moist?
In this chicken tenders recipe, the marinade made with buttermilk and baking soda acts as the tenderizer which keeps the chicken tender and moist. On the other hand, some recipes and restaurants use brine. Both of these mixtures create a chemical reaction that improves the texture of the protein. So whenever you'll make chicken tenders or other chicken recipes at home, try marinating or brining them.

How do you make chicken tenders crispy?
To make chicken tenders and other fried food crispy, it's important to use a good frying pan and enough oil. In addition, the oil temperature should be around 350 to 375 degrees F. Once cooked, place them on a cooling wire rack with enough space around each piece so that there is good air circulation around them. Moreover, do not stack them together. Otherwise, the steam will collect and will make the entire batch soggy.

Why are my chicken tenders rubbery?
Chicken tenders turn out rubbery when they are either overcooked or have been marinated or brined for too long. So be sure to follow the recipe instructions to avoid this mishap.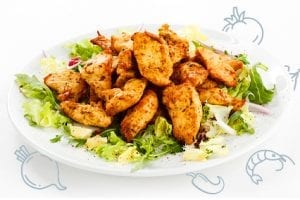 Conclusion
It's definitely a chicken dinner treat that not only kids will love. Feel free to serve your family a big Applebee's chicken tenders platter at home. Have fun and enjoy the crunch!