Haddock is a popular saltwater fish that tastes delicious when it's either grilled or deep fried. Its creamy meat and natural flavor go well with any garnish. You can experience the taste of this delicious pan fried fish by following this inspired Cracker Barrel haddock recipe. This pan fried fish recipe recreates their signature fried haddock dish that's breaded and seasoned to perfection. Serve this light, crispy, and savory fish fry with some lemon wedges and mixed vegetables for a satisfying meal. 
Tips on Making Fried Haddock Fillets Just Like Cracker Barrel
This copycat pan fried haddock recipe from Cracker Barrel is a quick and easy dish to make. Simply coat each haddock filet with the seasoned flour with milk and egg mixture, and then pan fry until it's crisp and golden brown. But you can make your fried haddock fillets even better with some of our helpful tips listed down below. With just a few adjustments and additions, this deep fried fish will taste a hundred times better! 
Use fresh haddock fillets.

Haddock is one of the

best fish to fry

since it cooks easily, especially when it's fresh and tender. You can also use

frozen fish

, but make sure it's fully thawed beforehand. If needed, use paper towels to pat dry each haddock fillet. Too much excess moisture can prevent the fish from crisping up. That's why we recommend using

fresh fish

fillets because the frozen ones tend to release a lot of excess water as it thaws.
Add cornstarch

in the flour mixture for an extra layer of

crispy fish breading

. For the

best fried fish fille

t dish, we suggest mixing in a tablespoon of cornstarch. You can even go as far as substituting the all purpose flour with cornstarch. If you really want that deep golden brown color with a crispier coating, then cornstarch is the way to go. 
Use breadcrumbs as a substitute for cornmeal.

You can skip out on the milk and cornmeal, and just use egg and breadcrumbs to bind the

crumb topping.

Breadcrumbs produce a lighter crunch while cornmeal has a grittier, firmer, and crunchier coating. But, if you prefer a light crispy feel, then use breadcrumbs instead, and try mixing in about ¼ cup of

parmesan cheese

so it's extra flavorful. 
Add in more seasonings

like

onion powder

and

garlic powder

into the

fish breading

mixture. You can choose to add both of these in, or switch it out with the paprika and cayenne for a less spicier alternative. A few pinches of garlic and onion powder will give your haddock fillets a much fuller flavor with its subtle hints of garlic and onion taste.

Pair with a dipping sauce.

Besides the lemon slices, this copycat Cracker Barrel haddock recipe will taste even better with tangy dips like this

dill sauce

or

tartar sauce

. Savory dishes like this fried haddock always taste best with a bit of tartness, and the crispy texture really compliments the creaminess of the dip. Or, go for the classic

lemon butter

or

garlic butter sauce

that you can also use both as a dip or a sauce to drizzle all over your fish fillets. 
Frequently Asked Questions
What is the difference between a cod and a haddock?
Although the two species of fish look similar at first glance, there is a great difference between the two. For instance, the taste. When you eat cod, you'll get the impression of a "clean" taste because of its mild flavor. On the other hand, haddock has a stronger and more "fishy" taste. Furthermore, the texture of their fish meat also differs. The cod's meat is firmer and thicker, which makes it great for grilling. Meanwhile, the haddock's meat is softer, thinner, and more tender. That is why it's great for pan or deep frying. And, if you have an oven, you can also make some baked haddock or even a broiled haddock using the broiler function. We guarantee that it will taste just as divine.
How long should I fry haddock?
Fry the haddock fillets for 2 to 3 minutes on each side until it's golden brown and fully cooked. Keep the heat steady on medium-high heat throughout the frying process so it cooks evenly. If you're planning to deep fry, then the best temperature to fry fish is between 350 and 375 degrees F. Any lower than 350 degrees F will give you a greasy fish, and if it's too high, it will burn.
What to serve with fried haddock?
For a completely satisfying lunch or dinner meal, try pairing this copycat Cracker Barrel fried haddock with some basmati rice or white rice. And then, add a bit of steamed vegetables, coleslaw, or Greek salad with broccoli on the side of the plate so it's extra filling. Apart from that, you can also go for a classic fish 'n' chips style by pairing this dish with homemade french fries.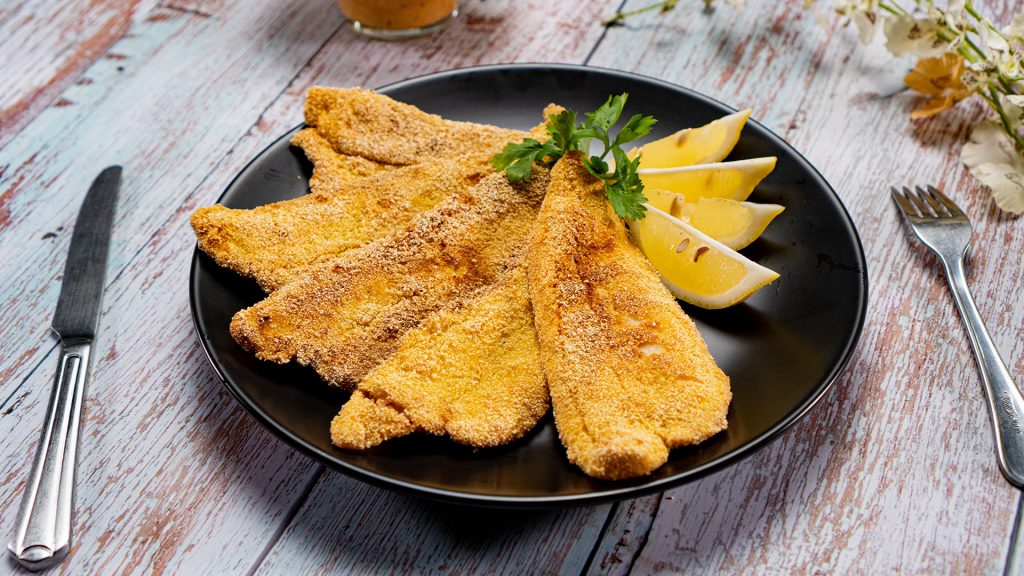 Fried Haddock Fillets Just Like Cracker Barrel Recipe
How To Make Fried Haddock Fillets Just Like Cracker Barrel
Enjoy deliciously seasoned crispy fish fillets with this copycat Cracker Barrel fried haddock recipe. Serve this breaded fish with lemon slices at the side.
Ingredients
6

oz

haddock fillets

½

cup

all purpose flour

¼

cup

milk

1

egg

1

tbsp

granulated sugar

½

tsp

salt

½

tsp

paprika

½

tsp

cayenne pepper

½

tsp

dried oregano

½

cup

yellow cornmeal

½

cup

vegetable oil,

or clarified butter
To serve:
Instructions
In a mixing bowl, add the egg and milk and beat to combine.

Grab another bowl and add the all-purpose flour, salt, paprika, cayenne pepper, dried oregano and granulated sugar. Mix together to combine.

Coat the Haddock fillets into the flour mixture and dip into the egg mixture. Coat them with the yellow cornmeal.

Cook the fillet in hot oil over medium heat until golden brown. Repeat with remaining fish.

Transfer into a serving plate and serve with lime wedges. Enjoy!
Nutrition
Sugar:

4g

:

Calcium:

38mg

Calories:

203kcal

Carbohydrates:

31g

Cholesterol:

66mg

Fat:

3g

Fiber:

2g

Iron:

2mg

Monounsaturated Fat:

1g

Polyunsaturated Fat:

1g

Potassium:

250mg

Protein:

12g

Saturated Fat:

1g

Sodium:

404mg

Trans Fat:

1g

Vitamin A:

236IU

Vitamin C:

1mg
Nutrition Disclaimer
Conclusion
Make your own inspired Cracker Barrel haddock dish with this quick and easy recipe. Enjoy the crisp and savory taste of each pan fried haddock fillet. Pair with a tasty dipping sauce or side dish for a completely satisfying meal.